Why Am I Paying So Much to Insure My Amazon Store?
Understanding and choosing the right insurance policy is the secret to managing the risk of running an Amazon business.
Originally published on: September 14, 2022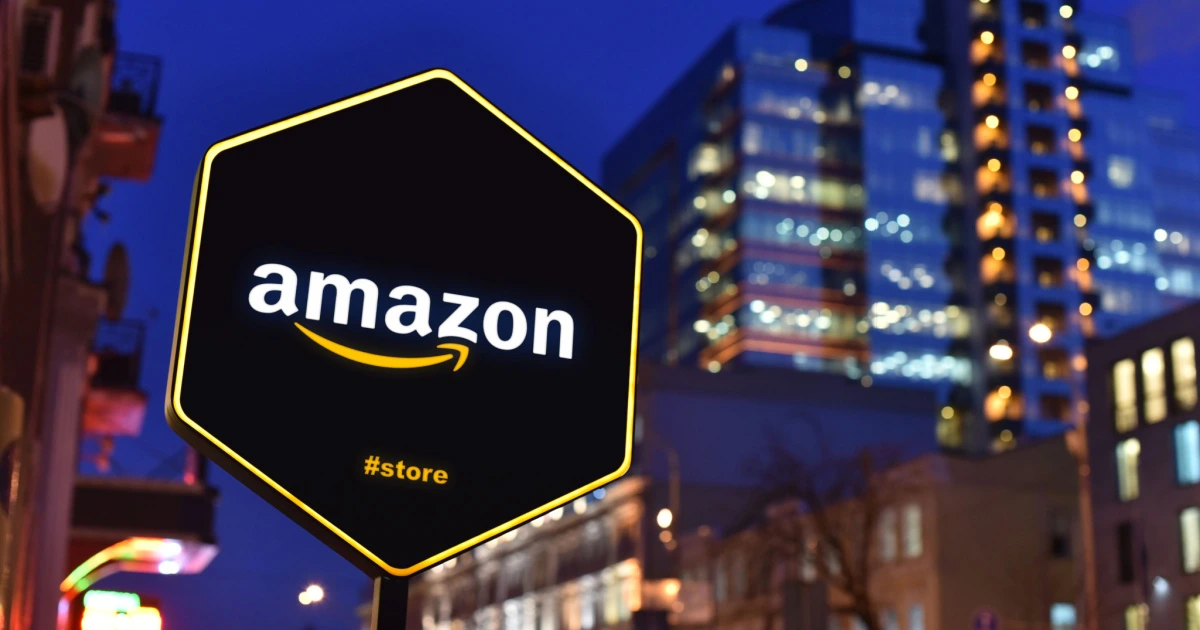 Let's say a customer of yours was injured while using a product he purchased from you. He sues you for damage that could easily amount to $1M dollars or more – and you have to pay that out of your own pocket.
But… you have insurance. You are covered and therefore don't need to pay such great sums. Phew.
But there's another problem. The product you sell is not in a high-risk category, (or at least you don't think it is) yet you are still paying ridiculously high insurance rates, monthly. Why is that?
Some products which you would never think of as part of a "risky category," such as toys, pharma, baby products, and many others, could be dangerous and could even cause injury and death. In these cases, insurance companies could feel that your business is either too risky to cover or – they will cover you but with extremely high rates.
Sometimes the category of the product you sell does not reflect the risk of using the actual product and you pay higher insurance rates than you should.
Now, if you're thinking – well, I just won't get insurance at all, Amazon has actually made it mandatory for every seller who reaches 10K to purchase coverage.
Even if your store hasn't reached 10K just yet, you can still be requested by Amazon to get insured. Recently, many of our customers reported that they received a direct request from Amazon to get insured.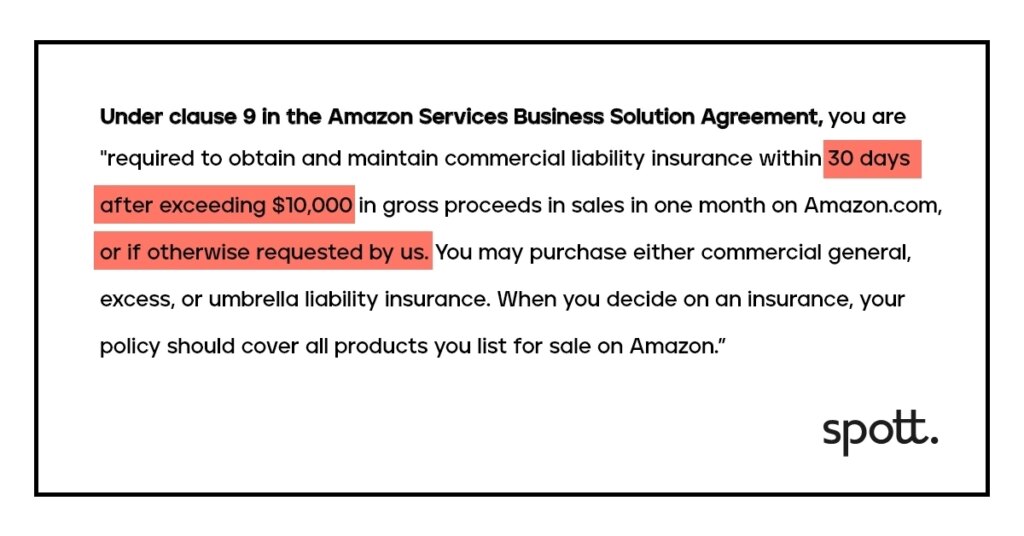 Insurance is a subject most online sellers don't really want to deal with, and they spend hours and days searching for someone trustworthy to help them find the right solution at a decent price, with the least hassle possible.
As an insurtech company, Spott has developed innovative methods to find the best insurance policy for your products, helping you pay exactly what you need to and not a cent more – all with just a few clicks.
Why am I forced to get insurance and why is it so high?
In the following article we will explain:
Why are you in danger if you don't have liability insurance?
What is the connection between product category and the cost of liability?
Why do insurance companies sometimes give you the wrong insurance rates?
How can you get the best price for your Amazon insurance?
Why are you in danger if you don't have liability insurance?
In Amazon's early days, the demand for insurance existed but wasn't enforced. Third-party sellers, though required to have insurance policies, got away without it. That is until lawsuits began to stream in one after the other, with juries holding third-party sellers and Amazon accountable. And that was that. In September 2021, Amazon made insurance mandatory. No ifs, ands or buts.
So now third-party sellers were tasked with yet another worry to deal with. Getting an insurance policy. But here is a short story that will demonstrate why liability insurance is truly crucial to your business:
Wendy Weintraub's hair dryer caught fire and burned her house down. The court ordered the hair dryer manufacturer to pay her a reimbursement of over $850,000. There are many stories about uninsured sellers who lost their homes and life savings to compensate injured clients, bringing families and businesses to ruin.
Even if you hand-picked the best manufacturers, the best product testing companies – accidents happen, and for many reasons:
Allergic reactions to certain types of metal, wood, toiletries, food, etc.
Machines or home appliances that explode and cause property damage.
Design, manufacturing, and even marketing defects.
In these sue-crazy days, even a cup of coffee can bring you to court. A woman got severe burns when she spilled a cup of coffee she bought at a Mcdonald's drive-thru. She sued them for selling her "coffee that was too hot." The jurors were on the plaintiff's side, awarding her $2.7M in punitive damages. This didn't bring Mcdonald's to ruin being the mega-corporation they are, but a court case over something as simple as a cup of coffee can happen to any seller. And neither Amazon, your factory in China nor your QC company will bail you out.
Now, you may think your product isn't dangerous – but you never know. A baby can bite a piece off any product and choke. In all of these cases, the business owner is held accountable and must be able to pay for it. Having insurance is your safety net to literally save you from destruction.
What is the connection between product category and the cost of liability?
At one time, insurance agents would walk into brick-and-mortar stores, make their assessments, and decide on the appropriate insurance rate.
But your business is online and insurers can't see your products physically, so they miscalculate your rates.
Case in point: a client approached us with a curious problem. Their company, which sells pacifier drying racks, was having a hard time getting an acceptable insurance quote.
"Pacifier drying rack" sounds innocent enough, right? A receptacle that holds the pacifier to dry. But here's the catch. Categorized under "baby equipment," carriers immediately assessed the product as a "high risk" category and gave our client an exorbitant rate. We were able to communicate this misunderstanding to the insurance company who subsequently lowered the insurance policy rates for the pacifier drying racks.
Another example: a stuffed doll is nowhere near as risky as a remote control car (which is battery-based) yet insurance companies gave both toys the same rate, as they are both generally categorized under "toys". But they shouldn't get the same insurance rate. Teddy bears should get lower rates.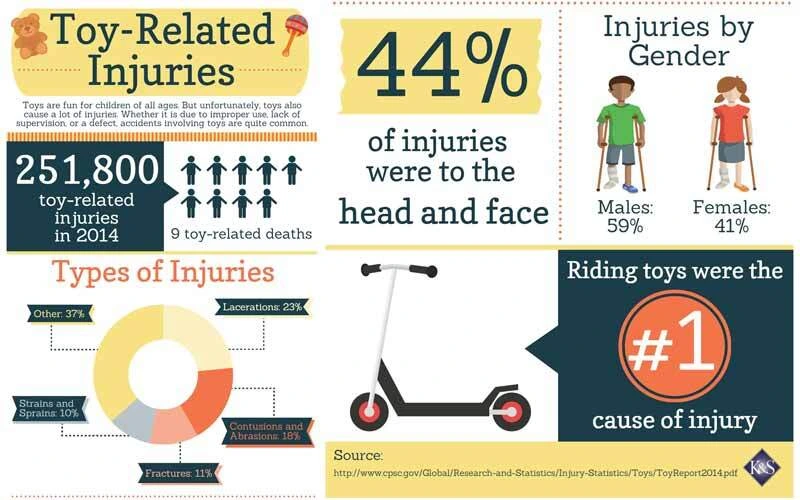 Why Do Insurance Companies Sometimes Give You the Wrong Rates?
Based on the pacifier drying-rack story – under what category does your product fall? Are you getting your rates accordingly? See the table below.
All products sold in the market are generally considered as low, medium, or high-risk categories which for the purposes of this blog we call Tier 1 (low-risk,) Tier 2 (medium-risk), and Tier 3 (high-risk.)
If the product you sell is considered low-risk, like the pacifier drier, your insurance rate should be relatively low.
Tier 2, medium-risk, should be slightly higher but not as high as Tier 3, the high-risk category. Take car seats, for instance. If not tested properly or manufactured from cheap materials, they may put a baby's life in danger. They are not in the same safety category as Tier 1 (like a pair of shoes) but definitely not as dangerous as a BBQ, which is propane-based.
If your products are considered high-risk, including products with the potential to cause severe injuries or even death, it's best to get the insurance policy with the highest limit, even if it means paying a little bit more per month.
Here is a compilation of insurance tiers we gathered from various e-commerce platforms. Check the table below to see which category the product you sell falls under and assess your insurance rate.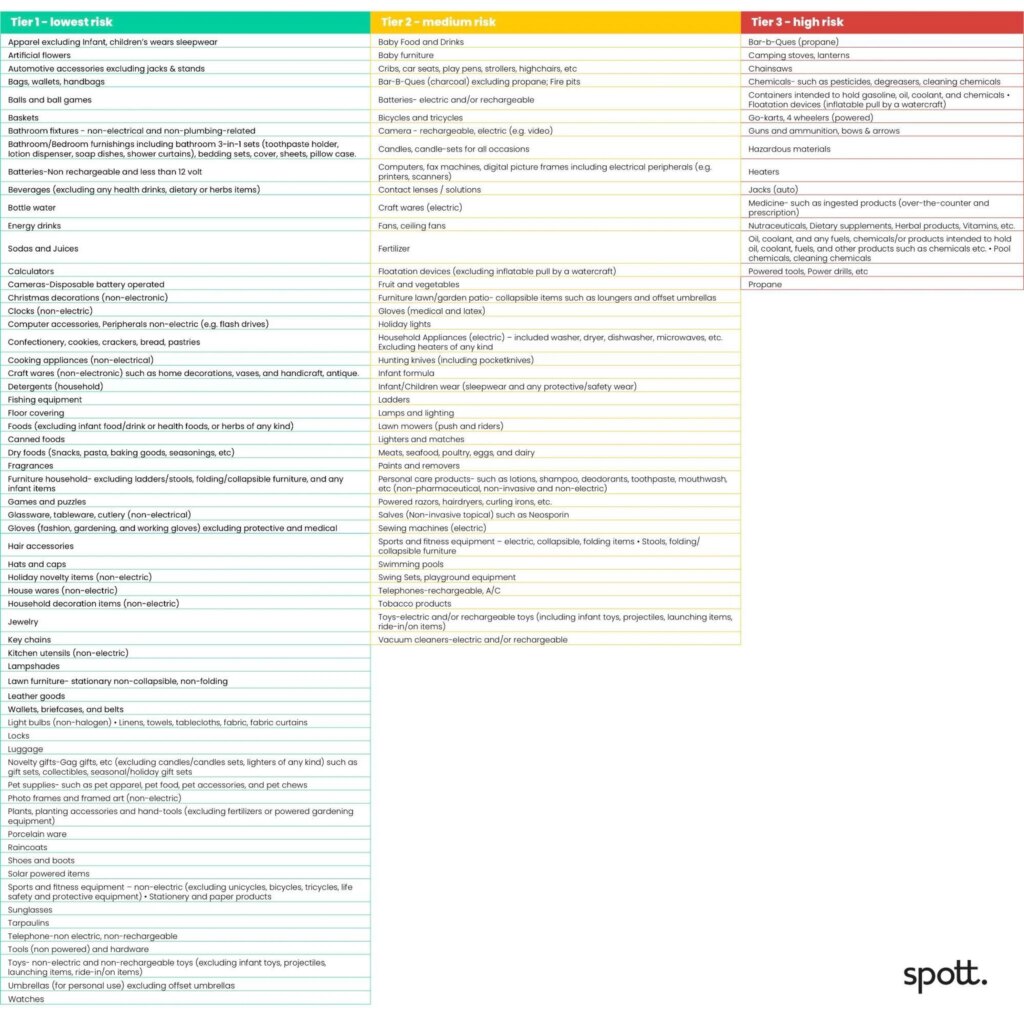 How Do you Find the Best Insurance Policy to Suit Your Company?
Amazon requires all sellers to get liability policies, but there are a few parameters to keep in mind before acquiring your plan:
Cheap Does Not Mean Value
Some comparison sites just show you the bottom line instead of finding the insurance rate tailor-made for your product. Nowadays, insurance policies are not one-size-fits-all. Low-risk products should have a lower rate but if you sell high-risk products, it's best to have a policy that covers you with a higher claim amount – so you are ready for any situation.
Different Business Model – Different Rate
Private label (PL) sellers who manufacture their products overseas are considered "manufacturers." Their rates will be higher than retail or dropshipping sellers because if something goes wrong, the insurance company will not be able to refer the claim to their brand.
For example, if a customer is injured by a Sony headset you sold him, the insurance company can work with Sony on the claim. But if this headset was sold under a PL brand, there would be no one to refer the claim to, not even the factory in China. You are the captain of your ship and solely responsible for any claim you get.
Make sure you give every detail possible to your insurance carrier because that can lower your insurance rate. Work with people who understand exactly what you sell and what you do.
"One Insurance to Rule Them All"
In the world of e-commerce, each product sold in the virtual marketplace must be insured according to its risk category. For that, it's best to get a general liability policy that includes product liability that specifically covers your product. Make sure you choose the insurance company that includes product liability in its policy, not charge extra for it.
In addition, as Amazon demands to be included as an insured, make sure you find the policy that adds an insured at no extra charge. Be covered from all angles without paying a dime more.
Go Fully Digital
Since COVID-19, sales on Amazon have skyrocketed, changing the face of commerce entirely. Insurance companies are following suit which is a huge plus for any third-party seller. By going digital, you get the exact quote quickly, efficiently, and hopefully, never to be dealt with again (unless you add a product to your store, in which case you will need to change your policy accordingly.)
"Being insured is one of the least expensive and most important things you can do to protect your legacy, personal wealth, and business. Even if you don't put it to use, you sleep better at night. Because once you are sued, and that option is higher than 0%, Amazon won't be there to save you."

Jason Boyce, top-200 seller on Amazon, who we interviewed on our first SpottCast Ep #1.
How can we help you?
Selling online is no small potatoes. Risks abound everywhere.
Spott helps you manage these risks by getting the best insurance policy in just a few clicks:
First, you onboard, providing very basic details,
Once you are onboard you don't need to explain yourself any further! Our state-of-the-art technology tells your story to the carrier so the insurance company understands precisely what you sell and how risky your products are.
In no time you get quotes from the insurance carriers we work with as well as us, e-commerce experts who know the market to a T and get what you need immediately.
Another way to insure your business and protect it from unwanted surprises is by preventing Amazon suspension. If your store gets suspended, even if it wasn't your fault, we help you resolve your case with Amazon swiftly and smoothly, so you don't miss any sales or revenue loss.
As Ray Bradbury says, "Living at risk is jumping off a cliff and building your wings on the way down." Understanding and choosing the right policy is the secret to managing the risk of running a business. Our team would like to share the knowledge we've gained when it comes to all the ins and outs of the e-commerce sphere.
Want to know more about Spott? Get in touch. Tap into our vast e-commerce experience so you can enjoy peace of mind and focus on growing your company.
Everything for your business on Amazon.
Find out more about our products by signing up or speaking with one of our
Customer Success representatives today. With us in your corner, you can enjoy
more sales and increased engagement from your Amazon business.
Chat with a Support Specialist