How to Communicate With Amazon Buyers in Q4 of 2020
Amazon has recently changed the way private label businesses can communicate with their buyers. This guide tells you what you need to know!
Updated on: March 15, 2022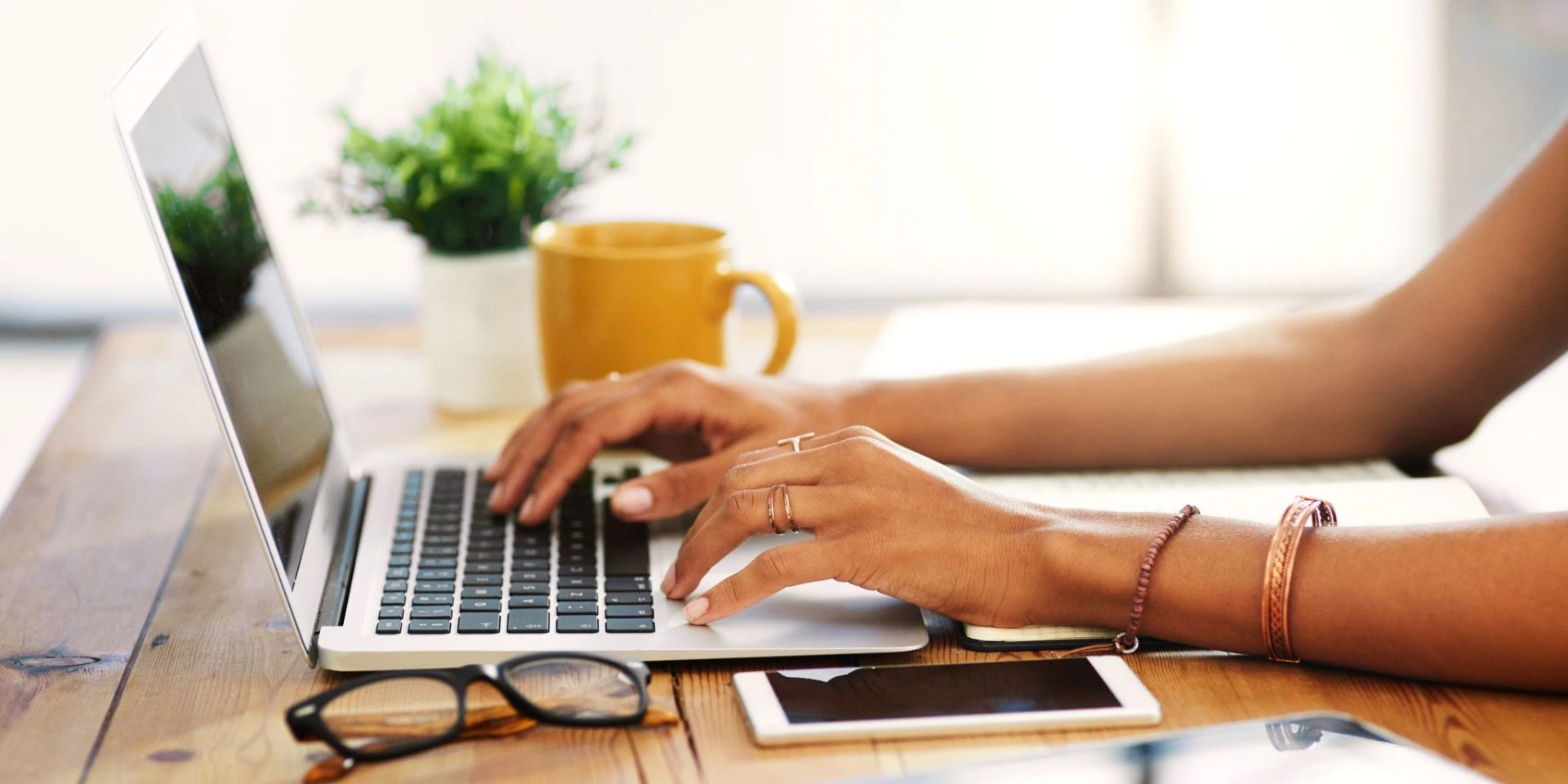 How to Communicate With Amazon Buyers
By now, you've probably all heard of the upcoming changes Amazon has made concerning the way private label businesses communicate with Amazon buyers. 
Because of all the online conversation focused on this topic, there's a lot to unpack.
This article will help you break down the changes and help guide you as you update the way that your business communicates with Amazon buyers.
Understanding WHY Amazon is Making These Changes
It's easy to say that Amazon is making it harder to get reviews. Sure, you can look at it that way.
What we have to keep reminding ourselves is these buyers are not our customers. They're Amazon's customers.

Amazon, as well as most of us, see businesses skirting the line. Many times flat-out breaking the rules. Particularly when it comes to reviews. These changes are an attempt to stop the bad players from making it worse on all the businesses doing things the right way.
Amazon could simply disallow communication (in ANY fashion) with their buyers. Instead, they choose to let us communicate because they know the value in customer service and the social proof that reviews play on Amazon.
There's a Big Change 11/06/20 – What Do Amazon Sellers Need to Know?
Source: Amazon News on 09/08/20:
Amazon reported a number of changes to their communication guidelines. You can read them in their entirety with this link: https://sellercentral.amazon.com/gp/help/GQHQGBTD7XB7EE
This document was updated by Amazon on 10/22/20. Please save this link and review it occasionally in order to stay updated on the latest information from Amazon.

A few important notes before we dive into the details.
This is an unusual advanced communication by Amazon. Amazon does not typically offer this amount of lead time when changing or updating a policy. This is a good thing and hopefully this will practice will continue to follow in future changes for sellers on Amazon.
In this document, Amazon has given us a clear view of their thinking process. This is a detailed document and should serve as a solid reference point for answering most questions.
These changes are simply making it easier to communicate with buyers. Despite the changes, it is making it easier because Amazon is laying out clear guidelines in an easy to read document that will answer most of the questions you have.
How to Move Forward with the New Changes from Amazon
The following statement is from Amazon's communication guidelines policy.
That statement is important because it answers 2 popular questions:
Can you use a tool like Follow-Up?
Absolutely. Amazon tells us explicitly that a tool like Helium 10's Follow-Up is perfectly ok to use.
Can I still ask for a product review?
Absolutely! They specifically mention that asking for a product review is perfectly OK in the statement above.
So now we know definitively we can ask for a product review AND use Follow-Up to do so. HOW do we do it?
Using Follow-Up to Ask for a Review
Below are the latest changes in communication guidelines. For more in-depth tips on using Follow-Up, please visit our best practices document here

Do not ask for a product review more than once per order. Amazon is explicit that you can only ask for a product review once per order.
In the case that someone buys 2 or more of your different products at the same time, you can still only ask for a product review once per that entire order.
Does that mean you can't ask for a product review on that 2nd or 3rd product? Yes. Fortunately, that situation does not happen the majority of the time but it is not something we can control.
You can no longer send an order confirmation or "thank you" email. Amazon is explicit that these emails are not allowed UNLESS you have something else to say in that email. Sending a message without specific, intentioned content is no longer allowed by Amazon. You can still send a message that includes warranty information.
Do not ask Amazon buyers to contact you if they have any issues. While this seems logical as a business owner wanting to provide great customer service, Amazon looks at this conditional language as sellers potentially trying to prevent negative reviews. You can tell buyers how to contact you, not why they should contact you.
Your PDF attachment can no longer be an e-book, recipe, instructions, etc. This quote is taken directly from the communication guidelines in Seller Central. "Attachments except for those needed to resolve a buyer's issue." (e.g. shipping labels, invoices, custom designs)
When it comes to images, Amazon has made several changes.
Amazon will automatically include your main product image in your messages. (starting 11/06)
You can no longer include any of the following in your message.
– GIFs
– Emojis
– Logo if it has your website in it
– Any images that aren't related to your brand

IF you're going to include any images, we recommend they be a lifestyle image that shows someone using your specific product. No stock images.
Finally, How Has Follow-Up Changed?
Listed below, are a number of steps that we have taken to help our customers navigate these changes:

1. Amazon now requires the Order-ID in every message you send to buyers for any reason. This is automated for you by Follow-Up. There's nothing you need to do to enable it.
2. You can now set up an automation inside Follow-Up that triggers Amazon's Request A Review feature inside Seller Central. This works independently of the Seller Assistant app by Helium10. You should not use both at the same time.

3. Amazon requires any messages sent in the buyers language of preference. As of 11/06, this feature is available for orders in North America (United States, Canada, Mexico, Brazil) and Europe regions (United Kingdom, Germany, Italy, France, Spain, Netherlands, Saudi Arabia, Turkey, India, United Arab Emirates). We are actively working to add more marketplaces ASAP.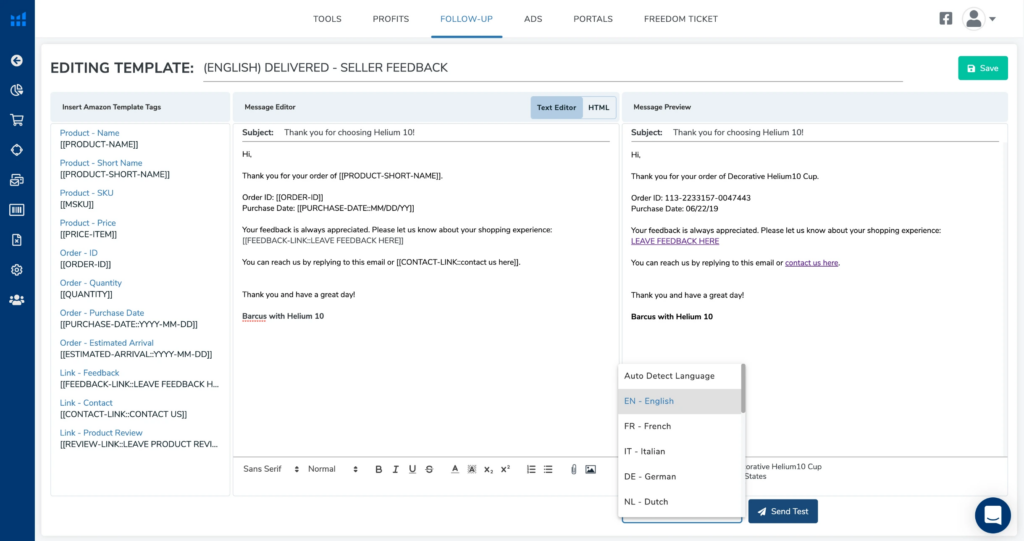 Here's an example: If a customer lives in the U.S. but they prefer to receive messages in Spanish.
First, check that your email templates are correctly tagged with the language they are in. This can be done from the Email Templates editor screen.
When you select one or more email templates in your SEND MAIL action, Follow-Up will decide which email template to send based on the buyer's language of preference – in this case, Spanish. If you do not have an email template written in Spanish (and tagged as Spanish), the automation will not fire for that buyer.
If you want to have multiple translations of your custom email templates, you will need to write these yourself. Follow-Up will not automatically translate for you at this time.

4. Amazon is requiring email formatting to be in compliance with the Web Content Accessibility Guidelines from the Web Accessibility Initiative https://www.w3.org/WAI/standards-guidelines/wcag/. Follow-Up has several of these formatting guidelines in place as documented above.
As always, Follow-Up and Helium 10 will continue to evolve with Amazon makes adjustments to their policies.
To stay up to date on the latest Helium 10 news, make sure that you subscribe to our blog, podcast and YouTube channel.