Bigger.Better.Launch! Your October Brand Building Care Package is Waiting…
New Amazon keyword strategies, more brand analytics, and updates to your favorite Helium 10 tools... it's Bigger.Better.Launch!
Updated on: October 26, 2022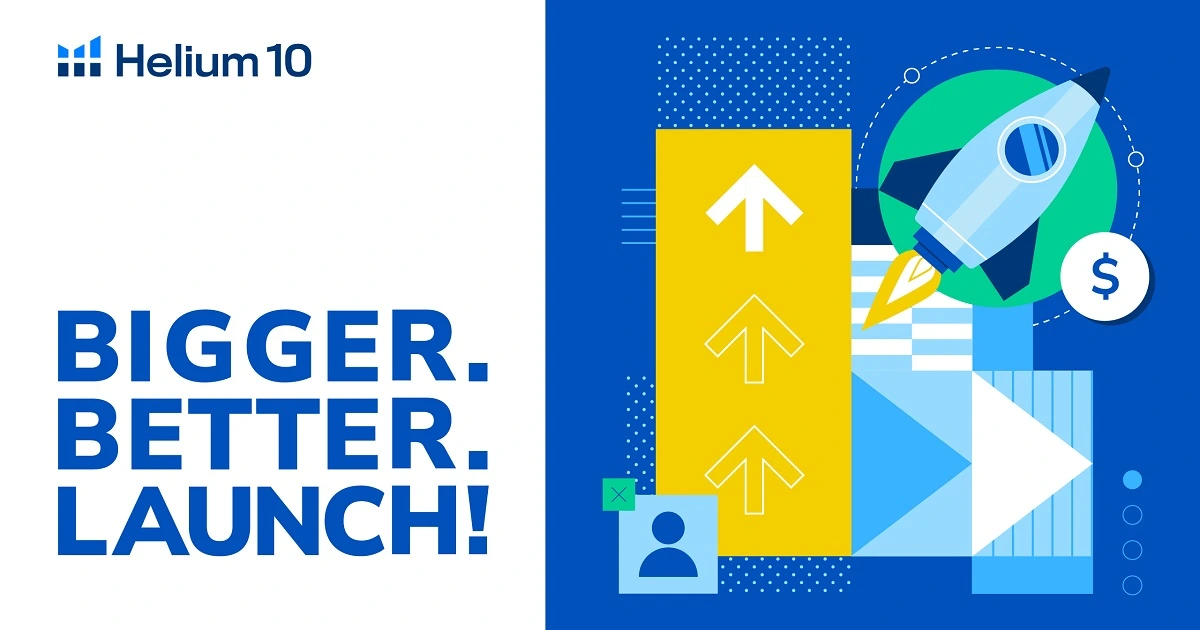 Running a profitable online business in a marketplace swarming with competitors is hard enough on its own. At Helium 10, we believe if your e-comm seller tools are equally difficult to use and manage… you're using the wrong tools. This month's Bigger.Better.Launch! officially made selling on Amazon or Walmart the least scary thing this October.
This is also a great reminder to keep an eye out every month for Bigger.Better.Launch! Not only are we sharing new tool features and events, but we're also sharing some insider strategies to use these tools more effectively.
Don't know where to start? We've compiled every Bigger.Better.Launch! in one convenient place! Visit our webinar hub to catch up on everything.
In this month's Bigger.Better.Launch!, we focused on giving you our top 6 Keyword research strategies that you can implement starting right away.
Here's a tease of what we got into:
Finding the top root words for top-performing keywords
Researching 10-15 organic keywords for a niche – an easier way than ever
Uncovering the keywords your competitors are completely missing
And more!
Read below for a quick-hitting summary of all the ways you can take advantage of the new and noteworthy Helium 10 tool updates!
Finally! Amazon Brand Analytics in Cerebro & Magnet!
Amazon Brand Analytics Data ‒ it's some of the most coveted data for any seller to get their hands on. Since these metrics are updated and provided directly from Amazon, they are often only accessible from Amazon.

We don't want you juggling any more reports or numbers than you have to at a given moment. That's why we are ecstatic to announce, for all Brand Registered Diamond users, the ability to see the above-mentioned Amazon brand analytics directly within Helium 10.
Last month, we added click share visibility to Cerebro. The two columns that we now offer in both Cerebro and Magnet from Brand Analytics are click share and conversion share. You can also see which specific 3 ASINs have the most click share and learn the exact click share and conversion share for each.
The ability to see conversion share within Cerebro makes it easy to have all your most actionable data in one place to properly track competitors. You can now compare your listing and strategies to theirs to see what they are doing better to win clicks and conversions.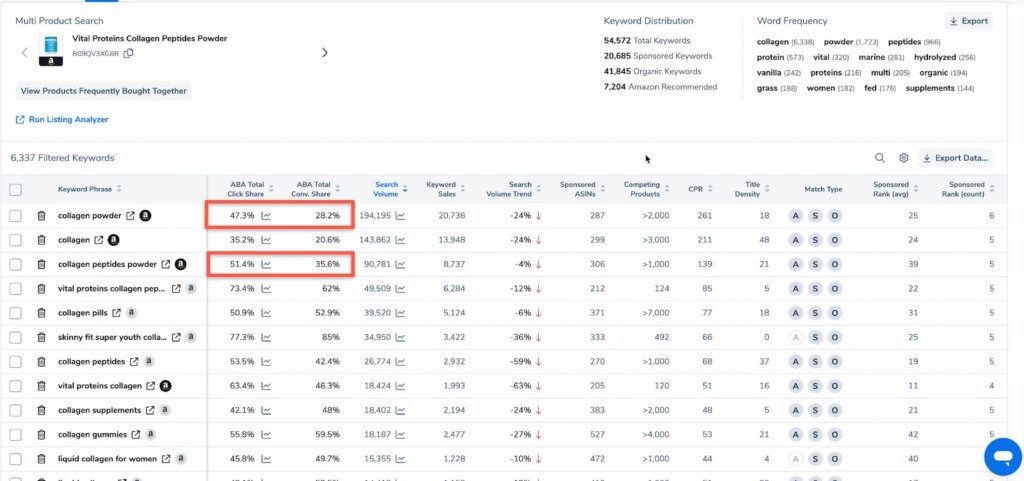 Remember, you must have connected your Helium 10 account to Seller Central and you must have Brand Registry for this to work.
Your keyword research just got a massive quality-of-life upgrade! We hope you utilize these newly unified metrics to collect all relevant data points that will inevitably help you make profitable keyword decisions.
No more going back and forth from Helium 10 to Amazon Seller Central!
A New Heat Map Feature That Changes the Game
You may be familiar with our Heat Maps feature that lets you track inventory at Amazon FBA Warehouses around the country, but now you can understand the ratio of your sales compared to the population of a specific area.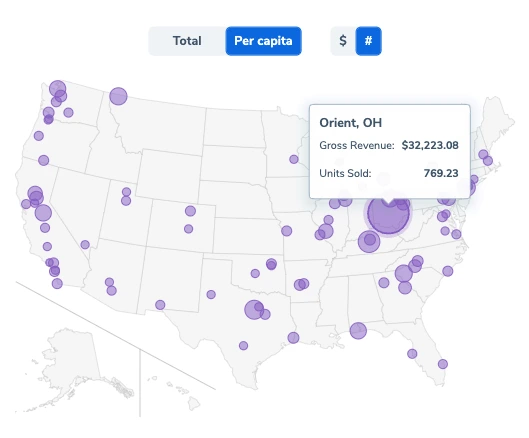 With this new visibility into the ratio of your sales versus the population of that region comes groundbreaking new insights for optimizing ads or knowing when you haven't hit your ceiling yet.
How to Make Your Helium 10 Alerts Work For You
Improper dimensions, wrong product category, listing hijackers… if you want to sell on Amazon, you need a lifeline for brand-saving, proactive notifications.
Helium 10 Alerts, although not one of our biggest tools, might just be the tool that ends up saving you the most money.
Alerts for all your most important products are great. Too many alerts will do nothing but flood your mind with too much information.
If you are a scaling seller with several SKUs, you may have experienced difficulty customizing Helium 10 Alerts to only show the most relevant info. Sellers are now able to filter down their current catalog quickly and in bulk to set up their product monitoring experience to their liking. This includes the ability to bulk enable and disable notifications.
Say goodbye to one-by-one selections, it's about time we saved you some time!
Filter down products in their catalog by:
ASIN (Dropdown Select) – Based on catalog
Title (Freeform Search)
Price (Range)
Rating (Range)
Category (Dropdown Select)
Sub-Category (Dropdown Select)
Weight
FBA Fee
Buy-Box Status
Seller Count
How to Keep Track of Your Favorite Helium 10 Tools
Everyone sets up their workspace differently ‒ your digital e-comm tool suite should give you the same freedom. New menu updates to your Helium 10 dashboard now allow you to favorite any tool, and that tool will then be displayed at the top of your dashboard for quick and easy access.
We've also added the language selector dropdown menu to your dashboard, so you no longer must navigate to your settings to make this important change.
More Search Results, More Market Wisdom
The Amazon marketplace is at its most competitive state since its inception. A tighter race means you need more data to help make informed decisions.
Helium 10 is now increasing Blackbox product tab search results from 200 to 500 to give Diamond and Elite sellers even more choices and more opportunities to find the best products than ever before.
The Helium 10 Chrome Extension Just Got Better…
The Helium 10 free Chrome Extension has always been perhaps the easiest way to get quick data on products as you search on Amazon. We're making it more accessible than ever with a new widget, giving you faster access to your favorite Helium 10 tools and outside resources.
This new widget will replace the "Xray Quick Widget" on the side of your browser page. On Amazon/Walmart pages where tools are not available (i.e., Homepage), a search bar will be available to easily open up Xray in a new tab after typing in a keyword.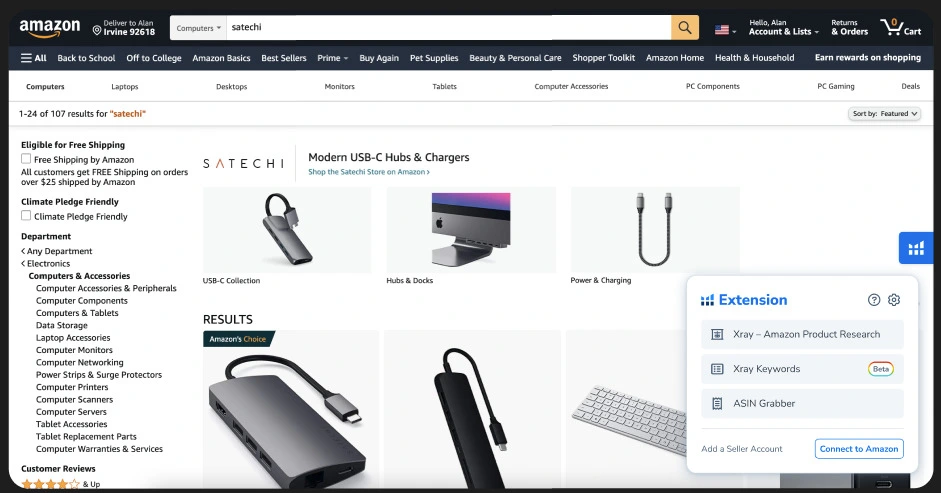 On Alibaba/Shopify/Pinterest/Etsy, sellers will also be able to access a search bar to launch Demand Analyzer!
Elite Webinar: 51 Hacks to Get a Competitive Edge Selling on Amazon
Free webinar alert ‒ save the date! On Thursday, Nov. 3rd @ 11am PT, Kevin King is sharing 51 hacks sellers need to get the competitive edge selling on Amazon.
These are THE money-saving, sales-boosting, brand-growing strategies to keep top of mind heading into Q4. Do not miss it!
A sneak preview…:
How to steal traffic from your competition's newly launched products
How to tap into the 50 million Spanish speakers in the USA with keywords
Details on a special link on Amazon that lets you get the full backend data for any ASIN
And many, many more!
The Gift of Holiday Readiness: A Special PPC Webinar
Not to alarm you, but the holidays are right around the corner! In the spirit of giving, we want to share some important information about advertising on Amazon during these next few months!
On November 9, 2022, @ 11 AM PT, we will be holding a very special holiday readiness PPC webinar with Amazon Advertising that will focus on the latest PPC best practices to take advantage of the end-of-year holiday rush effectively. We'll be sharing not only a few practical PPC strategies you can begin to implement immediately but also some exciting new developments with Adtomic that you won't want to miss.
If you're a seller who knows that the holidays can benefit your business but doesn't know exactly how to capitalize on this time of year with your ad strategy, this webinar is for you!
Register now and save your seat!
Don't Miss The Next Bigger.Better.Launch!
Mark your calendars… the next Bigger.Better.Launch! is going live Thursday, November 17th @ 11 am PST!
Everything for your business on Amazon.
Find out more about our products by signing up or speaking with one of our
Customer Success representatives today. With us in your corner, you can enjoy
more sales and increased engagement from your Amazon business.
Chat with a Support Specialist