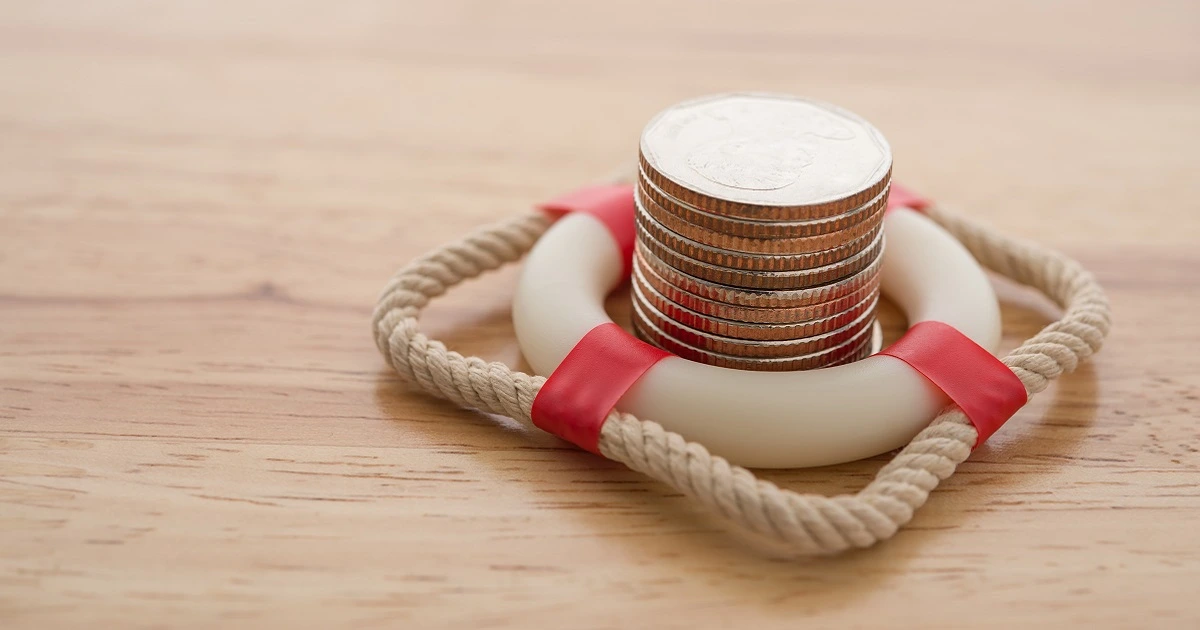 Amazon Insurance Requirements For Sellers: FAQs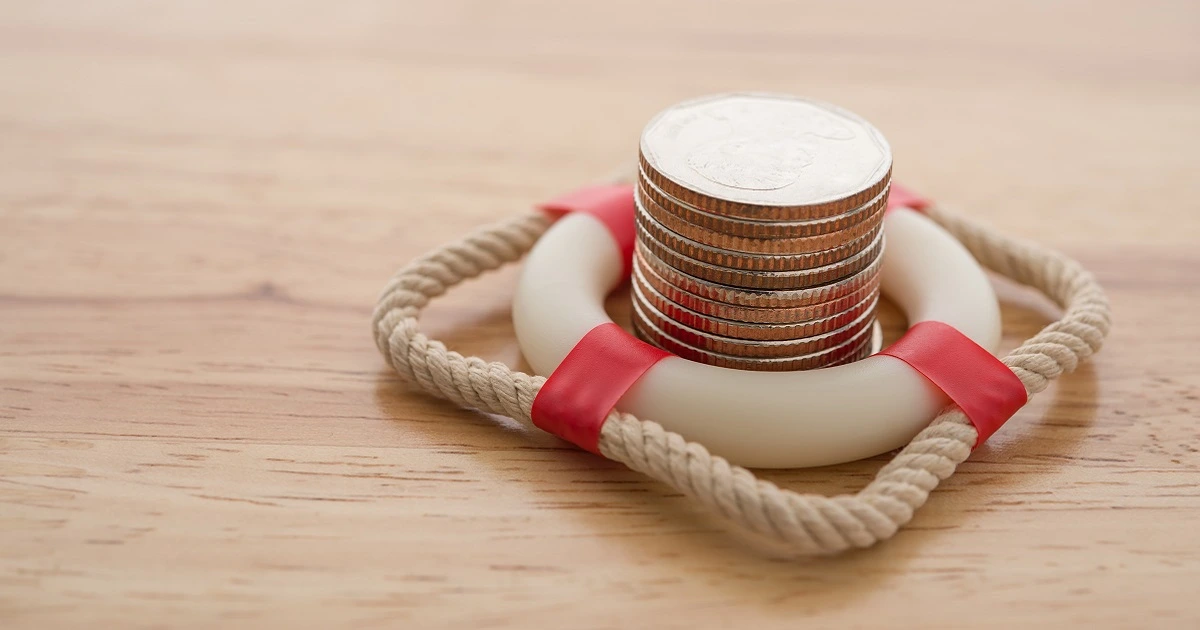 As freeing as owning your own Amazon FBA business is, there are certain rules to stay up to date with… especially if you plan on keeping your business going long-term.
First, Who Needs to Get Insurance?
You are required to obtain and maintain commercial liability insurance within 30 days after exceeding $10,000 in gross proceeds in sales in one month on Amazon.com, or if otherwise requested by Amazon.
Is There a Way to Get Insurance Through Amazon?
Yes, through the Amazon Insurance Accelerator. A network of vetted insurance providers to help you easily and affordably secure liability insurance. These insurers can evaluate and if appropriate, offer liability insurance at competitive rates to qualifying sellers.
You can find insurers that fit your needs in Seller Central at Settings > Account Info > Business Insurance. You will see this page.

What Are the Insurance Requirements for Amazon?
Your commercial liability insurance policy must meet all of the following criteria:
The insurance policy type can be either commercial general, umbrella, or excess liability and be occurrence-based, except for certain product categories;
The policy limit must be at least $1 million per occurrence and in aggregate, and cover liabilities caused by or occurring in conjunction with your business operations, including products, products/completed operations, and bodily injury;
The deductible for any policy(ies) must not be greater than $10,000 and any deductible amount must be listed on the certificate(s) of insurance;
The policy must cover all sales from products you have listed on the Amazon website;
The policy must name "Amazon.com Services LLC and its affiliates and assignees" as additional insureds;
Your insured name must match the "legal entity" name you provided to Amazon (to view your legal entity name, see your Account Info);
Your insurance provider must have global claim handling capability and a financial rating of S&P A- and/or AM Best A- or better (if S&P or AM best is not valid or used in the country where you are required to obtain insurance, a local equivalent is allowed);
The policy must be completed in its entirety and signed; and
Your insurance provider must give Amazon at least 30 days' notice of cancellation, modification, or nonrenewal.
You must add Amazon as an additional insured as such:
"Amazon.com Services LLC and its affiliates and assignees" with address "P.O. Box 81226, Seattle, WA 98108-1226."
(source: https://sellercentral.amazon.com/help/hub/reference/G200386300?ref=ag_G200386300_cont_521&locale=en_US)
FAQs From Amazon Seller Central
You are allowed to bring your own insurance as long as it meets our insurance requirements. The Amazon Insurance Accelerator panel is there to help you easily find insurance, but you can bring your own insurance.
Amazon does not take a cut from the Insurance Accelerator insurers. The transaction is between you and the insurance provider you choose to go with; Amazon does not receive any commission or referral fees from Amazon Insurance Accelerator.
Amazon will not charge you for claims under $1K. As long as you have insurance, Amazon will handle and pay valid claims under $1K, which based on past data make up 80% of claims filed. Amazon's goal is to try to make these claims stress-free for you.
In regards to eligible claims, only valid property damage or personal injury claims that can be proven to have been caused by a defective product are eligible for this process. This will not cover any property damage or personal injury resulting from the use of a product that is not defective.
How Do I Upload My Insurance Documents?
Go to Seller Central and go to your Settings > Account Info > Business Insurance to upload your insurance documents. You will arrive at this page below.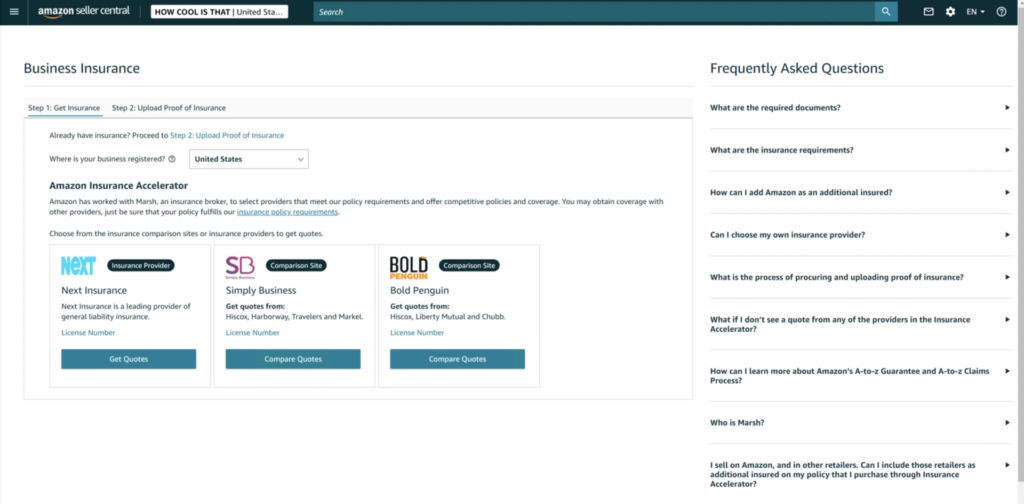 You'll type in your Insurance Provider Name, Name of Insured (which must match the legal entity name of your Amazon account page), Policy Number, and Policy Start & End Date. There's also a box to check if you bought insurance through the Amazon Insurance Accelerator. Upload your Proof of Insurance Certificate. Once you have all of that information, you will submit it and come to this page below. Your status should say "Submitted".

When your certificate of insurance is reviewed, you will receive an email from Amazon stating that your certificate has been reviewed and the status of your submission. Ideally, it will say that no further action is required which means that you are all good to go.

To double-check your submission, you can go back to Seller Central and go to Settings > Account Info > Business Insurance and see what the status of it says. Ideally, it will say "Verified Successfully".

Frequently Asked Questions
Achieve More Results in Less Time
Accelerate the Growth of Your Business, Brand or Agency
Maximize your results and drive success faster with Helium 10's full suite of Amazon and Walmart solutions.