Amazon Product Launch Strategies for 2020 and Beyond
What makes an Amazon product launch successful? Learn the ins and outs of developing a strategy that works for today and tomorrow. Read on!
Originally published on: August 31, 2020
Updated on: March 3, 2022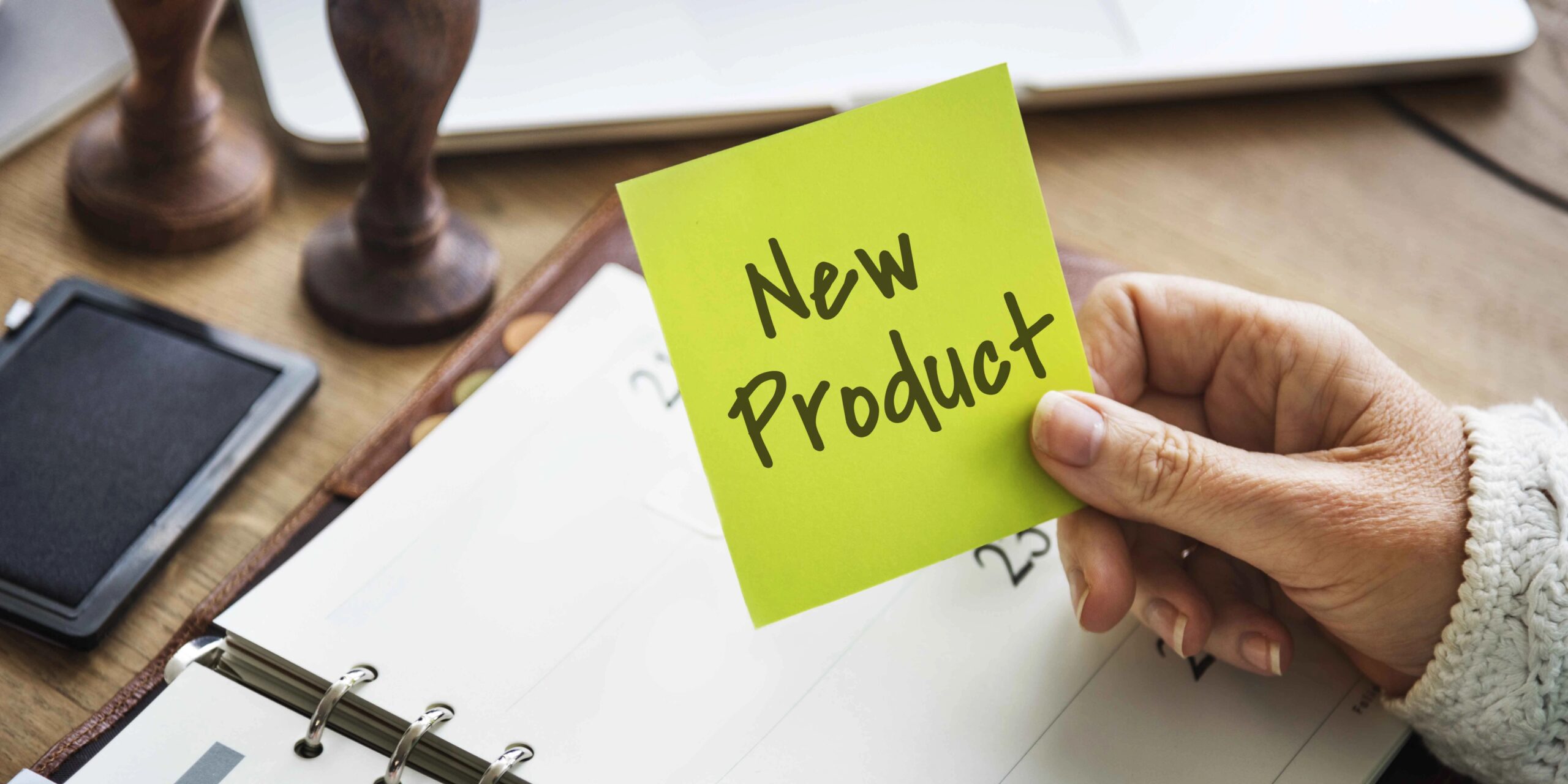 If we're talking about e-commerce, the word "launch" can mean many things. Maybe it's launching a business, or perhaps it means that we've reached the point where we're ready to activate a product listing on Amazon.
When I refer to "launch" in this post, I'm referring to taking advantage of specific strategies to accelerate the sale of your new Amazon product.
Over the years there have been a number of different strategies that are designed to help Amazon sellers launch a new product. As competition between Amazon sellers grows, so too will the efforts of individual sellers to differentiate their products from those of their competitors
In this post, we'll look more closely at the most current methods of launching a new product with the intention of making it to Amazon's first page. More importantly, making sure it stays there.
A "Booster Rocket" for Your Amazon Launch
In the Project X Case Study, Helium 10's Director of Training and Chief Brand Evangelist, Bradley Sutton joined the AM/PM Podcast's Tim Jordan to speak about launching an Amazon Product. They said that if you're trying to launch the wrong product, you might get your product to Amazon's page one. But, like any rocket that goes straight up, it's going to come right back down. 
There's a good chance that you're not selling a product that's exclusive to a niche. You're almost certainly surrounded by other sellers trying to do the same thing. 
A great way to think of your Amazon product launch strategy is as a "booster rocket." 
If you can use a well-researched product to gain the initial momentum, you can then use your product launch to increase the crucial upward momentum you've started with. 
That way, when your competitors' products start falling to ground all around you, you're still headed straight up.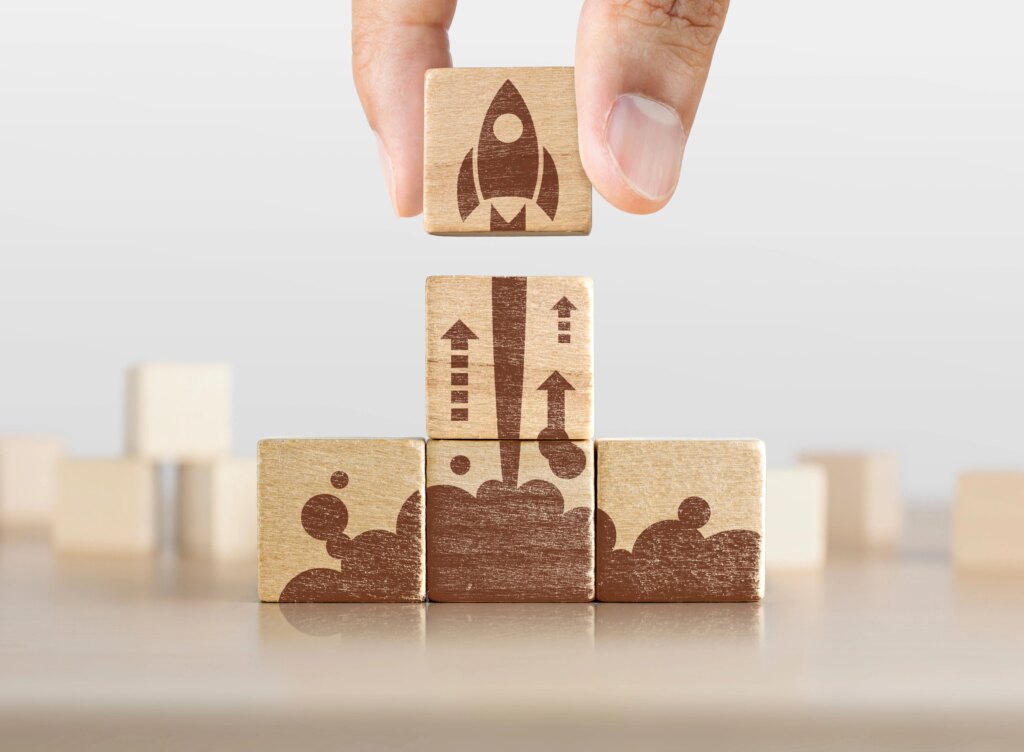 A Successful Launch Starts with Keywords
Amazon and Google are two of the largest search engines in the world. There is however, one enormous difference. 
There's a good chance that searchers on Amazon are looking to buy something. 
If you're hoping to launch (and sell) a product on Amazon, you first need to make sure that there's room in the market for your product. The fastest way to do that is to search for keywords. 
Once you've found the right product, the only way that you'll connect buyers with your product is if your product is searchable for the same keywords that those buyers are using in their searches. 
Let's say that I'm selling a tactical backpack like this one. 
The first thing I'm going to do is go to Amazon's product page for a very similar product and choose four or five competitors that match as closely as possible the product I want to sell. 
I'll choose four of these. 
How to Find the Top Keyword to Target In a Launch 
Now, I'll copy the ASIN from the five Amazon products that I'd like to take a closer look at into Helium 10's Cerebro. 
What are some of the main keywords you want to use for launch? To start with, you want to find the top keywords that are bringing your competitors the most sales.
To do that I'll filter for three ranking competitors, a search volume minimum of 500 and competitor rank average of between one and 25. I'm looking for the top 5 to 10 keywords that have the potential to bring the most sales to competitors selling products similar to to our own.
Now, I'll click, "Get Keywords."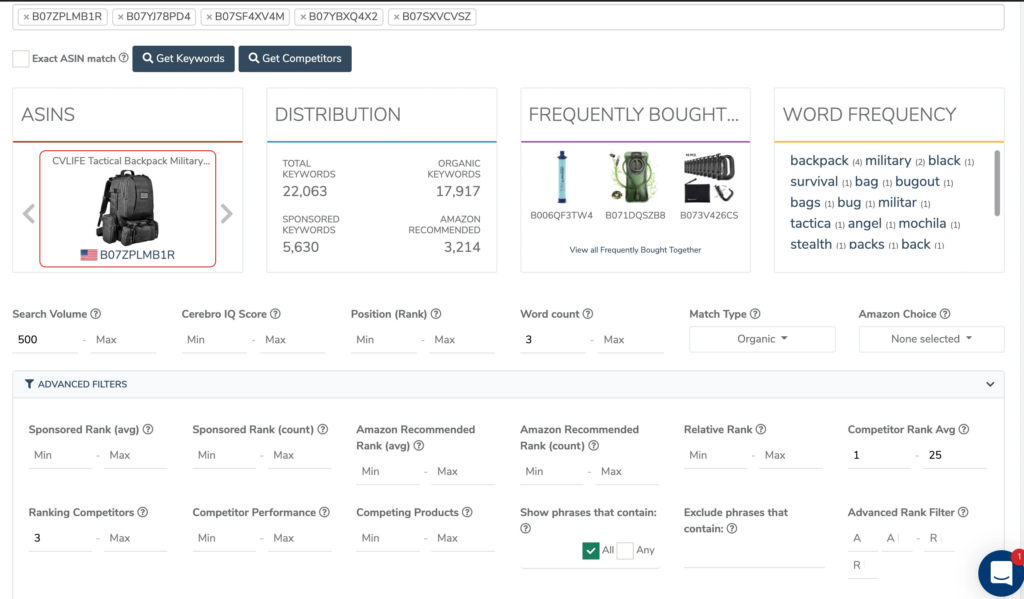 The top of the page gives us a clear view of the distribution of the keywords, products that are "frequently bought together" with my target product, as well as the word frequency of the most used keywords. 
Scrolling down, I can see the list of eight filtered long tail keyword phrases.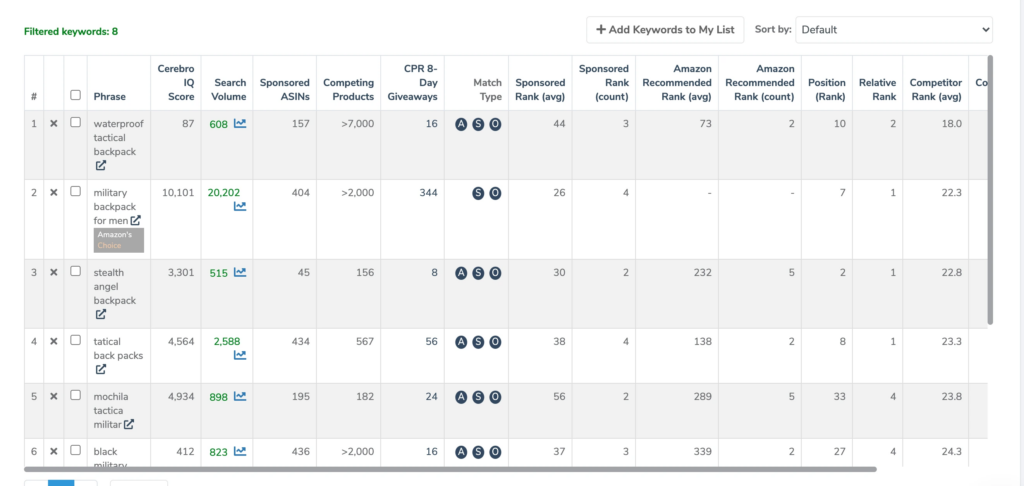 Looking closer, we can see another keyword that we might want to try to rank for; "bugout bags."

When I click on the little graph next to Search Volume, I can see the search trends over the last 30 days, 90 days, one year, and all time.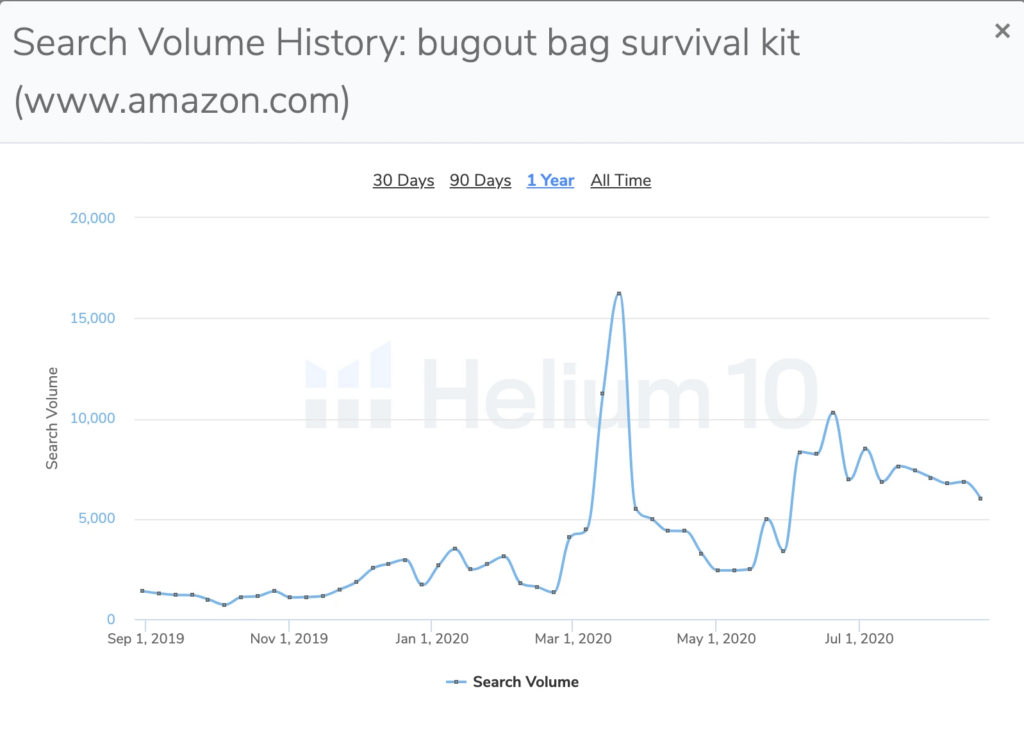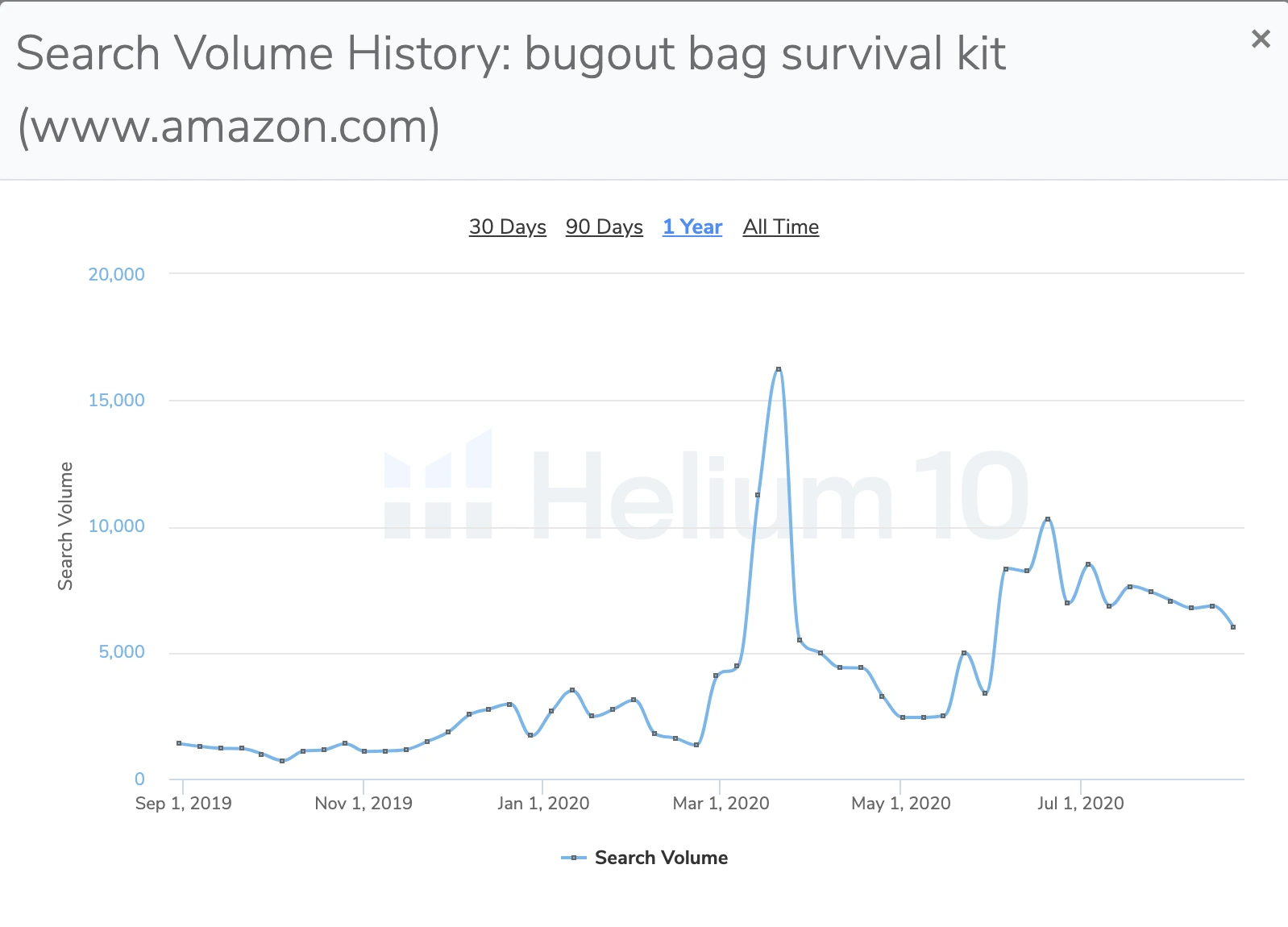 Looking at this graph, we can see that the uncertainty coinciding with the beginnings of the coronavirus pandemic was causing a lot of people to think about preparedness. That obviously inspired an interest in searching for keywords like "bugout bag."
There are so many ways to refer to the same thing. Helium 10's tools help you see past the language bias that we all have. You can even see the foreign language translations that in some cases you'll also want to try to rank for.
This is where the fun (and work) comes in. By balancing the search volume and number of competing products you can find that sweet spot where you've got enough interest that there's money to be made, but not so much competition that it will require too much expenditure in terms of PPC and discounted products.
Why Take a Chance? 
As competition on Amazon has increased, so has the importance of "launches" as a way to create some space between you and your competitors.
When I was young, summers were for fun. Time on the river, a hockey camp perhaps, but I certainly wasn't carrying any school books from June to September. 
Today, children spend a healthy chunk of their summers in Advance Placement (AP) and College Prep classes. That's to make sure they don't fall behind their competitors (fellow students) in the pursuit of one of the limited spots at their preferred colleges. 
I said earlier that you shouldn't NEED to use gimmicks and give-aways to succeed on Amazon. 
True, but why leave something to chance. 
Just like parents enrolling their children in Algebra Camps, this is where you might consider biting the bullet to make sure that you don't under-prepare compared to the competition.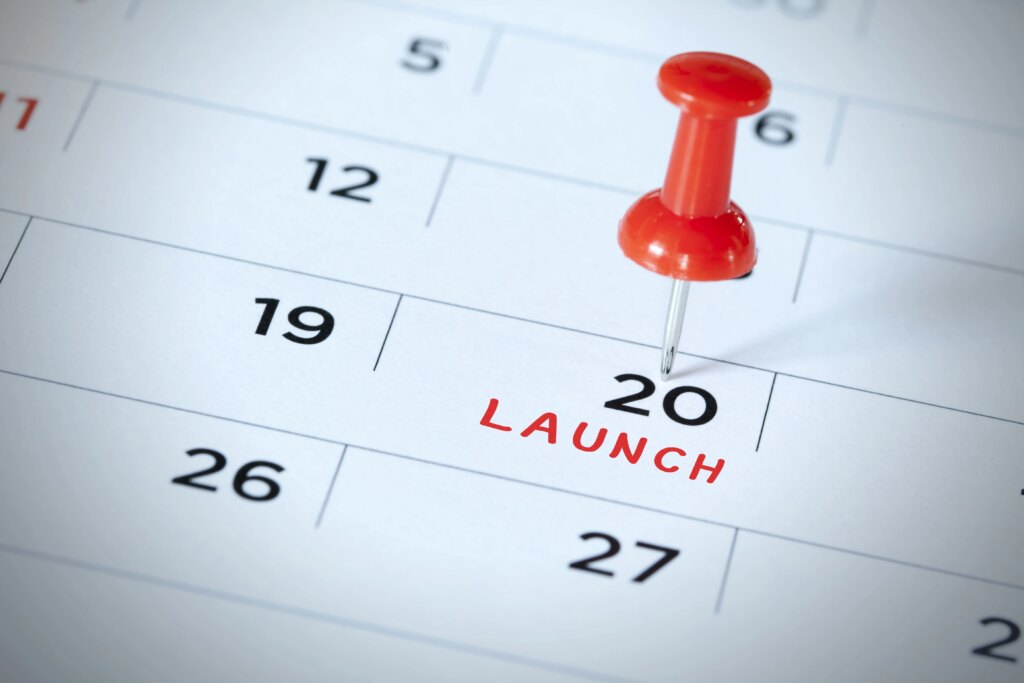 Amazon Product Launch Techniques 
Once again, your success on Amazon is going to come down to how quickly and how well you can capitalize on these three important areas. 
Sales
Reviews
Tactics (PPC, Search-Find-Buy, Chatbot flows etc.)
After you've found a solid product, an Amazon product launch strategy revolves around the seller's ability to create momentum. Nothing will happen without sales. Once that happens, it comes down to encouraging your early customers to leave product reviews. 
At that point, it's time to implement an Amazon product launch tactic. 
There are a number of contemporary techniques that allow you to gently massage the purchasing experience. You're simply offering an inducement. Either you're paying Amazon to place your product in a more visible location on their page with PPC or using Search-Find-Buy, and Chatbot or Facebook flows to try to convince the customer to make a purchase. 
Everybody Loves a Discount
Brick and mortar stores have sales. 
This is the e-commerce way of leveraging a "sale" in order to start Amazon's selling flywheel turning. 
Here are a few examples of the most popular ways to create selling momentum on Amazon. 
PPC
In the most simple terms, Amazon PPC is advertising on Amazon. 
An Amazon PPC advertising campaign targets customer searches and products, and seeks to place ads in high-visibility placements on Amazon.
To brand your products in an Amazon shopper's eyes, you'll want to target relevant, unbranded short to long-tail keywords and display your best-selling products in your ad so shoppers that interact with your brand for the first time can see the best of what you have to offer.
After making a successful keyword bid, advertisers (sellers) pay an Amazon fee to when (during an Amazon search) a shopper clicks on an ad that contains their keyword. (That's the pay-per-click).
Amazon loves PPC. Not only does Amazon get paid for this, it also affects your ability to get indexed for keywords. PPC is the most tried-and-true, terms of service compliant way to get your product noticed by Amazon.
Search-Find-Buy
If you're familiar with Amazon launch strategies, search-find-buy works very much like a 2-step URL. A search, find, buy strategy doesn't just simulate an organic clickthrough, it actually provides one. 
The way it works is by directing customers to find your product with a specific keyword. At that point, they simply follow the trajectory of any organic buyer.
This is exactly what the Amazon Algorithm likes. An Amazon customer is "organically" searching for your product, finding it, and buying it. If enough people do that, amazon decides that this product is relevant and moves it towards page one.
In their Serious Sellers Podcast conversations with Helium 10's Director of Training and Chief Brand Evangelist, Bradley Sutton, AZ Rank's Alina Vlaic and Rankbell's Izabela Hamilton both talk about the importance of creating organic reviews through search-find-buy tactics. 
There are a few different ways you can build a search, find, buy funnel. You can also use Facebook Groups, the Messenger platform as well as Facebook chat bots to direct the traffic and guide customers through the process. 
Off-Amazon Channels 
One way to get your Amazon product listing in front of potential customers is to use external, off-Amazon Channels. You might build an email list using social media, your own website, or through physical or virtual meetup groups.
Helium 10's Portals tool is a great way to build your own Amazon product-specific landing page. Portals allows you to drive external traffic from virtually anywhere in your customer funnel directly to your product page with easy-to-build, conversion rate-optimized, product landing pages designed for Amazon sellers.
You can also capitalize on the increased prevalence of influencer marketing to put your product front and center by assigning a discount code to an influencer in your niche then requiring them to link to your product listing. 
Promotional (or Two Step) URLs
This is another way to target specific keywords when sending customers to Amazon. You can do this while restricting products by brand, keyword or ASIN. Helium 10's GEMs tool offers you an easier, more efficient way to create these distinct Amazon URLs for your product pages.
You can create seven different types of URLs to help drive traffic to your Amazon listing.
What a two step URL does is replicate a search for a specific keyword after directing someone to your listing. It works in two steps. First, the customer is directed to a keyword search result page. Then the customer clicks through to your product listing, creating an organic keyword search with a unique timestamp.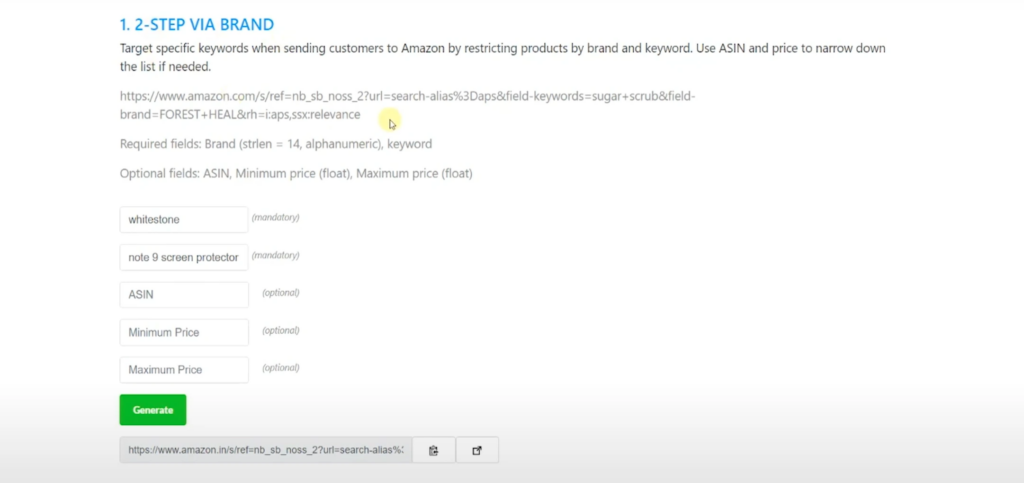 This image shows Helium 10's GEMs tool creating a 2-Step URL via Brand. All that's left to do is generate and share the URL.
How to Get Your Initial Reviews
Amazon Shoppers are busy people. When browsing on Amazon they're quickly scanning for three things:
The product's price
Amazon's Prime badge
The number of reviews
Reviews are crucial in order to generate the social proof necessary to gain sales momentum. But, Amazon isn't stupid. They want to see sales first. That ensures that the reviews that come have a greater chance of being organic in nature. 
Amazon Early Reviewer Program
There's nothing more challenging than getting those first reviews when you first start selling a product on Amazon. 
It's not easy to get Amazon reviews if you are brand new on the market; Amazon knows this. In 2016, Amazon cracked down on incentivized reviews, effectively banning them.
Still, Amazon is aware that reviews are crucial to a successful product launch. Because of that, they've established a way to make sure that you don't have to start a product launch with zero reviews. 
By enrolling your new Amazon product in the Amazon Early Reviewer Program and agreeing to their terms of service you'll be in position to get as many as five reviews. After paying $60 to register an ASIN, when a customer buys that product, Amazon will send them an offer to leave a review in exchange for a small Amazon gift card. 
One way or another, it's going to cost you money to get those reviews. It's important to remember that these reviews are the life-blood of a product launch. Soon, you'll be acquiring your reviews organically. 
Here's an Early Reviewer Program review for a Helium 10 Project X product. Who wouldn't be willing to pay $60 dollars for this kind of Amazon publicity?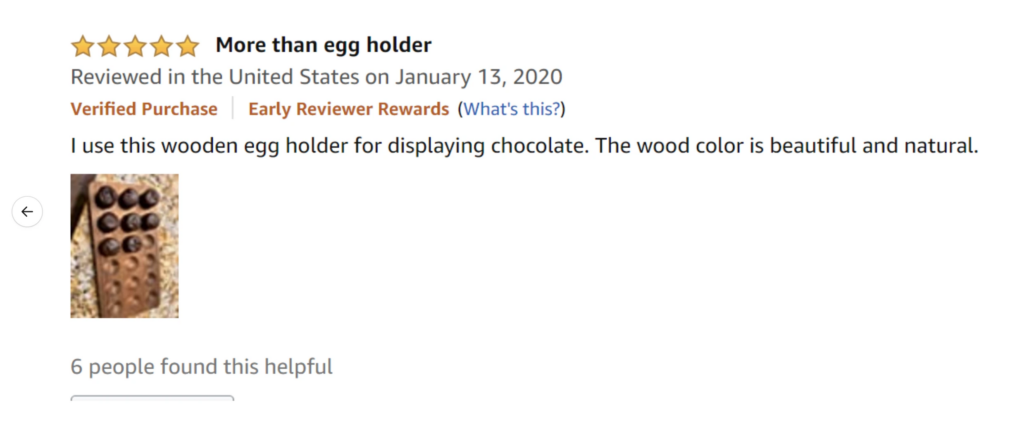 You must meet the following requirements to take advantage of the Amazon Early Reviewer Program:
Your product must have under 5 reviews
Your product must cost more than $15
Mining Sites Such as Yelp, Foursquare and Groupon for Reviewers
Carlos Alvarez, sometimes referred to as the Wizard of Amazon for his cutting edge tactics, spoke with Helium 10 about a technique he uses to get quality reviews using review sites such as Yelp, Foursquare and Groupon. What he does is contact the reviewers themselves directly through the specific sites. 
For example, if he was launching a product having to do with coffee, he would log onto Yelp, then search for a local coffee shop. Then, he'd look for a reviewer that said more than, "Great product, love it." When he found a multiple paragraph review about the wonders of a new coffee filter, he'd know that he'd found his reviewer. 
Don't Take Shortcuts
Launching a product on the competitive Amazon marketplace isn't easy. Many Amazon sellers are tempted to take shortcuts. It's made more difficult by the increasing numbers of e-commerce "gurus" who offer "hacks" and other sneaky techniques that propose to give sellers the upper hand. 
Referred to as "black hat" tactics, these are often against Amazon's terms of service and are an easy way to get your account suspended. Trying to trick Amazon's algorithm is illegal and its effectiveness is often short-lived. 
The most important thing is that it ultimately gets in the way of taking the correct steps that will lead to a long-running, sustainable Amazon business. 
Continue Your Product Research and Development 
Never stop improving. 
Your competition won't stop, and neither should you. Amazon's marketplace and e-commerce in general are constantly changing. Make sure that you take advantage of opportunities to continue to educate yourself with meetups, Amazon seller's groups and (at this point virtual) Amazon sellers' conferences. 
One of the best ways to be a part of the vibrant Amazon selling community is through Helium 10's Facebook Members Group and Amazon FBA High-Rollers Group. Both groups are full of Amazon sellers doing the same thing you are. Many of them might have just dealt with a similar puzzling question that you're struggling with.
Reach out and take advantage of the collective wisdom!
Technology is Your Friend
Be sure to also make use of the newest technology like the Helium 10's Mobile App which gives you the ability to monitor all the most important aspects of your Amazon listings, from the convenience of your smartphone. 
In these challenging times, Amazon and every other online marketplace are just going to continue to grow. Conventional ways of doing business might be enough to keep your business going, but it takes the ability to adapt and pivot with the times to crush it!
Helium 10 is here to help you every step of the way. Be sure to check out some of Helium 10's Amazon product search tool to start looking for potential products to sell!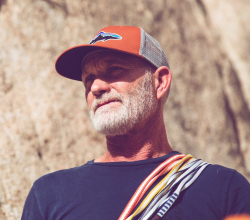 Latest posts by Chuck Kessler
(see all)