Four Ways to Get You Holiday Ready with Amazon Advertising
Did you miss Helium 10's Holiday Readiness with Amazon Advertising Webinar? No worries! We have you covered.
Updated on: March 10, 2022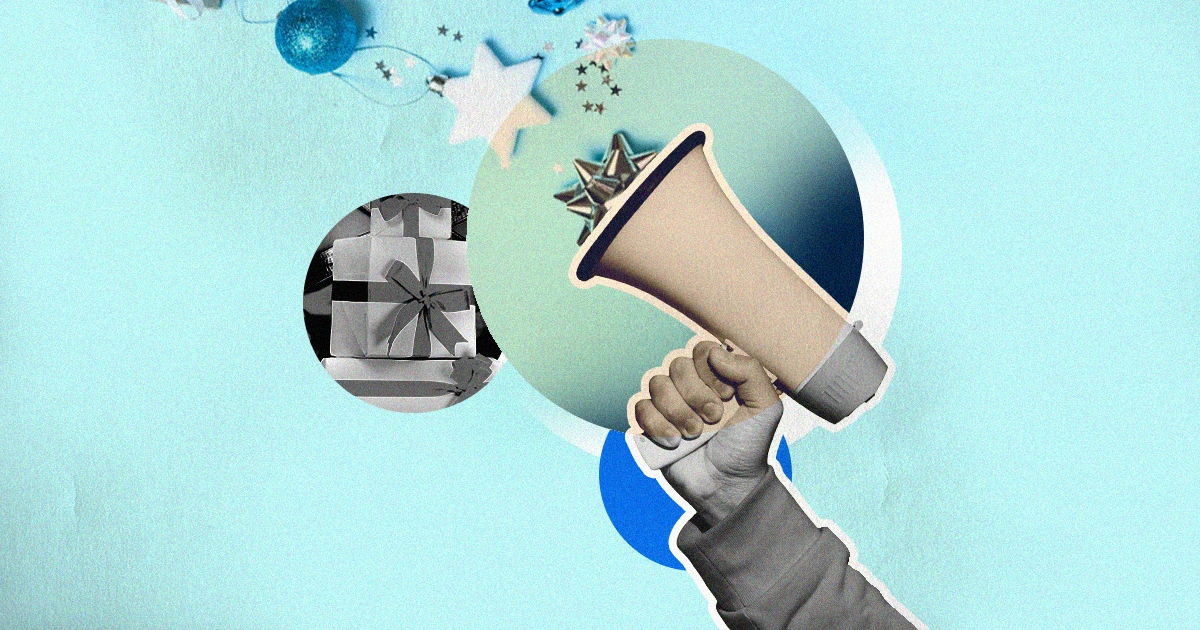 The holiday season is approaching! Amazon sellers are making their product listings and checking them twice. Likewise, Helium 10 recently held a very special holiday readiness presentation: The PPC Playbook + Video Ads Webinar!
The webinar covered how to prepare Amazon sellers for the upcoming holidays, specifically by providing them with practical PPC (Pay Per Click) strategies they can implement during the most wonderful(ly busy) time of the year.
In case you missed it, here are the important takeaways on ACoS, holiday campaign budgeting, the value of Sponsored Brand Videos, and more. If you're selling on Amazon this holiday, check out this Amazon FBA PPC software and read on to ensure you have a successful selling season!
1) Plan Your Budget Ahead of Time & Adjust Accordingly
This might be a given, but nevertheless, planning your budget is instrumental to successful holiday sales. If you sold the same product last year, you may have data on hand to help project what to expect this holiday season. Depending on when you started with Helium 10, you can see that data from last year using Adtomic.
If you are a newer seller without any data from the last holiday season, you can still take into consideration your recent daily spend and ask yourself, "Is my budget sufficient enough to account for at least 2x the clicks?"
In order to take advantage of this busy period, campaign budgets should be increased so that they stay active and enabled throughout the day.


Here is an example of a holiday budget plan:
There are also new Budget Rules within Amazon that can be created per campaign for those products that may have high demand during the holidays.

Use Amazon's present budgets like Black Friday or Cyber Monday to automatically increase your campaign's budget. You can select a recommended percentage or create your own.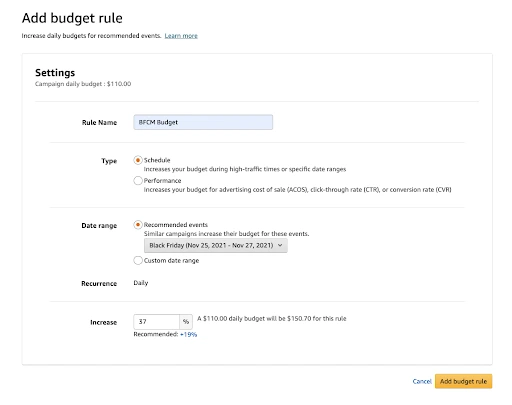 2) Adjust Your ACoS Expectations
If the goal is to remain profitable on your PPC campaigns during this time, you should know your "break-even" ACoS.
However, if you really want to take advantage of the increased traffic and take an aggressive approach, then the higher your ACoS target is, the better. Aiming too low during the holiday season may cause you to prematurely optimize your campaign before the really high traffic days, causing you to miss out on sales.
Looking at the bigger picture though, your total sales, and therefore, your total ACoS (TACoS) is another important metric to gauge the success of your advertising during the holiday season.
Helium 10's Adtomic has an easy way for you to monitor these important metrics under our Analytics section.
In Adtomic, receive suggestions on all keywords and targets on your ACoS goal. Increase your ACoS Target to take a more aggressive approach during the holiday rush.
Beyond ACoS, suggestions include increasing or decreasing bids based on clicks, impressions, and potential conversions. These suggestions can be manually applied or set to run automatically.
ACoS vs. TACoS
PPC is not just about the sales you make from PPC. It's about the branding effect it has on shoppers. The more a shopper sees your product in an ad, the more likely they are to recognize it the next time they search. This process helps increase organic sales.
Since PPC helps with organic sales, we should consider those metrics in our calculations to gauge advertising effectiveness.

This is where Total ACoS or TACoS comes into play:

ACoS: PPC Spend / PPC Sales
TACoS: PPC Spend / Total Sales (Organic plus PPC Sales)
3) Get Clear Insights to Make Informed Optimizations
Search terms are ultimately your touchpoint customers, so understanding how they are performing is essential to a healthy PPC account.
Knowing what is helping on the search term level is one of the most important indicators of actual advertising performance.
Adtomics' new Search Term Detail Page allows you to look at search term performance over time across your entire account, giving you insight into the behavior of your advertising campaigns in incredible detail so that you can drive traffic to your highest performers.
This page allows you to easily visualize how a specific search term is performing across all of your keywords in your account.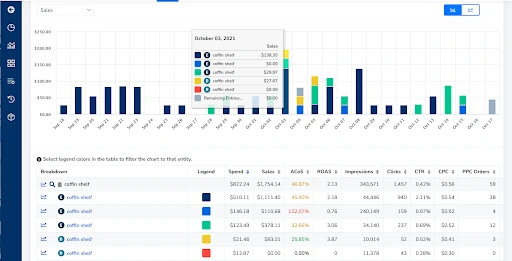 Similarly, the Keyword Detail Page is another powerful way to get a deeper insight into your important targets/keywords in an account. Adtomic's Analytics page already provides sophisticated insights into keyword performance, but the Keyword Detail Page takes it a step further. Now, you can see a chart that shows keyword performance over time.

This gives you unprecedented insight into which campaigns your keywords are performing, which in turn gives you greater control over who is seeing your advertising.
4) Leverage Sponsored Brand Video
If you're on the fence about the effectiveness of Sponsored Brand video, here is one major reason to give them a try…
1 in 5 Amazon visitors has made a purchase as a result of watching a brand or product video.

Survey by Amazon conducted using Google Consumer Surveys, July 2019
That's a very compelling reason in our book!

But before you dive into creating your video for your listing or for PPC, here are some tips:
1. Know your audience. Content should be educational and demonstrative.

2. Show your product. Feature the product prominently within the first seconds.

3. Keep it brief and focused. We recommend an optimal video length of 6-8 seconds for PPC ads.

4. Optimize for the format. Videos should work without sound and on-screen tests should be easily read on a mobile device.

5. Consider the loop. Add your brand logo at the end to allow for some breathing room or get creative and make the loops seamless as videos will automatically replay
Simply put, videos help tell your brand story in the most effective way. When reviewing the results of Sponsored Brand video we know that they:
Help Increase Conversions. The conversation rate is higher when advertisers use both Sponsored Products and Sponsored Brands video.

Help Increase Purchase Intent. Shoppers who interacted with both ad types are 2.5x more likely to make a purchase than shoppers who only interacted with Sponsored Products or Sponsored Brands alone (over the course of 45 days).*
Good Luck This Holiday Season!
Remember that the holiday season is the prime time to get the most out of your Amazon business. Along the way, you'll need to adjust your tactics as obstacles and opportunities present themselves.
Follow the above strategies for optimal selling this season and be sure to check out all of Helium 10's Amazon seller tools that make managing your Amazon business easier for you.
Santa has his elves and reindeer helping him out. You have Helium 10!