PPC Benchmarking: Is my high January ACOS normal?
Updated on: March 10, 2022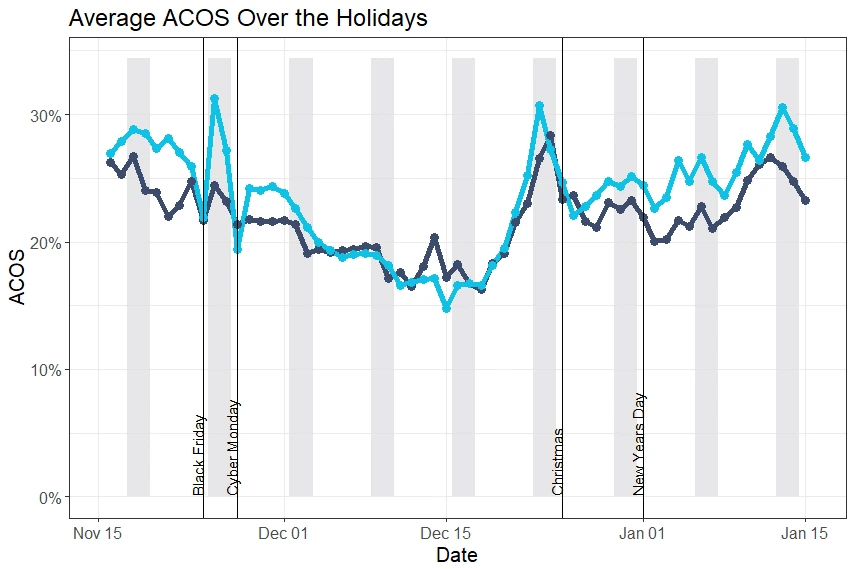 Probably!
ACOS shifts a lot over the holidays. It gradually decreases from mid November to mid December before shooting up over the few days before Christmas. In January ACOS settles back to November levels.
This analysis looks at a random sampling of about 1,000 accounts on the Prestozon platform
~600 from North America
~400 from Europe
Accounts had >1,000 impressions/day
Goal of this Post
Our goal in this post is provide you a sense for the general market movements so you can tell whether your own performance was due to the general market or due to factors specific to your products. It can also help you plan to optimize next year's ad spending.
We'll look at each important metric along with time series charts for each. If you want to apply what you learn here, check out this Amazon FBA PPC software!
ACOS Analysis
Average ACOS was in the high 20% range at the end of November until Black Friday struck when it dropped to just above 20%. Then Cyber Monday arrived, dropping below 20% for North America and just above 20% for Europe.
Interestingly, the day after Black Friday was generally a pretty high ACOS day for advertisers on Amazon in North America! This was probably due to a low conversion rate and the highest average CPC over this whole period.
December 10-18 was the best week of the holiday period to be advertising with the average ACOS reaching as low as 15%. Right after that, though, it shot up to ~30% over the following 5 days.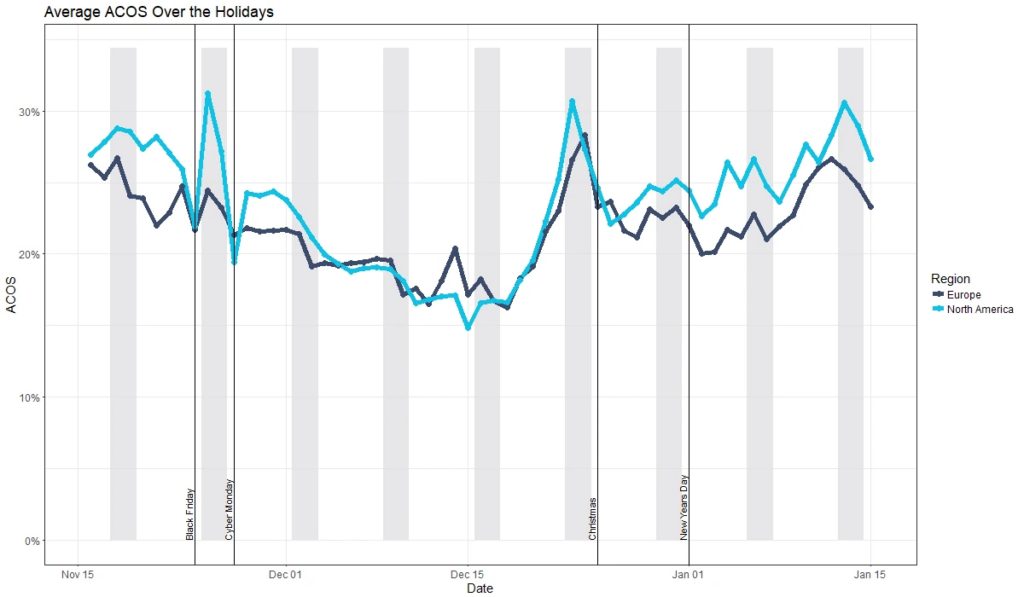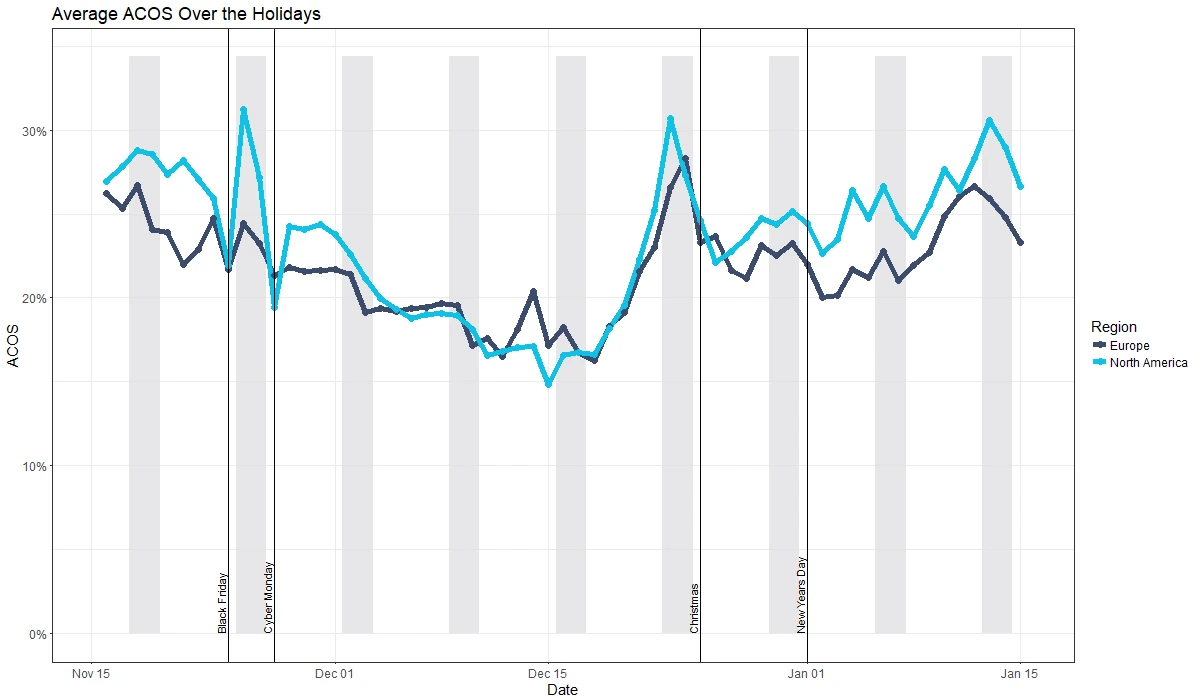 Conversion Rates
We can see why ACOS fluctuated so much when we look at conversion rates. They nearly doubled leading up to Christmas. People were buying! Then they stopped buying quite so much.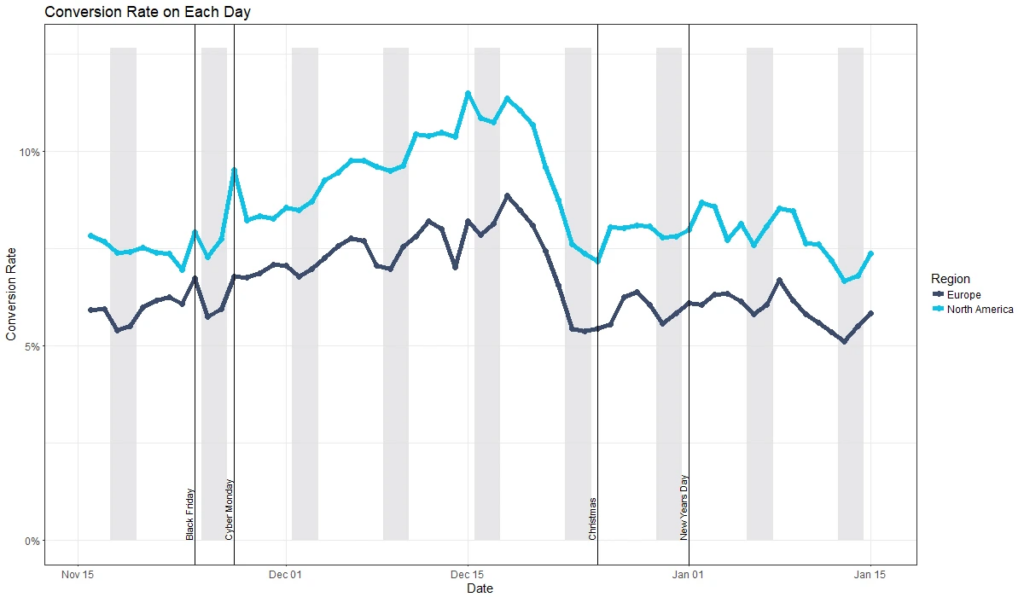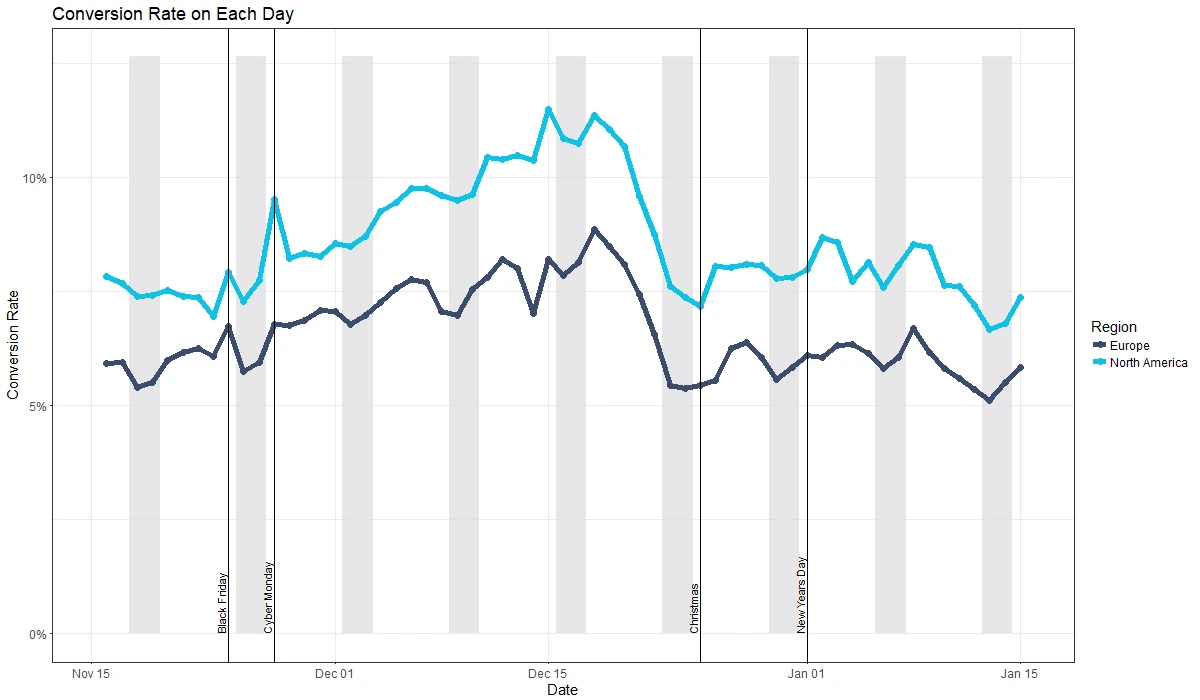 Clicks
Click volume was a bit more cyclical, with lots of clicks happening on Sundays but volumes staying around the same weekly average until December 18. There were a few notable exceptions like Cyber Monday which had abnormally high click volume.
Over the week before Christmas, clicks dropped to 50% of what they were on November 16. After Christmas they rebounded quickly, stabilizing at a lower level than late November.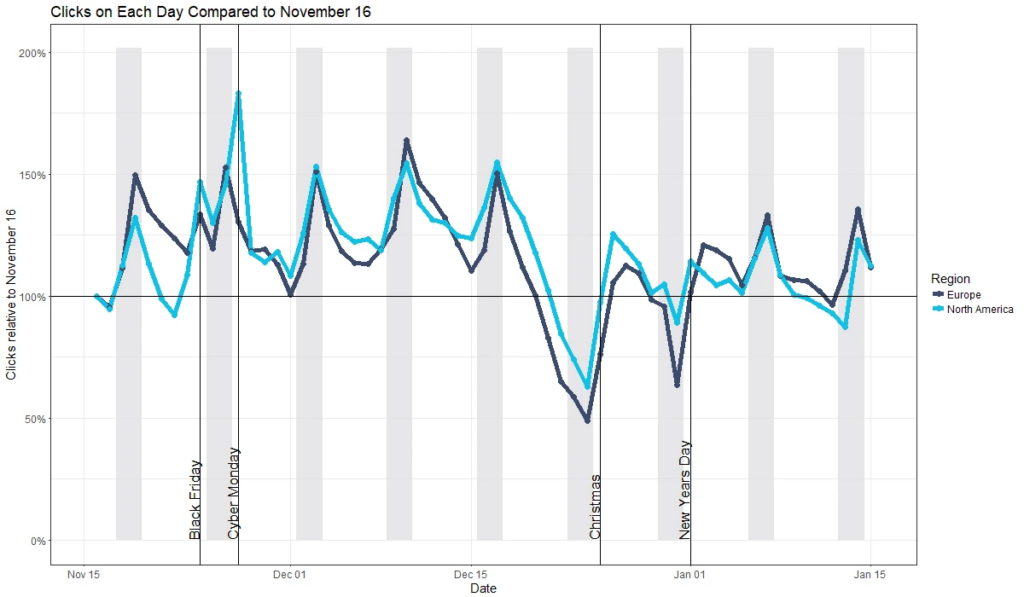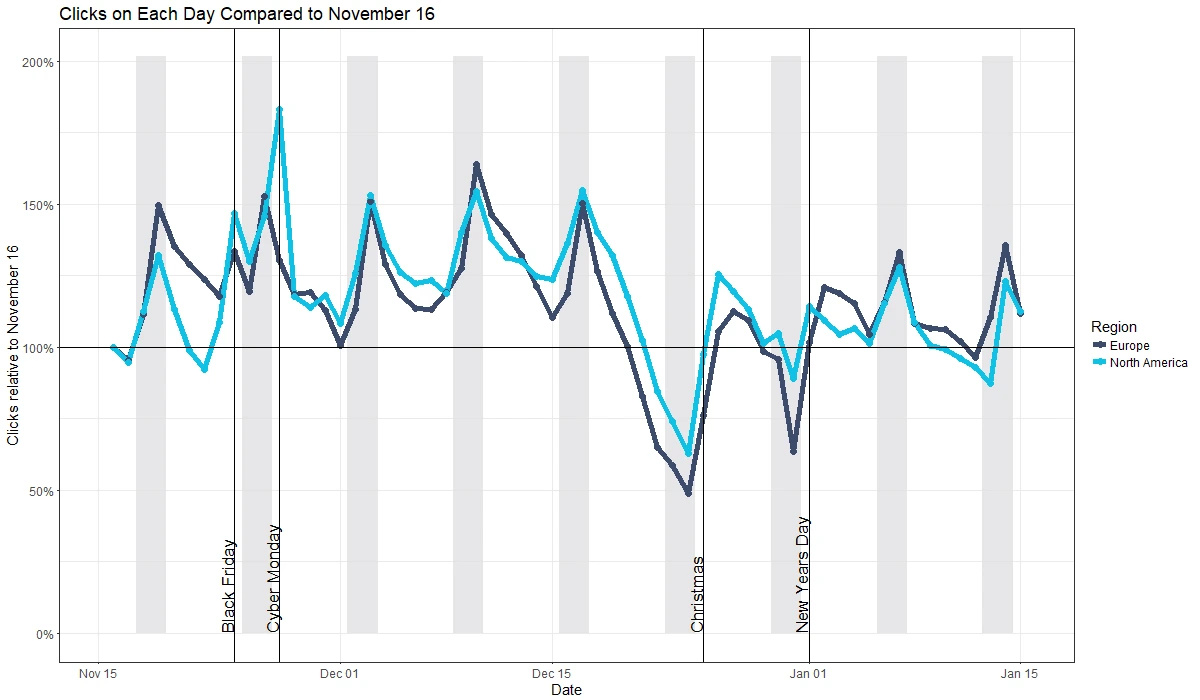 Sales
Even though clicks were stable, sales weren't! Cyber Monday sticks out here in particular, with nearly 3x the sales of November 16! Sales increased until Dec 17 (as we'd expect) before declining rapidly to half their November 16 level.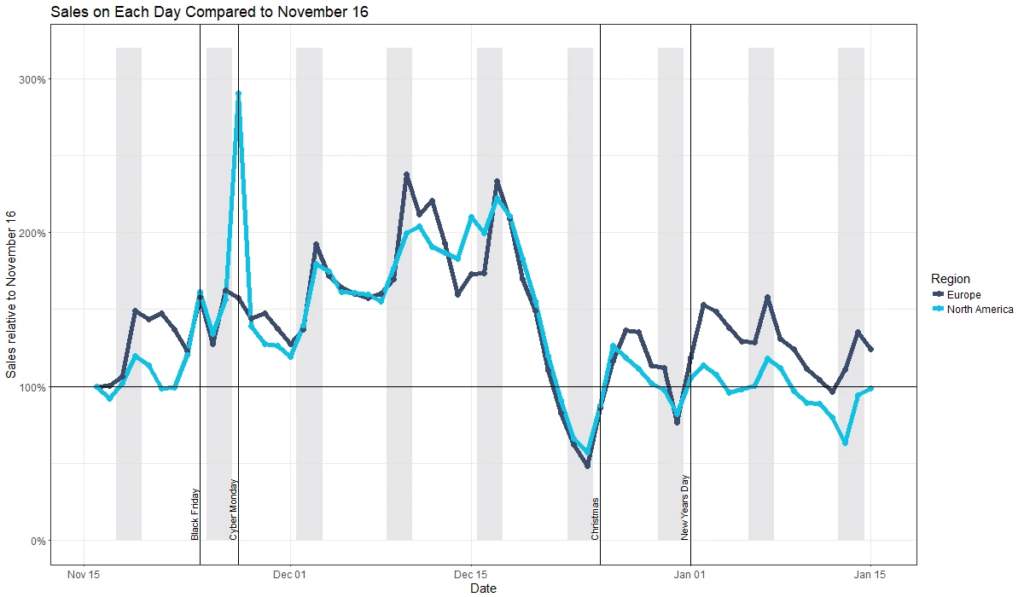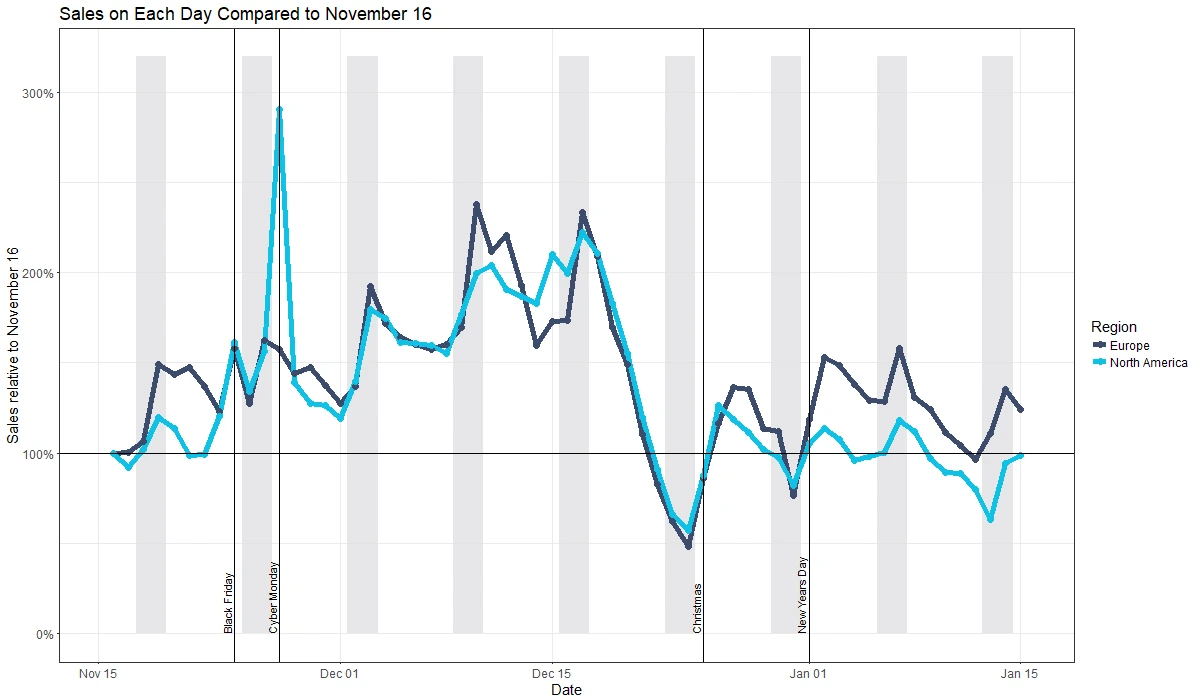 Spend
What about spend? Spend looks pretty similar to clicks (again, as we'd expect given that CPC didn't shift too much).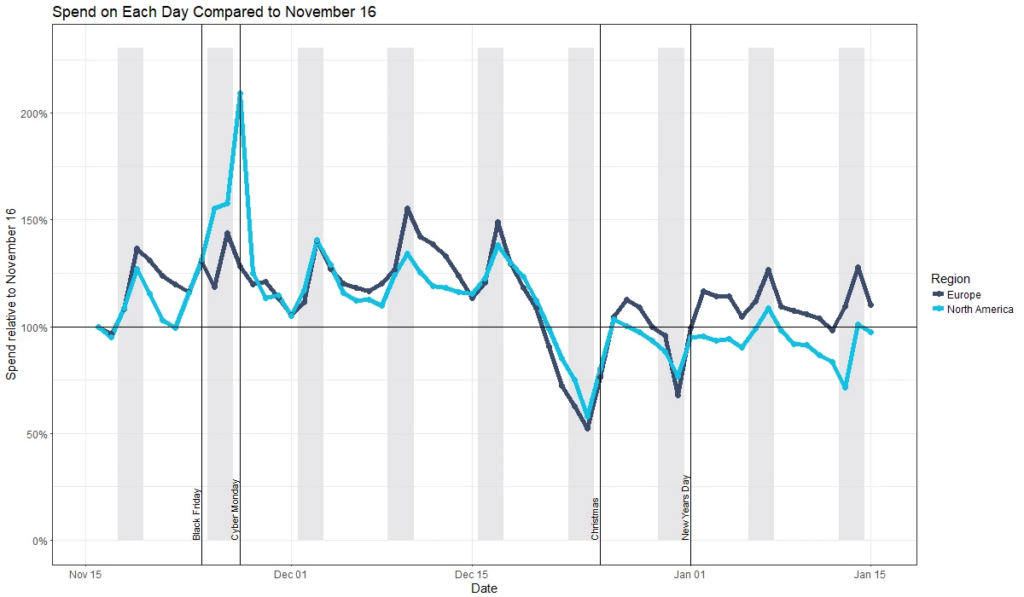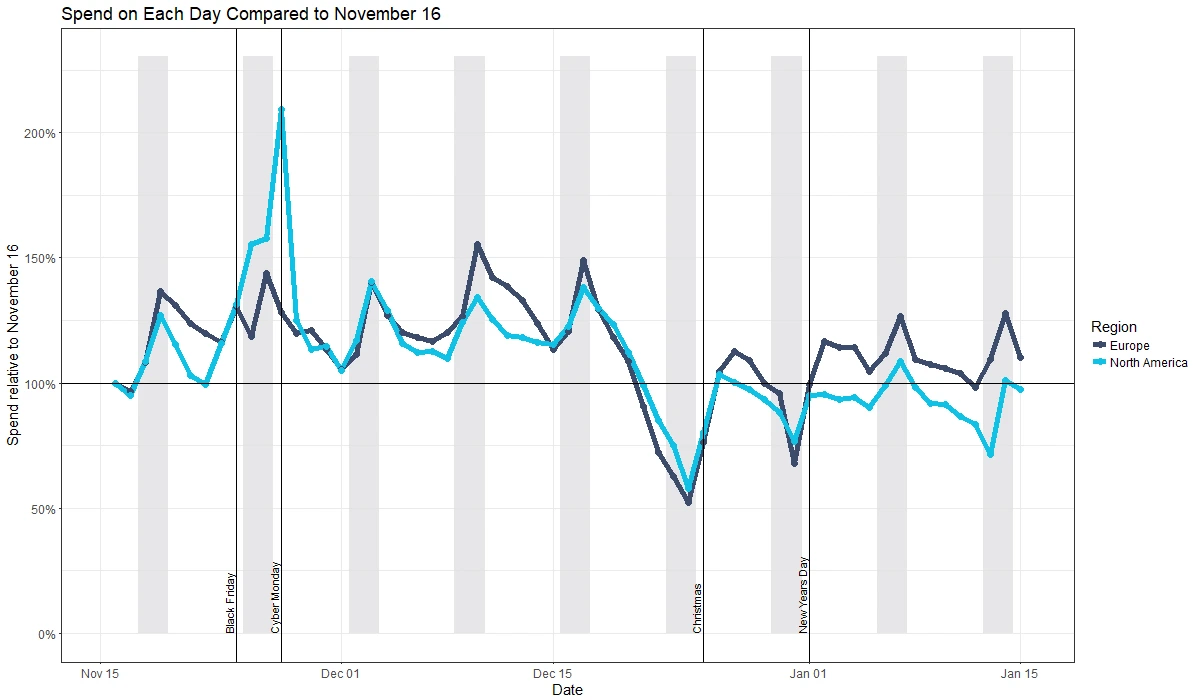 CPC
Europe had a remarkably stable average CPC over this period. North America's moved a bit more, dropping on Black Friday but increasing for the rest of the weekend and Cyber Monday. CPCs dropped after Christmas by 13% compared to mid November.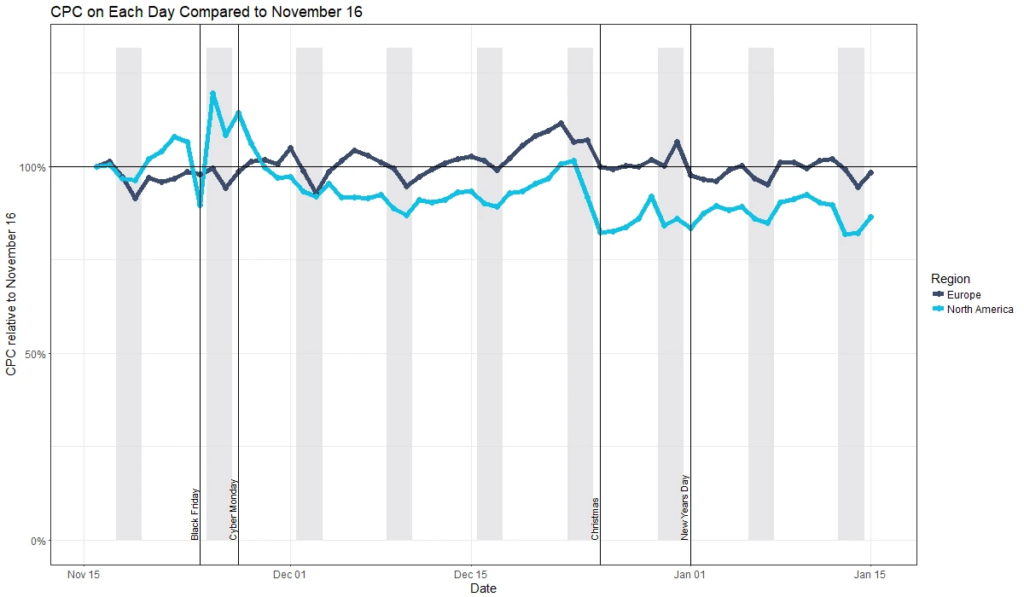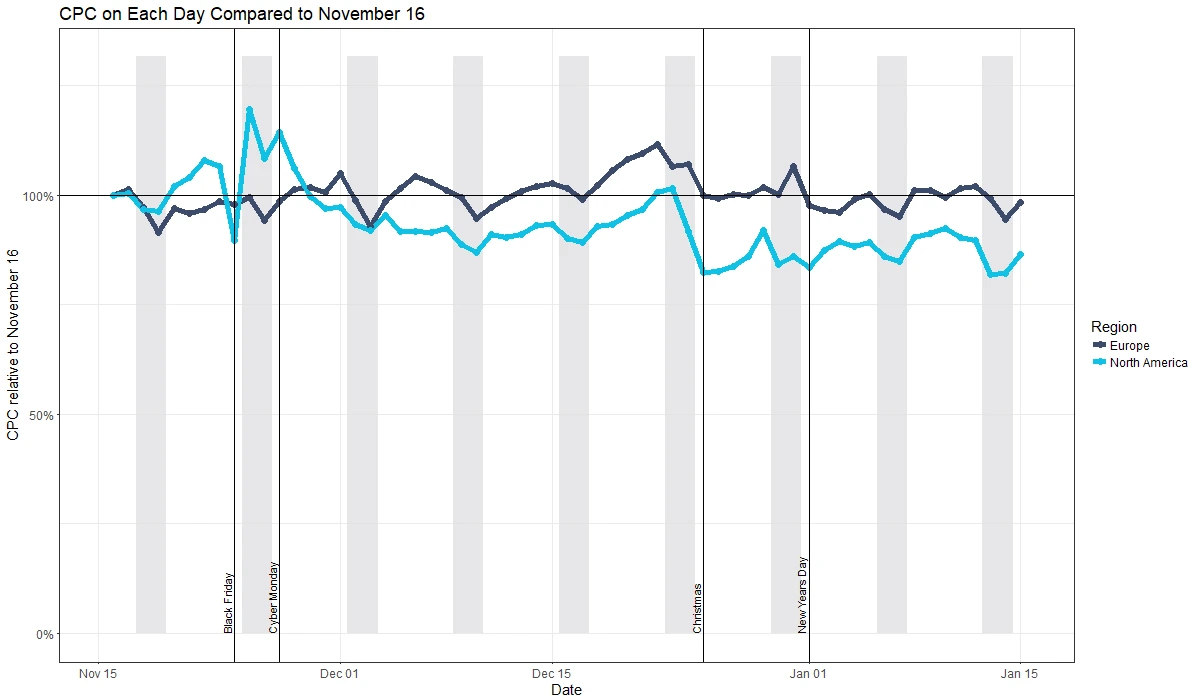 It's handy to know how performance shifts over the holidays so you can be prepared next year to get the most out of your ad spend!
Feel free to share this analysis, we hope it's helpful! If you have any questions, hit us up at [email protected]