The Amazon Pan-European FBA Program: What You Need to Know
Are you a seller operating in the United States marketplace and are curious if the Amazon Pan-European FBA program will help you sell in Europe?
Updated on: March 15, 2022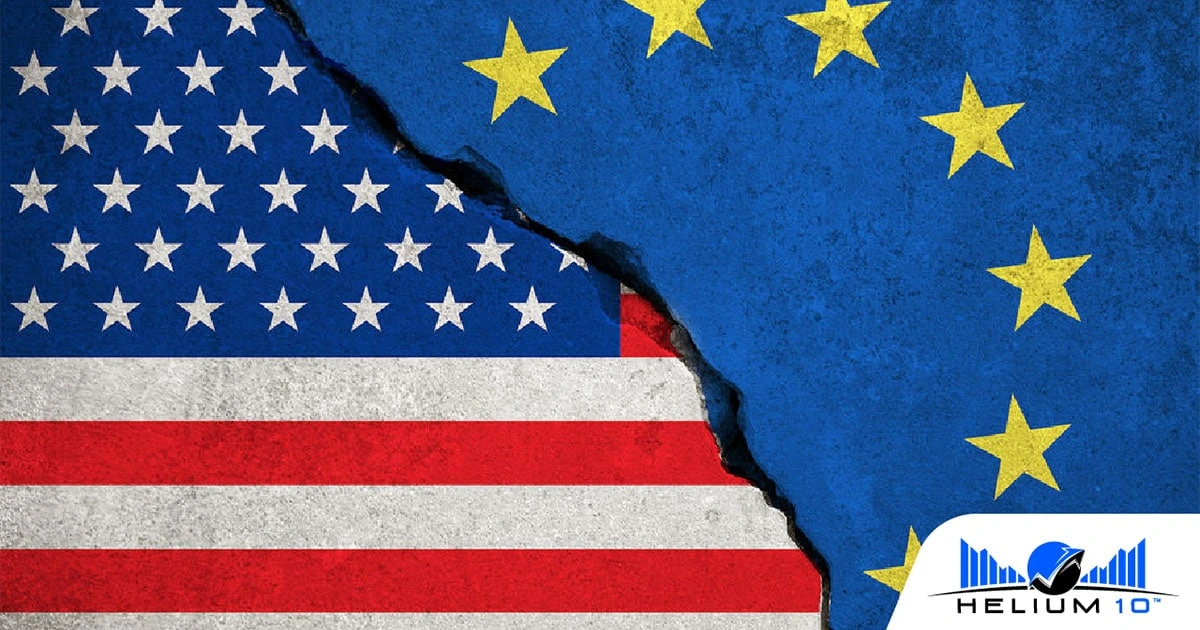 Are you a seller operating in the United States marketplace (Amazon.com) and are curious about the Amazon Pan-European FBA program? How does this program allow you to expand your business into the European marketplaces?
I have been a full-time Amazon FBA seller for nearly two years now. My business recently surpassed seven figures in sales—it was a huge milestone for us!
I realized the other day that I'm actually in a pretty good position to help anyone who has considered joining the Amazon Pan-European FBA program.
Trust me—before you dive in, there are certain things you should know. I hope that you can learn from a few of the mistakes we made when joining the Pan-European FBA program.

I understand that the majority of Amazon sellers start within the US, which makes sense of course! It's the biggest marketplace and for a lot of you, it will be where you live.
I have only ever sold within Amazon's European countries so all of my experience as a seller is based within the EU.
I don't speak seven languages; I only speak English, and this hasn't stopped me from taking my share of the European marketplace.
What Do You Need to Know About Amazon Pan-European FBA?
eBusiness Boss first started selling within the UK only. The company's Amazon business grew pretty quickly and within six months we got a call from an Amazon account manager.
I remember we all felt very important. Amazon was contacting us because we had been highlighted as a high-performing seller within the UK. The first mistake we made was being a little bit too romantic.
Amazon contacted us to say, "as a high performing seller, we'd like you to sell within the other European marketplaces." We started to do a little bit of research, and it turned out that Amazon's German site (amazon.de) actually had more monthly traffic than the UK site (amazon.uk).
Adding France, Italy, and Spain to the equation could increase our gross sales by threefold or even fourfold! We were excited!
I made the following video to highlight some of the main things we struggled with when joining the Pan-European FBA program:
Before you get too excited about selling in Europe, you need to make sure you understand exactly what you are getting into with this program.
Amazon's European Networks
You have three different fulfillment options when selling within the European marketplaces:
European Fulfilment Network (EFN)
Pan-European FBA
Multi-Country Inventory (MCI)
We have only ever used the EFN and Pan-European FBA networks, so they are the two we will discuss. If you want full details on all three options, Amazon explains it all pretty well here.
So, what's the difference between EFN and Pan-European FBA?
The main difference between the two programs is the cost of fulfillment along with the tax implications.
European Fulfilment Network (EFN)
With Amazon's EFN network, all of your goods will be held in one country. For us, all of our stock was held in the United Kingdom. When a customer placed an order, the item was picked, packed, and shipped to the destination country.
This was much easier on the tax implication side of things as we only had to collect Value Added Tax (VAT) for the UK government (20%). In simple terms, you have a duty to collect VAT for the country your stock is being held in.
If you chose to go with the EFN network, your fulfillment fees will be much higher than if they were on the Pan-European FBA network. This rise in fees occurs because you'll need to pay cross-border EFN fees to Amazon; however, this network won't give you a bigger tax implication headache.
The EFN network is not the same as the Pan-European FBA program; the two options are very different. With EFN you still have the ability to sell in each of the European marketplaces, but you will pay much more with your fulfillment fees.
Pan-European FBA
Within this network, your company logistics operation shouldn't change too much. You will ship your goods into one country and Amazon will do the rest.
You avoid cross-border fees and only need to worry about local fulfillment fees by using this program.
Once you've sent goods to your home marketplace, your inventory will be automatically and intelligently distributed through fulfillment centers across Europe.
By using this network, Amazon will store your goods within the different European fulfillment centers and your products are Prime-eligible.
For example, if a German customer places an order and it's nearby, it's ready to be shipped immediately.
In comparison to the EFN network, your fees will be considerably less. Here is the difference in fees as it stands:

This price scale is fantastic of course, but it all comes at a price!
Tax Implications
PLEASE NOTE: I am not a tax specialist, so please consult a tax professional before making any decisions.
If you opt for the PAN-European FBA program, you should be aware of the tax implications from the very beginning.
To qualify for Pan-European FBA, you will need a VAT number for the five core European counties, which include:
United Kingdom
Germany
France
Spain
Italy
We went ahead and got VAT numbers for Poland and the Czech Republic too, as this means that in certain areas, we can take advantage of lower fulfillment fees.
You don't need the last two VAT numbers that I mention, but it will be a decision you'll have to make based on your business requirements.
Here is a useful resource for understanding VAT requirements in the Amazon marketplace.
Before you press the "Join PAN EU" button, you'll need to have a VAT number for each of the core countries. At the time, I think the cost of the VAT setup was around £4000.
It took us around three months to obtain all of our VAT numbers as there is a lot of documentation and you'll need advice from a specialist.
Additional Costs
Be warned, once you have joined the Pan-European FBA program, you will have specific tax return requirements for each country.
Some of the countries require monthly VAT returns, and some require returns every quarter. Unless you are an expert, you'll need a specialist acting on your behalf.
We pay specialist tax consultants to process our returns for each country. Every month we will run our own sales reports in each country to make sure we understand our upcoming tax liabilities.
Translations
You will also need to have all of your listings translated. I'd recommend going for quality rather than the cheapest option. After all, your listings represent the quality of you as a seller.
You'll also have to account for customer service; you as the seller will have 24 hours to respond to customer questions within each marketplace.
For us, we use a native speaking VA to manage each particular marketplace. If you set up a well thought out email template sequence, you can ensure your VA is responding as you would in your home marketplace.
Product Launch & PPC
As with any marketplace, you will have to launch your products. You'll need to have a strategy in place to climb to the top of the Amazon search engine for your target keywords, which will require a budget!
You'll also need to set a PPC budget. Personally, I'm happy to break even on any particular campaign.
I don't want my ACOS to exceed my profit margin. I do this because I work hard to increase the Life Time Value (LTV) of any customer that comes into my Amazon sales funnel.
This is why I always advise people to work on growing their brand and to sell closely related or complementary products.
Is Pan-European FBA Worth It?
Amazon's Pan-European FBA program is fantastic. 50 years ago, you'd have been hard-pressed to find a similar fulfillment solution.
Can you imagine how expensive it would have been to have storage and fulfillment agreements with companies in each of these marketplaces?
Before diving in, you need to consider the aspects of time and cost. It all sounds great on the surface, but it does come with a significant amount of work and responsibility.
Cheers,
Nick from eBusiness Boss