The Importance of Amazon Listing Optimization
You've already found the best product to sell on Amazon... now what? Why is it crucial for sellers to learn the art of listing optimization?
Updated on: September 16, 2022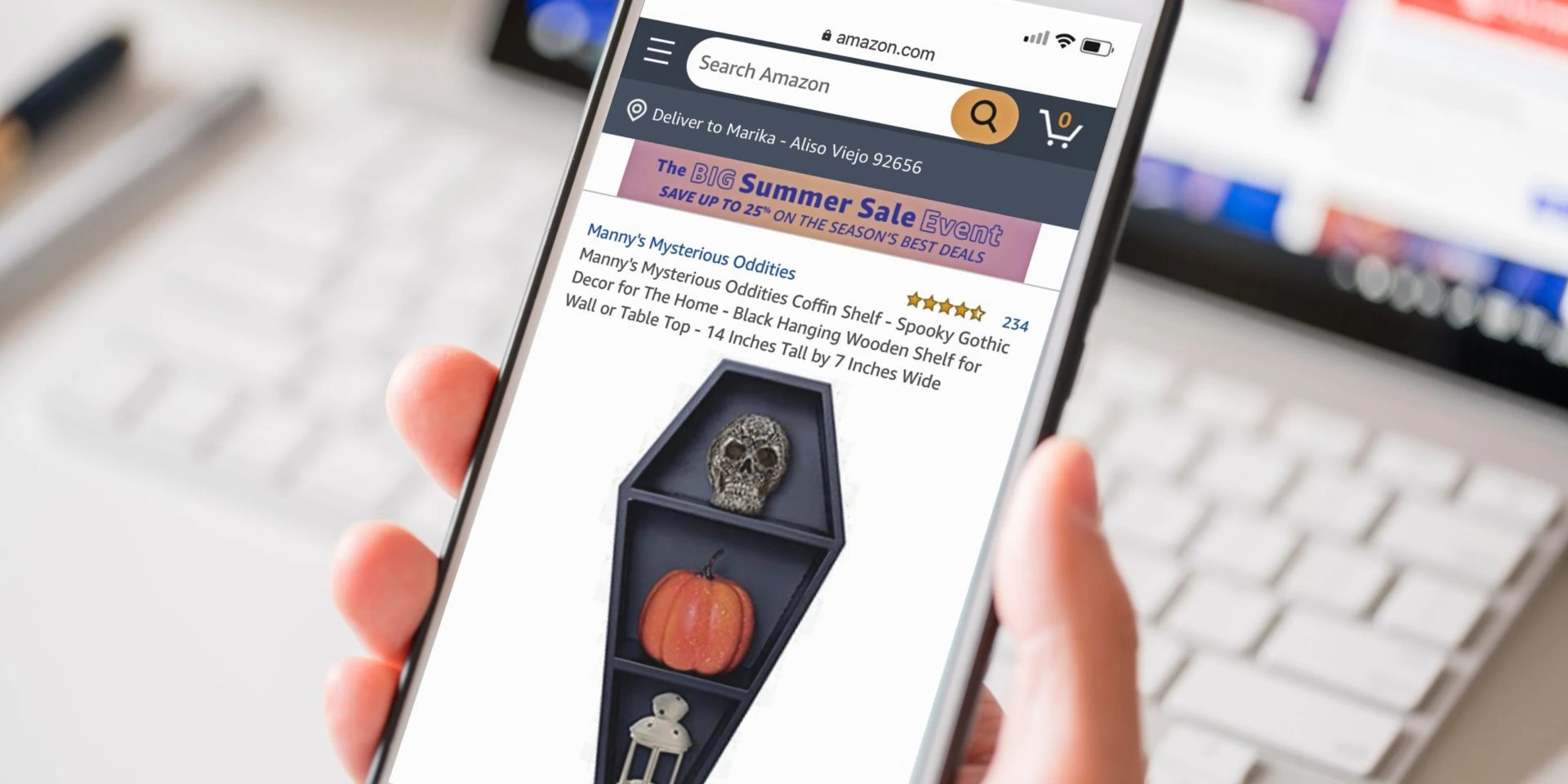 Listing optimization is one of the best parts of the Amazon selling journey.  It's where you can start making money from all of your hard work—if done correctly.
You could have the most amazing product in the world, but if you're not using the right keywords, have poor quality images, weak sales copy, and an overall sloppy looking listing, then it will be near-impossible to get people to buy your product. 
Give your customers the best possible online shopping experience. Dazzle them with your professional looking product detail page. A fully optimized product listing often means the difference between success and failure!
Bradley Sutton and I recently did an in-depth, 2 hour workshop, teaching our top listing optimization strategies. We're thrilled to share a few of those highlights below.
Small Improvements Make a Big Difference!
I have seen countless examples of how making improvements to a listing increase sales and conversion.
Let's look at the Seller Central stats for this product example.
Notice that before making any improvements to this listing, the conversion rate was 23.17% and the monthly sales revenue was $78,08119.
Before Listing Optimization
Now look what happens to the conversion rate and sales revenue just one month after making improvements to the keywords and sales copy, adding some new images, and including an A+ Content Page. 
After Listing Optimization
The conversion rate increased to 25.30% and the revenue increased to $91,190.44.  That's an additional $13,109.25 a month—potentially $157,311 + a year!
What is Amazon Listing Optimization?
Listing Optimization is the process of enhancing every part of your product detail page to maximum sales. 
There are many important components that go into creating and optimizing a winning product listing. 
Optimizing factors can include updating your keywords, then carefully selecting where you place them on the front end of your listing (the parts that customers see), and also on the backend of your listing (the parts that only Amazon sees and uses for their internal system).
Not sure where to start with backend keywords? Helium 10's keyword research tools take the guesswork out of otherwise tedious excel sheet studying.
Listing Optimization can also include changing the text for better readability and engagement. 
Don't forget to improve your images and add product videos. This also means adding a custom A+ Content page if you have Brand Registry. 
Having a fully optimized listing can help:
Increase your keyword page rankings
Increase your conversion rate
Improve your PPC efficiency
Create loyal customers
And more!
Listing Optimization is an essential part of the success of your business! 
Where Do I Start Making Improvements to a Listing?
Studies have shown that customers view an Amazon product listing from left to right and from the top down.  So here are my recommendations for your listing optimization game plan:
Step 1) KEYWORD RESEARCH– Make sure that you are using the best keywords in your listing and for your PPC campaigns. Use our Helium 10 keyword research tools (Cerebro and Magnet) to extract both high-traffic and "hidden gem" keywords hidden to most Amazon sellers.
Step 2) CUSTOMER RESEARCH– Our Helium 10 Review Insights tools (part of the free Chrome Extension) allows you to accurately and efficiently do in-depth research on what your customers like and what they don't like. This is a crucial step to understanding what you can do to be different and better! 
It is very important to tailor the content in your listing to what your ideal customer is looking for. 
For example, people are not purchasing a drill—they are buying the holes the drill makes. 
The Review Insights tool allows you to gain valuable knowledge that you would never find out just by doing keyword research alone. 
You can gather and sort this important information easily to strategically use in some of the direct language on your product listing. 
For example, if you wanted to quickly analyze your competitor's one-star reviews, you can select only the first star, and then extract the results.   
Next, click the "Analysis" tab to easily read the most common phrases that customers use in their reviews to find out what customers don't like (the pain points), and present solutions to those problems in your listing.
Step 3) TITLE– Select your top three to five exact keyword phrases to place in your title. Make sure your title is easy to read, and compelling enough for an interested buyer to click on your listing.
Step 4) IMAGES– Get high-quality images that show off your products in the best possible light! I recommend using a combination of premium product images, lifestyle images with models and props, as well as infographics that highlight special features, dimensions, different usage settings, etc. If you're serious about Amazon product photography, check out our recent ultimate product photography guide.
The more potential customers can imagine themselves using your product, the more likely they will be to make an instant purchase. 
If they feel understood by your company, they may become loyal customers that share it with their friends and family.
***Pickfu.com is a great resource to test which images people like best and why. 
Step 5) VIDEO– Video is a powerful tool to sell your products. You have an opportunity to highlight what makes your product special. Use text overlay to highlight the emotional benefits and practical features of your products.  Use beautiful videography, settings, and engaging music to create a cohesive brand voice.
Step 6) A+ CONTENT– If you have Brand Registry, this is an amazing perk that you definitely will want to take advantage of. Combine beautiful images, text, and graphics to take up more real estate on your product listing. This gives your listing a more premium, branded look and feel that customers are more likely to trust and purchase from. 
Step 7) BULLET POINTS AND PRODUCT DESCRIPTION– Make your bullet points and product description sections fun, engaging, informative, and easy to read. This content should be compelling enough that your customers want to keep reading and then ultimately click the "Add to Cart" button.
Our Helium 10 Tool, Scribbles, allows you to write your entire listing with a sleek graphical interface that live-tracks how many target keywords you have used (both individual and exact phrase form).

It also allows you to import any competitor's listing from Amazon with just the click of a button. Seeing their keyword density and placement strategy gives you an invaluable advantage as an Amazon seller.

You can even sort your keyword phrases by the highest number of customer searches each month!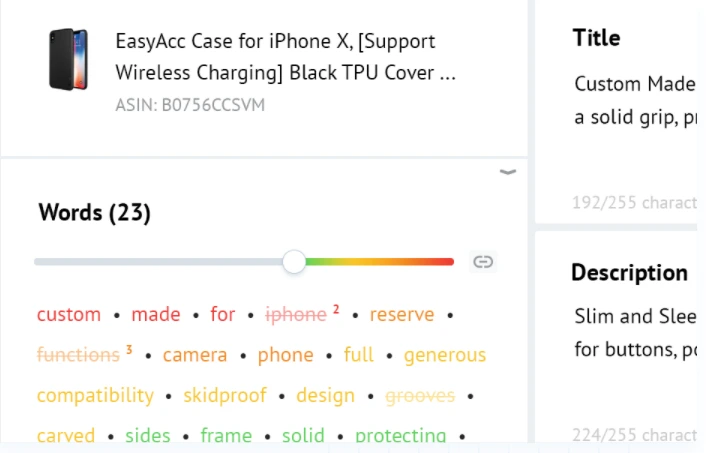 This tool makes it easy to know where to put your top priority keywords inside your title, the backend search terms, the subject matter fields, and also throughout your bullet points and product description. 
Another helpful feature inside Scribbles is how easy it is to quickly format text with capitalization tricks, insert emojis where appropriate, and keep track of the words and characters count so you don't go over the limit that Amazon allows. 
Plus, Scribbles saves all of your work.  You can come back to your listing inside Scribbles weeks later, and it will still have all of your data saved and ready for you to use again. 
Step 8) MAKE SURE YOU'RE INDEXED– After you finish writing your listing inside of Scribbles, and upload your product information to your Seller Central account, you can use our Helium 10 Index Checker Tool to make sure your top keywords are searchable, or "indexed" for your listing.   
Listing Optimization Made Easy!
Here at Helium 10, everything we do, every day, is to help you achieve success! If you would like to watch our full in-depth listing optimization workshop, go to http://www.optimizeyourlistings.com to learn more!
Want to learn more about all that Helium 10 has to offer, like our Amazon product search tool?
Go to Helium 10 today!
Frequently Asked Questions
Everything for your business on Amazon.
Find out more about our products by signing up or speaking with one of our
Customer Success representatives today. With us in your corner, you can enjoy
more sales and increased engagement from your Amazon business.
Chat with a Support Specialist