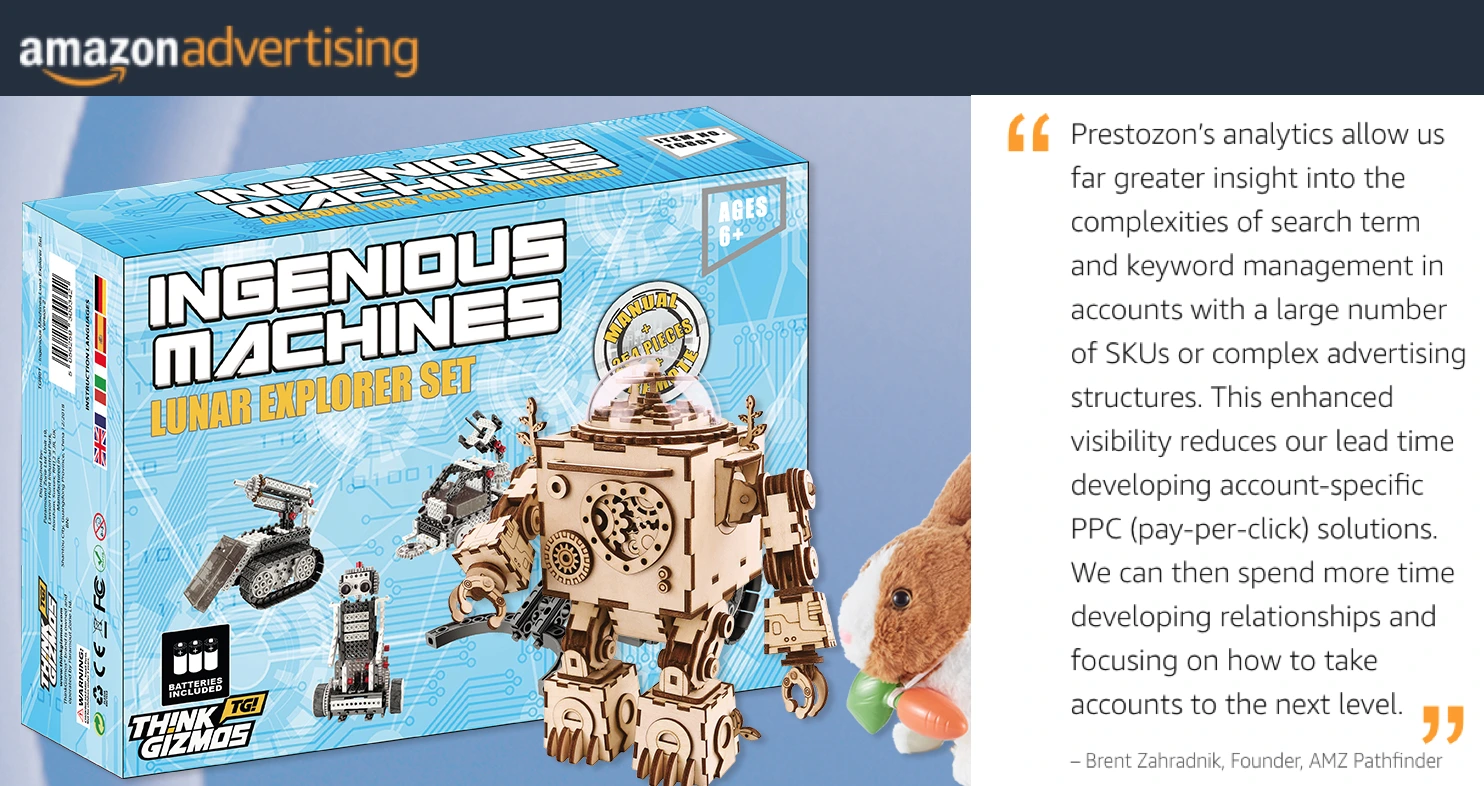 AMZ Pathfinder and Prestozon improve ad campaigns for toy maker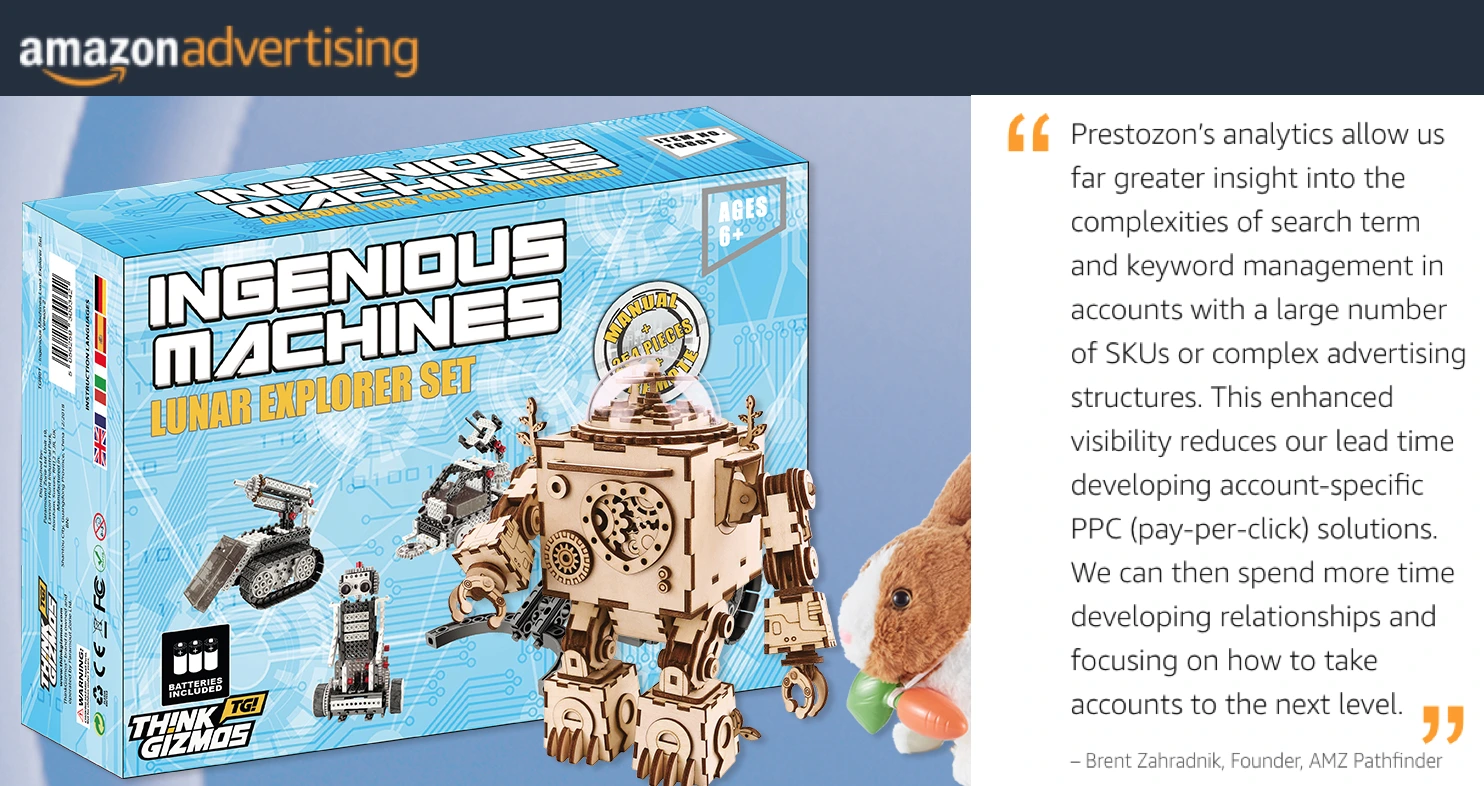 This Case Study originally appeared on Amazon Advertising
The company
ThinkGizmos is a UK-based tech gadget and toy manufacturer that sells on Amazon in North America, Europe, and Australia. Since 2005, it has specialized in remote control (RC) toys as well as home gadgets.
Prior to working with Amazon Advertising, the brand's digital marketing strategy incorporated search, display, and social ads with the goal of increasing sales and improving product visibility by using keywords to reach shoppers looking for products in their category. Once their strategy began to incorporate investing in Amazon Advertising, the brand recognized an opportunity to look for help in improving campaign efficiency and lowering advertising cost of sales (ACOS).
The partnership
In early 2019, ThinkGizmos partnered with France-based agency AMZ Pathfinder to help provide overall strategic planning as well as day-to-day management of its Amazon Advertising campaigns spanning the UK, France, Germany, Italy, Spain, and the US.
To help ThinkGizmos meet its goals, AMZ Pathfinder used Prestozon, a US-based API-integrated software and tool provider that works with Amazon Advertising. Prestozon offers automation and optimization services for brands and agencies on Amazon, enabling them to set up and maintain campaigns that can be adjusted and scaled as needed based on performance. By tapping in to Prestozon's capabilities, AMZ Pathfinder helped provide even more value to ThinkGizmos as an advertiser.
The strategy
In April 2019, AMZ Pathfinder launched a strategy that leveraged Prestozon as a tool provider to help boost visibility and sales for all ThinkGizmos products while improving their ACOS. This strategy featured Sponsored Products and Sponsored Brands campaigns that utilized a wide range of targeting methods to help maximize exposure for the entire product catalog in the UK, France, Germany, Italy, Spain, and the US.
To start, AMZ Pathfinder focused on ThinkGizmos' Sponsored Products campaigns, reviewing existing keywords alongside all available insights and performance metrics. Then, the agency examined the brand's top-selling products and researched keywords to create a list, which it refined with Amazon brand analytics. Finally, AMZ Pathfinder screened the chosen keywords for relevance in relation to each product.
During this phase, AMZ Pathfinder used Prestozon's tool to organize ThinkGizmos' account, initiating a triage and clean-up effort for duplicate or ineffectively deployed keywords. The agency used Prestozon's bid automation to create negative keyword rules based on existing account insights and set ACOS targets to help guide automated keyword bidding.
After seeing success with the Sponsored Products campaigns, AMZ Pathfinder experimented with Sponsored Brands. Applying a modified A/B testing methodology to the campaigns helped improve ad performance and discover new search terms. The agency ran multiple versions of Sponsored Brands campaigns with slight variations in the ad copy or primary image (lower-performing ad variations were paused or jettisoned). In addition, Prestozon's search term migration rules automatically elevated popular search terms from exploratory "Research" campaigns to wider "Performance" campaigns. These processes helped surface new keywords and search terms while simultaneously promoting a more efficient ad spend.
The results
From April to December 2019, ThinkGizmos brand achieved a 23% ACOS across the US and five European marketplaces, with 33% of its total sales attributed to advertising over this timeframe. Sponsored Brands campaigns proved effective at new customer acquisition, with 88% of attributed orders being new-to-brand.
By leveraging an API tool provider like Prestozon, AMZ Pathfinder was able to more effectively service its brand client, ThinkGizmos, who reaped the benefits of automated campaign management.
Prestozon's analytics allow us far greater insight into the complexities of search term and keyword management in accounts with a large number of SKUs or complex advertising structures. This enhanced visibility reduces our lead time developing account-specific PPC (pay-per-click) solutions. We can then spend more time developing relationships and focusing on how to take accounts to the next level.

– Brent Zahradnik, Founder, AMZ Pathfinder
Achieve More Results in Less Time
Accelerate the Growth of Your Business, Brand or Agency
Maximize your results and drive success faster with Helium 10's full suite of Amazon and Walmart solutions.