How Alexa Is Making Long-Tail Keywords Essential
Growth in the use of Amazon's Alexa and voice based artificial intelligence requires great content and the natural structure of long-tail keywords.
Updated on: August 9, 2022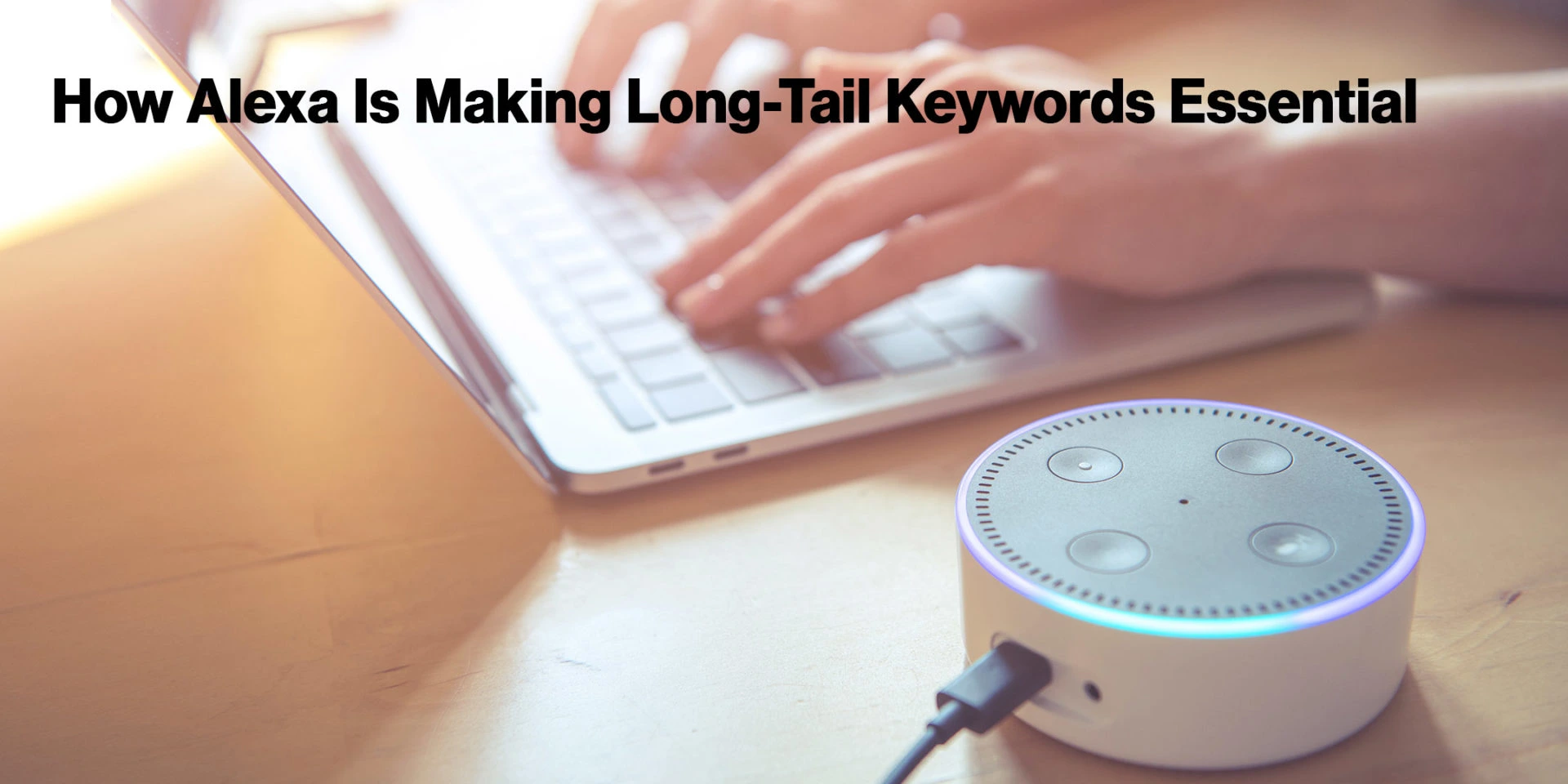 In a plot-twist, the way we communicate with Alexa's voice recognition AI is requiring a more human approach to how we go about searching for products on Amazon, both to sell, and to buy.
It was just last year that Amazon eclipsed Google as the dominant search engine for product searches. Amazon's Alexa and Google's Assistant are both front and center of the increasing number of AI (artificial intelligence) voice recognition devices that are doing more than simply teaching us the right way to initiate an internet-based search; they are also learning to better understand our natural inquiries.
As the world of technology moves rapidly forward and the engineers in the back rooms of Google and Amazon are busily improving algorithms, operating systems, and most importantly, the voice-based AI capabilities of our smart devices, the tide towards more organic communications is only increasing.
Let's go back a Few Years, and Consider an Orwellian Fear
One of the main concerns was that the ever-present little computers in user's pockets and increasingly, the helpful little disc in the corner of the room, Alexa, were going to take over our lives.
OK, maybe that came true.
But, the other worry was that we would somehow lose our ability to think for ourselves while maintaining a rich base-line of human to human interaction.
According to a June 2017 article in Psychology Today based on a study from the University of Texas at Austin and titled, Are Smart Phones Making Us Stupid?, "Cognitive capacity and overall brain power are significantly reduced when your smartphone is within glancing distance—even if it's turned off and face down.
The smart money was betting on our cherished technological marvels causing a large-scale degradation in how we communicate with each other.
Well, not anymore. Now in a dizzying socio-technical pivot, our smart devices are requiring more from us, in effect, demanding that we be better.
Nothing Motivates Like Money
In the case of e-commerce, organic interactions are all of a sudden eliciting the kind of lucrative financial rewards that can only be offered by powerful companies; Amazon and Google among them. And as we know, companies as smart as these do not spend money if there isn't a good reason for it.
But First, A Little History . . .
Our desktops, laptops, tablets, and phones have gone through 3 quantum changes to their native technological backbone.
First, there was the keyboard which offered us a way to design and program in concert with the brand new computing power born of Silicon Valley garages.
Next was the advent of touch and the myriad of swiping actions that came with the world's fascination with smartphones and tablets. Our devices were becoming a part of us. They weren't on a desk or a table. They were in a pocket, a purse or more often, firmly grasped in our hands. 
Now, with the advancements made to AI's voice recognition software, the division between human and artificial intelligence continues to blur.
These devices and the fluid, highly intuitive voice searches that they make possible, have dynamically fueled an e-commerce model where the brand is part of a solution, as opposed to overtly "selling" us something.
Now, Back to the Money . . .
Using Amazon's automatic voice recognition and natural language understanding technology allows users to communicate with their organic, natural voices in their native language.
Tens of millions of Alexa users have literally welcomed e-commerce businesses into their homes to entertain them or simply help them with a task.
There is a tremendous amount of money to be made with these skills. They can be used to market premium digital content, offer subscriptions for sports, news, and music, facilitate "microtransactions" for on-line gaming products (characters, weapons or levels), and sell real goods and services.
But that's not all, Amazon is incentivizing developers to create money-making "skills" with big cash payouts.
Amazon has established Alexa Development Rewards that allow developers to earn money each month for building skills that increase customer engagement and ultimately drive e-commerce cash-flow.
All roads to success on Amazon run through effective keyword research.
Google said in July 2019 that "Our search algorithms are complex math equations that rely on hundreds of variables" and that "In 2018, we ran over 654,680 experiments, with trained external Search Raters and live tests, resulting in more than 3234 improvements to Search."
It's clear that neither Google nor Amazon are going to stop adjusting their algorithms to the available technologies and our own learned behavior.
As with Google, Amazon's A9 algorithm is highly dependent on text match relevancy (how closely the search queries of the customer matches your product). Products will usually only be found for a specific search query if the listing itself contains the keyword searched.
One More Reason to Love Long-Tailed Keywords
Change is coming, and it circles back to the way that voice-recognition based AI makes product search highly dependant upon long-tailed keywords
A typical keyword optimization check-list stresses the importance of focusing attention on these 4 key aspects:
Product listing titles
Product description
Bullet points
Back-end search terms (though increasingly less important with each Amazon revamp)
Now, it's Necessary to Reconsider the Way that Searches are Originating
Every single day, millions of people around the world are adding a new voice-enabled smart device to their home.
Analysts say that by the end of 2019 there will be a base of over 200 million smart speakers in homes around the world. Because of that, moving forward, the percentage of internet searches that begin as a spoken request will only increase.
It is often said that by 2020, 50 percent of all searches will originate from voice search. These organically spoken search requests will tend to be in the form of longer (5 words or more) sentences and will continue to reward both great content and the natural structure of long-tail keywords.
It's clear that conversational voice searches will be easier for the people asking Alexa for something, but how might we optimize for these types of voice searches on Google and within Amazon's marketplace?
Voice Recognition Optimized SEO Checklist:
All written content should be conversational in nature. Read it out loud. If it doesn't make sense, it's probably not very searchable. Both Amazon and Google encourage search queries that mirror the tendency of spoken questions, to begin with, who, what, where, when and how.
Organic, conversational speech is, in essence, a very long-tail keyword. Distill the conversation and you'll have your long-tail keywords. Incorporating highly descriptive long-tail keywords will improve your searchability, ranking and lead to better content altogether.
Long-tail doesn't mean long-winded. Keep it short, clearly written and concise. Search engines typically scan the title and first paragraph of a page.
Let's not forget Amazon's Choice.
According to Amazon, Amazon's Choice had its origin in 2015 as a way to "simplify shopping for customers by highlighting highly rated, well-priced products ready to ship immediately for the most popular searches on Amazon."
The advent of voice searches has now given Amazon's Choice an increased profile.
When a consumer asks Alexa to order a product, the voice assistant toggles through 3 types of (Amazon Prime certified) products to place in the shopping cart:
Products that have the "Amazon's Choice" designation
Products that rank first in organic search
Products that the consumer has previously purchased
We Can't Put Alexa back in the Bottle
Technology will continue to move forward. That much goes without saying. The only thing that's certain, is that artificial intelligence and voice recognition will continue to increase its role in how we work and live. The strangely comforting aspect of all this is that as the machine gradually becomes more human, it encourages us to redouble our efforts to do the same.
Speaking of Technology
If the root of success on Amazon revolves around keywords and the technology of the day is evolving search into conversational terms, then it stands to reason that keyword research remains extremely important. Knowing this, there is no better tool for conducting extensive keyword research than Helium 10 (specifically Cerebro and Black Box).
By being aware of your competitor keyword strength, having an understanding of keywords used in your niche, and optimizing with natural language in mind, Amazon sellers stand to gain much from the evolution of these technologies.