Posted on: April 28, 2020, By: Kai Maranon
4 Easy Steps to Get Started with Helium 10
Helium 10 is the most complete tools suite for Amazon sellers. Get started with Pro Training videos, the 8-week Freedom Ticket Amazon course, and more.
New to Helium 10? Well, you're in the right place.
Welcome to the Helium 10 quick start guide! As the title suggests, this guide is geared towards new Amazon sellers, or Amazon sellers with some experience who are new to Helium 10.
Think of this as the package insert you get when you buy a new smart TV and don't want to read about the entire history of TVs in 12 different languages. You just want to get going as quickly as possible.
To make that easier for you, we've outlined how to get started with all of the right tools. Below, you'll find:
Where to sign up
What to download
Where to study up on educational material
An introduction to our comprehensive Amazon seller training course
We suggest bookmarking this article regardless of what stage of research you're in, that way you can follow the instructions here once you're truly ready to dive in and start selling on Amazon.
Ready? Let's get started.
Step 1: Sign up for your free Helium 10 account
First things first, get started with a free Helium 10 account. There is absolutely no cost to register your account and start using the tools – no credit card obligation or anything like that.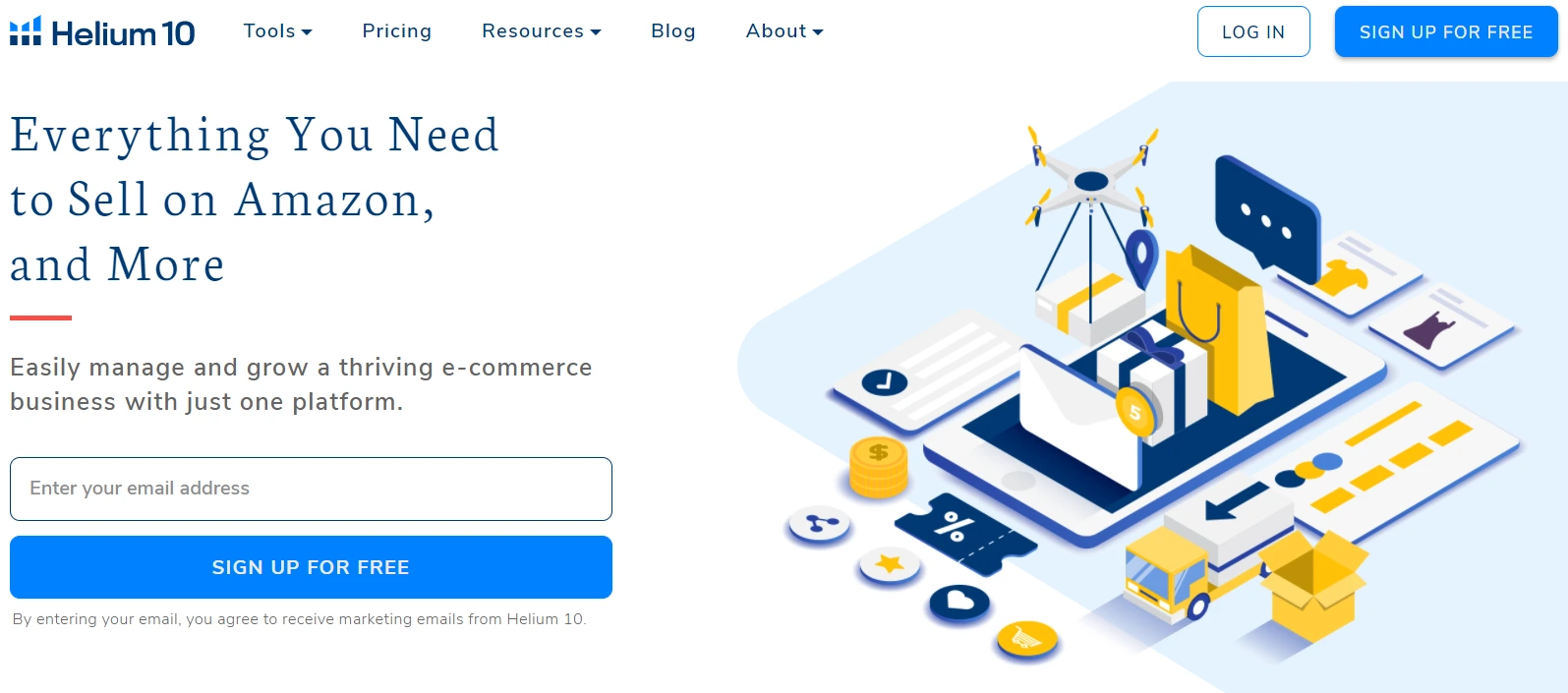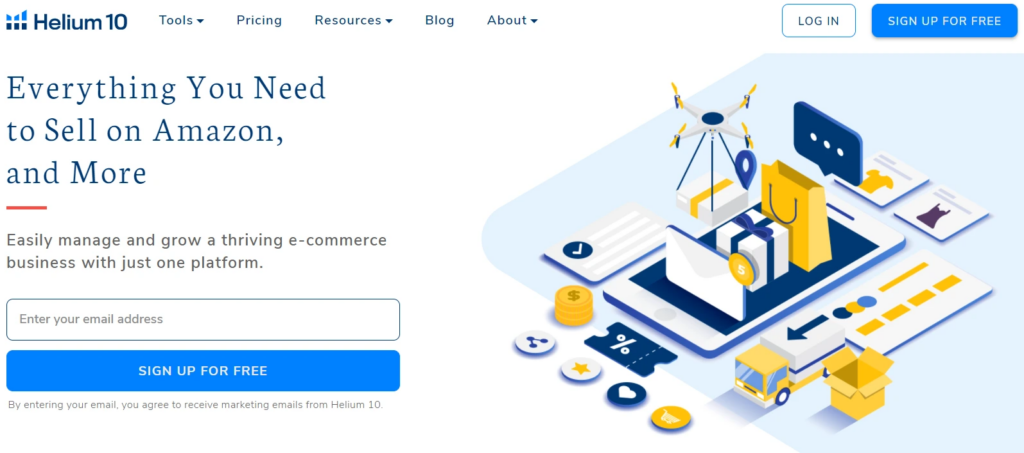 Just hit the blue "sign up for free" button, enter an email and password, and follow the email verification instructions we'll send to your email address.
By the way, as an aside, we pride ourselves on our MEGA outstanding customer service team. If at any time you have questions during this quick start guide, drop us a line at support@helium10.com and our customer service team will be happy to assist you.
P.S.: They're available around the clock, 24/7, so you can reach out to them at any time. Literally.
Anyway, once you're registered, you'll be inside the Helium 10 dashboard. It's a bit overwhelming at first, but you'll notice a top bar, a left sidebar, and blocks of tool information in the center of the page.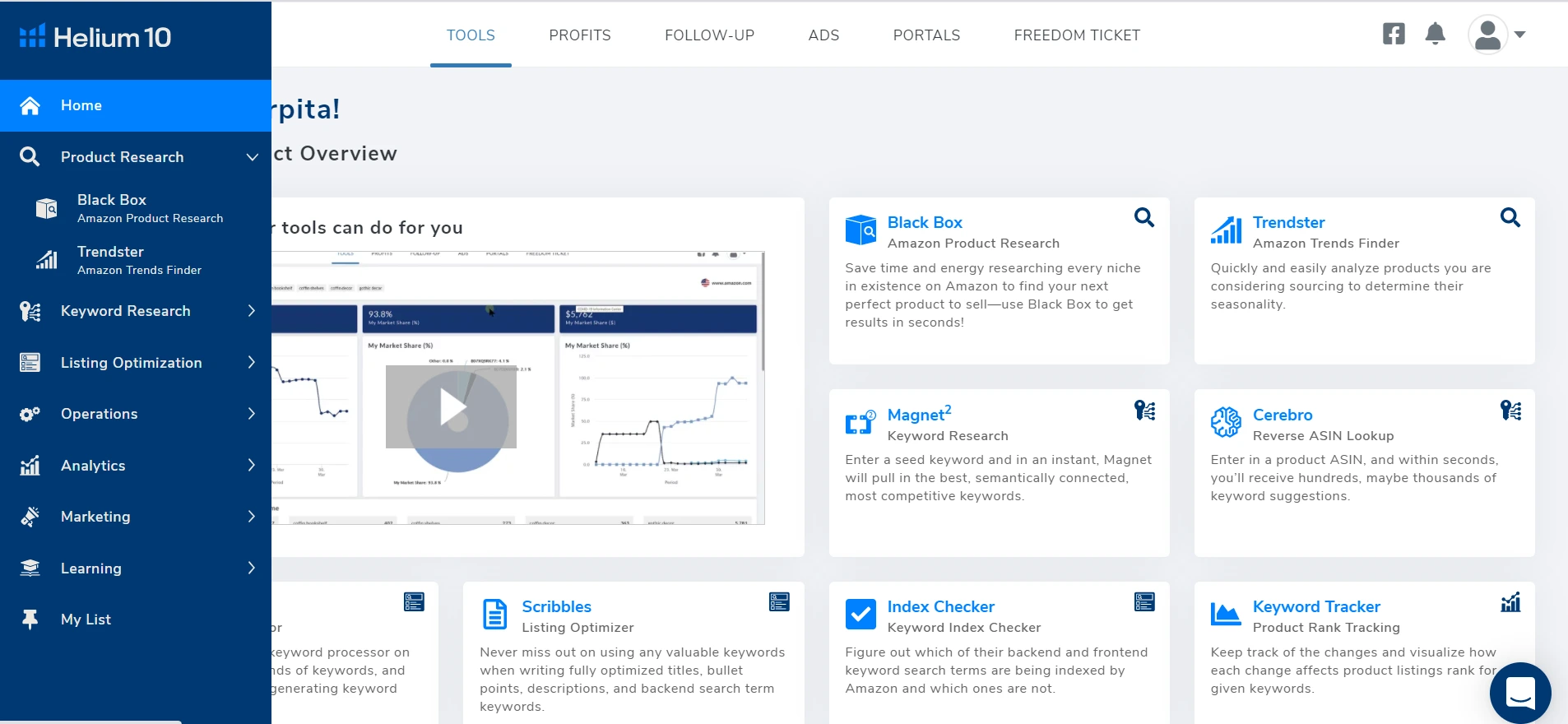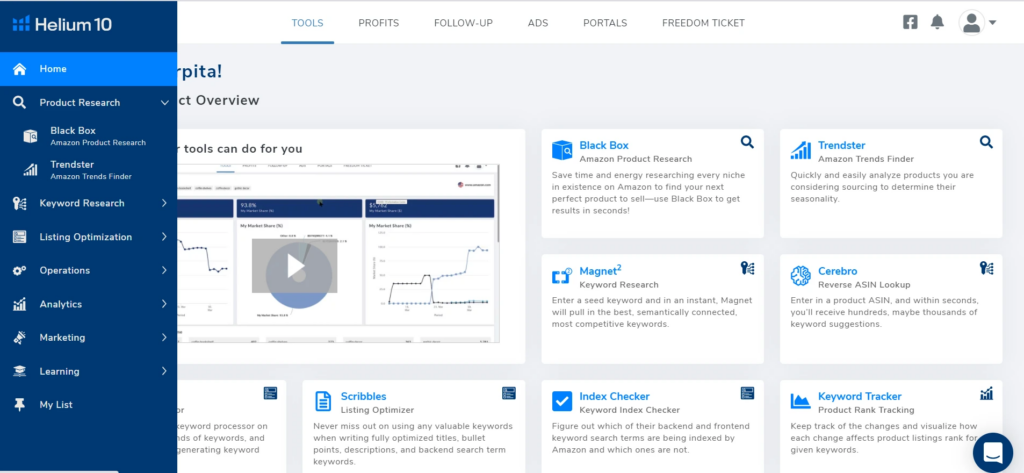 The left sidebar will bring you to any of the tools, and illustrates a suggested workflow order from tool to tool. For example, as you'll often want to begin your approach to a new product with product research, we've placed Black Box at the top of the sidebar, listed as the first tool.
Not to say that you need to go through every single tool in order. You don't.
Depending on the strategy you intend to use, you may use the tools in the order shown on the page, or you might use them completely out of order. You might also focus on certain tools more than others, or ignore certain tools outright.
That's the beauty of it! Helium 10's tools adapt to your needs, not the other way around.
Now since this is the quick start guide, I'm not going to get too in-depth about the purposes of each tool. We'll move on to what else you'll need to get started with Helium 10, but if you'd like a more detailed rundown of each tool in the flow, see the summary page here.
Step 2: Get the Chrome extension
The free Helium 10 Chrome extension is the next thing to add to your toolbelt. 


Click here to go to the Helium 10 Chrome extension's download page, or search for "Helium 10" in the Chrome web store.
The extension is free and is basically a handy popup guide that you can enable when browsing Amazon. Inside your browser, the extension displays at-a-glance summaries of relevant data, like item sales history, pricing history, ranking, and more.
You'll also be able to use the tools to study competitor product reviews, copy ASINs (Amazon Standard Identification Number) for quick data compilation, calculate potential profit margins, and much much more.
Again, since this is a quick start guide, I won't go more in depth than that at this time, but you can click here for the Helium 10 page with more details about the Chrome extension's capabilities. 
Step 3: Get educated with our Pro Training videos
We know the wealth of information available to you once you sign up for Helium 10 can be pretty overwhelming! Knowledge is power, however, and we wouldn't want to leave you unequipped for the Amazon selling journey ahead.
Our Director of Training and Success, Bradley Sutton teams up with other Helium 10 experts to bring you detailed tutorials to walk you through the features of each of our tools. We also show you how to apply that knowledge to different tasks and strategies.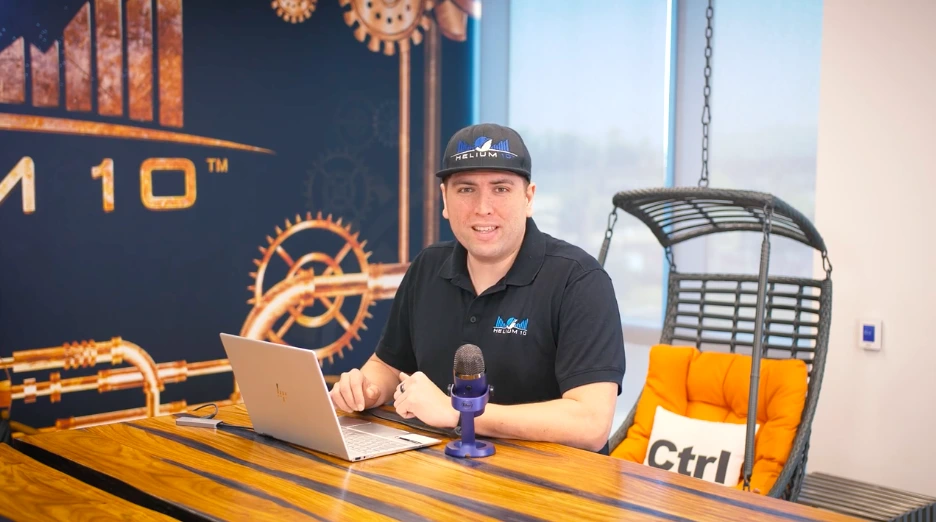 Access the Pro Training page here, or find it in your dashboard at the bottom of the left sidebar.
Each individual tool comes with its own set of Pro Training videos that you can watch, pause, and replay as many times as you need to to understand how to use the Helium 10 tools and apply their capabilities to your business goals.
To get a taste of what Pro Training offers, we suggest starting with Black Box and 'how to find a product to sell on Amazon!' Who knows? You might find your winning product after this tutorial!
Step 4: Take the Freedom Ticket course
If you're new to Helium 10, you may not have heard about our Freedom Ticket course. This alone is enough to justify joining Helium 10, but if you're unconvinced, read on.
Freedom Ticket is your all-in-one course for learning every detail about how to set up and run your Amazon business. It's perfect for complete beginners, and for those needing some review or who want to improve upon their fundamental knowledge.
The best part right now is that we're offering the first two weeks of this comprehensive eight week course at no cost.
Don't believe us? Click here to experience the first two weeks of the course, free.
Just like Helium 10 offers an all-in-one tool suite, Freedom Ticket is all inclusive in its knowledge. We believe the perfect formula for ecommerce success is strategy + data. Kevin King brings the strategy, and Helium 10 brings the data.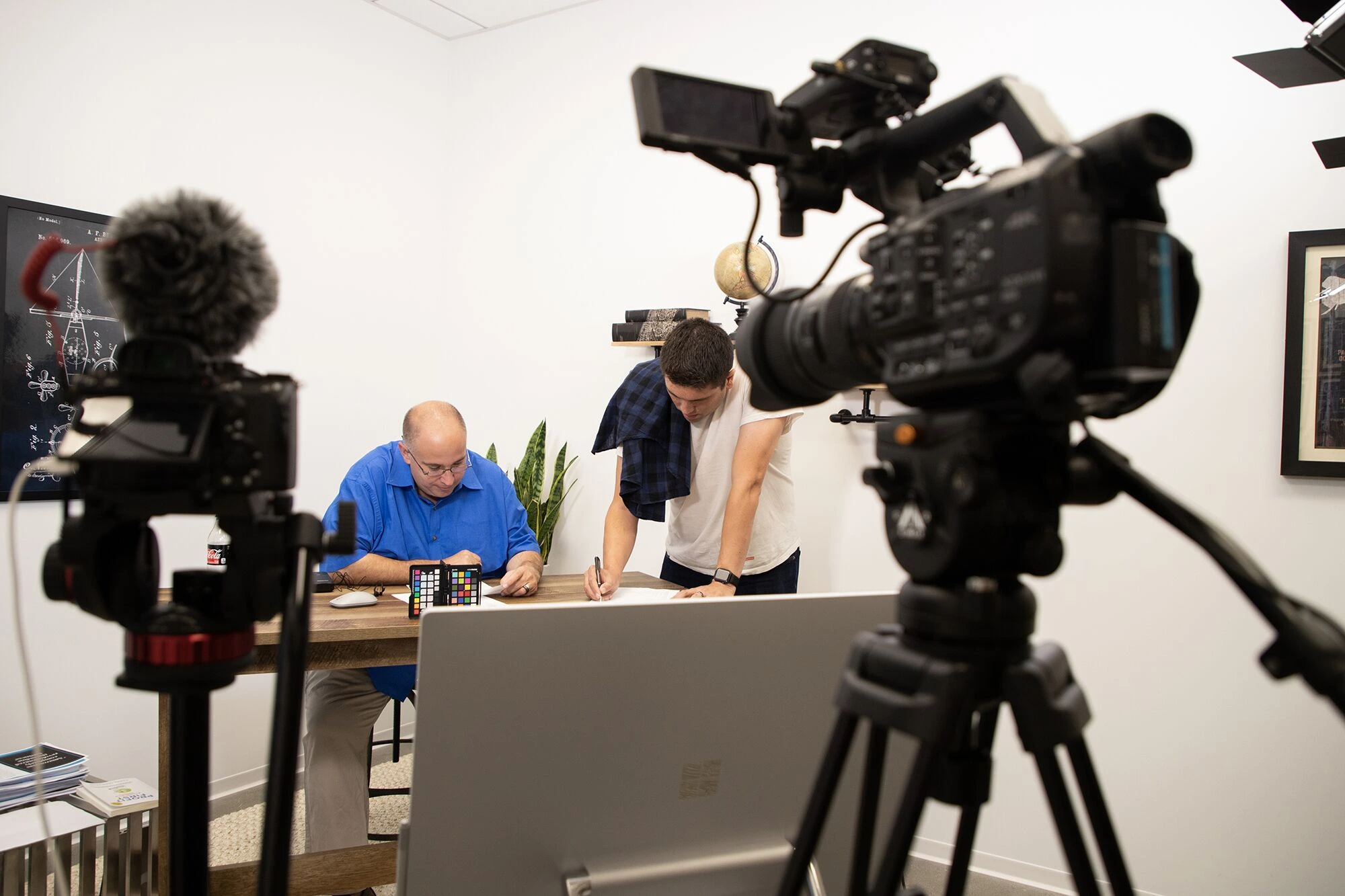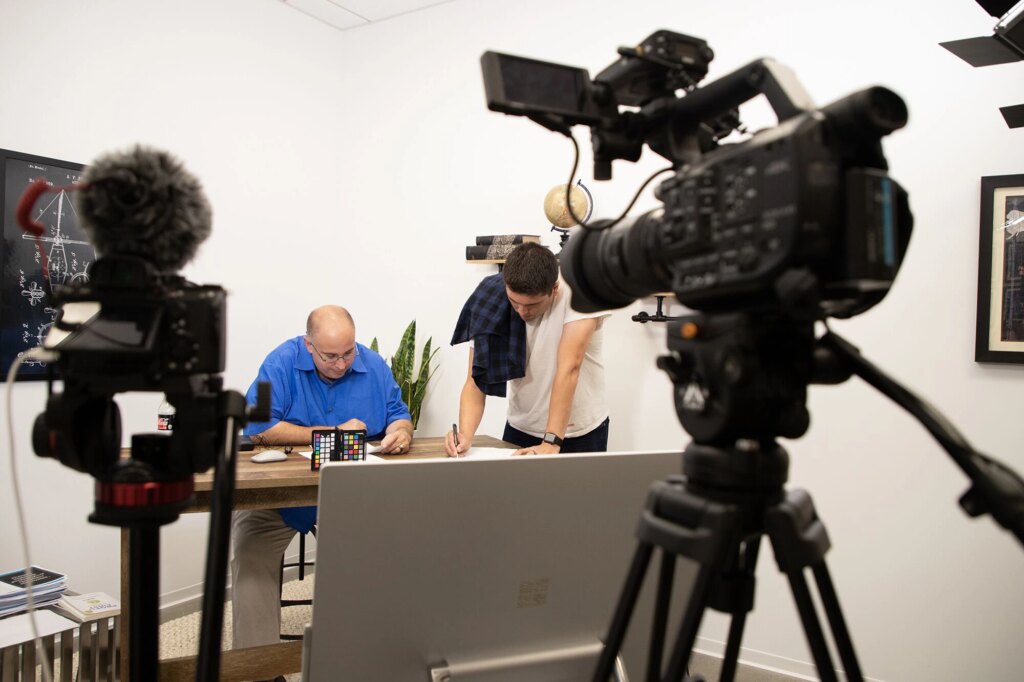 Kevin King is your personal mentor throughout the course. He's a serial entrepreneur who's been in the ecommerce space since its earliest days in the mid 90s, and is well-known and respected in the Amazon space for his knowledge.
Freedom Ticket leaves no stone unturned. We deep dive into every aspect of Amazon business you can dream up: inventory, sourcing, supply, PPC ad campaigns, listing set up and optimization, product launching – you name it, we've got it.
Freedom Ticket works by building a thorough understanding of the fundamentals of running a business, as well as developing an intimate familiarity with the way Amazon and the marketplace works. It also incorporates Helium 10 tool strategy into its teachings so you can get the most out of your 
For new Amazon sellers, there's no better place to start learning.
Ready, set, go!
And there you have it: your quick start guide to jumping into the data-rich world of Helium 10. We know the information can be a bit overwhelming at first, but with enough research and resources (all of which we gladly provide), you'll be an Amazon master in no time.
In four simple steps, you'll be on your way to researching your product space, calculating your profits, sourcing products, learning the supply chain, putting together a quality listing, and more. The sky's the limit when it comes to being an entrepreneur and seller on Amazon.
Luckily, you've got Helium 10 to help you rise to the top.
As always, keep #CrushingIt!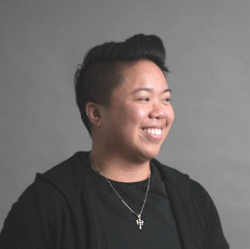 Latest posts by Kai Maranon
(see all)