Compatible with: Amazon Walmart
Free Chrome Extension for Amazon FBA & Walmart Sellers
Every tool you need in one convenient place
Benefits of the Helium 10 Chrome Extension
Launching a winning product has never been easier
Leverage powerful product and keyword research capabilities directly from your browser
Instantly explore products to identify and maximize selling opportunities
Gain a comprehensive overview of consumer demand
Access product insights, detailed reviews, and sales estimates for your potential products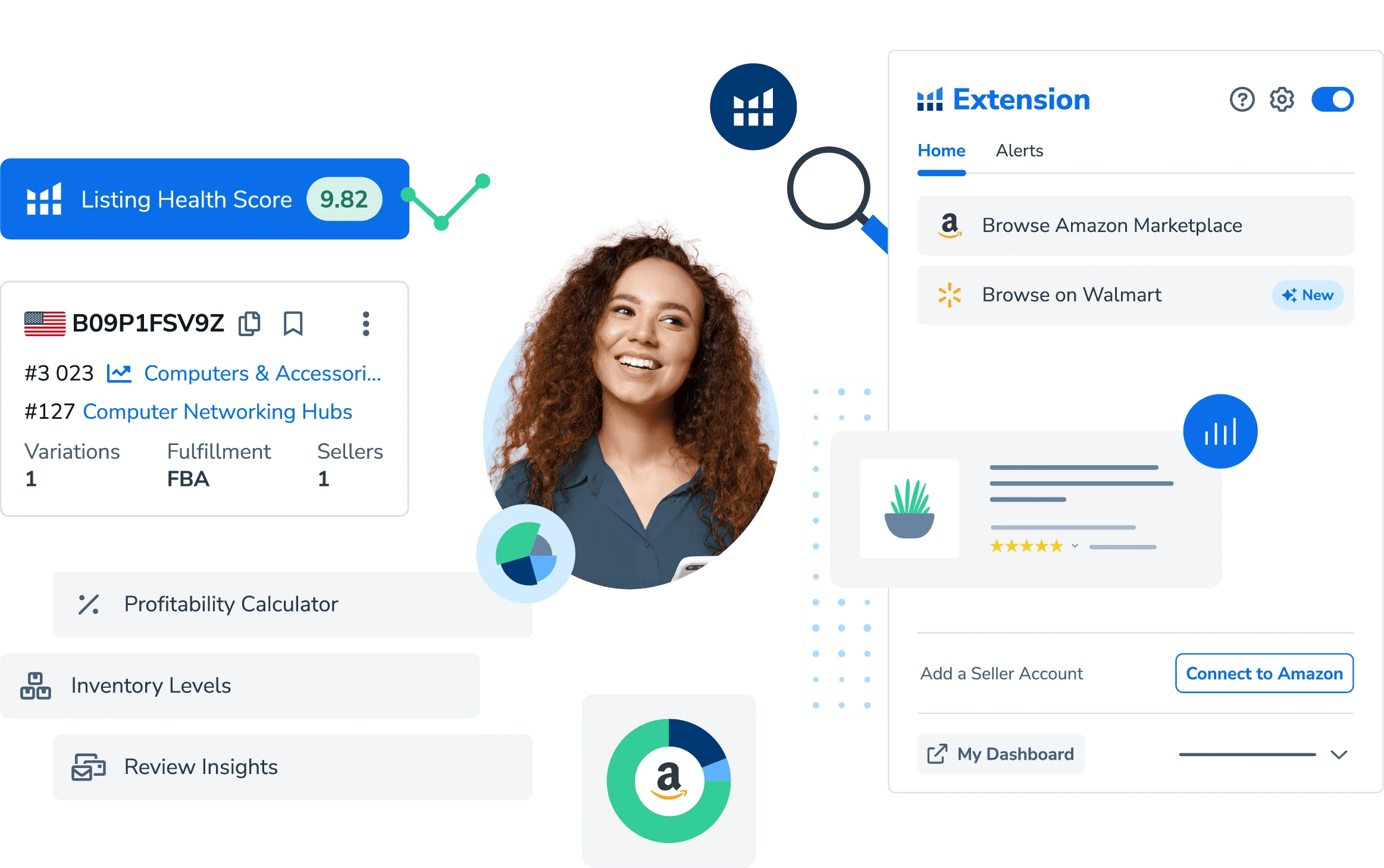 Helium 10's Full Suite Pricing
A plan for every seller's experience level
Get Started with the Helium 10 Chrome Extension
Grow Your Business on Amazon and Walmart
Download Extension
Research products
Gauge demand
Launch!
Thought Leadership, Tips, and Tricks
Never miss insights into the Amazon selling space by signing up for our email list!
FAQs
Helium 10's Chrome Extension has a built-in Amazon FBA calculator that automatically populates the inputs based on the product listing page you're currently looking at. The inputs are adjustable so that you can see how changes might influence your profit margin.
Helium 10's Chrome Extension has a built-in Amazon revenue calculator that's displayed directly on the product listing page. The selling price and product cost fields can be changed, and the estimated FBA fees are automatically pulled in so that you can get a pulse on the potential profit margin per unit.
Helium 10's Chrome Extension utilizes Trendster to show changes in the price of a given product over a span of time that you can adjust according to your needs. This data is displayed directly on the product listing page.
Helium 10's Chrome Extension utilizes Trendster to show changes in the Best Sellers Rank (BSR) of a given product over a span of time that you can adjust according to your needs. This data is displayed directly on the product listing page.
Helium 10's Chrome Extension contains a "Review Insights" feature that allows you to analyze reviews for a given product to see what issues the product may have, which can be very helpful when deciding which supplier you'd like to select to manufacture your product. It contains a plethora of sorting / filtering options so that you can hone in on the most important reviews to see if it's a viable product for you to sell.
Helium 10's Chrome Extension utilizes Xray which looks at the seed term you plugged into the Amazon search bar, and identifies additional high-performance keywords that are generating sales for the top products ranking for that seed term. For more advanced keyword research, you must use the Cerebro tool from Helium 10.
Helium 10's Chrome Extension displays the child ASIN directly on the product page so that you can easily grab it and plug it into other tools (like Cerebro) to continue your product analysis/research.
Helium 10's Chrome Extension is by far the best one on the market due to its breadth of information. It helps with product research, finding suppliers, estimating sales, calculating profitability, understanding a product's strengths and weaknesses from user reviews, contains an ASIN grabber, shows product inventory levels, and more.
Additional Benefits of Helium 10
Solutions for Every Seller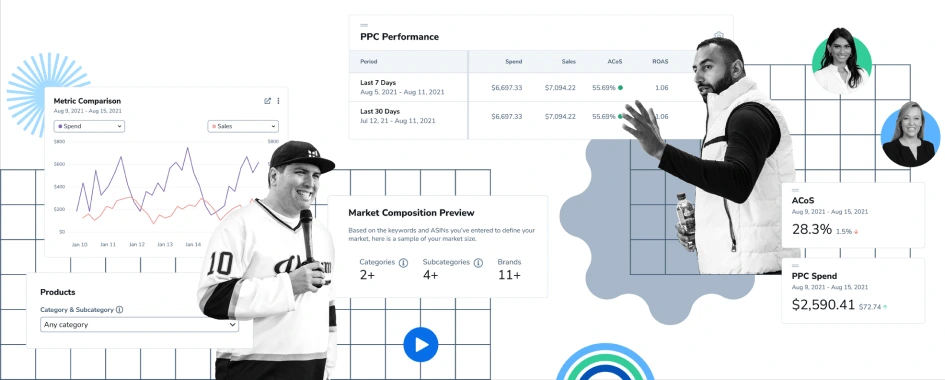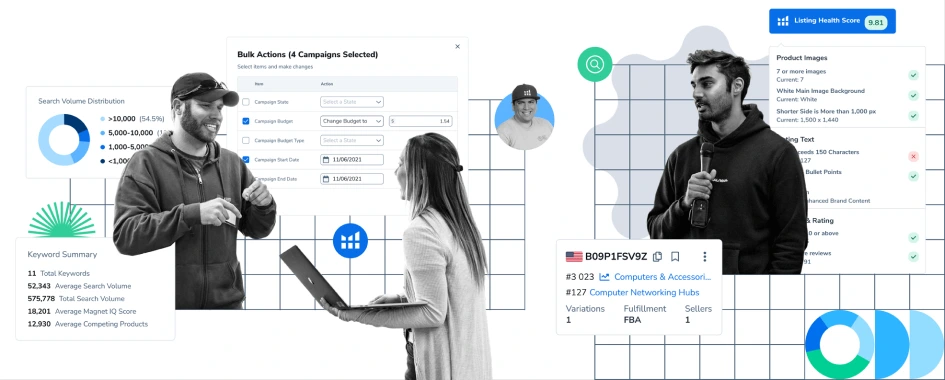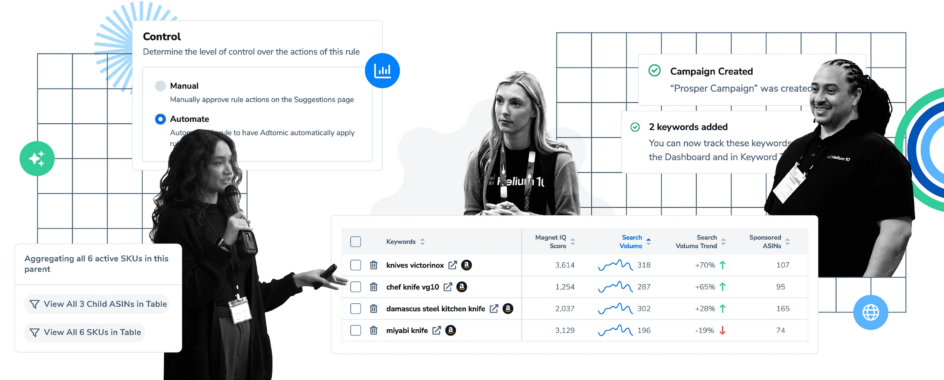 Meet Our In-House Experts
Learn from industry leaders through webinars, courses, podcasts and more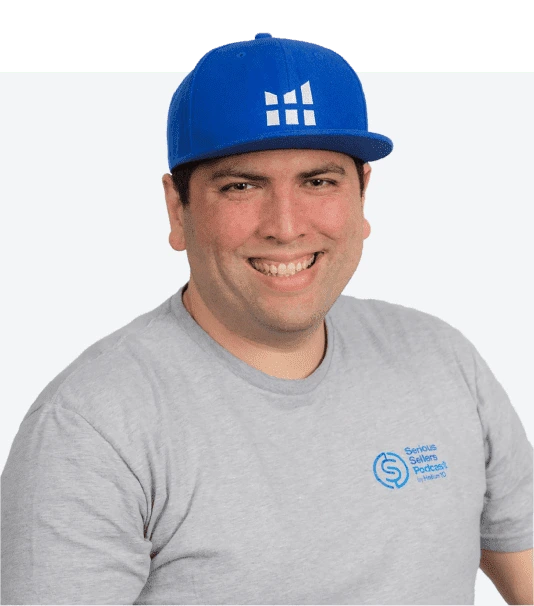 Bradley Sutton
Director of Training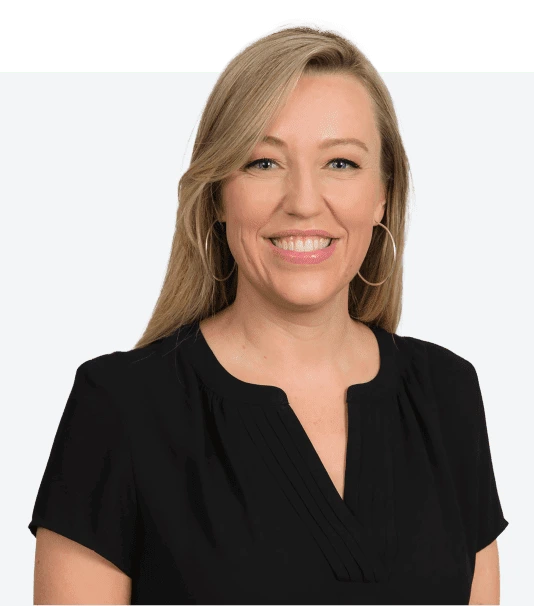 Carrie Miller
Brand Evangelist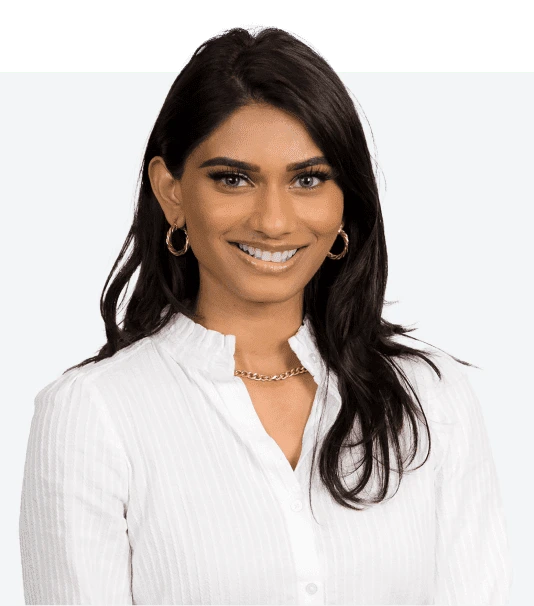 Shivali Patel
Brand Evangelist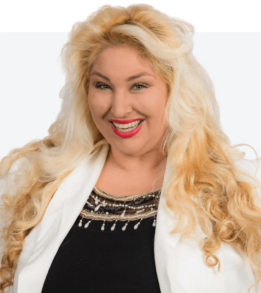 Cassandra Craven
Community Evangelist
13,688
People signed up last week.
Start Using the Helium 10 Chrome Extension Today!
If you'd like to try out the Helium 10 Chrome Extension, sign up to check it out online today!
Download Extension
The Details
The Best Chrome Extension for Amazon Sellers
The Helium 10 Chrome Extension allows you to build, scale and grow your Amazon or Walmart business with powerful product research tools available directly on your browser. Eight unique tools are combined into one easy-to-use extension – let's explore each in detail.
Xray
Our Chrome Extension's flagship tool gives you access to over 450 million ASINs to help you identify your next successful product. Xray's advanced keyword research and sales data capabilities save you time and money while also giving you the information you need to feel confident in your listing.
Review Insights
Instead of manually combing through customer reviews on Amazon product pages, use the Chrome extension to easily sort and search through reviews based on stars, dates, and even most frequently used words or phrases. Quickly learn what your competitors' customers are saying so you can strategize how to do even better.
Demand Analyzer
Browsing for inspiration on Alibaba.com or a Shopify website? Demand Analyzer gives you insight into potential product opportunities for your Amazon business. Tap into Helium 10's product base to get a comprehensive overview of marketplace demand and identify products with the most selling potential.
Supplier Finder
Helium 10 has partnered with Alibaba, the world's largest supplier database to help you simplify a critical step in your selling journey: sourcing. Supplier Finder makes it easy to search and connect with other reputable suppliers eager to help you grow your business.
Sales Estimator
Sales Estimator takes the guesswork out of your product's selling capabilities. Get an accurate monthly sales estimate based on the current BSR as well as the number of other competitive offers.
Profitability Calculator
Profitability Calculator helps you gauge how much it will actually cost you to sell your product. Get an accurate picture of your ROI and profit margins by assessing associated costs like storage fees and shipping and manufacturing rates.
ASIN Grabber
ASIN Grabber saves you time on manually looking for sponsored products for your targeted ads. You can also conduct and download product research and top-performing keywords for seasonal items to access in the future.
Inventory Levels
Inventory Levels allow you to keep an eye on how much stock your competitors are carrying. This tool is useful for those buying wholesale, retail arbitrage, as well as private label sellers looking to protect their products from potential hijackers.
Join 700,000+ sellers who use the Helium 10 Chrome Extension to access powerful marketplace data to build and scale their Amazon FBA business.
---