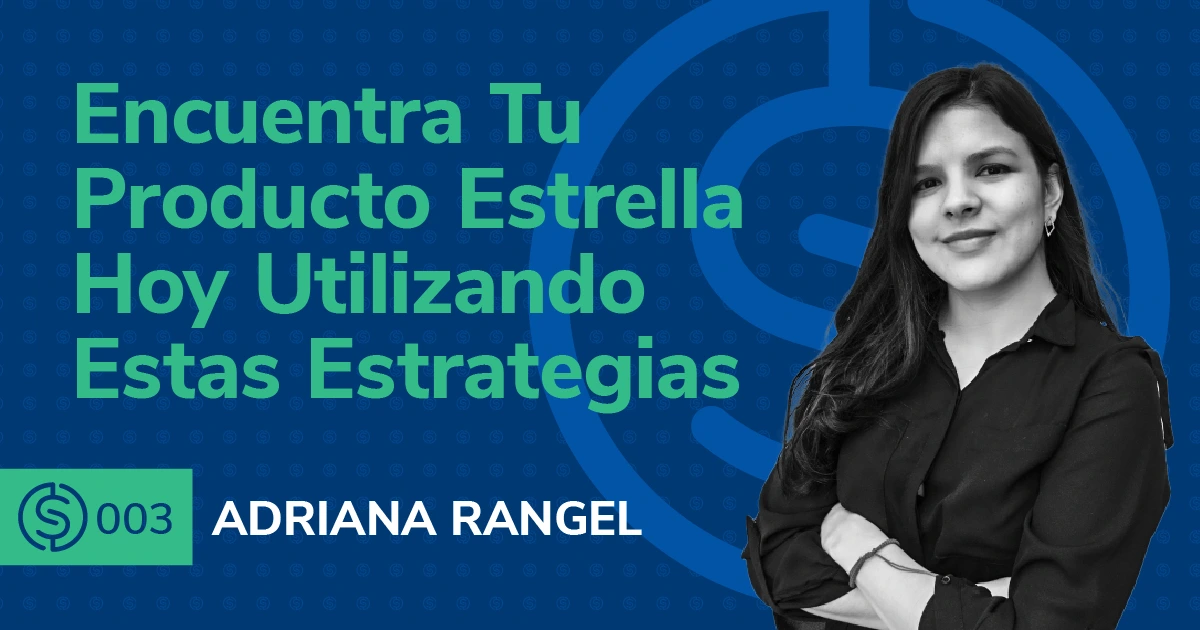 Posted on: January 3, 2022, By: Helium 10
#3 – Encuentra Tu Producto Estrella Hoy Utilizando Estas Estrategias.
Adriana nos da 12 estrategias para encontrar productos ganadores este 2022! Encuentra tu producto estrella utilizando estas estrategias, hoy.
Para cerrar el año con broche de oro, les damos 12 estrategias para encontrar oportunidades de productos para vender en Amazon. Creamos un webinar especialmente para explorar las distintas maneras de buscar productos, muchas de éstas en páginas y lugares que nunca antes habíamos considerado. Les ofrecemos 22 estrategias (más un bonus) para encontrar ideas de productos con poca competencia y que requieren de poca inversión inicial para lanzar y crear un producto estrella. En este episodio platicamos sobre las primeras 12 estrategias, así que, ¡asegúrate de no perderte el episodio #4 para enterarte de las otras 10 estrategias ganadoras!
En el episodio #3 de Serious Sellers Podcast en Español, platicamos de:
00:40 – Adriana nos dice como utilizar filtros dentro de Black Box para encontrar productos con suficiente demanda, costo moderado y con competencia débil.
04:00 – Vemos cómo validar una oportunidad de producto a vender
05:15 – Lanzamos campañas publicitarias para descubrir si hay interés por parte de la gente en un producto innovador.
07:25 – Vemos como podemos competir y ganar en un mercado "saturado"
10:20 – Te decimos cómo lanzar un producto digital dentro de Amazon que requiere muy poca inversión inicial
12:45 – Encontramos excelentes productos para vender dentro de Alibaba. Encontramos información sobre la demanda de estos productos dentro de mismo Alibaba, sin necesidad de visitar Amazon.com
15:30 – Encontramos productos con pocas reseñas para nosotros llegar y dominar el nicho. 
19:35 – Utilizando Etsy para encontrar productos con mucha demanda. Todo esto sin necesidad de salir de la página de Etsy.
21:30 – Encontrando listados con calificación baja, para nosotros ofrecer un producto superior en este nicho.
24:30 – Encontramos palabras clave que muestren un incrementos en sus búsquedas
26:30 – Platicamos sobre cómo utilizar la nueva herramienta de Amazon,"Producto Opportunity Explorer" para encontrar oportunidades de negocio.
29:45 – Les decimos cómo ampliar su línea de producto utilizando una herramienta para encontrar productos dentro de tu mismo nicho.
---
Enjoy this episode? Be sure to check out our previous episodes for even more content to propel you to Amazon FBA Seller success! And don't forget to "Like" our Facebook page and subscribe to the podcast on iTunes, Spotify, or wherever you listen to our podcast.
Get snippets from all episodes by following Bradley on Instagram at @H10bradley
Want to absolutely start crushing it on Amazon? Here are few carefully curated resources to get you started:

Latest posts by Helium 10
(see all)