#27 – Usa Email Marketing para incrementar tus ventas a un costo bajo
Las grandes marcas ya aplican esta estrategia. ¿Qué esperas tú para disfrutar del alto ROI que esta estrategia te puede dar?
Originally published on: June 13, 2022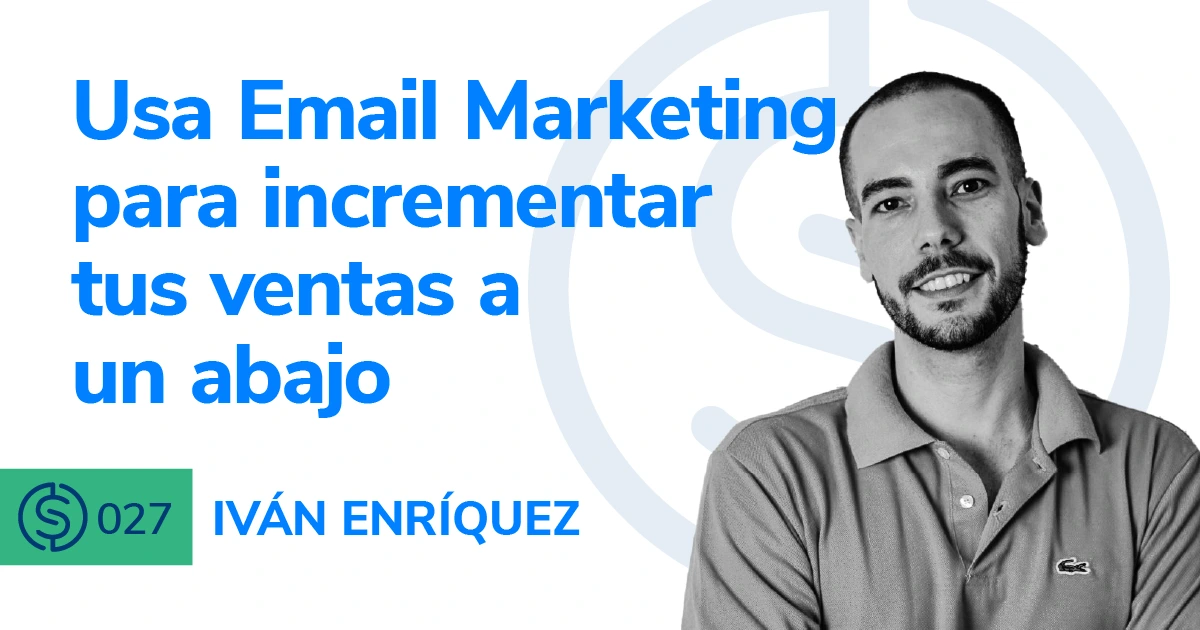 Alguna vez te has preguntado porqué es que las marcas grandes y multinacionales, nos mandan correo de manera seguida. Te haz preguntado por qué en ocasiones están dispuestos a darnos descuento o un regalo si les dejamos nuestro correo? A esta estrategia de crear una relación con un cliente existente se le llama "Email Marketing". En este episodio nos enteramos de por qué esta estrategia es una que debemos de implementar en nuestro negocio y también que no es algo necesariamente complicado de hacer.
Ivan nos acompaña en este episodio para decirnos por qué debemos de enfocarnos en crecer nuestra lista de contactos, como empezar con email marketing y que tipo de contenido mandar a nuestros clientes.
¡No te pierdas este episodio!
En el episodio #27 de Serious Sellers Podcast en Español, platicamos de:
03:10 – Ivan nos da una introducción a "e-mail marketing".
06:00 – "Muchas empresas obtienen un gran porcentaje de sus ventas mediante sus boletines mensuales o semanales" "Este canal es uno de los más rentables hoy en día" 
07:30 – "El tema del "delivery" es decir, asegurarnos de que nuestros correos no lleguen a spam, es un tema muy importante y sí hay estrategias para lograr esto.Cuanto mayor sea tu base de datos, las posibilidades de que tu correo llegue a spam son más altas."
09:40 – ¿Qué tipo de retorno sobre la inversión podemos esperar de este tipo de actividades?
12:25  "Es mucho más fácil que un cliente actual te vuelva a comprar que captar clientes nuevos"  
13:00 –  Para los que queremos comenzar con email marketing, ¿por dónde empezamos?
16:03 –   ¿Con qué herramientas comenzamos?¿Qué tipo de contenido mandamos?
19:00 –  ¿Qué tan seguido debes de mandar estos correos?
21:00 – "Es de suma importancia el segmentar tu lista." 
23:40 – "Podemos empezar con poquito, lo importante es dar el primer paso. Enfócate en obtener y crecer tu lista de contactos."  
23:50 –  "Muchos vendedores en línea, aún no aplican esta estrategia, lo cual nos da una ventaja a los que si lo hacemos."
25:30 – "Hay muchos softwares para email marketing que son muy fáciles de usar."
26:40 – "Traer tráfico externo te puede ayudar con tu ranking en Amazon"
29:15 – Iván nos da un tip para crecer la conversión en nuestro listados
---
¿Te gustó este episodio? ¡Asegúrate de escuchar los episodios previos para más tips para crecer tu negocio en Amazon! Y no te olvides de unirte a nuestro Grupo Privado de Facebook y de suscribirte a nuestro podcast en Apple o en Spotify.
Entérate de lo último sobre nuestros episodios en nuestro Instagram @Helium10. 
¿Estás decidido a dominar las ventas en línea en Amazon? Aquí te preparamos una lista de enlaces para ayudarte a lograr tu objetivo:
Everything for your business on Amazon.
Find out more about our products by signing up or speaking with one of our
Customer Success representatives today. With us in your corner, you can enjoy
more sales and increased engagement from your Amazon business.
Chat with a Support Specialist