#25 – Compro mi inventario en México y Vendo en Amazon US
¿Crees que únicamente puedes vender en tu país? Amazon nos abre las puertas para vender nuestro producto en más de 20 países.
Originally published on: May 30, 2022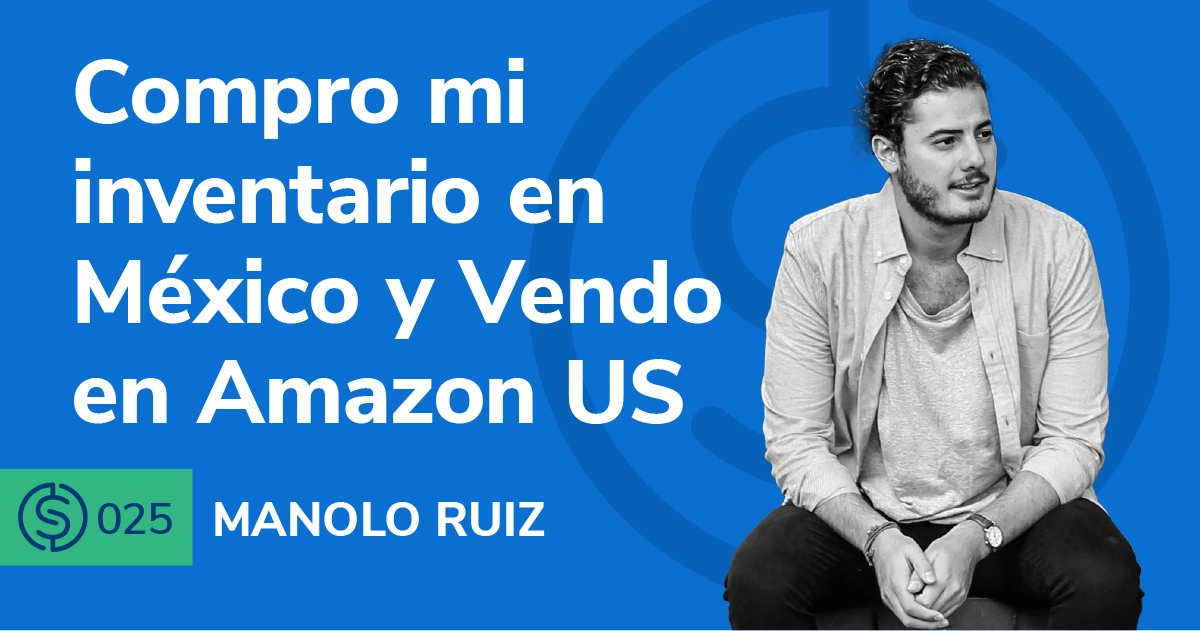 Es muy emocionante ver como vendedores de todas partes del mundo, construyen sus negocios en países donde no radican y no permiten que las distancia geográfica les impida lograr sus sueños. Manolo Ruiz nos acompaña en el episodio de hoy para contarnos como él compra en su país, México, y vende varias docenas de productos en Amazon Estados Unidos.
Manolo nos comparte su proceso de encontrar productos para vender en Amazon así como su manera de decidir cuál es el precio adecuado a asignar a sus productos. Él nos comparte también sus métodos para posicionar sus productos en las primeras páginas de Amazon.
¡No te pierdas este episodio!
En el episodio #25 de Serious Sellers Podcast en Español, platicamos de:
00:50 – Manolo nos cuenta cómo es que él y su socio estaban buscando emprender cuando un amigo en común les informó sobre la posibilidad de vender en Amazon. Después de las primeras ventas, Manolo y su socio confirmaron, tras recibir sus primeras ventas, confirmaron que este es un modelo de negocio con potencial. 
03:20 – "¿Cómo han cambiado las cosas en Amazon en los últimos 3 años?"
05:10 – "¿Cuál es tu proceso para encontrar un producto y lanzarlo?
06:00 – "El primer producto que lanzamos lo compramos en México. Luego compramos el segundo en China, luego decidimos regresar a comprar en México para acortar los tiempos de envío"
07:50 – "¿Cómo encuentras proveedores en México?"
11:30 – "El cambio en costos de envío nos llevó a buscar y encontrar nuevos proveedores de logística".
14:00 – "El enfocarse en nichos pequeños ayuda a tener un nivel bajo de competencia y un bajo costo por click"
16:50 – Manolo nos cuenta cómo es que él hace los lanzamientos de sus productos.
19:00 – Manolo nos comparte su estrategia de precios.
21:40 – Los indicadores que me dicen si lanzar un producto o no lanzarlo
24:00 – "Para crecer mi negocio, yo me enfoco en lanzar más productos constantemente."
25:00 – Manolo nos da un tip para ser más exitosos con nuestro negocio de e-commerce.
---
¿Te gustó este episodio? ¡Asegúrate de escuchar los episodios previos para más tips para crecer tu negocio en Amazon! Y no te olvides de unirte a nuestro Grupo Privado de Facebook y de suscribirte a nuestro podcast en Apple o en Spotify.
Entérate de lo último sobre nuestros episodios en nuestro Instagram @Helium10. 
¿Estás decidido a dominar las ventas en línea en Amazon? Aquí te preparamos una lista de enlaces para ayudarte a lograr tu objetivo:
Everything for your business on Amazon.
Find out more about our products by signing up or speaking with one of our
Customer Success representatives today. With us in your corner, you can enjoy
more sales and increased engagement from your Amazon business.
Chat with a Support Specialist