#438 – Writing High-Quality Walmart Listings With ChatGPT
Learn the attributes of a high-quality Walmart listing and how to streamline the content writing process using GPT with our expert guest Ryan King.
Updated on: April 3, 2023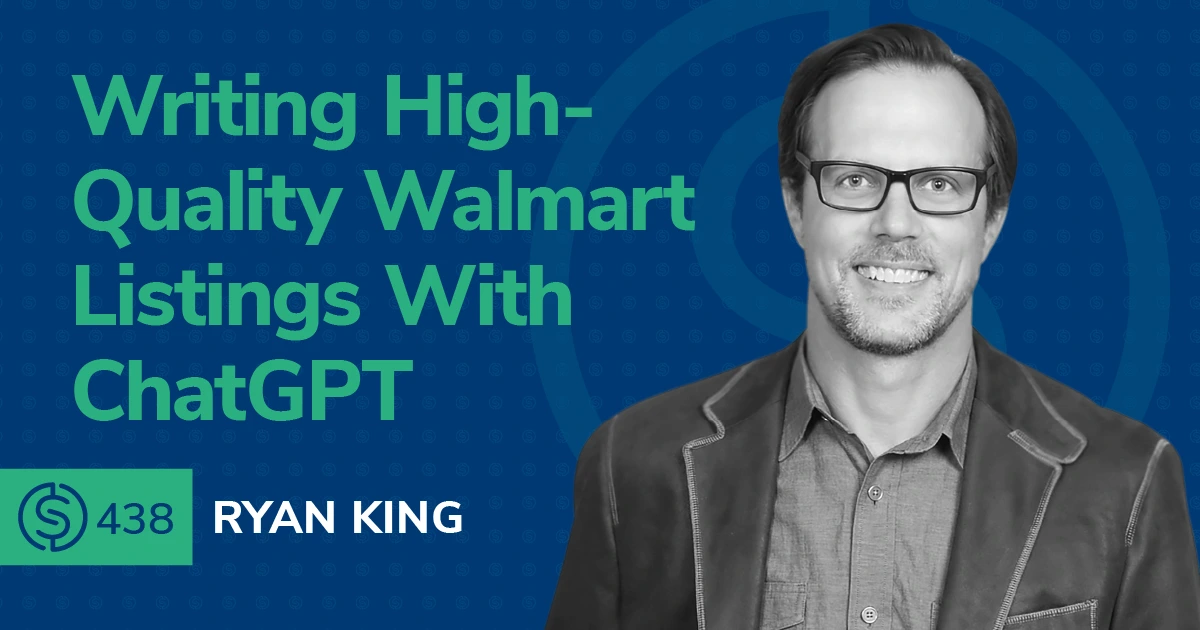 Video of the episode at the bottom
Welcome to our monthly Walmart Wednesday SSP episode, where we bring on special guests to discuss different aspects of selling on Walmart.com. In this episode, we have Ryan King, CEO and Co-Founder of Blue Ryse, as our special guest. He will share valuable insights on Walmart listing optimization, SEO, and the Walmart algorithm. He will also talk about and demonstrate a way to use ChatGPT to create high-quality Walmart listings with unique SEO copy. Also, Carrie and Ryan will go over questions that were asked in the live chat.
 
If you're new to selling on Walmart, this episode will provide an excellent introduction to getting your Amazon listings on Walmart. And if you're already selling on Walmart, you'll gain new insights into the platform. So, don't miss out on this informative episode!
In episode 438 of the Serious Sellers Podcast, Carrie and Ryan discuss:
01:45 – Manage Your Walmart Ads Using Helium 10 Adtomic
02:15 – Ryan King's Backstory
03:35 – A Common Listing Mistake When Starting On Walmart.com
04:25 – Using Chat GPT For Walmart Listings
07:50 – The Attributes Of A High-Quality Walmart Listing
11:00 – General Guidelines For Walmart Listing Content
13:30 – Writing Unique Content For The Walmart Platform Using ChatGPT
24:00 – Do We Need A Warehouse In USA If We're Selling In UK And Europe?
25:38 – Adding Negative Keywords In Walmart PPC
27:06 – How Do I A/B Test My Product Type?
30:35 – Final Thoughts From Ryan King
31:45 – Assortment Growth Opportunity Inside Walmart Seller Center
34:00 – Check Blue Ryse Inside The Helium 10 Partner Hub
34:50 – Join The Winning With Walmart Facebook Group
Transcript
Bradley Sutton:
Today's another episode of Walmart Wednesday, and our special guest, Ryan, is gonna be talking about the anatomy of Walmart listings at a level that you've never heard before. How cool is that? Pretty cool I think.
Bradley Sutton:
Hello everybody, and welcome to another episode of the Serious Sellers Podcast by Helium 10. I'm your host, Bradley Sutton. This is the show that is our monthly Walmart Wednesday episode where we bring on special guests who are interviewed by Carrie Miller that go over different aspects of selling on walmart.com, and also go over questions that you guys gave when we had the live broadcast. And so we have like a shortened version that we put here on the podcast. And this month's special guest Ryan, he's gonna talk about even like, you know, using ChatGPT and a whole bunch of cool stuff and even has some, like some slides to show you guys as well. So if you haven't sold on Walmart yet, this is gonna be a great kind of introductory episode for you so that you can understand how to get your Amazon listings on Walmart. And if you're already selling on Walmart, this might lead into new insights for you about how Walmart listing optimization and the Walmart algorithm works. So make sure to check out the rest of this episode. Carrie, take it away.
Carrie:
Hello everyone, and welcome to winning with Walmart Wednesday. I'm so excited to be back with you today. I have a very special guest, Ryan King from BlueRyse, and he's gonna be talking about some really cool stuff on how you can get your listings written quickly using ChatGPT. So definitely stay tuned for that. But before we get into that, I wanted to let everyone know that we have launched Walmart Atomic. So if you wanted to utilize Atomic to manage your Walmart ads, we have a great tool to do that now. So I'm very excited about that. We'll do some more content about that later, but wanting to let everyone know we have a great presentation today, so I'm really excited about this. We have Ryan King coming on. Hi, Ryan, how's it going?
Ryan:
Hi, Carrie. It's going great. Hope you're doing well as well.
Carrie:
Yes. Thank you. So just in case people don't know who you are can you go ahead and just introduce yourself and just let everyone know who you are?
Ryan:
Absolutely. Yeah. So name's Ryan King, obviously, I'm the Co-founder and CEO of BlueRyse. We're a fully managed service agency, focusing specifically on walmart.com. A little bit about us. Our background was in and still is in being brand owners having launched and scaled brands as early as 2013 on Amazon Marketplace. So we come at this as many service providers do still with the seller's hat on, thinking through how we build brands, how we scale brands, and how we take advantage of the marketplace opportunities out there. So about a little over two years ago, I pivoted and started building out value add services on Walmart as we saw that marketplace continue to mature. And now we exist to help typically seven-figure plus brands that are native e-commerce, maybe coming from Amazon or DtoC that want to go to the Walmart marketplace, as well as retail brands that are in store already with Walmart also needing to perform on.com.
Carrie:
Very cool. So I'm really excited about your presentation today cause you were talking about using AI basically to help create listings. Cause I know this is a problem a lot of people just copy their Amazon listings over and that does not help them in terms of ranking and just being successful on Walmart.
Ryan:
So yeah, the reality is, you know, most brands have started on other marketplaces instead of launching directly into Walmart. I think that'll change over time, but that's currently the most often use case. And so the unintended consequence is that most people are just saying, I can copy and paste over, or they're using some kind of syndication software, whatever it may be. And the reality is their listings are suffering on Walmart and they may decide it's not a good place for them, and the reality is it may just be because they didn't put in the extra effort. But that's also coupled with the challenge of do they have the time right now to learn a new marketplace and learn all the constraints and the unique formatting and all those things needed to optimize specifically for that platform.
Ryan:
So yeah, it is a challenge. I would strongly advise you not to copy and paste. And so really this presentation is a way, it's just a way of using ChatGPT maybe to streamline this and take some of that heavy lifting off to get you from zero to one to convert for unique SEO copy for those listings so that you have a better chance, a faster start to selling on the Walmart marketplace. Talking in general, some things to consider. Obviously, the pain points are, you know, most brands are selling already on Walmart or want to sell on Walmart, and you already have on listings to Amazon, but you cannot simply copy and paste over. So why can you not copy and paste with a little side path to talk about, and it's been something I know Carrie and I have talked about a good bit, and Carrie's presented on several times now as well as is one unique element of all this is product type.
Ryan:
Before we get into you writing the copy, how you make sure this is in place it determines what copy you should write or, or what you should optimize for. So real quick, again, a primary, you've probably already seen this before if you've been on these before, listing quality Walmart gives you a quantifiable score on their listings. And so of those three elements, you can see the, usually the most heavily weighted of the offer, which is your speed of delivery. The price point is impairing with other marketplaces. Second to that is ratings are reviewed. Do you have five or more typically with a 4.5 rating or higher? And then we get into all the other optimization we're used to talking about, which is images, title, description, bullet points, all those elements in their equivalent on Walmart.
Ryan:
And that's where we're gonna focus today. It's content and discoverability. One thing I want to note about that is while we're talking about description and key features, those kinds of things, the copywriting elements today, one of the areas you need to make sure you're focused on as well is attributes on the back end of your listings. For years and years. Yeah. This is a sleeper for many. I know you've been talking about a lot more Carrie and others have as well. This is one you could get away with for quite a long time on Amazon without focusing on, I think now these days you have to be a lot, pay a lot more attention on Amazon as well. But Walmart, it's table stakes. It's a non-starter if you're not focused here because it has a dramatic impact on your indexing and impact on keyword relevancy and PPC performance, all those things.
Carrie:
I noticed too recently content discoverability has two dots now just, I was looking at, I think like yesterday. Okay. Is it, yes. So it might be even more important, like what you're saying about attributes. It might be even more weighted now. So I don't know.
Ryan:
And that makes sense. This is an old screenshot, so I need to go back and look and see what the waiting looks like and I'll see. It could be that it's, it's varied by category and or varied by just time now. I think to your point, the bar's gonna continue to be raised as the marketplace matures, they're continuing to raise the bar here on what, what, what you need to do to be in the lead to, to excel there. So it is worth continuing to focus on and I would say attributes on that content discoverability portion of the score could be up to I've seen indications that it could be up to 70% of this content and discoverability score is weighted by those attributes alone. So even if you're just thinking by score of content and discoverability you need to be focused on these backend attributes.
Ryan:
So how do you know you've got your attributes right to start with? Let's start there and then we'll talk about the, the copywriting piece. So in content and discoverability, this is kind of the makeup and the algorithm of how your product type, which we'll talk about in a minute, is determined. And I think I covered this last time, maybe I was on, I can't remember. But basically your product name, your title, your description, it's a little bit chicken, the egg, and your key features, what you put into the system when you set up your listing are what may already exist if a drop ship or arbitrage or somebody else, or if there's just a listing, a product detail page that already exists. What exists on that listing is what determines the product type, which is equivalent of like a subcategory.
Ryan:
You can think of it that way. So the algorithm looks at these three elements and then determines what subcategory you're in that product type in turn combined with the backend attribute. So product type. Then once that's set basically gives you the backend attributes you're gonna have to fill out. So if you're selling dog leashes and your product type was dog leash, then it's gonna start asking you about length, material, color, all those, those things are the product of dog leash. A good indicator if you're not, that you don't have the right product type, is if you're starting to see on your listing when you're trying to set it up or the Spec Sheet you gave, you're gonna do it in bulk, is showing you a lot of columns or a lot of fields as attributes that don't make sense at all. A free product that might be an indicator. You've got the wrong product type.
Carrie:
Something else. I really don't do about, the attributes I wanted to mention is I was only putting one attribute on some of them where you can put multiple attributes because you wanna show up for as many as are relevant to you, have you noticed that people do that too? I was gonna make–
Ryan:
Yes. So, yeah, that's a good point. So especially if you're using the Spec Sheet, and this could be a whole other session on Spec Sheets and uploading things on in bulk. I'm a Spec Sheet nerd. I think that's probably the most efficient way over time to really update listings and get the maximum out of the backend of catalog setup. But yeah, you can insert columns next to some of those. You'll see a plus sign on that Spec Sheet, excel sheet equivalent Flat File on Amazon. And you can input more of those attributes. So maximize, yeah, to your point be thinking not just of the ones I see, don't think, well, some of these look optional, I won't really fill 'em out as complete as you can.
Ryan:
Yes. and then especially if you're using Spec Sheets, even don't just go with what you see. If you see a plus mark next to one of those descriptions, that means you can insert or column 'em to the right and or to the left, I think. And then you copy over from the right and insert more and do as many as you can. That gives you the broadest reach for the algorithm as you can get. And so your product type plus the backend attributes then determines your shelf path, which is, you know, your browse node if someone's gonna, traffic's gonna go through in general, search for pets, pet accessories, leashes, dog leash, something like that. That's gonna be determined by the product type, those things from there. We could talk about that, but I wanna get to the ChatGPT piece because that's part of the heavy lifting for people too, is, is how do I get unique content to Walmart?
Ryan:
And so I've just got a slide here of, there are three help articles from Walmart here on general guidelines for setup. The first one I'll direct you to overall listing setup best practices. In there you'll see one of the links on that article is to style guides with Walmart. So Walmart actually gives you, for each category, once you've determined, okay, I'm selling a dog leash, I'm in the right product type for dog leashes. What do I need to do for images? What do I need to do for the title bullet points? And paragraph description. There's a link in this article here for style guides and Walmart tells you clearly for this specific category, what are they looking for? And it'll tell you word counts, all those kinds of things in structure and makeup of title resolution, requirements, and even types of images you need.
Ryan:
The one thing I'll say on titles, we, we won't talk about images today and we won't really talk a lot about titles. The ChatGPT best use case I think is not in title cuz titles pretty formulate pretty easy to build quickly. But what I would recommend on the title is you should not stuff your title of keywords. That's not working as much on Amazon anymore anyway. But on Walmart, you will be penalized kind of a shadow penalty if you overstuff your title. So Walmart highly values a clean, readable short title. So you're talking 50-75 characters. And so it's gotta be short and concise, and they have an actual formula, which you can read real clearly here what it should look like. And so don't be tempted by that. Now do try and insert maybe your top two keywords in there.
Ryan:
You can adapt them over time. We have seen that there's maybe up to three times the ranking power of a keyword titled than anywhere else in the description or were key features. But don't overstuff it. And so with that, we'll focus right now really on the description. So a lot of Amazon listings may not have had descriptions in the past. This is the paragraph kind of format for those things. Yeah. So on this one, this one's just answering the question, how do you as a brand owner as quickly and as efficiently as possible, write unique content for the Walmart platform so that you maximize SEO for Walmart and help Walmart maximize SEO when they're, you know, optimizing for Google search, all those things. So this is just a way that we've experimented with that will help utilize ChatGPT.
Ryan:
So and the use case here is for the description. You could as you experiment with it, you could reformat this to execute from bullet points as well if you'd like. But the assumption here is you're using your current Amazon listing title and your current Amazon listing bullet points. And then you're inputting unique keywords for Walmart, utilizing Helium 10 Magnet or Cerebro one of those functions to research and figure out what are keywords I wanna put in unique for this listing to generate the best product description there. So to do this, we're using a Google Sheets plugin called Sheet GPT. I have zero affiliation with them other than I've experimented with this one. So use it at your own discretion. And it is a fee-based extension. I think it's something like $11 a month if I remember correctly.
Ryan:
But this is just a way and an example. We will give a copy of this sheet we'll make a link available after this to give you a copy of the sheet to experiment with once you've installed your own extension there. And you're welcome to play around with it. So I'll describe just really the makeup of how this is working. So if you're familiar with ChatGPT, it's I don't know who all, who is it? If you're within the e-commerce world and you, and you haven't heard of ChatGPT you probably got bigger problems than understanding how to do this. So this is just one way to do it. So it's based on how do you craft an input to get the kind of output you want from this AI program. And so what this sheet is built to do is help you at scale produce those inputs and outputs quickly to get various versions.
Ryan:
Really, this is not gonna give you the end version. The other qualifier here, I would say, this is helpful for zero to one. You know, if you're on a pathway to get to all the way to 10, or maybe it's step two, you're done, but zero to one, that creative process, how do I uniquely format this? This is one way to do it. So really all you need, you can figure out your own ways. We have other tabs in our in-house use that will get the Amazon listing materials we need. But if all you need to do is input here, we're using coffin shelf that everybody's probably familiar with here. Manny's Mysterious Oddities coffin shelf, bookshelf here. We're just taking the title, description and bullets. In this case, there was a description on the listing.
Ryan:
You don't need the description. If you just had a title and bullets, you could do it that way. And then we used Magnet here and just quickly grabbed the top keywords we saw in Walmart according to Helium 10. And then in this case, for a Walmart description, we're, we're assuming the maximum word count, you can get word counts over 150 for description field. But it varies by category. Sometimes the algorithm will tell you you need less keywords than 150 even. And I think you were saying that Carrie in your presentation at Prosper, right? Yours was much shoulder than that even.
Carrie:
Yeah, it's like 80.
Ryan:
Right. So let's just say in this case, not 130, you'll see there's output over here. It's gonna regenerate. Let's just say, no, sorry, it needs to be 80 words, not 130.
Ryan:
And so what we're gonna do here is, and I'll explain how this is unpacked here for anybody that, for the geeks out there like me that wanted to know how this is working. We also have a description style. This is taken from the style guide. Here's a few prompts of wound incentives, case paragraph form, no promotional text, avoiding too much repetition, all those things. ChatGPT is not gonna follow all of this exactly. It depends on how much creativity you give it and those things. Another field for claims and warnings, if you have any specific things you need to make sure are mentioned in there, this is an input field for that. And then finally, we find this one's a great one for marketing purposes in general. Writing it to a sixth-grade reading level gives you a good, clear, active voice and readability.
Ryan:
So where the magic happens here on this sheet really is in this field, this looks complicated, but really what this do is doing is referencing this group of phrases in these fields. Each of these I have in the bold in brackets here is not actually doing anything thing here. This is actually just, just referencing. So, you know, as the user, oh, this is referencing this field over here, and these are the snippets of text we're putting in between it and the prompt. So it's basically saying, if I double click here, what this is built out is saying, you're an e-commerce copywriter, we'll click in each field. So you see a text that's being used in a minute, but if I do it right now, it's gonna mess up this formula. It says snippet one of text refer here, snippet two of text refer here. You're building out that input here in order to produce the result you want.
Carrie:
You have that already templated out, right? So people can just utilize this template. They don't have to fill in that complicated stuff, right?
Ryan:
Correct. If you don't wanna do this, don't worry about it. It's in here for you already. And then if you wanna geek out and reformat and do anything, be my guest the link will give you, automatically prompt you just to make a copy of this. And then once you install the extension you can run it and do this. So what this is basically the way we've got this written up is saying you're an expert copywriter write a clever, clear, original multi-paragraph description. So multi-paragraph we found was key for this. We needed to tell it that based on for this product title here and is looking at that, it said, based on content from the bullet section, you could also, in this case, I didn't include a description here. You can add extra fields to refer to if you'd like.
Ryan:
Please use these keyword words as looking here and aided by these parameters, which is going to look at this field. Be sure to mention these claims or warnings. And then you're saying use the following tone in the whole response is this, the additional elements it's doing here is if to get at word count, we found that ChatGPT doesn't really obey if you just say it and keep it at 80 words, because it's getting creative with its inputs and outputs. So ChatGPT generates the length of response based on tokens. And tokens are a portion of a word, like basically 40% of a word, almost like half a word. And so the way we've done this is this gets called into this formula times 1.3. So that's, we're basically saying, yeah, that's about the equivalent of word count.
Ryan:
And so we're limiting right here in this reference how many tokens it should use. And then we're also telling it again, word count. I think in this version you can also repeat the word count if you want. I think that's the only time we're using it here. So what this does, the feature of tokens, so in the prompt, you're telling it how many tokens to use we have to round up because certain token numbers make this thing go into error. So rounding up to the closest token there. But the number of tokens for word length is telling there. We're also telling it this field right here before that field is what they call the temperature. How creative, how much leash are you giving ChatGPT to be creative or are you getting, telling it to be very rigid to the inputs you gave it?
Ryan:
And so what we've done here is given it just a few, three different temperatures across this three different pro each of these fields here, and it gives us three different answers. And so I won't spend, I won't burn all our time kind of reworking these, or if people are really wanting to, we could try another one live if you wanted. Up to how many questions there are. But you get it is meant to be fairly intuitive. You'll find there's some repetition, but, but again, if the goal is get zero to one as fast as you can, yeah. So you can be making unique content then this is maybe one to do it. The last thing I'll say here is the output. You can see I'm clicked in here, but it's not showing me the text, it's showing me the formula. So once you're done with it, you just need to copy that out. And I had it done here earlier, you just pay special as values. And you've got your text there. So you're gonna have to do it that way.
Carrie:
Yeah. That helps so much. Cuz especially getting those keywords we've in there quickly and that's amazing.
Ryan:
Yeah. So caveat I'll say here, cuz this is still experimental, you're going to have to, and the reason I put the sentence props at the top for everybody is it tills still takes fine-tuning. You may find it's okay, this is not giving me enough of the keywords, so maybe, okay I need to change this phrase here to say, how can I be creative in my inputs to get specifically making sure don't leave out any of these or whatever it is. And that's gonna be a variable based on how many keywords you've put in, or if you say please use five of these keywords or two of these keywords, whatever it is and make sure you got it in there, you might also say, please repeat each of these keywords two times. Those kind of things. So it's a fun way to do it and you get some great results that then even if it didn't get all the keywords in there, obviously that you're looking for, this gets you to that point where you can look back and look back at the keywords generated by Helium 10 and said, okay, I need to switch out some of these words for synonyms that are gonna be those keyword placeholders
Carrie:
That's so great. And some people were asking, can they get the link to the Excel sheet? And yes, we're gonna share that afterwards. So don't be too worried about that. Awesome. Well, that's a great way cause I mean a lot of people are like, oh, I don't wanna, you know, spend the time to really write a new listing for Walmart, but this is a really fast, easy way to do it in bulk and really get your listings up and running. And I think it really does outputs are really great and helps you with the creativity part too because sometimes you get tired of trying to come up with something.
Ryan:
I'm not that creative. So it zero to one going from blank page is usually the hardest step. And so this is meant to overcome that hurdle a bit. Now I will say Walmart does have the ability, now they've made it easier to import your listing to their website via just Amazon URL. So you can plug in through Walmart, the Amazon URL, and quickly get your listing on there and, but this would then maybe step two, combining those things, things that reduce the hurdles saying, okay, yeah, we got it on there. And Walmart themselves will say, now don't just leave it there once you got it on. You need to make this unique for this marketplace. Say then use something like this and then take it the rest of the way.
Carrie:
That's awesome. Okay, cool. So now let's go ahead and take some questions. Here's one. If we sell in the UK and Europe, do we need a warehouse in the USA or can we ship to Walmart? How many pieces, initially do you need to send? So have you had experience with people from the UK and Europe?
Ryan:
So for WFS, which I assume this is asking how do we send into Walmart if you're doing Walmart fulfilled? I believe this is still the case. I haven't checked. So this is the caveat of, I haven't looked at this in the past two or three weeks. Up until this point it has for inbound to WFS it's necessary to have a US point of origin for that inbound freight shipment. So you would need to figure out a way to cross the dock once you get into us. So you're getting in, maybe you already have a 3PL if you're drip-feeding inventory dams, Amazon, or anywhere else. And so that would be the best use case. There a couple of other things on that just that you might already have in place, but just for other people to know important to have a primary G10. So you can't use an FNSKU if you've already optimized that way. Yeah. So that's something else to consider. And so if you're already gonna have a 3PL for those things, that's maybe a way you can get cost-efficient with, with, if you've printed Fnsku on your products, you need to go ahead and have someone label that Walmart WFS will label that for you for a fee as well. But to your question yes, my best understanding, my most recent understanding is you need a US point of origin.
Carrie:
Alrighty, very good. Okay, another question. Do you have in Walmart Adtomic to add negative keywords when you use phrases in broad campaigns? Walmart does not provide this option. We don't have this quite yet. So I'm hoping that it'll come out soon. So stay tuned. I don't know if you have any other thoughts on that, Ryan, but that's, I'm hoping that it'll come out soon I don't really use the auto campaigns because I've found that I do really well by doing keyword research on Magnet, Cerebro, and creating exact campaigns and phrase in a broad match with those keywords. So that's my suggestion while we're waiting for the negative. But any thoughts on that?
Ryan:
I don't have any specific knowledge to speak of. It may be a while before the negative comes out. We do see some success without automatic, obviously, there's an advantage with auto campaigns of additional placements that you don't gain right now through the manual. But I would agree with you in general you know, an auto can do some keyword harvesting for you and identify unique search terms to Walmart. But if you're talking about search and grid performance, I would optimize your manual campaigns as much as possible because they're gonna generally perform much better with in-grid search results for the sponsored product.
Carrie:
Yeah. And I've seen that, some people were saying it's unfair. Yeah, I'm hoping that it'll get taken care of soon. I wanted to ask some questions that I get a lot of and cuz you're the expert for the product type. I wanted to just kind of elaborate a little bit about that because people always ask like, how do I AB test the product type? Because you always talk about AB testing because there are certain product types that encompass more keywords than others. And so I think people are trying to figure out how do I find what those product types are that are available and like what kind of strategies can people use? Do they just need to keep you know, writing into support and asking for a new product type and testing that one out? Or what do you recommend like the steps to test out the product types?
Ryan:
Yes. great question. One way to do it and I just can't remember the search phrase, and this is a bit hacky way of doing it, is you can look at your competitors. So go find, you know, you know how to find your competitors on their marketplace to look for those keywords, look at the top sellers' best match and look at their listings, open up their product detail page, right click and inspect the source. There is, and I'm trying to remember the most common phrase that we've done just to control find, but it'll show you product type. And you know, this is one of those hacking things. It's not a negative hack, it's not a black hat thing. It's just figuring out how do I know what prototypes most of these bestsellers are in and is it something I should experiment with.
Ryan:
So there's that way of identifying competitors to match against. AB test, what I'll say here is, is someone might be thinking do, are you switching it like every four or five days? You're probably not switching that often. This is probably like you're testing it two or three product types max cuz there's not that many out there, right? And again, another caveat would be you're not looking at, okay, I'm in herbal supplements and my product type is an herbal supplement. Am I gonna do well in protein shakes as a product type? Right? And we just one that's just gonna be manipulation. It's not, it's not serving the end shopper. But also you're not for that purpose. You're not gonna index for any of the keywords you really want. The example I've given before is using herbal supplements was we had a product that was in herbal supplements as a product type and they were in an herbal supplement.
Ryan:
But we were banging our heads up against a wall because we were not indexing for what we thought were no-brainer search terms for that product. And the algorithm just wasn't letting us index for those. So what we simply did is in growth opportunities, I know you've shown this before as well. You go into growth opportunities on Seller Center, you go to those details next year, your listing clicks on one of your listings, and there's a widget right in the middle there. Walmart makes it really easy. There's a widget in the middle, it says product type. You look at that and you can say report issues. I think it's a reported issue or something like that right below it. It'll give you a dropdown of a few suggested product types there. And the herbal supplements case, what we saw was, although herbal supplements seemed to be an exact match, the end result wasn't what we thought was gonna provide the shoppers with the best experience.
Ryan:
And so what we saw was if we went one level up vitamins and supplements, there's, so it's, it's, it makes sense in that vertical broader, and we found that instantly. We were almost instantly within a few hours we were indexing for the keywords we needed. So that's, that's what I mean. So you're probably gonna be able to figure out product type pretty easily of what general ones make sense right now. That's the best solution I know of. So I think it's one of those, it's just a helpful point of data as long as it's available. And so hopefully that's a help to you. Hopefully, that answers the question.
Carrie:
Yeah. definitely. And then, well I think we don't have any more questions here, but I was wondering if you had any final thoughts you wanted to say before we end, and kind of I think this is great information to get people going and get those listings written without too much pain.
Ryan:
Yeah. I don't have really many anything else other than if someone has questions about any of these things. Obviously, this is a great resource and continues coming back to this group. Carrie's an expert in the field and one I'm learning a ton with. And so doing that, if there are any questions people have specifically for us or if brands are looking for a kind of managed service component, we're happy to talk about that as well. But really we're, our position, we just wanna get knowledge out there, help provide value any way we can. So we will be putting this link to this sheet, it'll prompt you when you get the sheet just to make a copy right away. And then if you install that in extension, that'll, that'll be there for you. And hopefully, it's a tool that helps you guys as you guys continue to take advantage of the Walmart opportunity.
Carrie:
We do actually have one question that just came in. I think we have a minute we can answer it if you wanted to before we go. Undergrowth opportunities in Seller Center and Walmart. they offer assortment growth where in sellers can add different items to their catalog. So if you're a private label brand, if you add those recommended items, which from different brands, you can still consider a private label brand. I'm not sure if I completely understand this, but maybe it's, I don't know if you have any thoughts on there.
Ryan:
I think so private label brand, no Marketplace is calling you that. And so the private label is just like it's a legacy term for that first iteration on Amazon when people were you know, selling products that were like what it sounds. I found it in Alibaba. I'm not gonna put the name of the manufacturer from Alibaba on there. I'm putting my brand name on and I'm selling it. That's the essence of private labels. Or in the retail world, you might show up under a store's brand but you're the producer of the manufacturer. So the private label is not a label that anyone else is applying to you. That's just what you're calling yourself really. If your question is, all right, I have my own brand products that I'm selling in Walmart, I go to assortment growth, I'm seeing them suggest other products and I'm interested, should I also add those to my catalog and become a reseller of those products through arbitrage or some other means?
Ryan:
That's nothing stopping you from doing that. Your seller account is not directly tied to your brand in that way. So it's not gonna be showing up unless your seller account and your corporation name is your brand name at the same time. So you could in theory have Ryan's products as your seller name and Ryan's dog leashes is my brand name for my private label. But I could also be selling a bunch of other products and they would see the seller is the buyer would see the seller is sold by Ryan's products, shipped by Walmart, fulfilled by Walmart. So if that's your question, can you do both? Sure. and honestly, that might be a great way to test out buyer demand on the marketplace by reselling some other product and identifying, okay, now I know what the sales rate, here's, what people like about this, and private label that product after you've been selling it for a while. So yeah, there are various ways you could try it.
Carrie:
That's a really good thought. Get people's wheels turning, how to make revenue on Walmart. So, alright, I think that's about it. And again, we'll put those links down below. I think you're in the Helium 10 Partner Hub, correct?
Ryan:
Correct. Yep.
Carrie:
So if you look at Helium 10 our Partner Hub, you can find BlueRyse in there. But we'll also add those links below. And thank you all for, you know, attending this. And if you have any questions, please join our winning with Walmart group on Facebook. It's Helium 10 winning with Walmart, and you can ask any questions in there. There are a lot of people in there who are selling who can answer questions and I can answer questions there as well. So thanks again Ryan, for all that amazing information and for coming on today we hope to have you on again in the future.
Ryan:
Certainly. Carrie, thanks again. It was a blast.
Carrie:
All right, thank you. See you later.
Bradley Sutton:
All right guys. Hope you enjoyed that episode. Don't forget, once a month we always have a special guest. We always do one episode dedicated to selling on Walmart.com. So if you've got questions that you want to be answered, make sure to go to our Winning with Walmart Facebook group. Just type that in. Helium 10 Winning with Walmart on Facebook and tag Carrie with any of your questions for next month's guests and they'll answer it live on next month's Walmart Wednesday. We'll see you.
---
Enjoy this episode? Be sure to check out our previous episodes for even more content to propel you to Amazon FBA Seller success! And don't forget to "Like" our Facebook page and subscribe to the podcast on iTunes, Spotify, or wherever you listen to our podcast.
Get snippets from all episodes by following us on Instagram at @SeriousSellersPodcast
Want to absolutely start crushing it on Amazon? Here are few carefully curated resources to get you started:
Accelerate Efficiency with Insights Dashboard
The all-in-one customizable dashboard for sellers and brands, designed to accelerate decision making through the centralization of data, insights, and action. A bird's-eye view of your business with personalized suggestions to unlock growth.
Learn More about Insights Dashboard