#315 – All You Need To Know About Hiring Virtual Assistants
Saqib Azhar, owner of the world's largest Amazon Facebook group, is back to talk about hiring virtual assistants and a new launch method that his group uses.
Originally published on: January 22, 2022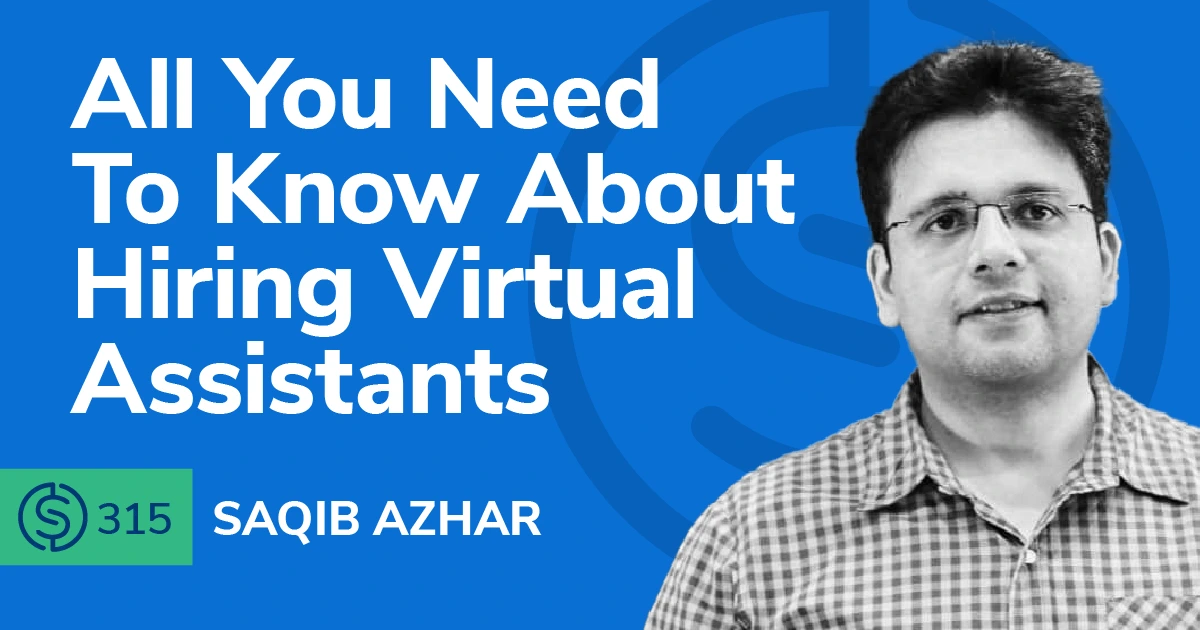 As Amazon continues to expand worldwide, Saqib Azhar, CEO & Co-Founder of Enablers, a platform with the goal of creating opportunities in Pakistan, has now grown with over 1 million members! With that, Saqib has established the world's largest Amazon-focused Facebook group and has years of experience in technology, digital marketing, and e-commerce.This episode talks all about the process of hiring virtual assistants. How to assess and validate their skills? How much should you pay an entry-level to advanced level VA? What mistakes should you avoid when hiring your VA? This and more!
Bradley also shares his unusual encounter when leaving Pakistan and arriving in the US last month, and Saqib shares a new launch method that you may never have heard of before, so make sure to listen to the very end!
In episode 315 of the Serious Sellers Podcast, Bradley and Saqib discuss:
00:30 – Story Time: An Encounter With Pakistani Intelligence
03:00 – Something Happened When Bradley Came Back To The US
07:00 – Saqib's Tips For Hiring Virtual Assistants
11:30 – How To Assess And Validate A Candidate VA's Skills
13:00 – Validate Using Certifications And Ask The Right Questions
16:00 – How Much Should You Pay A Virtual Assistant?
18:00 – NDA's And Confidentiality Agreements In Contracts
21:00 – Specialists Versus Generalists Versus Agencies
23:00 – Salaries Or Profit Shares, What Do They Prefer?
24:00 – Mistakes To Avoid When Hiring Virtual Assistants
25:00 – Clearing Misconceptions About Virtual Assistants
26:30 – Enablers: From Zero To One Million Members
30:00 – 30 Enablers Offices In Pakistan And Their Certification Program
33:00 – Success Stories From Enablers Members
35:00 – A Demand For Virtual Assistants Is Rising
36:30 – A New Unique Way To Launching Products
41:00 – Saqib's Thirty-Second Tip About Scaling
42:00 – How To Get In Touch With Saqib And His Team
Transcript
Bradley Sutton:
Today, we're gonna talk to somebody. Who's got some unique product launch strategies, as well as ask him all the questions you've submitted about how to choose higher and scale a business using Virtual Assistants. He definitely knows about this since he has a community of Virtual Assistance, that numbers over 1 million. How cool is that? Pretty cool I think.
Bradley Sutton:
What happens when you've grown your Amazon business as much as you can and don't have the time or resources to take it to that next level. Well, that's where Thrasio comes in. Thrasio acquires category leaning FBA brands from small business owners, just like you and they specialize in taking your brand to new heights while you profit from the growth. With more than a thousand experts at the top of their field in brand management, growth, marketing, creative, and supply chain Thrasio's operating team can grow your business exponentially. Find out today how you can make tens of thousands, hundreds of thousands of dollars, if not more. When your business is managed by Thrasio's expert team visit thrasio.com/Helium10 to connect with Thrasio, that's thrasio.com/helium10. Hello everybody, and welcome to another episode of the Serious Sellers Podcast by Helium 10. I am your host Bradley Sutton, and this is the show that's a completely BS-free unscripted, and unrehearsed, organic conversation about serious strategies for serious sellers of any level in the Amazon or Walmart world. We've got a serious seller here from the other side of the world Saqib. (inaudible) How's it going?
Saqib:
Yeah, (inaudible). It's all good. Thanks for inviting me.
Bradley Sutton:
Thank you for coming on again and before we get started, we're gonna do another quick storytime. Part of this story you already heard, but part of it, you didn't hear, but I think everybody might get a kick out of this. So as people know, I went to Pakistan for the second time last month and this time a different city in Peshawar. Now, the interesting thing is on my way back. So I was dropped off on the airport to go back. First of all, I need to give a shoutout to the Enablers, complete Enablers crew, the other Saqib. And so many people had helped me. They helped me get the wedding outfit because I lost my vest and they took me to the market. They took me sight scene. We had a great seminar over there.
Bradley Sutton:
And then I actually had a family emergency come up while I was in Pakistan. And then the whole crew was able to help me to get like a special flight to hurry home. So first of all, thanks to your team and everybody there. But speaking of that flight that I got to go home. So I went to the airport. It was like one in the morning was the flight. And when I got to the airport Saqibs' team couldn't come in with me to the airport because there's a lot of security. So once I got in, I was by myself, and then as I was going through security somebody, you know, came up to me and they said, "oh you're Bradley Sutton?" And I was like, yeah. And I was thinking, oh, he must be part of the enablers group.
Bradley Sutton:
Maybe they had somehow sent somebody and then I was like, "yeah". And he's like "yes, I'm part of you know, Pakistani Intelligence." And I was like, "what? What the world I was like, how did, how did you know who I was?" And he says, "oh, we know everything. You know, we know everybody who comes through and we were watching you ever since you got here" and he was like, he didn't have notes or anything. He was just looking me straight in the eye. You know, "you were here a few days ago and you went to a wedding and your sponsor is Saqib Azhar" and he was telling me all this stuff, I'm like, is somebody like playing a trick on me? I'm like, what, what is the hell?
Bradley Sutton:
Like, how does this guy know all this stuff? But he was really cool, really cool. We were talking a lot. He took me, he like escorted me through security by himself and very, very nice guy. He helped me get into like the business lounge, even though I didn't have business class. And, and then he was just, you know, sitting there talking to me talking about cryptocurrency and he was asking about the Enablers, but then he started even freaking me out more. He was like, oh yeah. "So when you got here it was Saqib who picked you? Right?" And I was like no Saqib hadn't arrived." He's like, "no, no, no, not Saqib Azhar, Saqib Awan." I was like, "how in the world did you know that?" And he was like, "well, we were watching you on the camera and we have facial recognition. And then, so we were able to determine who it was, who picked you up? And they put the flowers. I mean, over your head," he was telling me all this stuff that happened.
Bradley Sutton:
I was just like, oh my goodness, this is so, so crazy. But the story doesn't end there Saqib. So I go back to the United States and I get to the airport. Usually, I just fly through security. I have this special thing called global entry where I don't even have to like check my passport. I just check my eyeballs. And like, I'm like, it's like the highest level of like passing once you go through customs. But as soon as I got through, they stopped me for the first time. I was like, okay Bradley, we need to take you to secondary checks. And I'm like, what's going on?
Bradley Sutton:
And then some officer comes out now, this is crazy. I had never seen this kind of officer. He didn't even have a uniform. He just had like regular clothes and like a gun on his belt. And then a badge, like you see in TV like a police badge. And he took me into this back room and there was all a bunch of people looking like him. And he just started asking me all these questions about my trip. Like, what were you doing there? Who's wedding did you go to? Where do you speak at? How old is the person who did the wedding? What is your social media is the person's wedding you went to? I mean, I was just like grilled. And so it got me thinking, it's like, you know, a lot of this stuff.
Bradley Sutton:
And this is part of the reason why I like to visit Pakistan because on both sides, it's like not normal that a foreign or an American person goes that that's why they were especially watching me over there. When I went to Pakistan. That's why, when I come back here, I must have raised some red flags. They're like, why in the world is this American guy going to Peshawar of all places. And so my hope is sake that one day we can make it more normal that, Hey, more people are going to of Pakistan. This is not like a dangerous place, but anyways what do you think of that story there?
Saqib:
Well, that's exactly what perception is all about what the people sees and social media or the TVs or the news, which obviously it's all about the news who portrays like how the Pakistanis and all that. But that's why the main, one of the main objective was to come here and spend time with these people, the way you were dancing and all those, there wasn't anything like, we felt you like home. And the people are really really know how to look after the people who comes from the other countries. Yeah. So the whole purpose was to build a positive image of Pakistan. You could have explained all of this, which you explained here to the people online, but bringing you here in the ground was to show to the world that yes, it is a safe country.
Saqib:
Whatever we have been told in the past was not true. It was just one news can make the whole country, like what is going on there, which wasn't really a true, so that's what the whole purpose was. And I think it's really thank you to you to coming in Pakistan and sharing your experience and also building a positive image. Cause it's not just our efforts, but I think people who like you took the courage to come and then second time and like nonstop without resting was really appreciated.
Bradley Sutton:
Yeah. Well, again, the hospitality was incredible and, and I told you this when I went there that I told Kevin King that Pakistan and wants him to come and he actually would have come with me. He said this time, but it was exactly during Christmas. And he had already planned a trip with his wife, but in 2022, Kevin, if you're listening, you already committed to going to Pakistan in 2022. So I'm gonna make sure that you stick to that. Now, we're not here to talk about all my traveling stories and things like that. We wanna talk about some strategies and I wanted to bring you back to this show because a lot more and more in our Helium 10 Facebook groups and people sending messages, they have a lot of questions about hiring Virtual Assistants.
Bradley Sutton:
And you probably are, are one of the ones who know more about this and almost anybody else. As a matter of fact, you're a Facebook group over there. Enablers Facebook group just crossed the 1 million members. I mean, that's crazy guys, there's 1 million members of this Facebook group. So I'm just gonna give you tons of questions that I've been compiling from different Amazon sellers. And let's just go ahead and hop right into it. The first thing in your opinion, for an Amazon seller, you know, regardless if they're in Europe or USA or wherever, what should be the first thing that maybe somebody should consider outsourcing, you know, to a Virtual Assistant, like, you know, should it be from day one, the product research or as you call it product hunting, should it be the customer service? Should it be graphics in your opinion? Is there a one thing that's like, Hey, this is the logical first thing that you should outsource.
Saqib:
Well, obviously being as a seller and also as a new seller, it is very important for you to select a product which can be a product which goes crazy during the times and all that. So it's very important for the person to, to have a dedication against your Amazon accounts. So if you are working, if you are doing a job, if you are doing the business, then it's not really a part-time business anymore. We have seen it's very combative and it requires a huge amount of efforts in order to bring your business to the level where you are expecting. So if you feel it's all about hours, basically how you can buy hours from the people and then use your to another times or other productive time, you need to see, you need to scale this up down the line.
Saqib:
How do you scale this up? It's always one person will never be able to scale things up on their own. So you cannot be good in content writing. You cannot be good in graphic designing. You cannot be good in product hunting. You cannot be good in products, so you can be good in one or two things. So always have people who are good and master on those things. Rather, you say, I want a save course and I'll do what I feel is right for me. Well, obviously you are hiring a person. You are hiring an expert has a masters of those skills. So obviously you must have your own knowledge before you even hire a person because then you can judge an individual to see that how this person will perform and set some objectives accordingly. So that's really becoming an essential the way these markets are going to worse.
Saqib:
You need to have those people working for you who are having a strong backup support. So for example, if you hire a Virtual Assistant, what you should be looking at is if this person gets stuck, how many people will be able to help him? What sort of community he would have? Where he's gonna get support from? What portfolio does he have? How many products has he launched? I'm the one who's just launching this business first time. And I haven't launched any product yet, but what about this person who has already launched 10 plus products? So this guy has more experience of launching products than me. So should I launch on my own or use the one who has launched 10 plus products? Cause he would've more exposure and more better approach than me. So, hence this is really now becoming an important part for any seller to hire Virtual Assistants because these guys are managing multiple accounts and these guys have gone into multiple problems. So if you are launching a new business as an Amazon seller, you wouldn't have even launched a product. So this is really a new for you. So, but for the VAs who would have controlled many scenarios. So that's why we see it's becoming a need for people to scale things up and also to ensure that they are not the only one doing everything, but the people who are doing behind the scene are the experts one.
Bradley Sutton:
Okay. Yeah. I mean, you actually, you actually answered a little bit of what was gonna be my second question is, you know, in your community, there's tens of thousands of virtual assistants. There's tens of thousands oon Upwork or Fiver things. So you talked about, Hey, trying to vet, Hey, what kind of backing do they have? Are they part of a community, but what are some other things on how we know the good from the bad, because Hey, let's face it. There's a lot of bad Virtual Assistants out there. There's a lot of good ones. I'm a new seller or I'm an experience, or regardless of my experience as a seller, what are the questions I need to ask? Or what are the background checks I need to do? Or should I maybe give them a test, first of all, how can I weed out the good from the bad?
Saqib:
Yeah, actually if you see Enablers obviously is one of the largest platform as character data certification. So in order for you to validate someone's someone's skills, someone's any, any work which they have done that certificate, not just gives us about skills, authentication. That certificate gives you authenticity about their ethical behavior, about their English language skills, the communication skills, loyalty skills, how they present and all that. So it's all about a person who is capable to manage an account and work with the people who are not in their country. So that's really, the certification is all about. So the people who are willing to hire anyone from Pakistan can always validate their certification, enablers.org/certificates, and then see the people. Does this people exist? Does these people are actually clear the certification? So that's one way.
Saqib:
And then obviously the second way is what the question should be asked from the Virtual Assistant from the seller. That is the first question should be drive me with numbers. If I'm investing X, Y, Z amount of money into my US launch UK launch or whatever, then how you gonna drive this with profit and loss balance sheet. So if you say, I want you to provide me a proposal, he would provide you the proposal, but proposal should conduct a numbers accordingly. So three months we will be burning, 3, 4 months, we'll be doing marketing. And then 6 months we may come to break you in. And then this is how we'll scale things up for the next two, three years as a roadmap, if an individual is providing you a roadmap, then that makes sense because he knows where your business is going to be or where he wants your business to be in the next two, three years.
Saqib:
Rather, you just say, this is the product and manager. You don't want a report. You want a best person who can drive your business. You can drive of roadmap or who can build your roadmap as a new business because at the end of the day, it's a win-win for you and him at the end. It's your asset. If you're doing a private label or it's your account, and his job is to make you profit, to justify his role, and then justify maybe a profit sharing between each other. So this is really, you see how people present you because at the end, they are going to be selling in the foreign markets and you will be communicating with them. And the other thing is, how do you validate their skills from their certification? And certification has been really thorough. And it's very difficult to pass because it's not just the skills, but also grooming a personality. A lot of other things are part of those certifications.
Bradley Sutton:
Okay, interesting. So in summary, right there, guys, there's a couple things that hopefully took away from this is check their certifications, but don't just, you know, look at a resume. You know, anybody can just write down certifications, there's ways, most, you know, certifications, even Helium 10 Academy certification. There's a way to validate if they say, Hey, I'm Enablers certified validate it from the enablers website. If they say they're Helium 10 certified, validate it from the Helium 10 website and also LinkedIn, or, you know, if they say they're certified with Microsoft, the Microsoft training course, you can validate that as well. So that's a very good point. And then also the second point that I got from there is, is, you know, try and go for people who aren't just saying, Hey, yes, I'm gonna find you a product within a couple weeks, but go for the people who are giving you a more detailed business plan and outlook.
Bradley Sutton:
I like that now. I know the answer to this next question is, is the answer, is it varies, but what in general, I'm looking to hire my first virtual assistant, maybe to help with managing some of my PPC and my customer service and perhaps doing some extra keyword research and product research. What am I looking to pay per hour? If I'm just starting, I'm not a big corporation, I'm just a, I'm just a regular seller, maybe making, you know, $10,000 a month or something. So I'm just looking for more of an entry-level virtual assistant, you know, am I paying $10 an hour, $5 an hour, $2 an hour? What's the going rate?
Saqib:
Well, it's all about monthly efforts. So it's basically, you're not hiring a person for an hour. So you're saying let's manage this for a month because then you can't, well, you can't judge a person for an hour. You will need to have him for a month or two to understand his bill piece, to, to change the, to change your business into more profitable through PPC. So I guess, the entry-level are around about between three to $400 a month. And the pro level are going to $500 to $600 a month from Pakistan. And that's what the agencies are currently charging.
Bradley Sutton:
Okay. Now, speaking of pay, you know, I don't know about the Philippines, but I know in Pakistan, if I'm not mistaken, there's no PayPal or someone other services. So if I hire a virtual assistant from Pakistan, what's the method of payments that I would be able to do?
Saqib:
Well, well, the, the many of them do manage to get PayPal anyway. But if, for example, if someone do not have a PayPal then as the Payoneer is another account, which obviously gives you a wide transfer bank account details, and it's a US bank account, which can be used to pay from bank to bank. So, and then that can be withdrawn in Pakistan. So that's another way of doing it, cuz everyone would have a bank account in, US who can pay it, but usually, every freelancers and every service provider does have a PayPal these days in Pakistan.
Bradley Sutton:
Okay, good to know. Now, you know, something that people have asked me is like, well, you know, this person, as far as I know, they could be like taking some product research that I'm paying them to do and then sharing it with some other Amazon seller. So at the end of the day, I know there's no way to just completely safeguard yourself, you know, from that they're not working in the same room as you. You can't see what they're doing or check their web browser history, but is there something that may help, like, should I have them sign a confidentiality agreement or should I make some contract that says they don't do that? Or what are some ways that sellers can protect themselves so that hopefully this doesn't happen too much?
Saqib:
Well obviously you can't judge the mentality of any individual. It can happen anywhere but to protect it, it should be protected through NDA, which is nondisclosure agreement. That should be part of your agreement. We have also shared some templates in which can be used in order to ensure that can be used as well to secure both parties basically. So those standard templates have symptoms and conditions which should be used, but usually, we recommend NDAs the way to go as a first step.
Bradley Sutton:
Okay. Would, do you suggest doing kind of like a trial or like a tryout for somebody before you just go, go ahead and say, Hey, you're gonna be hired for three months or a certain time, like, is there a test that you suggest giving or like, Hey, give them a special project or you should just go ahead and after vetting them, go ahead and just, just hire them.
Saqib:
Well, in order for you to test it, you must know your, skills are good enough to judge someone. So if you're hiring someone, I assume a person should know already this to judge it, or how would you know the approach would be, it shouldn't be like yes or nothing. It all depends on the scenarios which occurs and how an individuals leads the scenario, it's not really the book thing that what will you, it should be based on the case studies type of MCQs can be given rather say the difference between negative keywords and all that. So that sort of scenario, you should be able to create yourself or not, then you can always outsource it to get those scenarios and get this check to ensure this person is good enough for your business or not.
Bradley Sutton:
Okay. Good to know. Now there's all kinds of Virtual Assistants out there. There are some who are specialists in graphics or specialists in PPC. There are some who are A to Z like, Hey, we're Jack of all trades, what do you think somebody should hire, first of all, should they go first for the specialist? Like, Hey, I'm just gonna hire somebody for PPC, or it's more beneficial to get somebody that knows kind of like a little bit of everything, the whole entire process?
Saqib:
Well these days the individuals are not really the one pitching more towards businesses but creating agencies. So when they offer it to that and those sort of things, they have a complete team of going behind the scene. So which means they can manage everything and you should always not be relying on an individual to avoid risk. So you can have an agencies is doing it for you where the number of people and the complete structure is in place. And those Virtual Assistants has created those agencies between themselves. So if one gets stuck, the other person is available. It's a company taking responsibility rather than individual. So that sort of contract should happen more often provide more risk than hiring just an individual who you have never been known before or giving an access of your account.
Bradley Sutton:
OK. Now you know, you talked about different forms of payment as far as, Hey, paying somebody hourly versus monthly, and then you also mentioned kind of like, you know, maybe profit share revenue share. From the Virtual Assistant side. What do most Virtual Assistants prefer? Just a set salary monthly, or, or they prefer the profit share, or what in your experience, what have you, what do you see?
Saqib:
Usually, they prefer a salary base. So because it's a kind of employee for any company who are running a business. So cuz the profit sharing comes like after five months, six months or sometimes even more so they don't wanna wait for six months and then once the six months happening, then the person is saying goodbye and all that. Then this person just lost their six months. So it has to be secure from both sides. And those sort of things preferred by VAs to ensure they get monthly payments time to time. And then profit can be when the profit occur in terms of slabs. So usually what people do is before going live, they charge X amount of monthly fee after it goes live, then they charge X amount of monthly fee. And when the, the product comes in the profit, then they change this labs to just based on the profit, maybe. So that's how sort of slap works to secure all parties.
Bradley Sutton:
Okay. What are some mistakes or horror stories that you have heard from Amazon sellers doing the wrong thing or getting the wrong Virtual assistant? Like, what are some things that sellers should avoid? Like, oh my goodness. I gave them, you know, full admin access and now my accounts got related to another account. I don't know, I'm just making up things right now, but, but what are some things that, Hey, sellers need to avoid that you've seen mistakes that people make?
Saqib:
Well, giving access to an individual without having hands on knowledge of seller center is always risky. So the people who sometimes do make false promises and just to gain, get clients and all that. So this is something should be looked at. We've seen many places where the people saying we hired a person in Pakistan and do not hire and all this. So it's not about Pakistan. It can happen from anywhere. It can happen. If I hire a person from US, then if that person didn't deliver, then I wouldn't say, do not hire a person from US. It can happen from anywhere around the world. But I would say, do not hire a person from this company or do not hire this person because this person did deliver, but there are thousands of other people from the same country are delivering better than this person. So that this sort of mindset also needs to be improved from the people who get wrong services from an individual. Then they end up blaming a country of this, which is not recommended.
Bradley Sutton:
So speaking of that, like just in general, not just necessarily from Pakistan, but in general, there's a lot of misconceptions about Virtual Assistant. So what are in your experience? What are some of the biggest misconceptions about Virtual Assistants that maybe, you can clear up things that you've heard?
Saqib:
Well, misconception is like they are really begging for work and they have no clue what they're doing. These sort of misconceptions are, they are really of people feel, you can get the cheap labors from Pakistan, but if you want a quality, if you want your business to drive, then you must pay a decent, handsome money to, to the people. Usually, even when this comes like based in south Asia countries, you can get cheaper labor there and then go on, but quality comes with the price and that's something, a perception needs to be changed all across the world who are hiring people as.
Bradley Sutton:
Yeah. Yeah. Now, you know, you talked about, you know, having the group of a million and how fast it's grown. How in the world has it happened? Like I remember when I first started at Helium 10, almost four years ago, now there was no such thing as Enablers, you know, there was no group. And then so less, you know, two, three years a group of 1 million and you have so many offices, we'll talk about that, but how world did it happen so fast in Pakistan? Like, is it because, you know, is the government helping to promote it, or is it just the people were just hungry for this. And as soon as they saw the opportunity that they seized it, or how did this happen was zero to 1 million in two years?
Saqib:
Well, it was all about two. Sure. Let's not hide anything because we always seen that you can always share, always share strategies and all those things by paying a course. But what we did is let's just share everything into this group. Let's just help people. And when the people start seeing those help in this group, then they become a revolution where the people just starting to join on thousands of people on daily basis and just massively growing, because the amount of support which was given in that group is where you ask a single question and you get an answer within 60 seconds, no matter whatever the time is. It's just all across the world where we have hired the team who are helping. And those experts ensuring the answers are being given. And also people were hunger.
Saqib:
People did have hunger for this. And the COVID came in when everyone get stuck. And the e-commerce industry just boosted in like crazy than ever in the history where we saw then the spikes happen. And the amount of scaling which we have been doing in Pakistan and around the globe was, was massively. It was all about not just scaling, but also maintaining the quality as well, to ensuring looking after the people who are based in this group and making sure they're getting the enough support. So it's like a revolution which comes three and three and a half years ago. And then it's becomes a moment which you have seen from your own eyes when you have attended these seminars and all that, this not normal, and that does not happen anywhere around the world. So this was the.., the aim was to make a Pakistan as an e-commerce hub because the world has been known by many other places, but the Pakistan image was not really be known as based on the technologies or anything.
Saqib:
And that was the aim. Let's make Pakistan as an e-commerce hub. Let's show to show this to the world that we are the people who have skills and can achieve anything. Hence you are asking these questions today and hence these efforts are being put in place to show to the world, which cannot be no, where now millions of people are into one platform and then they are willing to change their lives. And also it's a win-win for everyone for the country because the country is minimizing the unemployed force to the skills force and as well as they are creating more opportunities for the people when they get success. Yeah.
Bradley Sutton:
Okay. So talk a little bit more about the enablers, like you actually have physical offices training centers kind of like even incubation. How many offices now in Pakistan, do you have like physical locations?
Saqib:
We have 30 now all across the world.
Bradley Sutton:
And like how many people are going through these offices getting training, like on a daily basis or a month?
Saqib:
Well, in the last year, in 2021, we had 200,000 people, more than 200,000 people just came in to visit these offices and asking how can I do it? And we've been helping free to them and providing those counseling and question, answer sessions has been happening. So that's really happening from the last one year. And it was a little lower than the previous, but last was really crazy.
Bradley Sutton:
Okay. Now you mentioned like, you know, there's the enabler certification program, so, you know, I'm an Amazon seller, I'm listening to this podcast. I'm like, okay, let me go find somebody and let me, they got this certification. What led to that certification? So like talk a little bit about, you know, what is the course, you know, does that course cost money, like, or do these service providers who, who take your certification course? Do they have to pay money? How long is it? How in-depth is it? Is it just, you know, like subject by subject or A to Z talk a little bit about how it works.
Saqib:
So, these certifications are for the enablers boot camp members, boot camp members are the paid members for enablers who are getting paid trainings from the mentors and getting support throughout their journey face to face or online. So it's like a premium support, which they get. And those guys are able to pass those or attempt those certification because we don't want them to say, we are Enablers students. We have taken this boot camp, hire me that doesn't work because we don't know that your skills, do you understand the skills or did you manage to launch it or not? And those certification gives you a questions about the knowledge, which we have learned about Amazon private label, wholesale,.drop shipping, and sort of those models, and as well as judging your personalities, how you overcome, or how you judge and how you take actions in certain situations or scenarios to understand your ethical behavior. And as well as understanding your loyalty towards your work, your passion towards work, your dedication towards work, your portfolio and all this. So once you know all of this and clear this up, then you get published on enablers.org/certificates where the people can see that this guy has been, this guy has taken a training properly with the boot camp after spending few months, and as well as now clear the certification, which means he has authenticity to prove he has his skills.
Bradley Sutton:
Okay. All right. Now, you know, we've interviewed different ones that have gone through the enablers program, you know, like Salman, Saleha I remember. Somebody that maybe we haven't mentioned here on the podcast, can you tell of a success story of not an Amazon seller, we've done those, but those you know, somebody who's like, Hey, in the last year, they've managed 10 accounts and, and they drove X number of sales for their clients. Does any, does any recent example come to come to mind
Saqib:
In this? One of the example we have is the guy is 19 years old. He's really good in English. He's really good in everything in terms of skillset and all that, which he is now managing almost 34 accounts all across the world. And he has told me a few days ago, 27 people working for him. So he has hired 27 people in the same city, which he's based on. And then he has just done 19 years old. I, I recommend you taking his interview as well. And understanding his journey. All he learned was when he had an accident where he couldn't move his leg from the bed, and then from the bed, he just started learning all of those skills and then become the master of it. And then he just drawn so rapidly in the last year where he managed to hire 27.
Bradley Sutton:
Wow, amazing. Now you know, your team there, they train on all, it's not just Amazon USA, you know, they're training for Amazon, UK, and, and UAE and, and Walmart, you know, now and KDP and, and many international marketplaces. So in your recent experience with your students and the service providers that you now have under you, where are they seeing like the most growth, or where is there the most demand these days for expansion for, for hiring virtual assistance? Is it still just, you know, Amazon USA and UK, or do you see some of these other marketplaces kind of gaining ground faster?
Saqib:
Yeah, it is. It's not just Amazon, UK, and US anymore. It's other marketplaces as well such as Japan, Germany Europe, and those sort of UAE and Gulf marketplaces are, must where the people are really hitting hard and as well as Walmart is really rapidly growing which we've seen is the largest growing market in US is Walmart not the world, but in US, it's growing really rapidly. Etsy is another marketplace, which is the handmade products, usually from Pakistan can be released available there. So we are obviously now going to different marketplaces like Wayfair is very good marketplace in UK mainly. And obviously, eBay is a four after Amazon. That's something we are teaching to do, to our students who are managing in UK as well. And there are some local markets as well based in Pakistan, France, and all those.
Bradley Sutton:
Okay, interesting. Now, again, you guys, you have such a huge team there and they can, you know, they can you know, see what is working, what is not working. You know, one thing that's a popular topic nowadays is, Hey, you know, since now Amazon is now frowning in the terms of service against, you know, search, find, buy, and rebates, and other kinds of launch that people have been doing your for years, your R and D team developed something interesting, kind of unique what I saw if I'm not mistaken, it was called like a smart, private label launch or something like that. And it was using some techniques that I'd never heard of before. Can you talk about what you're teaching your students about this, this new unique way of launching products that are actually more expensive than what you would normally do?
Saqib:
Yeah. I mean, the purpose was to doing this, that as we've seen, PPC cost has been going high. So in order for us to ensure that we gain the maximum profit by launching a new product an expensive product. So if you are launching a product, which is $60 to $90 price worth of selling price, which actually you don't need to sell too many units. All you need is to sell two to three units a day because then you can make the same amount of profit, which you can potentially make by selling 15 or 20 units a day to the product, which is $16.99 or $14.99. So that's why we recommended launching a product which can be used, who those products who have a compliance. So, for example, if I would say to a new seller, let's launch a product, which is in the gated category, lot of people will say, I will not go this because it's too much hassle to get compliance and certifications and all those, but for us we encourage people to take pain, take hassle because that's what is all about.
Saqib:
And that was the whole purpose of launching high prices product because you can then gain more profit by spending less PPC costs. If you're selling $16.99 or $14.99 products, you may not get as much profit as you would get in that high price. So this was the whole aim behind it. And we just recently, our research and development team has launched many successful launches because once we launch those products, then we release those product hunting criteria for the people to use this, to minimize their risk. And that risk is not for the people. The risk will be for us because we understood what sort of products to launch and then release this in the public. And that sort of, we are encouraging these days to avoid bigger risk. All you need is just to get 40, 50 units and then go alive rather than 500 units and 600 or thousand units. And then you end up waiting two long and also putting your stake on hold as the product does not go as planned.
Bradley Sutton:
Okay. So like 40, 50 units, and then a price over a hundred dollars. What, what are some of the other characteristics on what would make it an opportunity? Like, are you looking at you know, 40, 50 units, and then you're doing the ocean shipping taking three months, these days, you know, is kind of a, hassle in. And–
Saqib:
So that's also recommended that the weight should be less than five pounds and a size should be less than 18 centimeter, less than 18. So it's, cuz then it cannot be handed as an oversized product. So it can be a product which can be shipped via air. We're still recommending to ship wire air, and then you can still be able to make money. The DDP cost, which is delivery duty, paid cost, which we are recommending in this product. Hunting criteria is $20. So from China, from wherever you are sourcing from, comes to Amazon warehouse takes it to the $20 where you can potentially be able to sell $50, $60 to onwards. And these sort of means, which we have put in place, rather, you launch an oversized product. And obviously if you're launching a gated category, then you have to have a compliances. You have to have those certificate, which people really hardly bother to even get it. Because they just say it's too much hassle. I don't wanna go for it. And that's what we teach them, how to get those. And how do you get ungate your categories and selling those is a huge money out there.
Bradley Sutton:
Okay. Now, before we get into, you know, how people can contact you and things you know, as we did before, we always do something on the show called the "TST", or the TST 32nd tip. So what is a 30-second tip you can think of, it could be about just general Amazon strategy? It could be about how to hire a Virtual Assistant, anything you want it to be about.
Saqib:
Well, I just wanted to tell to the people that if you wanna scale yourselves if you want a big success, big success will never come alone. You have to have people working for you. You have to have people scaling for you, cuz you need to work and prioritize your hours. You need to see either you doing the whole work or you hire people to do it for you. And then you work on a more business scaling business planning rather than you doing everything. Most of the people feels like this, which needs to be changed and that's the tip to scale up.
Bradley Sutton:
Okay. I love it. I love it. Now, how can people reach out to you to get more information? And then also what's the URL if I want to go directly to the website where I can start searching the directory of the Enablers certified Virtual Assistants. So I can perhaps hire one if I wanted to.
Saqib:
Yeah. enablers.org/certificates. That's the URL. Obviously, if you want to get in touch with us, then enablers.org is our website. If you want go in our group e-commerce by enablers, which is enablers.org/group that's what it works.
Bradley Sutton:
All right. Well guys you know, if you are an influencer out there or somebody interested in the country, I highly recommend going there. It's amazing food, amazing scenery amazing people, and hospitality and there's a hunger over there for e-commerce knowledge that I've never seen anywhere else. So I highly highly recommend it's not easy. Let's be honest, you know? Yeah. It's very difficult to get a visa. Hopefully, that'll get easier later, but I've done it twice now, so I've proven it can work. So I highly recommend going over there. And Saqib, it's really great to see the progress that you and your team have made there in that country and all you've accomplished. Very impressive. And I definitely wanna reach out to you you know, next year and see maybe you, you've got 2 million in the group by then.
Saqib:
Brilliant. Thank you very much. It's a great owner and great always to talk to you either face to face or online. So thank you much for you as well. Who being really supporting Pakistan and the people who has been working very hard for this.
Bradley Sutton:
Thank you so much. And hopefully next time we see each other this time you'll come to visit me over here in the USA.
Saqib:
I Will, I will sure. I'm planning for it.
Bradley Sutton:
Awesome.
---
Enjoy this episode? Be sure to check out our previous episodes for even more content to propel you to Amazon FBA Seller success! And don't forget to "Like" our Facebook page and subscribe to the podcast on iTunes, Spotify, or wherever you listen to our podcast.
Get snippets from all episodes by following Bradley on Instagram at @H10bradley
Want to absolutely start crushing it on Amazon? Here are few carefully curated resources to get you started: