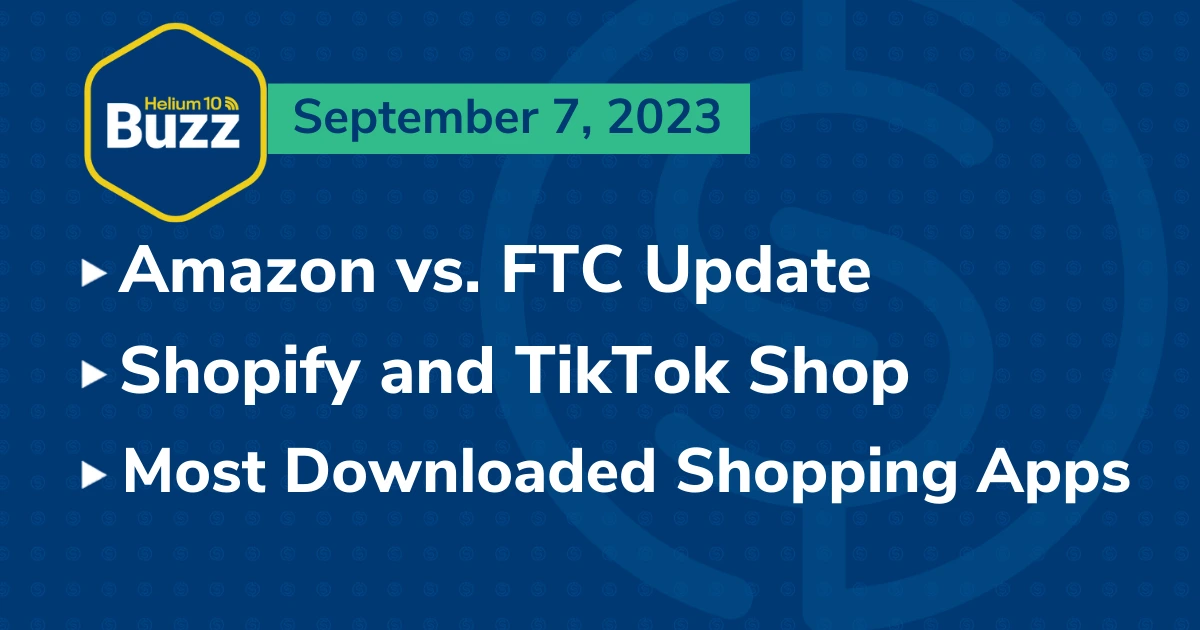 Helium 10 Buzz 9/7/23: Amazon vs. FTC Update | Shopify To Continue Working With TikTok Shop | 2 Most Downloaded Shopping Apps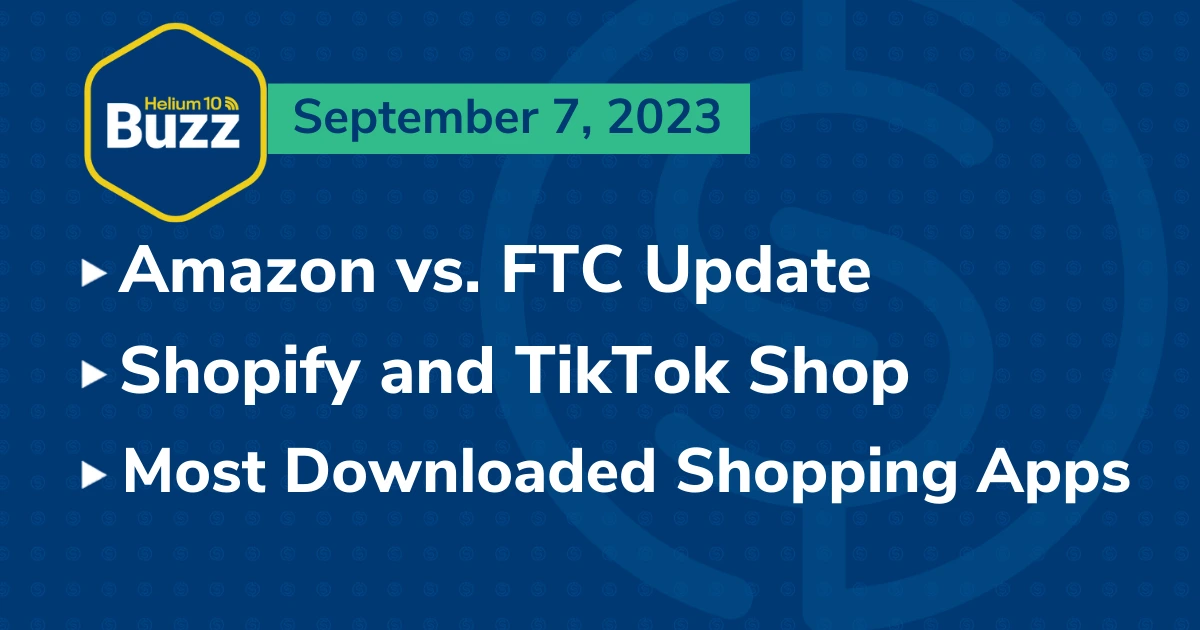 We're back with another episode of the Weekly Buzz with Helium 10's Brand Evangelist and Walmart Expert, Carrie Miller. Every week, we cover the latest breaking news in the Amazon, Walmart, and E-commerce space, interview someone you need to hear from, and provide a training tip for the week.

FTC reportedly may sue Amazon later this month after talks break down
https://nypost.com/2023/09/05/amazon-facing-ftc-antitrust-lawsuit-later-this-month-report/

TikTok is ending its support for Shopify's storefronts on September 12, but the ecommerce brand has found a new way to operate on the ByteDance-owned app. According to The Information, Shopify will integrate its vending platform into the TikTok Shop hub.
https://www.tubefilter.com/2023/09/01/tiktok-shop-ecommerce-merch-shopify-storefront-integration/

Amazon doesn't name Temu, Shein, or AliExpress as potential threats in any of its latest SEC filings. However, according to the latest app store rankings on Data.ai, Temu and Shein are currently the two most downloaded shopping apps in the U.S. on iOS and Android.
https://www.fool.com/investing/2023/09/05/meta-platforms-growth-chinese-amazon/

New York-based eCommerce company Benitago has reportedly filed for bankruptcy. The firm is seeking protection from creditors two years after raising $325 million in funding, The Wall Street Journal (WSJ) reported. It listed both assets and liabilities of between $50 million and $100 million.
https://www.pymnts.com/news/ecommerce/2023/report-ecommerce-company-benitago-files-for-bankruptcy/

For this week's training tip, Shivali Patel shows us how to create your own QR codes and design your product inserts inside Helium 10's Portals tool. Lastly, Carrie invites you to join Helium 10's Winning with Walmart Facebook group to connect, network, and ask questions to a community that is selling on the Walmart.com platform.
In this episode of the Weekly Buzz by Helium 10, Carrie talks about:
00:45 – Amazon / FTC Update
01:30 – TikTok Shop / Shopify
03:19 – Most Downloaded Apps
05:22 – Aggregator Benitago Bankrupt
07:22 – Amazon Price Tracker
09:00 – Pro Training Tip: Create QR Codes And Product Inserts Inside Helium 10
14:09 – Join Our Walmart-Selling Facebook Group
---
Enjoy this episode? Be sure to check out our previous episodes for even more content to propel you to Amazon FBA Seller success! And don't forget to "Like" our Facebook page and subscribe to the podcast on iTunes, Spotify, or wherever you listen to our podcast.
Get snippets from all episodes by following us on Instagram at @SeriousSellersPodcast
Want to absolutely start crushing it on Amazon? Here are few carefully curated resources to get you started:
Achieve More Results in Less Time
Accelerate the Growth of Your Business, Brand or Agency
Maximize your results and drive success faster with Helium 10's full suite of Amazon and Walmart solutions.