Helium 10 Buzz 9/7/22: Shipping Rates Decrease | Product Licensing | Sponsored Video Update
In this episode, we cover the latest news on the Amazon and Shopify space. Learn about product licensing and 5 Helium 10 features that most don't know about!
Originally published on: September 7, 2022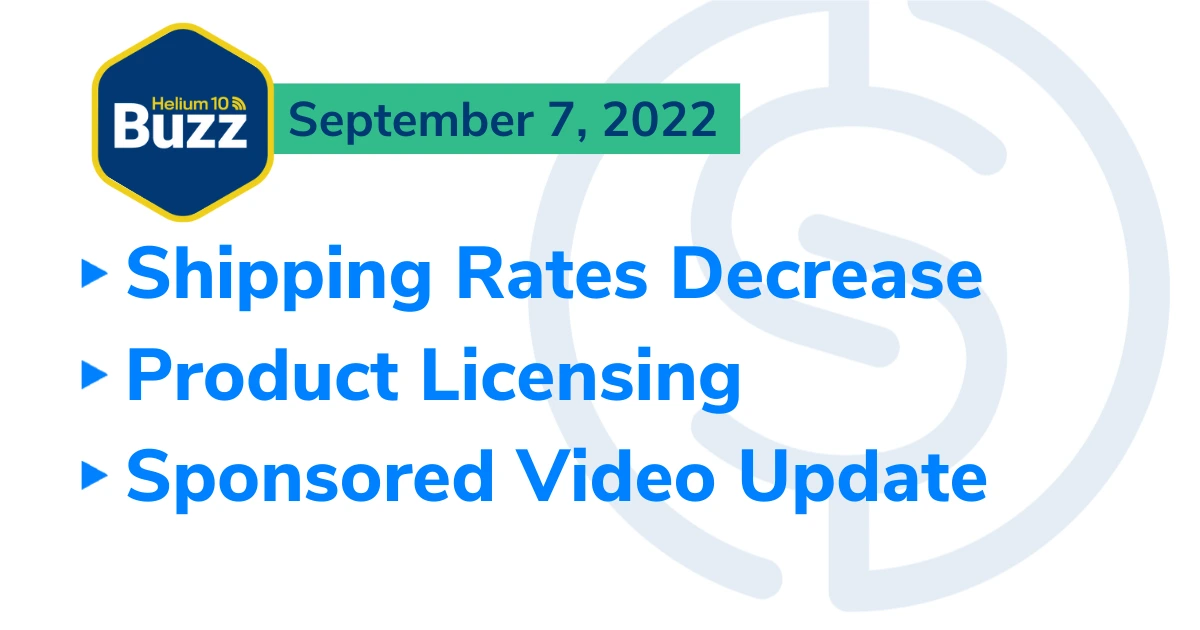 We're back with another episode of the Weekly Buzz with Helium 10's Chief Brand Evangelist, Bradley Sutton. Every week, we cover the latest breaking news in the Amazon, Walmart, and E-commerce space, interview someone you need to hear from, and provide a training tip for the week.

Amazon Advertisers can now update the ad creatives of their live Sponsored Brands video campaigns created with Ad group. For new campaigns that link to a product detail page, advertisers will have the ability to change the videos. For new campaigns that link to a brand store, advertisers can edit logos, videos, headlines, and products. This feature allows advertisers to edit a live campaign without needing to re-create a new campaign which leads to the loss of historical data and information collected on the live campaign.
https://advertising.amazon.com/en-us/resources/whats-new/creative-editing-available-sponsored-brands-video/

Freight rates on the primary ocean trade channels are sinking during a time typically identified as the peak season in the industry after cargo owners reportedly shipped their holiday goods early and inflation dented consumer demands. The cost incurred to ship a 40-foot container to the West Coast in the US from China is now about $5,400 per box, a drop of 60% from January 2022, per Freightos Baltic Index.
https://www.marineinsight.com/shipping-news/ocean-shipping-rates-plunged-60-in-2022/

Meltable inventory will be removed starting on September 21st.

Shopify is pushing back on Amazon's one-click checkout service. The e-commerce platform is warning merchants who try to install Amazon's "Buy With Prime" button on their storefront that it violates Shopify's terms of service. According to a research firm, Marketplace Pulse, it is also raising the specter of security risks.
https://www.cnbc.com/2022/09/01/shopify-warns-sellers-against-using-amazons-buy-with-prime-service.html
This couple had an Amazon-themed wedding to celebrate how e-commerce brought them together.
https://www.cnbc.com/2022/09/03/amazon-themed-wedding-celebrates-couples-love-of-e-commerce.html
We continue the episode with this week's Freedom Ticket clip which is all about the basics of product licensing, followed by Lem's interview with Andrew Maff of BlueTuskr. He shares his Amazon journey and tips on how to get more sales from your listings. Bradley closes out the episode with five under-the-radar strategies with Helium 10 that 98% of our users don't use.
In this episode of the Helium 10 Weekly Buzz, Bradley talks:
01:00 – Sponsored Brand Videos
03:00 – Ocean Shipping
04:15 – Meltable Inventory
06:00 – Shopify Vs. Prime
08:00 – Amazon Wedding
09:40 – Freedom Ticket Clip: The Basics Product Licensing
13:00 – Interview With Andrew Maff Of BlueTuskr
18:22 – Pro Training Tip: 5 Helium 10 Features Most Of Our Users Don't Know
24:45 – Two Weeks Away From The Sell And Scale Summit
---
Enjoy this episode? Be sure to check out our previous episodes for even more content to propel you to Amazon FBA Seller success! And don't forget to "Like" our Facebook page and subscribe to the podcast on iTunes, Spotify, or wherever you listen to our podcast.
Get snippets from all episodes by following us on Instagram at @SeriousSellersPodcast
Want to absolutely start crushing it on Amazon? Here are few carefully curated resources to get you started:
Everything for your business on Amazon.
Find out more about our products by signing up or speaking with one of our
Customer Success representatives today. With us in your corner, you can enjoy
more sales and increased engagement from your Amazon business.
Chat with a Support Specialist