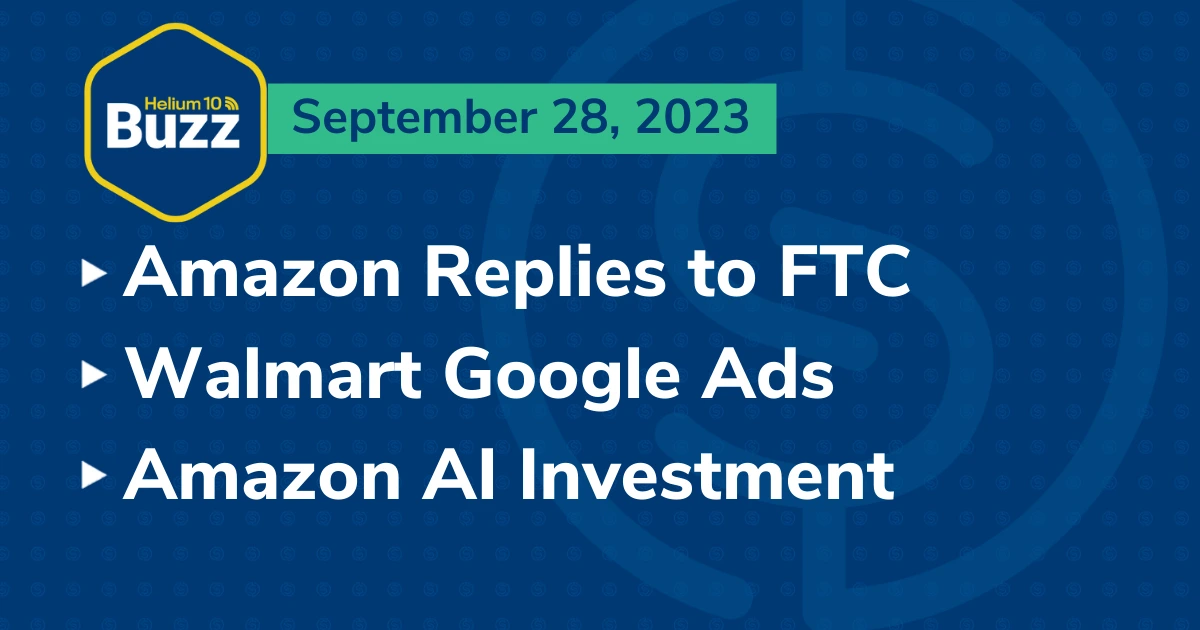 Helium 10 Buzz 9/28/23: Amazon Replies to FTC | Walmart Google Ads | Amazon AI Investment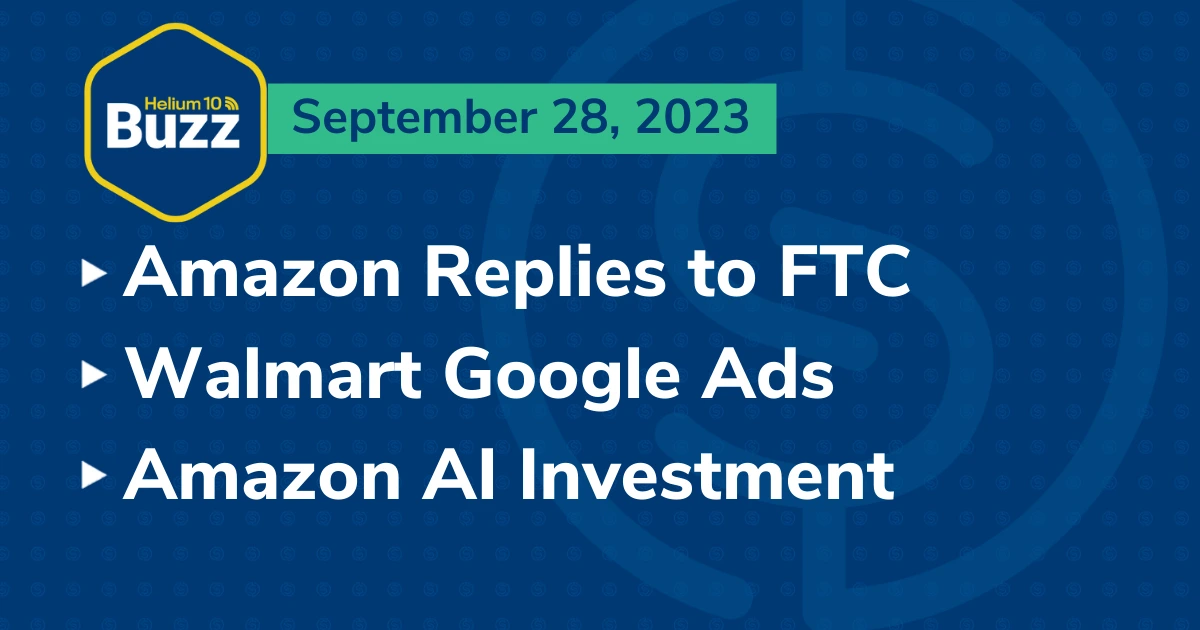 We're back with another episode of the Weekly Buzz with Helium 10's Chief Brand Evangelist, Bradley Sutton. Every week, we cover the latest breaking news in the Amazon, Walmart, and E-commerce space, interview someone you need to hear from, and provide a training tip for the week.

Five takeaways from America's landmark lawsuit against Amazon
https://edition.cnn.com/2023/09/28/tech/amazon-ftc-lawsuit-takeaways/index.html

The FTC's lawsuit against Amazon would lead to higher prices and slower deliveries for consumers—and hurt businesses
https://www.aboutamazon.com/news/company-news/amazon-ftc-antitrust-lawsuit-full-response

Walmart Marketplace Increases Third-Party Seller Activity
https://www.forbes.com/sites/walterloeb/2023/09/27/walmart-marketplace-increases-third-party-seller-activity/

Indonesia bans e-commerce transactions on social media in major blow to TikTok
https://edition.cnn.com/2023/09/27/tech/indonesia-tiktok-ecommerce-ban-hnk-intl/index.html

Amazon to invest up to $4 billion in AI startup Anthropic
https://techcrunch.com/2023/09/25/amazon-to-invest-up-to-4-billion-in-ai-startup-anthropic/

Walmart Deals Holiday Kickoff sales event will coincide with Amazon's Prime Big Deal Days
https://www.wvtm13.com/article/walmart-deals-holiday-kickoff-october/45318835#

An update on Prime Video
https://www.aboutamazon.com/news/entertainment/prime-video-update-announces-limited-ads

Up to tenth of Amazon shoppers in Great Britain 'bribed' by sellers to offer good review, poll finds
https://www.theguardian.com/technology/2023/sep/28/up-to-tenth-of-amazon-shoppers-in-great-britain-bribed-by-sellers-to-offer-good-review-poll-finds

Amazon's biggest competitor gets bad grade from the BBB
https://www.kiro7.com/news/local/amazons-biggest-competitor-gets-bad-grade-bbb/QAGKNI77WZDWTOXMEHSNEDGVUQ/

Shopify invests in wholesale platform Faire
https://www.reuters.com/business/retail-consumer/shopify-invests-wholesale-platform-faire-2023-09-27/

Eligible Walmart Marketplace sellers can use Walmart's Self-Serve Marketing portal in Seller Center to invest in Search Engine Marketing (SEM) and promote their products in Google search results through Shopping Ads.
https://sellerhelp.walmart.com/s/guide?language=en_US&article=000011195

We aren't stopping at that! Don't miss our spotlight discussion on how you can unlock more profits with Helium 10's Managed Refund Service. This new service aims to recover funds for sellers from Amazon errors by identifying and submitting recovery claims on behalf of the sellers.

Lastly, Carrie Miller gives us the training tip of the week about how to see which ASINs are the most clicked and bought from Amazon Brand Analytics data but inside Helium 10. It's a packed episode, so buckle up!

In this episode of the Weekly Buzz by Helium 10, Bradley talks about:
00:51 – Amazon FTC Lawsuit
03:25 – Walmart Marketplace Increases
03:51 – Amazon Holiday Inventory
04:18 – Seller Fulfilled Prime
05:21 – TikTok Shop Trouble
06:20 – Manage Experiments Update
06:55 – Amazon AI Move
07:45 – Walmart Holiday Deals
08:27 – Prime Video Ads
09:45 – Incentivized Reviews Rampant
11:06 – Temu Trouble
11:45 – Shopify Wholesale
12:57 – Walmart Google Ads
14:15 – Try Helium 10's New Managed Refund Service
15:30 – ProTraining Tip: How To See Brand Analytics Data Inside Helium 10
Transcript
Bradley Sutton:
Amazon replies to the FTC lawsuit. Walmart marketplaces on the rise. Tiktok shop is having trouble in Southeast Asia, manager experiments gets an update. Walmart holiday deals coming. Incentivize reviews are going crazy in the UK. These stories and much more on today's episode of the Weekly Buzz. How cool is that? Pretty cool, I think. Hello everybody, and welcome to another episode of the series sellers podcast by Helium 10. I'm your host, bradley Sutton, and this is a show that is our Helium 10 Weekly Buzz, where we give you a rundown on all the news stories that are going on in the Amazon, walmart, e-commerce world and we also give you training tips of the week that will give you serious strategies for serious sellers of any level in the e-commerce world. Let's see what's buzzing. All right, tons of articles out today, so let's go ahead and hop right into it. The first article here is actually from CNN Business and it was a five entitled five takeaways from Amazon's landmark lawsuit, or America's landmark lawsuit against Amazon, and you know, they weren't too far off in this article.
Bradley Sutton:
I remember last week I talked about how ridiculous some of these articles were, like just people not understanding even what was going on in the Amazon. And basically it's you know. They're kind of summarizing and saying that, hey, this landmark case targets Amazon's retail platform, alleging that it's harm shoppers and sellers alike at a massive scale. All right Quote. It has a self-reinforcing cycle of dominance and harm. The plaintiffs claim oh, my goodness gracious, and it has. Amazon is running an illegal monopoly in ways that are paying off for Amazon, but at a great cost to tens of millions of Americans of households and hundreds of thousands of sellers. All right now Amazon, you know, check out the CNN article. It talks about the you know five takeaways you know from it. But Amazon replied in another article that we also have linked in the comments and entitled the FTC's lawsuit against Amazon would lead to higher prices, slower deliveries for consumers and hurt businesses. Hmm, if we only didn't say that, like weeks ago, like anybody who actually knows anything could have told you this that there's nothing good that's gonna come out of this for Amazon sellers nor Amazon buyers. And this article that Amazon releases, kind of like in reply to this FTC lawsuit kind of, you know, talks about that how, yeah, if this goes through, it's gonna make Prime more expensive, it's gonna have more shipping fees or more fees for sellers, et cetera. And it's kind of funny, like some of the things that you know I talked about was how Amazon kind of like I guess you can say, punishes sellers for having lower prices on other marketplaces. Some sellers don't like I mean to me, like it is what it is, you know, like we should be having, you know, same, similar prices, you know across the board. But even, let's say, an Amazon seller thought that was a bad thing. You know, if this FTC lawsuit is for the public, like Amazon is making sure that people, you know, don't gouge customers on the platform. You know, like sellers like like no, hey, if it's cheaper outs outside there, you should have a cheap price on Amazon. But how is that harming the consumers? You know, maybe, maybe could be considered harming the sellers, but you know the millions and millions of prime members now get the benefit of having low prices. So it's like Amazon, or the FTC, is like talking out of like two sides of its, of its mouth there. So it's kind of interesting.
Bradley Sutton:
So the next article actually switching to Walmart is from Forbes and says Walmart marketplace in increases third-party Seller activity. Not many stats and figures from here, just the writer here is talking about how there's a lot more investment in advertising in this Q4. He expects sellers to have a lot more sales on Walmart Compared to the past, as Walmart's really been expanding their focus on third-party marketplace. Next article here this is from seller central dashboard, just as a reminder to send in FBA and MCF inventory by October 26 before a holiday deal events. So there's less than five weeks left. So like, if you're trying to to have something you know, go for black Friday, cyber Monday deals you actually need to have your inventory in by October 26th. So that's. That's actually not that that far away, so well in advance.
Bradley Sutton:
Next article is a reminder that seller fulfilled prime is coming back. All right, so seller fulfilled prime, it's gonna be without that 2% fee that we talked about earlier before. We're gonna have a blog later today or tomorrow You'll see at Helium 10 comm forward slash blog that talks about how to enroll in seller fulfilled prime. Me I'm not gonna roll it like I have. You know I don't ship too much stuff. So like there's no way. I'm not gonna use Amazon FBA you know like for to try and get the prime back. Remember to do prime badge for seller fulfilled prime. You've got to have a way to ship to like same day, next day or two-day delivery, including weekend delivery. Obviously, I can't. You know most of us can't, can't do that, but some of you bigger sellers out there who have, you know really good, you know shipping agreements with companies. You might want to take advantage of this and then for your fulfill by merchant you can actually get a prime badge now. So just look out for that announcement or that blog and it's actually gonna be officially announced by Amazon In a couple of days. You'll see some big comms coming out of Amazon about seller fulfilled prime, but you'll be able to get that blog before the Amazon announcement on our blog later today or tomorrow.
Bradley Sutton:
Next article today we're gonna talk about is actually coming out of Indonesia, all right, and it says Indonesia bans e-commerce transactions on social media in a major blow to tick tock. So Indonesia is actually the biggest you know platform for tick tock in Southeast Asia. I believe. It has something like a hundred and twenty, a hundred and twenty five million monthly active Users and tick tock shop has, you know, released worldwide. But now the government is saying no, you can't have e-commerce and social media together. So you're gonna have to, you know, within the next week or so I forgot when the deadline is you're gonna have to, like, take tick tock shop out and make it a separate app. So this will be interesting to follow, like if something like this happens in other marketplaces and that's gonna be obviously a big blow to tick tock shop. I don't foresee that happening here in in America, but you know kind of is gonna hurt tick tock shop for those who are trying to sell Products in Indonesia.
Bradley Sutton:
The next article here was also from seller central. It says expand single asin AB test to multiple stores. So now, with manage your experiments, you're gonna be able to run separate AB tests on your asins across multiple stores, all right. So, like to different marketplaces in different regions, you can kind of see how how imagery works, you know, between you know, like Amazon Canada, amazon USA, etc. And you can add, like, for example, it says a brand logo to your a plus content to see performs performs differently in different countries, to pay on how well Established your brand is.
Bradley Sutton:
A next article here is from tech crunch entitled Amazon to invest up to four billion in AI start startup and Anthropic all right, so this you know a anthropic is this startup who's kind of making waves in the industry. You know that I've heard about them a while back, but you know the interesting thing here. You know we've been talking for a long time that that it's gonna AI Generative AI is gonna definitely change the the shopping experience and that's gonna affect sellers. Andy Jassy, amazon's CEO, says Amazon believes this deal can improve many customers experiences short and long term through our deeper Collaboration with Anthropic. So, again, improve many customer experiences All right. So again, ais. That's gonna change the way people shop eventually on Amazon and that means it's eventually gonna change the way that you know we sell or sell on Amazon.
Bradley Sutton:
Next article is just from a local TV station, but we talked about this before. It's kind of funny that you know every time Amazon does something, you know Walmart might reply and do something similar or vice versa. You know we're in a competitive matchup here, so this article is entitled Walmart Deals Holiday Kickoff Sales Event Will Coincide with Amazon's Bing Prime Day deals All right. So it's not you know big or Amazon's big deal days, All right. It's Walmart deals holiday, all right. So this is actually happening a little bit earlier than big, big deal days. It's coming on the end from the ninth to the 12th and it's available even to non-Walmart Plus sellers or what non-Walmart Plus buyers? It'll be available to.
Bradley Sutton:
Next article from Amazon, an update on Prime Video. So you know, prime Video has a lot of like you know, tv shows and and and movies and different things, and so they they talked about some of their, their. You know what they've achieved lately with Amazon Prime Video. But the key is that in early 2024, amazon Prime Video shows and movies will include limited advertisements. All right, and there's going to be a people are going to have to pay $2.99 a month if they don't want to see these ads. But again, you know, anytime we talk about you know advertisements coming on Amazon. You know properties, whether it's in store or other ways. It's eventually another way to get your products in front of of buyers. All right, it's new ways.
Bradley Sutton:
You know a lot of people are watching Amazon Prime Video. What was that? It's like a, not Game of Thrones, but it's like a Lord of the Rings prequel or something like that. I think was on Prime Video. But you know millions of people watch that. Imagine, you know, somehow for the people who aren't paying that $2.99, you know they're seeing an ad for a coffin shelf on there. I don't think you know we are big enough to advertise on Game of Thrones or or Lord of the Rings or anything like that, but just shows you an example of what could be possible in the future. You know, if you are a big enough seller you could start having your ads potentially on some of these big TV shows from Amazon Prime Video.
Bradley Sutton:
Now an interesting article from the Guardian in the UK. It says up to a 10th you know, 10% of Amazon shoppers in Great Britain were found to have been bribed by sellers to offer a good review. So they pulled 1500 adults who had bought from Amazon in the UK in the past 12 months and they all got like like gift card offers or free products or refunds in order to cheat the system. This article said all right. So you know Amazon obviously does not want anybody having, you know, any kind of incentivized reviews you know happening. So there's a lot of sellers who are breaking the rules. They're probably going to get caught. You know a lot of them. Some of them. Don't get caught. But don't don't try this, guys, all right. So it also said that 4% of those polls said that they were offered a reward for changing a negative review to a positive one. All right. So, like, how did they even get a hold of that that customer? It's kind of a interesting All right. So you know UK government is looking into how to tackle this a little bit more, but it'd be curious to see what you know how this is in the US. You know, I just ordered a ring light or something and I got like a little gift card saying, hey, you know, try to or not a gift card, but a little card, insert card offering a gift card to to like, have a positive review. So this kind of stuff still happens. But, guys, don't do it. Don't do it, not worth it, not worth it.
Bradley Sutton:
Our next article here is from Kiro7. It was just about a Temu, all right. So it says Amazon's biggest competitor gets bad grade from the BBB. Temu is not Amazon's biggest competitor, first of all, but not a thousand. You know it's the number one app on on Google and Apple, yeah, okay. So in that sense, maybe it's it's an Amazon competitor, but you know, Temu sales are very low compared to Amazon, but according to the Better Business Bureau, they've received a thousand recent you know complaints about the service. But you know, like what do you expect when you're getting like a $2 address or something like that? But it's probably one of the many reasons why nobody you know Amazon sellers. Amazon itself isn't really concerned with Temu being too much of a threat.
Bradley Sutton:
Switching platforms. Now Shopify invested this week into a wholesale platform called Fair. You know, a lot of people knew about Fair, a place where people can get wholesale products but now Shopify is investing there and it wants to see this startup adopt Shopify technology for its clients. All right, so. Fair was founded in 2017. It's valued at $12 billion. That's a pretty big company. It's now going to become the recommended wholesale marketplace for Shopify merchants. All right, so this is going to make it easy for Shopify merchants to find wholesale buyers and also enable retailers to source from Fair's network of brands. It's kind of interesting because, for example, fair said the most popular search filter on its platform is not on Amazon.
Bradley Sutton:
All right so you know hey if they're going to find some stuff for Shopify that's only on Shopify and not on Amazon. You know this. This kind of like a match seems to be made in heaven. It'll be interesting to see if you know how this changes, how Shopify sellers sell. You know, let me know in the comments below if you are selling on Shopify and you know this is good, if you're going to start, you know, perhaps maybe selling your products on the Fair platform. A last news article was from Walmart seller help. It's actually interesting. They have a. They're launching self-service search engine marketing. Say that three times fast. All right Now, basically, eligible Walmart marketplace sellers can use this portal in Seller Center to invest in search engine marketing.
Bradley Sutton:
So you're going to be able to do Google shopping ads. Now, I don't know too much about this stuff, but I could be wrong. But I believe that this is like. These are like those. You know, when you search a keyword in Amazon or in Google, at the very top right there would be those ads where you can like, click directly into the results and it'll go directly to the storefront you can buy the product. I don't believe Amazon is available for this. So this is another potential advantage you can have of, of doing Google ads, where it can go directly to your store, right there in the shop, the shopping ad section of Google. So you know, if you're a Walmart seller, go into a Seller Central, you can create campaigns right now. You can even bulk create it and then we have the article here linked in the comments below if you want to get more information on this.
Bradley Sutton:
So, whoo, a lot of articles today, a lot going on in the ecommerce world. Quick, quick note. You know, if you missed it, last week Helium 10 launched a reimbursement service. So a lot of you guys are ready to use refund genie where you can, you know, download reports for your loss and damage things from Amazon, things that Amazon might owe you money on, and you're able to go ahead and, and you know, file your own claims and get your money back. But now we have a service that is designed to where we're going to do the work for you, you know, for a percentage of it, and we'll also find other money that you know, refund genie, you know it's not looking for. So if you want to find out more information about this, the service is actually free, you know, to use. We only can get money if we get money for you, and some sellers are getting thousands and thousands and thousands of dollars back by using it. So if you'd like a free demo of it or to get more information, go to h10.me/mrs h10.me/mrs to be able to sign up for a free demo. Alright, now let's go into a quick training tip of the week from Kerry, talking about how you can see who's getting the most clicks and the most purchases from brand analytics. But right inside of Helium 10 Cerebeo, Carrie, take it away.
Carrie Miller:
Did you know that you can see click share and conversion share within Cerebro? That's right. If you have your Helium 10 account connected to seller central and you have a diamond and above, you can actually see this click share. So it's a really great tool when you're doing your keyword research. So the first thing you want to do is you want to log into Cerebro. So I've done a multi search here. It doesn't matter really the position for this particular strategy, but usually I always like to make sure my own, mason, is first, so I can compare it to all others. But if you scroll down here, you can actually see that we have a whole entire column for ABA, total click share and then conversion share. Okay, so what we're gonna do is we're gonna actually drill into this a little bit more and if you go to let's see here a wooden egg holder, we can click on this graph and get a little bit more details. Now I will say not all of these keywords have information. It really just depends on what is provided in brand analytics, and if it's in brand analytics, we can pull it in here. So it has to have, you know, a good amount of search volume in order to get this information. So let's take a look at wooden egg holder. So if we click on this, we can actually see the last few months or six months or so of click share and conversion share, and you can actually, you know see this this most recent month we're in September right now. We can actually go back to see August and you can click along on this graph and hover along this graph and you can actually see at the bottom there which were the top three Clicked and converted on. So when we take a look at this, you can actually see, okay, this one has an 18% click share and a 19% conversion share. So that's, they're doing something right. That means you know a lot of people are actually purchasing when they do actually click on their listing. This one is, you know, 8% and a conversion share of 6.5 you know they're doing pretty well as well and then 7% and 9.1. So now, if you see, you know a really large click share and pretty much no conversion share, that probably means people are clicking on it, thinking it's something, but they're not seeing what they actually want to buy. So one really cool thing that you can actually do if you want to, you know, see what maybe one of these competitors are doing that has the most click share and conversion share. You can see what they're actually doing by running listing analyzer. Now you can actually go ahead and see it in here and when you click on run listing analyzer or you can go straight to listing analyzer and add things in yourself.
Carrie Miller:
I'm just going to click on run listing analyzer. Let's see what we have here. Are these the top ones? Yes, these are the ones I want to look at. So I'm going to click on run listing analyzer and I'm going to be able to see all of the information for all three of these listings and includes price. It'll include the images and everything that we really need to know, kind of stacked on top of each other. All right, so all of this data is is now uploaded into listing analyzer from that click share, conversion share, so we can see, maybe, the difference. Okay, so this top one was the topped clicked and we can look at the price. Now it has a pretty good price. It's not the lowest price. This one is actually the lowest price, but you know, between these two especially that does have a lower price, so $20 might be the best. And then another thing you can do is you can take a look at the images and see if there's something that this Particular listing has done that this one didn't. Maybe they did. You know better close-up images here. These one, these have a little bit better lifestyle images.
Carrie Miller:
So it's kind of a mystery there as to why the first one would get the the most clicks. But usually what you can do is kind of drill down a little bit more into the details and you can see, you know, what people are looking for. Potentially it has to do with the actual structure of the product. This one has a little bit more sturdy look. This one looks a little bit more Shaky and it has a lot more eggs on it. So this one probably fits better into your, into your refrigerator. So there's a lot of different components that can go into that. But you can kind of see it a little bit better when you take a look at the media all stacked on top of each other and then also the pricing. So that is just basics click share and conversion share and ways you can kind of analyze that to see if there are ways that you can improve your listing to get some some more click share and conversion share. So check it out and let us know what you think.
Bradley Sutton:
Alright, thank you very much, Carrie, for that training tip. I hope you guys enjoyed this episode. We'll see you guys next week to see what's buzzing.
---
Enjoy this episode? Be sure to check out our previous episodes for even more content to propel you to Amazon FBA Seller success! And don't forget to "Like" our Facebook page and subscribe to the podcast on iTunes, Spotify, or wherever you listen to our podcast.
Get snippets from all episodes by following us on Instagram at @SeriousSellersPodcast
Want to absolutely start crushing it on Amazon? Here are few carefully curated resources to get you started:
Achieve More Results in Less Time
Accelerate the Growth of Your Business, Brand or Agency
Maximize your results and drive success faster with Helium 10's full suite of Amazon and Walmart solutions.