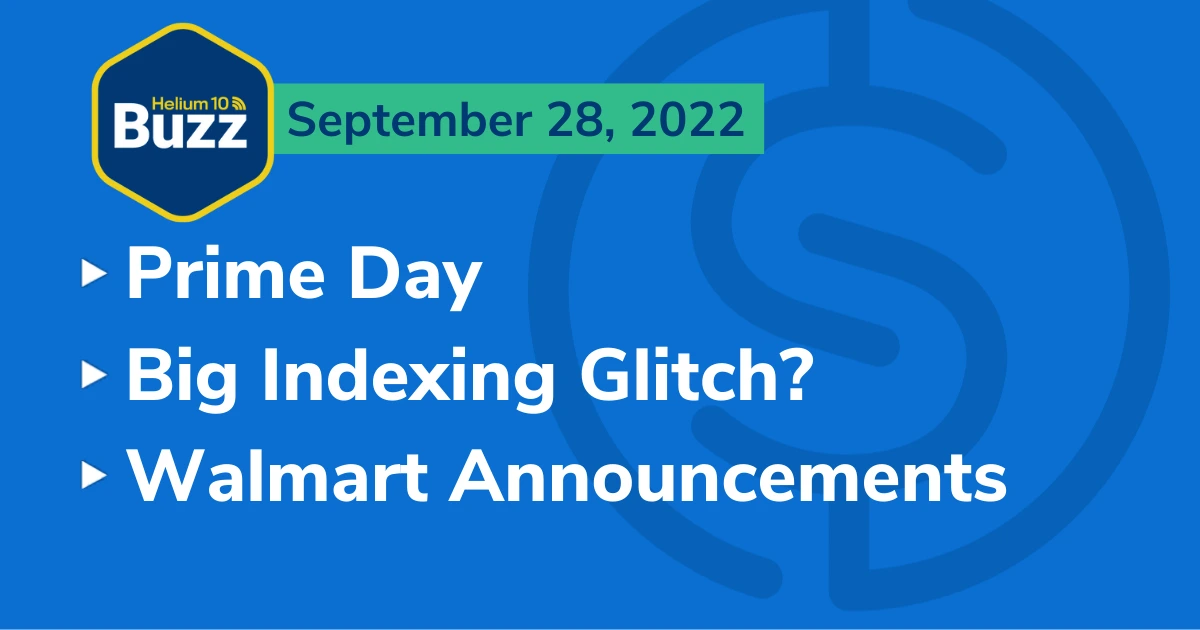 Helium 10 Buzz 9/28/22: Prime Day | Big Indexing Glitch? | Walmart Announcements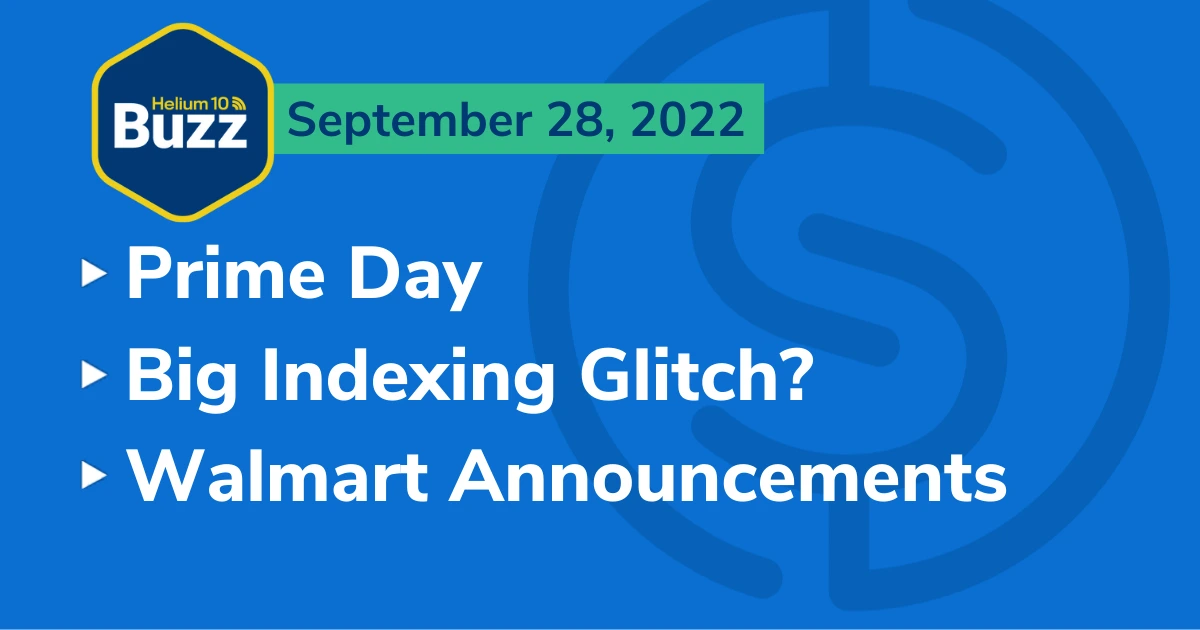 We're back with another episode of the Weekly Buzz with Helium 10's Chief Brand Evangelist, Bradley Sutton. Every week, we cover the latest breaking news in the Amazon, Walmart, and E-commerce space, interview someone you need to hear from, and provide a training tip for the week.

Amazon unveiled Prime Early Access Sale, a new two-day global shopping event exclusive to Prime members. The event begins October 11 at 12 a.m. PDT and runs through October 12 in 15 countries. Prime Early Access Sale gives members a chance to kick off the holiday shopping season early with hundreds of thousands of deals. As part of the new deals event, Amazon is introducing a Top 100 list of some of the season's most popular and giftable items.
https://press.aboutamazon.com/news-releases/news-release-details/introducing-amazons-prime-early-access-sale-new-holiday-shopping

Walmart Connect announces Innovation Partner Program With TikTok, Snapchat, Firework, TalkShopLive, and Roku.
https://corporate.walmart.com/newsroom/2022/09/20/walmart-connect-announces-innovation-partner-program-with-tiktok-snapchat-firework-talkshoplive-and-roku

Walmart announced the launch of two new immersive experiences in the metaverse mega-platform, Roblox. Called Walmart Land and Walmart's Universe of Play, the spaces offer unique interactive content and entertainment for customers, bringing to life the best of Walmart's 'isles' in a virtual world.
https://corporate.walmart.com/newsroom/2022/09/26/walmart-jumps-into-roblox-with-launch-of-walmart-land-and-walmarts-universe-of-play

After our news of the week, we proceed to our Freedom Ticket clip of the week that will feature Lazar Zepinic's PPC module about the top 10 Amazon PPC mistakes most sellers make. We interview Alina Vlaic and learn about the new ways to rank your products. Lastly, we talk about potential breaking news this week about significant indexing glitches affecting your Amazon listings and how our tools can help you track them.

Make sure to bookmark our free Amazon Anomaly Tracker Tool: https://www.helium10.com/asa
In this episode of the Weekly Buzz, Bradley talks about:
01:15 – Prime Day 2 – Early Access Sale
03:15 – Walmart x TikTok
05:15 – Walmart x Roblox
08:15 – Freedom Ticket Clip: The Top 10 PPC Mistakes
12:15 – Interview with Alina Vlaic
17:45 – Indexing Glitches And How Helium 10 Can Help 
---
Enjoy this episode? Be sure to check out our previous episodes for even more content to propel you to Amazon FBA Seller success! And don't forget to "Like" our Facebook page and subscribe to the podcast on iTunes, Spotify, or wherever you listen to our podcast.
Get snippets from all episodes by following us on Instagram at @SeriousSellersPodcast
Want to absolutely start crushing it on Amazon? Here are few carefully curated resources to get you started:
Achieve More Results in Less Time
Accelerate the Growth of Your Business, Brand or Agency
Maximize your results and drive success faster with Helium 10's full suite of Amazon and Walmart solutions.