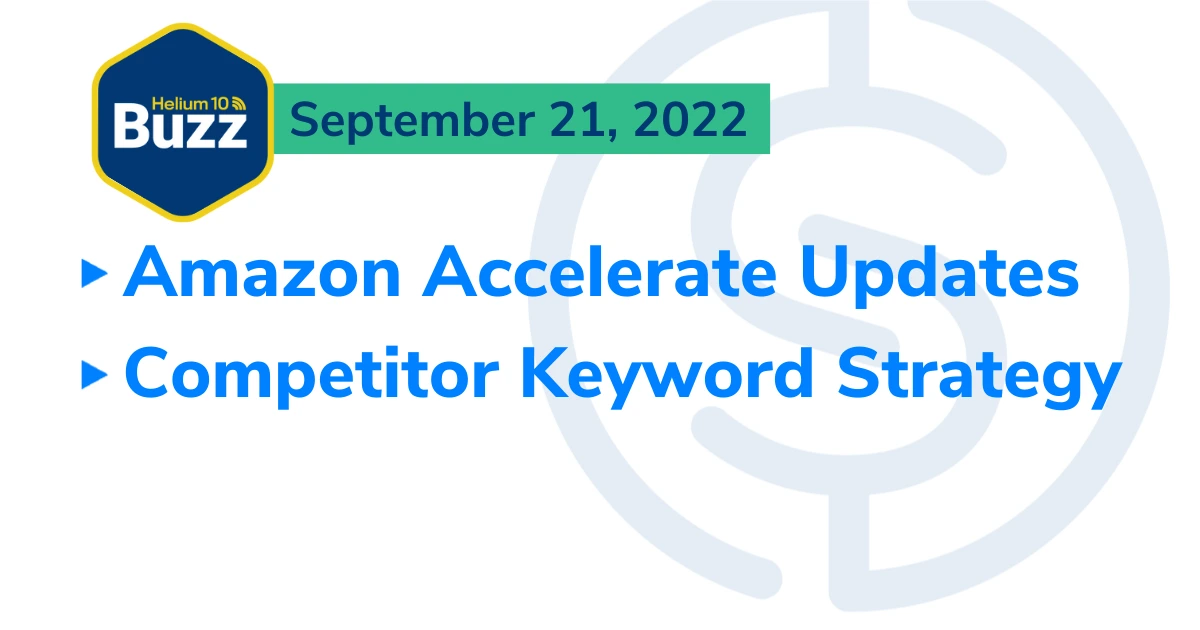 Helium 10 Buzz 9/21/22: Amazon Accelerate Updates & Competitor Keyword Strategy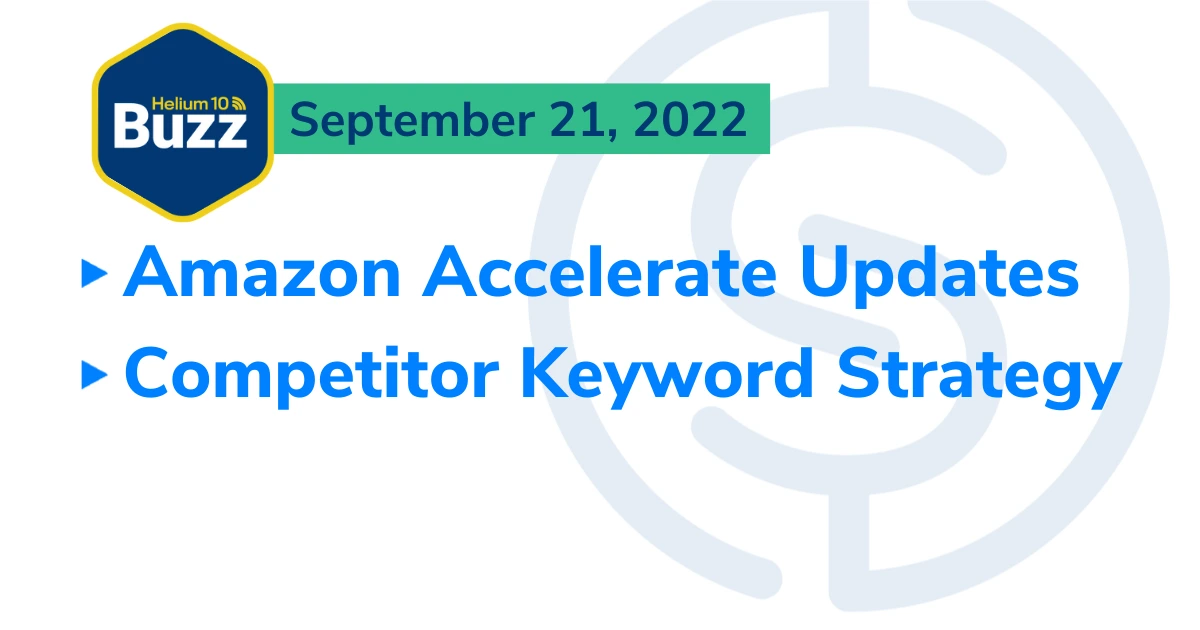 We're back with another episode of the Weekly Buzz with Helium 10's Chief Brand Evangelist, Bradley Sutton. Every week, we cover the latest breaking news in the Amazon, Walmart, and E-commerce space, interview someone you need to hear from, and provide a training tip for the week.

Amazon's premier annual seller conference took place September 14-15, 2022. Attendees heard from Amazon senior leaders and subject matter experts about new products, tools, and resources, with six sessions focused on six topics.
https://sell.amazon.com/events
In this special episode of the Helium 10 Weekly Buzz, Bradley picked the highlights he considers the "big shifts" that we Amazon sellers need to be on the lookout for so we can take advantage of them when they release. He talks about the Tailored Audience Beta, Updates with Alexa, Buy with Prime badges for your DTC business, Amazon Seller Support improvements, Express Payouts, and Amazon's 3PL.
Amazon launched Amazon Warehousing & Distribution (AWD), a low-cost upstream bulk inventory storage and distribution solution.
https://supplychain.amazon.com/
Our episode continues with Lem Turner interviewing Jennie Cee, a Serious Sellers Club member, to tell her story and some tips you need to learn. Carrie Miller shares a Freedom Ticket Walmart clip to discuss the level of competitiveness between Amazon and Walmart. Bradley then proceeds with his Pro Training tip of the week, which is about how to find keywords your competitors are beating you on in two easy steps!
Listen to the Serious Sellers Podcast in Spanish and German via your favorite podcast app, Helium 10's website, and YouTube! See you again next week to see what's buzzing.
In this episode of the Weekly Buzz, Bradley talks about:
01:25 – Tailored Audience Beta
03:55 – Alexa Update
05:40 – Buy With Prime
08:15 – Amazon 3PL
09:14 – Seller Support
10:38 – Express Payouts
12:10 – Lem Interview Jennie from the Serious Sellers Club
17:10 – Freedom Ticket Clip: Competitiveness On Amazon vs. Walmart
22:15 – Pro Training Tip: Finding Keywords Your Competitors Are Beating You On
26:25 – Listen To SSP In Spanish & German
27:00 – Visit SSP Spanish & German's YouTube Channels
---
Enjoy this episode? Be sure to check out our previous episodes for even more content to propel you to Amazon FBA Seller success! And don't forget to "Like" our Facebook page and subscribe to the podcast on iTunes, Spotify, or wherever you listen to our podcast.
Get snippets from all episodes by following us on Instagram at @SeriousSellersPodcast
Want to absolutely start crushing it on Amazon? Here are few carefully curated resources to get you started:
Achieve More Results in Less Time
Accelerate the Growth of Your Business, Brand or Agency
Maximize your results and drive success faster with Helium 10's full suite of Amazon and Walmart solutions.