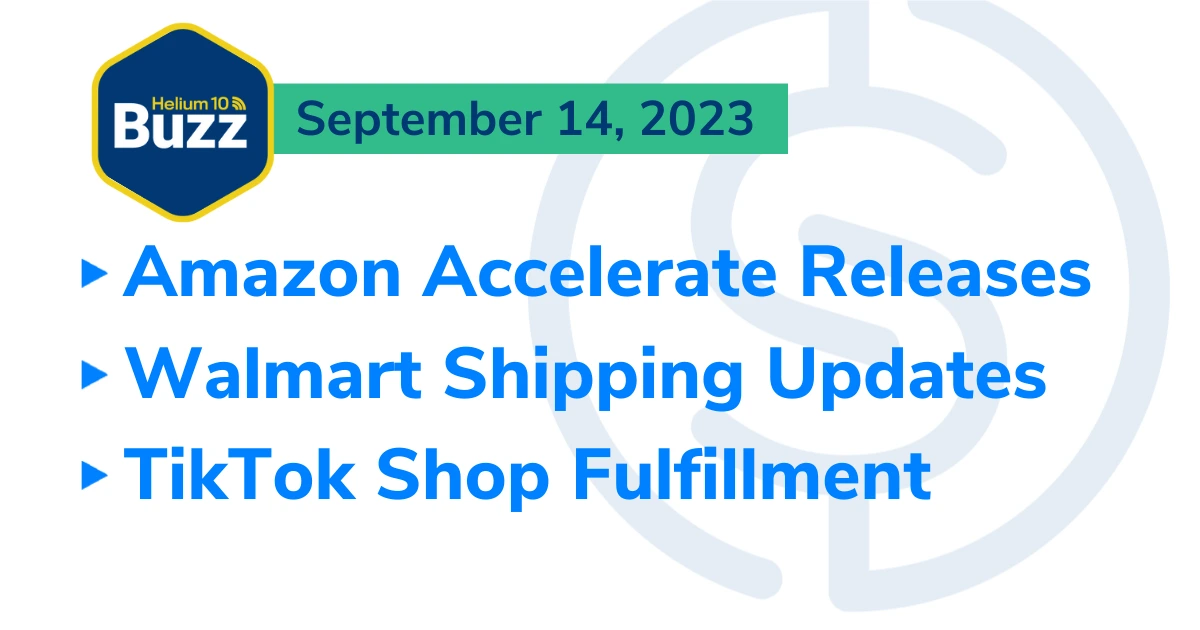 Helium 10 Buzz 9/14/23: Amazon Accelerate Releases | Walmart Shipping Updates | TikTok Shop Fulfillment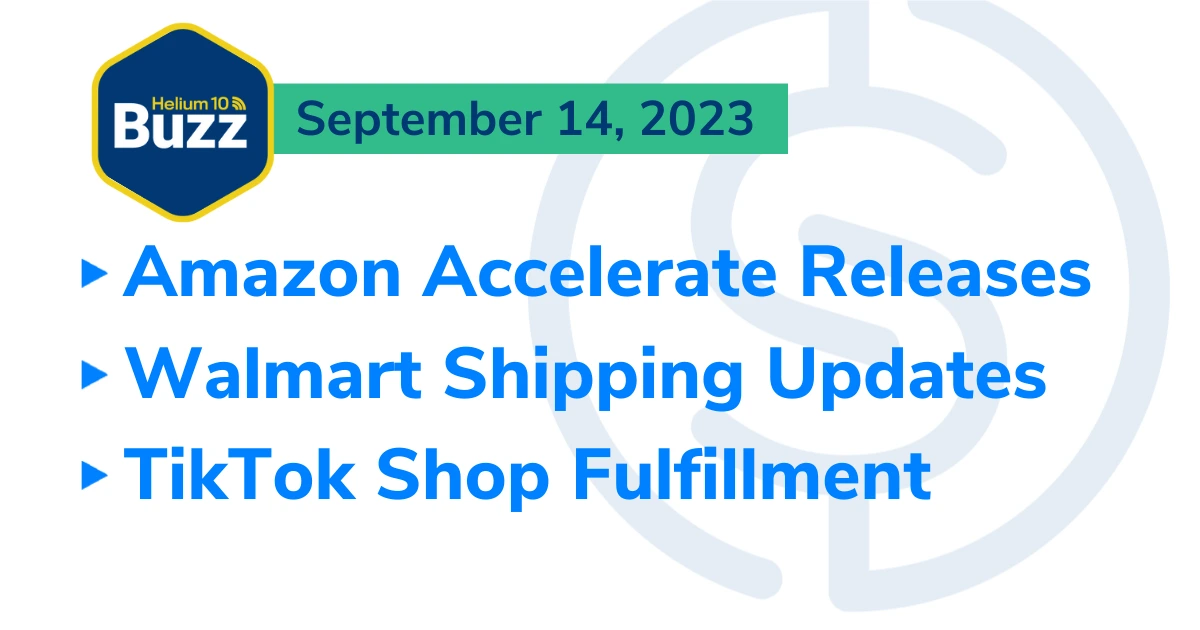 We're back with another episode of the Weekly Buzz with Helium 10's Brand Evangelist, Shivali Patel. Every week, we cover the latest breaking news in the Amazon, Walmart, and E-commerce space, interview someone you need to hear from, and provide a training tip for the week.

Amazon Accelerate Releases
https://event.amazonaccelerate.com/general-information/?page=marquee-announcements

SmartKargo, a leader in providing technology and logistics solutions to airlines globally, announced it is teaming up with Walmart GoLocal, Walmart's white-label, delivery-as-a-service platform, to expand next- and two-day delivery offerings for retailers and e-commerce companies.
https://www.businesswire.com/news/home/20230913979238/en/SmartKargo-Expands-Next–and-Two-Day-Delivery-Offerings-with-Walmart-GoLocal

Etsy seeks to drive more organic traffic through "Share & Save" program
https://www.modernretail.co/marketing/etsy-seeks-to-drive-more-organic-traffic-through-share-save-program/

Amazon Marketing Stream is expanding to include new Amazon DSP campaign datasets. This includes information on Amazon DSP campaigns, flights, ad groups, and ad group targets.
https://advertising.amazon.com/API/docs/en-us/release-notes/index#original-video-download-is-now-available-on-sponsored-brands-media-api
Around the Clock Convenience: Walmart Now Offers Customers Late-Night Delivery
https://corporate.walmart.com/news/2023/09/12/around-the-clock-convenience-walmart-now-offers-customers-late-night-delivery

Flowspace, the software platform and distribution network powering independent fulfillment, announced today that it has partnered with TikTok to provide fulfillment services for TikTok Shop sellers in the U.S.
https://www.retaildive.com/press-release/20230912-flowspace-powers-us-fulfillment-for-tiktok-shop/
We wrap up with a must-hear insight from our brand evangelist, Carrie Miller, on how to use Helium 10's Audience tool to gather real data about your product. Join us for this engaging episode with crucial e-commerce updates and strategies.
In this episode of the Weekly Buzz by Helium 10, Shivali covers:
00:41 – Amazon Accelerate Releases
03:30 – Walmart GoLocal
04:08 – Etsy Share & Save
05:23 – Stream For Amazon DSP
05:50 – Walmart Late Delivery
06:55 – TikTok Shop Fulfillment
08:11 – Look Out For This Saturday's SSP Episode!
08:25 – Follow Bradley And Helium 10 On LinkedIn
09:15 – Pro Training Tip: Split Testing Using Helium 10 Audience
Transcript
Shivali Patel
Amazon Accelerate announcements, TikTok shop fulfillment, Walmart shipping expansion and Etsy promotions for sellers. This and more on this week's Weekly Buzz.
Bradley Sutton
How cool is that? Pretty cool, I think.
Shivali Patel
Hello everyone and welcome to another episode of the Serious Sellers podcast by Helium 10. I'm your host, Shivali Patel, and this is the show that is our Weekly Buzz, where we give you all the latest news in the Amazon, Walmart and e-commerce space. We also provide you with a training tip of the week where you get insights into serious strategies for serious sellers of any level in the e-commerce world. Let's see what's buzzing this week. So the first article we really have is from Amazon Accelerate. It's hot off the press and it's happening right now. So Bradley on Saturday is going to give you a full rundown of all the announcements that happen, but for now, let's just talk a little bit about what's happening on day one. So we have a little bit about some new enterprise solutions. We have emerald notifications, which makes it easier for you to just act on your business updates. In fact, helium 10 is one of those included notifications, so make sure that you have this on. We also have the AI backed seller messaging assistant, which is just telling you that basically any time a customer messages, you might end up having artificial intelligence responding to them on either that order status or shipping information, returns, refunds, that kind of thing, which is great because artificial intelligence is all the way right now. You also have quick list, and this is referencing the generative AI which can help you simplify your listing creation process. Now, if you are a Helium 10 user, then you know that we already have some of this incorporated into our Listing Builder. If you have access to a Diamond plan, then maybe you're already utilizing a version of this, but now it's there for Amazon directly there as well. Then you have some regulatory compliance information, and we did also have an announcement about the Smarter Seller Central homepage for sellers worldwide. So this is talking about the dashboard itself. There was some announcements on the simplified listing management. And then you have enhanced buyer abuse protections, which actually got some applause at Amazon Accelerate.
Shivali Patel
You have Veequo, which, if you don't know, that's a company for printing shipping labels and they had some announcements for reducing rates. You have Amazon's shipping service. Now this is particularly cool because it's just telling you a little bit about what new changes are coming to the actual logistics side of things. Now, if you don't know about Veequo, Veequo is just a company for printing shipping labels, so they had some announcements. Then you have Amazon shipping services, so you can actually end up shipping non Amazon orders. With Amazon it's sort of a rival to UPS or FedEx you can kind of think of it like that but it's really helpful for the logistics side of things. And then you also have supply chain by Amazon integrated and that's really cool because it offers you the end to end fully automated, basically logistics for supply chain. So picking up your product from your actual manufacturing factories, getting it over through customs all the way to the warehouses. It just helps simplify the process. Of course, with FBA they were already kind of doing that with helping with picking, packing and shipping out that product. But now, when you really have to get out new orders or a new batch of inventory, now they can help you with actually picking up those products and then getting it all the way into the warehouses.
Shivali Patel
Let's jump into the next news article, which is smart cargo expands next and two day delivery offerings with Walmart go local. Now this comes hot from the business wire and as we go down you can end up seeing that this is sort of similar to what Amazon announced actually today. So if this is a coincidence or not, you let us know in the chat. But as you can see here, they're just working with some airlines to enable an alternative delivery network to establish carriers. So, again, you can end up shipping out non Walmart orders with Walmart.
Shivali Patel
Okay, let's jump over to Etsy. So, from modern retail, etsy seeks to drive more organic traffic through their share and save program. So if you are someone who sells on Etsy, then you might have been dealing with about a 6.5% transaction fee, but now you can kind of be your own affiliate and it's going to reward you for that work that you are already doing, ending up to a 4% of the order total off of that bill. So maybe you are one of those sellers who has been trying to hike your prices a little bit to kind of combat with the inflation and make up for any costs that you have, but this can be one of those things that might be something that will add value to your business. Now, something to be mindful of here is Etsy does have some rules, and one of those rules is you are prohibited from directly linking pay-per-click activities to Etsy. So this implies that you might need to actually end up investing and advertising in maybe creating a landing page and then driving those users to your product through that method. But again, if you are selling on Etsy, then this is something that you might want to consider utilizing in your own business.
Shivali Patel
Next up, we have Amazon DSP campaign signals now available on Amazon Marketing Stream. This is directly from advertising with Amazon, so Amazon Marketing Stream is something that helps us have hourly information for PPC, even with Atomic at Helium 10. And now it's expanding to DSP campaign data sets, so this is super cool. If you are somebody who does utilize DSP, then make sure that this is something you look into. Next up, we have around the clock convenience. Now, this is one of the things I'm really excited to share because I find that there's a little bit of a funny component to it, but Walmart does offer customers late night delivery. So, if you are, this is a little bit more on the consumer side of things, the storefront side of things, but I'm sure that this will end up, long-term, be something that can help the three P sellers as well. A couple of weeks ago, Bradley mentioned that you can now end up delivering into the garage for Amazon, while Walmart said let me raise you one, because they now end up having an option right here, but you can have items delivered directly to your fridge, you guys, or your countertop. So if you are someone who you feel like coming home to something from Walmart is gonna make you happy if it's directly on your countertop, you now have that option. So, just so you know, this is now something that Walmart Plus members have the capability of making use of.
Shivali Patel
Then you have FlowSpace. This comes from RetailDive, and FlowSpace is the software platform and distribution network which is actually partnering with TikTok Shop. Now TikTok Shop has had all the hype in recent weeks. A lot of Amazon sellers have expanded into TikTok Shop just to use the external traffic with Amazon attribution links to generate even more revenue. We've had conversations with some Helium 10 elite members as well who end up using fulfillment by TikTok and, though I'm not sure if they're using FlowSpace. Flowspace is something that is directly integrated with TikTok Shop. So if you are a TikTok user, maybe you've been going through and you've noticed that there's some videos coming up with content creators maybe pitching a product, and you'll have a little bit of a shopping cart that you can click on and directly purchase. So not only are they now picking up on trends and popularizing different items, you can also enable those sales directly from the platform itself, which is super, super cool.
Shivali Patel
So, with that, those are our news pieces for this week. If you want more information about any of these announcements, or you're super excited about some of them, make sure you tune into this Saturday's Serious Sellers podcast episode, where Bradley will discuss not only these updates, but also updates from day two of Amazon Accelerate, and, trust me, you don't want to miss out. So, after we've talked about news, what's next? Well, before I get to what's next, make sure that you are following our LinkedIn, because not only is Bradley gonna be sharing those details on our podcast episode, but if you are more of a reader or you are active on LinkedIn, you won't want to miss those updates there as well. So make sure you're following our LinkedIn page. Just go to Helium 10 and you'll be able to click, follow and get all of our updates that we post.
Shivali Patel
Next we have Carrie Miller, our brand evangelist, who is going to talk to you about audiences. Now, audience is great for just pulling real people about your product. So, as opposed to maybe split testing directly on your Amazon listings and having potential headaches of underperforming variance, you can now go directly to audience and get real data on understanding what will work better. But I'm not going to get too deep into it. I'm going to pass it over to Kerry and let her show you Today.
Carrie Miller
I want to talk with you a little bit about split testing. Now, most of the time when you're doing split testing, you're actually split testing things like your title or your images on Amazon. But we actually have a way that you can do some split testing with your target audience before you even listen to anything on Amazon, and there's actually a lot of other capabilities of this tool. So I want to go ahead and show you how to do this. So the first thing you're going to want to do is you want to log into Helium 10 and you're going to go up to the tools menu and you're going to click on this audience tool, and this is where you're going to be able to create a poll of your target audience. So you get feedback on a variety of different things. So the first thing you want to do is click on create poll, okay. So once you click on create poll, it's going to actually ask you what type of poll you want to do, okay, so in this situation, maybe I want to do, you know, a main image, but you can also do like a general idea of listing, title or really anything that you want. A lot of times I use kind of general idea for just kind of like product ideas and things like that, maybe different colors and things like that. So once you choose that I'm going to just choose main image and you go to the next step. You are going to be able to write a question. So you could either choose one of these questions like how does this image make you feel? Which product would you rather buy? Based on the image, which product would you rather buy? I'll probably choose something like that. Then you're going to go to the next step and this is where you're going to actually add your images. So if you have, for example, our coffin shelves, maybe we want to know what is the best coffin shelf main image. You can put upload up to eight options here, but I'm going to skip that just to show you all the rest.
Carrie Miller
Here you can choose a general audience or you can do a custom audience. Now, it is a little bit more of a charge to do one of these polls. It's about $50 because you're going to pull 50 different people. But you can actually choose an age range specifically. If your product is specific age range, you can do a different target audience in general. Are they a prime member? There's a lot of different options in here so you can really personalize this and hone down into your target audience and get the best feedback possible for your product. So highly recommend utilizing these. It's a really good investment to get that really targeted feedback from your exact target audience.
Carrie Miller
Then you're going to choose your audience size and I just I'm going to leave it at the 50 here, and then you can also, you know, know more about who is responding, so you can, you know, find out their personal or all this different information about them. You can check whatever it is that you want and then you can confirm your poll and that is what is going to generate your poll and within you know, 24 hours you should see all of your results. Now, this is what it looks like when you do have results. So you can see.
Carrie Miller
On our poll we were looking for a main image and so we asked you know we have a coffin shaped egg tray. If you saw this in the search results, which picture would you would make you want to click on the most? So the winner here was this B image and if you go down here, you can actually see an explanation of why that person chose this particular image. So it's really, really helpful feedback because it's not just you know a poll, but it's actually you know, qualitative information that really can help you in deciding which image to go with and why. And then it gives you some more insights into your actual audience, that is, you know that you're pulling.
Carrie Miller
You can also see their demographics here, their education level, their gender identity all this great information about who you polled so that you can make a better informed decision about whatever it is that you're testing on Amazon whether it's your main images copy, maybe you're testing a new product all those different options you have there. It is an incredible tool, a really good investment, especially during product research. I love using this to you know, decide colors and also just design in general. Like which design do you like best? If you are having a problem, you know asking your family members. This is actually a better way to do it because you can target your specific audience and get some really great feedback. So if you haven't checked out our audience's tool, go ahead and check it out and you will be happy that you did.
Shivali Patel
All right, thank you so much, Carrie. That was fantastic. So I hope you don't just listen to this. You also implement. So make sure you go check out audience. If you are somebody who needs to split test, who should be split testing, or you want to optimize that listing, then this is great for you. So that is it for this week. I hope you learned something and we'll catch you next time to see what's buzzing.
---
Enjoy this episode? Be sure to check out our previous episodes for even more content to propel you to Amazon FBA Seller success! And don't forget to "Like" our Facebook page and subscribe to the podcast on iTunes, Spotify, or wherever you listen to our podcast.
Get snippets from all episodes by following us on Instagram at @SeriousSellersPodcast
Want to absolutely start crushing it on Amazon? Here are few carefully curated resources to get you started:
Achieve More Results in Less Time
Accelerate the Growth of Your Business, Brand or Agency
Maximize your results and drive success faster with Helium 10's full suite of Amazon and Walmart solutions.