Helium 10 Buzz 9/14/22: Big Amazon Announcement | TikTok Advertising Increase | Sponsored Display Update
In this episode, we talk about a big announcement from Amazon and cover the latest news about E-commerce. Plus, tips and information on NetSuite, PPC, and more!
Originally published on: September 14, 2022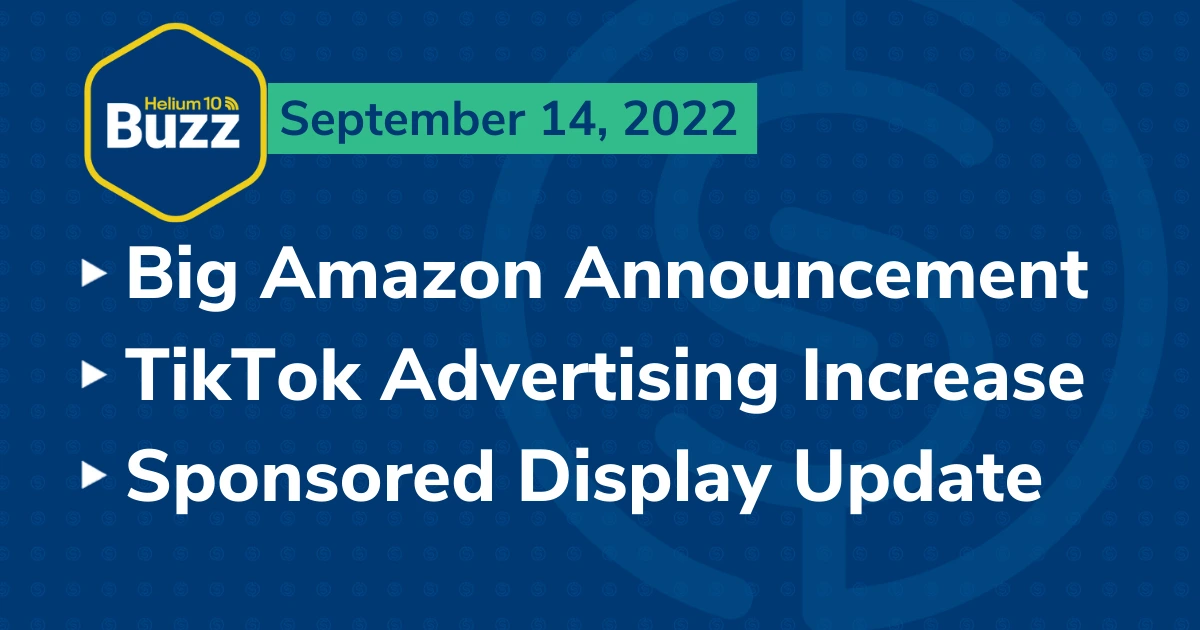 We're back with another episode of the Weekly Buzz with Helium 10's Chief Brand Evangelist, Bradley Sutton. Every week, we cover the latest breaking news in the Amazon, Walmart, and E-commerce space, interview someone you need to hear from, and provide a training tip for the week.

Ecommerce brands spent 60% more on TikTok ads in Q2. Results from a recent survey of 5,000 online stores found that eCommerce brands spent 60% more on TikTok advertising in Q2, for a total of $29.9 million. https://searchengineland.com/ecommerce-brands-spent-60-more-on-tiktok-ads-in-q2-387876

Manage Your Experiments has launched two new features to optimize your A/B tests and publish your winning content faster. The Title and Image notifications feature has been implemented to inform you when content you want to test is too similar to your current content and may not deliver conclusive results. Conclusive results help ensure you have productive content and can increase your likelihood of getting better test results.

This holiday season, don't look for e-commerce growth to slow down. Economists at Deloitte forecast growth of 13.5% in e-commerce sales this holiday season, pushing sales up to $262 billion, according to a new report. https://www.axios.com/2022/09/13/holiday-e-commerce-sales-forecast-grow-135

Advertisers will now see headline suggestions when building Sponsored Display campaigns in the Amazon Ads console. Suggested headlines are generated based on the advertised products selected to show in your creative and follow Amazon's ad policy guidelines.
https://advertising.amazon.com/en-us/resources/whats-new/headline-suggestions-sponsored-display/

The Japanese eCommerce market is estimated to register a growth of 6.9% to reach JPY22.4 trillion ($194.3 billion) in 2022, according to a new report from GlobalData.
https://www.chargedretail.co.uk/2022/09/13/japan-ecommerce-market-to-grow-by-6-9-in-2022/

Big Amazon Announcement! Today at Accelerate, Amazon's annual seller conference, Amazon introduced three new audience types within the Amazon Customer Engagement tool to help sellers increase their email marketing reach at no cost. For the first time, sellers can now expand beyond brand followers when sending free marketing emails to reach their most loyal customers, such as repeat customers, recent customers, and high-spend customers.
https://www.businesswire.com/news/home/20220914005304/en/Amazon-Launches-Free-Email-Marketing-Capabilities-for-Sellers-to-Reach-Their-Repeat-Recent-and-High-Spend-Amazon-Customers

Our episode continues with a PPC Academy Course clip from Vince Montero on how you can do ASIN-based research on Amazon for your product targeting campaigns. Our Pro Training tip of the week will come from Bradley, and he will share a Helium 10 tool that you can use on Alibaba.com like the Supplier Finder and Demand Analyzer. Lastly, Shivali interviews Martin Zerrudo of Seller Universe E-commerce Group to learn more about NetSuite.
See you next week at the Sell and Scale Summit! If you haven't got your tickets, make sure to visit sellandscalesummit.com and use the code S3BS100 to get $100 off your ticket. And lastly, make sure you're signed up for the next Bigger.Better.Launch! webinar. Watch it in person or at the broadcast live at the Sell and Scale Summit in Las Vegas. Sign up here: www.helium10.com/launch
In this episode of the Weekly Buzz, Bradley talks about:
01:15 – TikTok Advertising Up
02:50 – A/B Test Update
03:30 – Holiday E-Commerce
04:50 – Sponsored Display Update
06:10 – Japan Ecommerce
07:25 – Big Amazon Announcement
09:30 – PPC Academy Course Clip: ASIN-based research for Product Targeting Ads
14:40 – PT Tip: How To Use The Supplier Finder & Demand Analyzer on Alibaba.com
18:45 – Let's Learn About NetSuite From Martin Zerrudo
24:00 – Last Weekly Buzz Before The Sell And Scale Summit!
24:45 – Watch The Bigger.Better.Launch! Live At S3
---
Enjoy this episode? Be sure to check out our previous episodes for even more content to propel you to Amazon FBA Seller success! And don't forget to "Like" our Facebook page and subscribe to the podcast on iTunes, Spotify, or wherever you listen to our podcast.
Get snippets from all episodes by following us on Instagram at @SeriousSellersPodcast
Want to absolutely start crushing it on Amazon? Here are few carefully curated resources to get you started:
Everything for your business on Amazon.
Find out more about our products by signing up or speaking with one of our
Customer Success representatives today. With us in your corner, you can enjoy
more sales and increased engagement from your Amazon business.
Chat with a Support Specialist