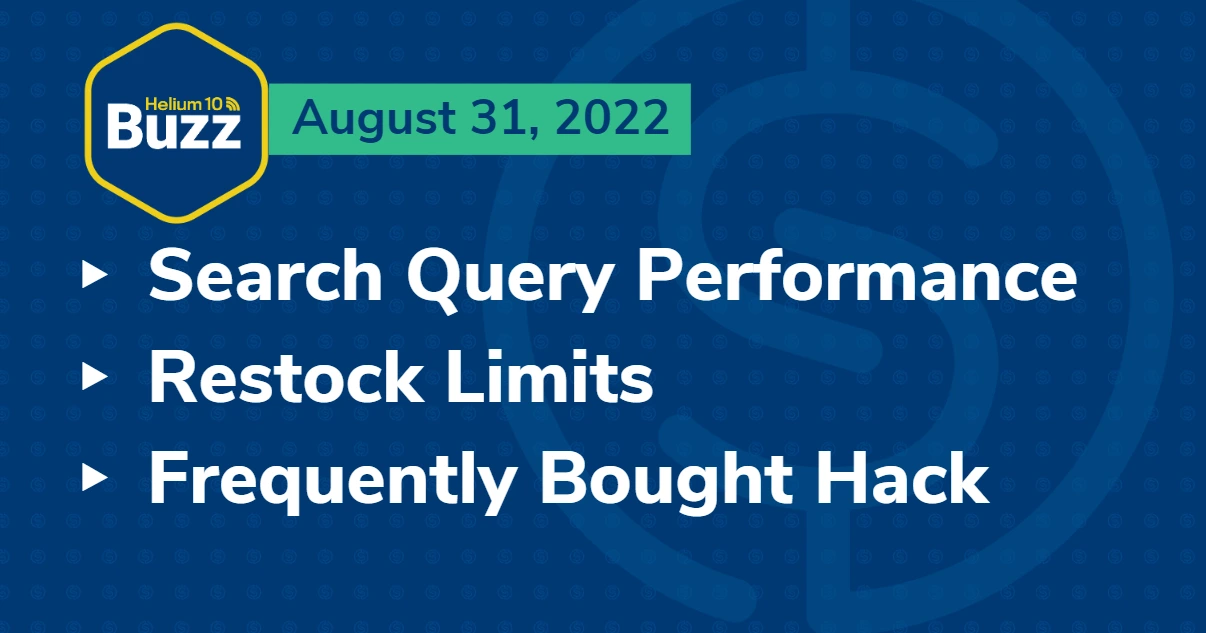 Helium 10 Buzz 8/31/22: Search Query Performance | Restock Limits | Frequently Bought Hack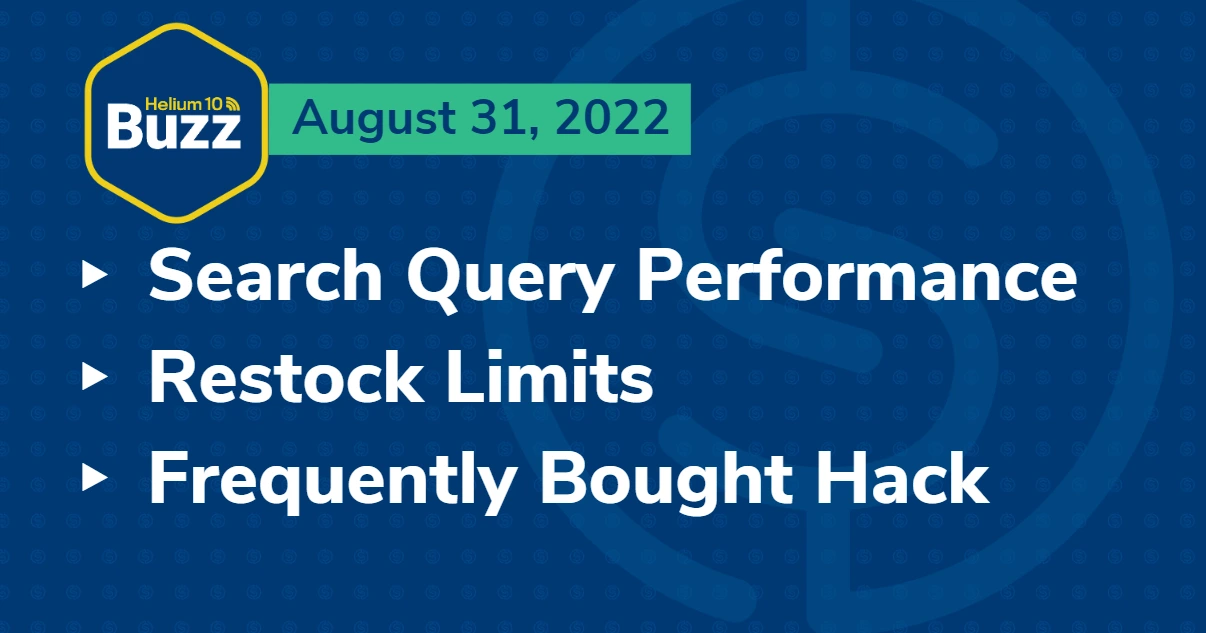 We're back with another episode of the Weekly Buzz with Helium 10's Chief Brand Evangelist, Bradley Sutton. Every week, we cover the latest breaking news in the Amazon, Walmart, and E-commerce space, interview someone you need to hear from, and provide a training tip for the week.

We start off with Bradley showing us some new features inside Amazon's Search Query Performance.

At the end of February, Swoon moved its backend entirely to Amazon's fulfillment services after analyzing its customer base, their purchasing habits, and the costs associated with shipping and fulfillment when using an independent 3PL.
https://www.modernretail.co/startups/why-swoon-abandoned-its-dtc-arm-and-is-using-amazon-to-fulfill-all-its-online-orders/

Ecommerce down under is booming, says new research from the U.S. Department of Commerce. Australia is the 11th-largest eCommerce market in the world, and revenue is predicted to reach $32.3 billion as soon as next year, says the International Trade Administration.
https://www.digitalcommerce360.com/2022/08/30/ecommerce-in-australia-grows-at-a-steady-clip/

Carrie shares this week's Freedom Ticket clip about WFS (Walmart Fulfillment Services) and other details like fulfillment fees. Next, we have the Pro Training tip of the week, which talks about how you have full visibility with the history of frequently bought together when you use Helium 10! Lastly, we have an interview by Shivali with Market Tracker 360's product manager, Austin Schaumberg, to share features and how this powerful tool can help you crush it!
In this episode of the Weekly Buzz, Bradley talks about:
01:00 – Search Query Performance
07:35 – DTC To Amazon
09:35 – Australia E-Commerce
10:45 – MYCE Deals
11:30 – Inventory Limits
12:45 – Freedom Ticket Clip: What Is Walmart Fulfillment Services?
16:20 – Frequently Bought Together
21:35 – Learn More About Market Tracker 360
26:30 – Listen To The AM/PM Podcast
---
Enjoy this episode? Be sure to check out our previous episodes for even more content to propel you to Amazon FBA Seller success! And don't forget to "Like" our Facebook page and subscribe to the podcast on iTunes, Spotify, or wherever you listen to our podcast.
Get snippets from all episodes by following us on Instagram at @SeriousSellersPodcast
Want to absolutely start crushing it on Amazon? Here are few carefully curated resources to get you started:
Achieve More Results in Less Time
Accelerate the Growth of Your Business, Brand or Agency
Maximize your results and drive success faster with Helium 10's full suite of Amazon and Walmart solutions.