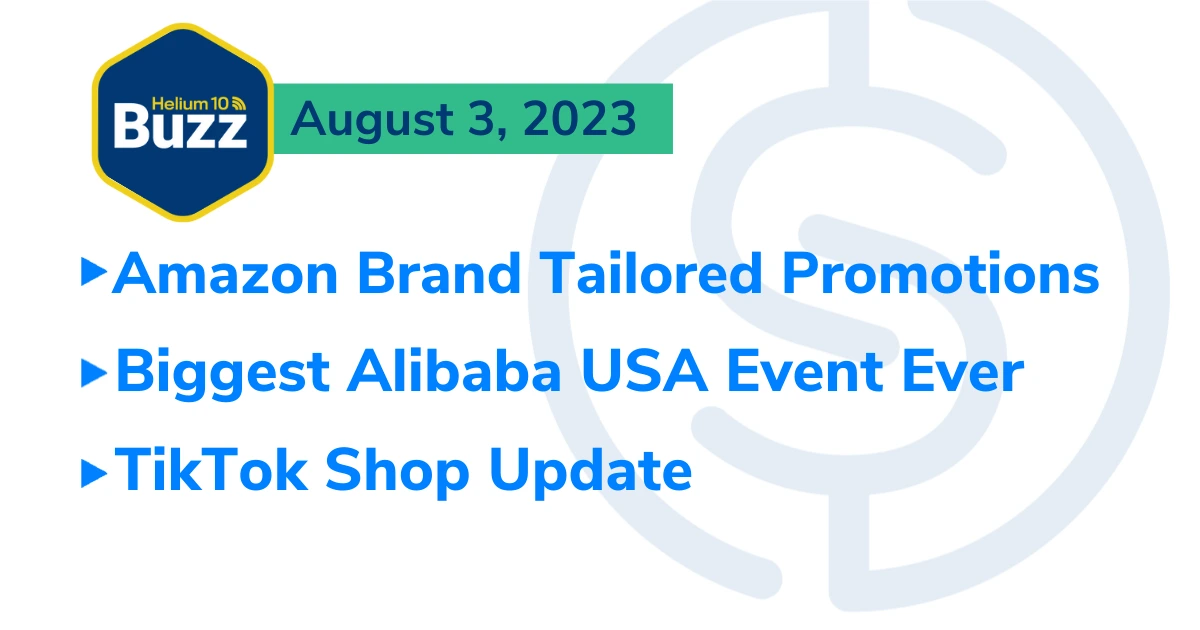 Helium 10 Buzz 8/3/23: Amazon Brand Tailored Promotions | Biggest Alibaba USA Event Ever | TikTok Shop Update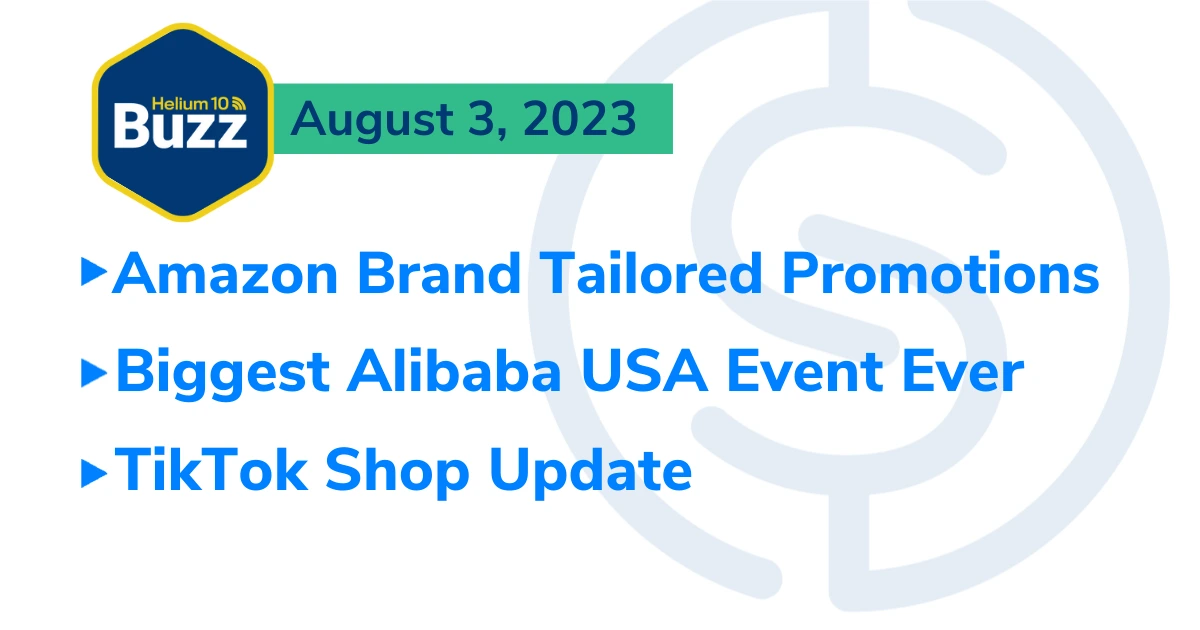 We're back with another episode of the Weekly Buzz with Helium 10's Chief Brand Evangelist, Bradley Sutton. Every week, we cover the latest breaking news in the Amazon, Walmart, and E-commerce space, interview someone you need to hear from and provide a training tip for the week.

Amazon Brand Tailored Promotions: Offer exclusive discounts for loyal customers
https://sell.amazon.com/blog/announcements/brand-tailored-promotions

Join us September 7-8, 2023, at the Alibaba.com Co-Create 2023, as they unveil new solutions and innovations to help businesses of all sizes dream bigger and create better.
https://h10.me/cocreate

Amazon is delivering its largest selection of products to U.S. Prime members at the fastest speeds ever.
https://www.aboutamazon.com/news/operations/doug-herrington-amazon-prime-delivery-speed

Walmart shoppers will have more ads to check while they check out
https://www.theverge.com/2023/8/2/23817029/walmart-ads-in-store-self-checkout

Amazon employees leak secret info that marketplace sellers can buy on Telegram
https://www.cnbc.com/2023/08/01/amazon-employees-leak-info-that-marketplace-sellers-buy-on-telegram.html

Etsy sellers say a fraud protection program is destabilizing their businesses
https://www.theverge.com/2023/7/29/23810536/etsy-sellers-payment-reserves-fraud-protection

Etsy Sellers Spot Yet Another Test They Worry Will Drive Shoppers Away
https://www.ecommercebytes.com/2023/07/31/etsy-sellers-spot-yet-another-test-they-worry-will-drive-shoppers-away/

Amazon opens Fresh grocery delivery to people without Prime
https://www.cnbc.com/2023/08/02/amazon-fresh-grocery-delivery-opens-to-people-without-prime.html

WooCommerce Merchants to Beta Test TikTok Shop in the U.S.
https://www.retailtouchpoints.com/topics/digital-commerce/social-commerce/woocommerce-merchants-to-beta-test-tiktok-shop-in-the-u-s

Watch how Amazon delivers to customers at the bottom of the Grand Canyon
https://www.aboutamazon.com/news/transportation/how-amazon-delivers-to-customers-at-the-bottom-of-the-grand-canyon

Have your top questions about Search Query Performance, Brand Analytics, Product Opportunity Explorer, and more answered directly by the Amazon team behind these tools. 
Join host Bradley Sutton and Amazon's in-house experts on Thurs., Aug. 17th @ 10am PST for this historic LIVE event – Amazon HQ's First-Ever Fireside Chat About Their New Data Points.
Learn how you can leverage unique Amazon data points in conjunction with Helium 10 to level up your business.
https://h10.me/amazondata
Let's move forward with Bradley's assignment that Helium 10 users need to do, to make the most out of the newest game-changing feature inside Helium 10's Insights Dashboard. And finally, don't forget to log in and check out the newest modules inside Freedom Ticket with Marketing by Emma.
In this episode of the Weekly Buzz by Helium 10, Bradley talks about:
01:30 – Brand Tailored Promotions
07:05 – Biggest Alibaba Event Ever
08:45 – 300M Prime Products
11:45 – Walmart Store Ads
12:50 – Amazon Leaks?
14:52 – Angry Etsy Sellers
16:50 – Amazon Fresh Grocery
17:40 – TikTok Shop / WooCommerce
19:30 – Prime Donkeys?
22:30 – The Brand New Insights Dashboard Competitors Tab
26:40 – New Modules Inside Freedom Ticket
---
Enjoy this episode? Be sure to check out our previous episodes for even more content to propel you to Amazon FBA Seller success! And don't forget to "Like" our Facebook page and subscribe to the podcast on iTunes, Spotify, or wherever you listen to our podcast.
Get snippets from all episodes by following us on Instagram at @SeriousSellersPodcast
Want to absolutely start crushing it on Amazon? Here are few carefully curated resources to get you started:
Achieve More Results in Less Time
Accelerate the Growth of Your Business, Brand or Agency
Maximize your results and drive success faster with Helium 10's full suite of Amazon and Walmart solutions.