Helium 10 Buzz 8/3/22: Amazon Belgium Launch, Brand Analytics Strategy, & Amazon Insurance Update
In this jam-packed episode, we cover all the latest news on Amazon and talk about strategies for Amazon PPC, keyword research, and brand analytics.
Originally published on: August 3, 2022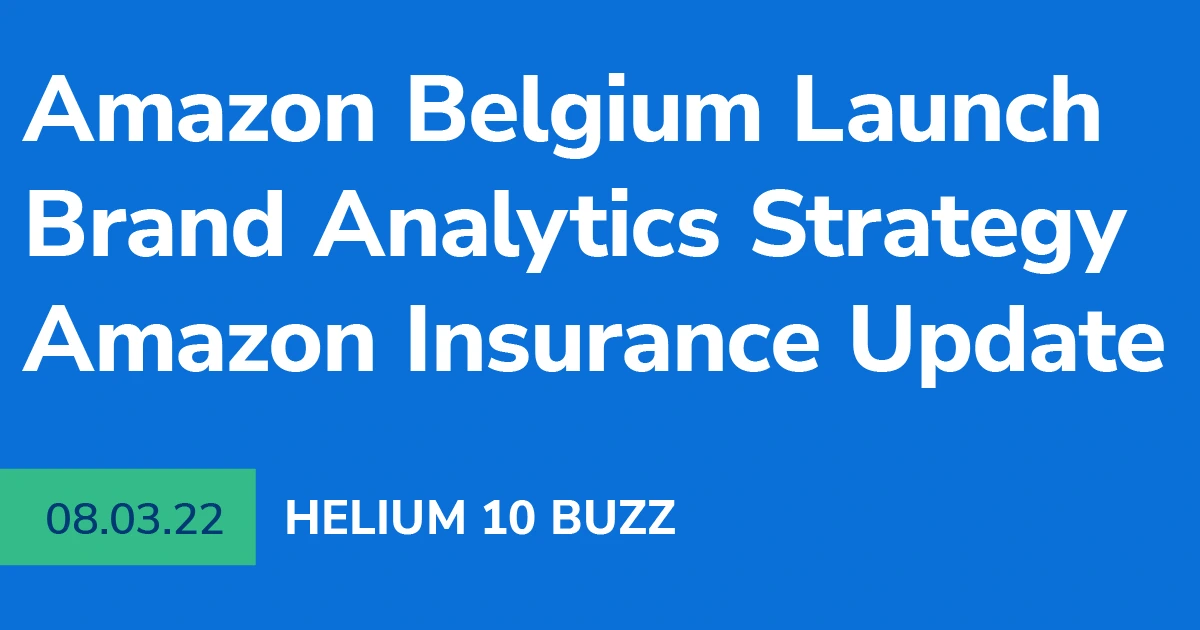 We're back with another episode of the Weekly Buzz with Helium 10's Chief Brand Evangelist, Bradley Sutton. Every week, we cover the latest breaking news in the Amazon, Walmart, and E-commerce space, interview someone you need to hear from, and provide a training tip for the week.

Sponsored Products, Sponsored Brands, and Stores are available to use on Amazon.eg, Sponsored ads can help you achieve your business goals by reaching customers as they shop for relevant products on Amazon, gaining product visibility, and building your brand.
https://advertising.amazon.com/en-us/resources/whats-new/sponsored-ads-launches-in-egypt/

Amazon Plans for More Massive Warehouses – The company is building its biggest-ever distribution centers in New York, Colorado, and California.
https://www.planetizen.com/news/2022/08/118093-amazon-plans-more-massive-warehouses

Amazon is offering a referral fee discount of up to 25% on select ASINs to help you drive sales of excess inventory and improve your cash flow and sell-through rate.

Amazon updated its Commercial Liability Insurance policy to require zero-deductible policies from sellers. Following this update, a number of sellers told them about the challenges they face in procuring zero-deductible policies. Amazon thanks the sellers for this feedback and won't proceed with this change.

Amazon said Monday it's adding a handful of brick-and-mortar retail brands to its same-day delivery offering for Prime members.
https://www.cnbc.com/2022/08/01/amazon-launches-same-day-delivery-for-some-retail-brands.html
In this episode's tips, strategies, and interviews, Vince Montero interviews Elizabeth Greene of Junglr about all her top Amazon PPC tactics. Pro Training with Lem Turner will show us how to use Helium 10's mobile app for keyword research on the go. And Carrie Miller has a Freedom Ticket clip on how Kevin King uses brand analytics to do product research.
To close out this episode, Bradley invites you to join Helium 10 and Amazon's webinar to learn about 'Key product and listing strategies by Helium10 to help you grow your Amazon business'. The webinar will be on August 11th at 10 am PST. This webinar series addresses key seller challenges and how the Appstore connects you with Amazon-approved third-party software partners, whose solutions can help you start, automate, and grow your business with Amazon. Reserve your seat now by registering here.
In this episode of the Weekly Buzz, Bradley talks about:
00:56 – Amazon Egypt PPC
01:40 – Amazon Warehouses
03:00 – Fee Discount
03:55 – Liability Insurance
05:00 – Same Day Delivery
06:43 – Amazon Belgium Launch
07:12 – Brand Analytics Strategy
08:08 – Vince Interviews PPC Expert Elizabeth Greene
13:20 – Pro Training Tip: Using The Helium 10 App For Keyword Research
18:00 – Freedom Ticket Clip: Finding Great Keywords Using Brand Analytics
22:35 – Amazon Webinar With Helium 10 – Register Here
Transcript
Bradley Sutton:
Hello everybody, and welcome to another episode of the Helium 10 Weekly buzz. My name is Bradley Sutton, and this is the show where we get you familiar with the latest news in the Amazon and e-commerce space. We interview people in the industry that you need to hear from, and we provide training tips of week that gives you serious strategies for serious sellers of any level in the e-commerce world. So let's go ahead and see what's buzzing this week. Now today we've got another jam packed episode. Of course, we've got our news of the week, a lot of things happening in the Amazon world, especially this week and new things in Seller Central. We're gonna have a mobile keyword research tip from Lem. Vince is gonna interview somebody about PPC. Carrie's bringing us a Kevin King Freedom Ticket tip of the week that has to do with Brand Analytics.
Bradley Sutton:
And then we also have a special announcement about a webinar that Amazon is doing together with Helium 10. All right, let's go ahead and hop right into the news. All right. The first news article is about Amazon Egypt. Now you are able to do Sponsored Product, Sponsored Brand in full stores in Amazon Egypt, that's amazon.eg. A lot of you maybe didn't even know you could sell in Amazon Egypt, but maybe some of you do well, guess what, you haven't actually been able to do the regular PPC ads all this time, but now you are able to remember Egypt, Amazon took over the, Souq the very popular Souq website and so there's a lot of traffic over there. So if you guys are selling in Amazon Egypt, make sure to go ahead and hop in and Seller Central and you're now going to be able to do advertising that you have not been able to do before now.
Bradley Sutton:
The next article is from a website called Planetizen. I think it is, but the title of the article was Amazon Plans for More Massive Warehouses. Now, this, I didn't see reported much, but it kind of intrigued me because if you remember, a few months ago, Amazon was talking actually about downsizing some of their warehouses because they kind of doubled their space during the pandemic and it wasn't much of a downsize, but the fact that they were downsized at all made me think that, oh man, they're like set for a long time. They had too much space, but this article talked about how Amazon did kind of cancel delay 40 planned warehouse facilities, but they're building three giant new facilities.
Bradley Sutton:
One is gonna be a 4 million square foot facility in Ontario, California, another 4 million square foot project in Colorado, and then another one in New York. Actually, they announced supposedly that they're expected to open 250 additional facilities of various sizes in 2022. So let me know what you think about that how did Amazon roll back? But now they're actually buying more warehouse space. So this is kind of interesting. It's kind of a good sign. If they're expanding still they're, they're still expecting a lot of growth on the Amazon retail side. So that's gonna be pretty exciting to watch. The next article was from Amazon Seller Central. There's actually a special referral discount that they're giving on excess inventory. So it's up to 25% of the referral fee for special ASINs that maybe are like slow moving.
Bradley Sutton:
All right. So this isn't like, oh, you get 25% back. This is 25% on the referral fee. So how you can see if any of your slow-moving products qualify for that you go to FBA Inventory in your Seller Central account, and then there's like a little check box where you can see if you have any available what's called Sales or Outlet Deals. All right. So on that manage FBA inventory, you can actually do a little filter and then check like Sales or Outlet deals. And then it'll tell you if you qualify for these special referral discounts, and that might incentivize a little bit if you create one of those sales or outlet deals so that you can get some money back on that referral fee. The next article was welcomed by a lot of sellers because in June, Amazon kind of threw something under the radar about insurance.
Bradley Sutton:
Like a lot of sellers, I didn't get this, but a lot of sellers showed me that there was this email that came out as like, Hey, we now require zero deductible policies for the insurance. All right. So as you know, once you hit a certain level of sales, you have to get liability insurance and then prove it, and show that you have it to Amazon. Well, a lot of people were like, I can't get zero deductible insurance for my Amazon business. So Amazon and Seller Central put out a message a couple of days ago and said, Hey, you know, we hear you. We understand that this is not something that's easy to get. So you do not need to get the zero deductible. It says we're gonna continue to allow policies with deductibles for sellers on Amazon. This article said, and we've reverted to our previous policy requirement.
Bradley Sutton:
It says the deductible for any policy must not be greater than $10,000, and any deductible amount must be listed on their certificate of insurance. So good on Amazon for making that rollback from a previous policy. Another interesting article came up from CNBC this week, and that was entitled Amazon launches same-day delivery from some brick-and-mortar retail brands. So what's happening is if you're buying products from certain brands, you might actually get same-day delivery. And it's picked up from these brick-and-mortar occasions. So some of these that they have started with like PacSun and GNC.
Bradley Sutton:
This has started in about 10 cities across the country. And if you get free delivery on this, if you're a Prime member and you spend $25 or more, or $3 only if you spend less than $25. And so what this means is, is like, let's say you buy some kind of supplement, right? And it's something that actually GNC has stocked in their store. Well, instead of Amazon shipping that from their warehouse, they're gonna send one of their flex drivers or one of their last-mile delivery drivers to that local GNC near you, pick it up, and then deliver it to your house or your business or wherever your delivery address is. So it'll be interesting to watch this, you know, how many brick-and-mortar partners does Amazon join with? And then this means that more and more products are gonna have that same day delivery.
Bradley Sutton:
And then if your products are being sold in any of these brick-and-mortar stores, it's gonna give you a boost over the competition. Like I'm a state an example, let's say for whatever reason Amazon partners with one of this kind of like, you know, Joanne's fabric store or one of those other kinds of arts and craft stores and the coffin shelves are in there now. Well, now there are tons of coffin shelves on Amazon, but let's say somebody goes and they see, oh, I get same-day delivery. Cuz they live near one of these Michael's arts and craft stores or something. And they can get that coffin shelf in three hours. Now I've got the advantage over my competition. Who's not in that brick-and-mortar store? All right. The last article I wanted to talk about is Amazon Belgium is now up.
Bradley Sutton:
So, those of you selling in Amazon Europe, right now, you can go to sell.amazon.com.be and you can register to be a seller on Amazon Belgium. So Amazon Europe has been expanding from the five core marketplaces that was there for years. And then the Netherlands came up and Poland and Sweden now Amazon Belgium is there as well. And the last article came up just this morning and it's about Improved Brand Analytics reporting is coming. It's not there yet for most sellers, but you know, a while back, Amazon had said they were taken away some of the Brand Analytics like customer behavior, parts of Brand Analytics. And you don't see that there anymore, but now there's gonna be an update and the dashboards are gonna be grouped under search analytics and consumer behavior. And you're gonna see ,a new user interface and Brand Analytics, and you're gonna see the consumer behavior analytics as well. So some new things that are are coming and then you're gonna be able to even deep link to these dashboards. This article said, so for more information check Seller Central. All right. So that's it for the news this week. Now in the next little clip, we're gonna have an interview from Vince who is talking to an expert in the PPC industry. So Vince take it away.
Vince:
Welcome to weekly buzz. My name is Vince Montero and with me today is Elizabeth Greene from Junglr. How are you doing Elizabeth?
Elizabeth:
Hey, good, good.
Vince:
So why don't you give us a little bit of background Elizabeth?
Elizabeth:
Yeah. so hi, my name's Elizabeth Greene. I am one of the co-founders I think co-founder me and my husband started an Amazon advertising agency college Junglr. So yeah.
Vince:
Oh, it's great. I didn't know both of you. That's awesome.
Elizabeth:
Yeah. Yeah.
Vince:
And how long have you doing, been doing PPC? Like how did you get into it?
Elizabeth:
So, I mean like an agency. Oh, is it a little over three years now? As far as like getting into the ads. So we started back in the day, couple of kids ago, I think you know, like dabbling, like we wanted to do something where we could work from home.
Vince:
So what kind of quick tip or trick can you suggest for optimizing PPC?
Elizabeth:
So, one thing that I find super important when it comes to optimizing is I like to say like, not all keywords are created equal as much as we would like to be like, oh, everything about 30%. That's above whatever my target is. Like let's chop it all down because what we're finding as the platform grows more and more competitive is that there's just gonna be some keywords that are helping you sustain visibility and ranking on the platform. And if you cut those down, you cut down your visibility, which oftentimes can drop down sales. It's why oftentimes you'll see people who just go into account. I don't wanna say willy-nilly, but it's kind of, willy-nilly like maybe in the beginning you're like, oh, somebody told me I should optimize. So I know my targets, I know what I should optimize for. And you go in and make a bunch of changes and you're like, oh my gosh, my sales are cut in half. What happened? That's probably what it is. You've chopped your visibility on some really important keywords. And so if you just kind of can identify, those can understand those and it doesn't even need to be that you don't optimize those. It's just like, okay when I'm going through my bids, I know these are my important stuff. So maybe I like to just be more sensitive there. So maybe instead of like, Hey, I need to chop this, you know, 20% below my cost per click, like let's bring it down more gradually.
Vince:
So on that note, what are the three main metrics that you like to look at when you're looking at accounts?
Elizabeth:
Yeah. I mean, when you start getting to weeds, like all the things, but if you had to check three and these three are what I would consider. What's kind of referred to as like lagging measures, which means like, these are not like the base things that are changing. This tells you what kind of the change, like what are the end results of my changes? So ACoS, I mean, definitely. It's kind of like the one that nobody wants to talk about anymore, cuz like, oh, ACoS has old news, you know, like I like the second one is TACoS, so right. I see such validity to looking at an account holistically and not hyper focusing on ads. Cuz like when we talked about you might have high ACoS, you're like, oh no, no I need to bring this down.
Elizabeth:
But maybe your TACoS is fine and you're still wildly profitable and your ads are helping to sustain, you know, kind of that sales, momentum and profitability. So it's not that we shouldn't, but I also don't think we should completely ignore a cost. We still should look at how profitable our ads are. That's still a factor. And then TACoS. I mean, TACoS say who doesn't want TACoS, which is again, your ads spend, but it's divided by total sales. So this is great. In the beginning in a launch, if like all we're doing for launch is PPC. We expect that our TACoS is going to be equivalent to the ACoS because we're only making sales through the ads. So we expect those to be equivalent. As time goes on, as you gain additional sales outside of your advertising, you would expect to see that number go down.
Elizabeth:
And if the number's not going down, then you're like, okay, so maybe I'm spending on ads and it's bringing sales. It's not getting you ranking. So that gives you a pulse on that. And then the, the other one that I definitely like to keep, again, all of these are things that I keep a pulse on, and depending on where the trends are, it tells me where I need to dig. And so it's one that I've been referring to as ad sale percentage. You hear of like ratios of ads to organic, which is a really important one to keep in mind in today's climate with ads. And when I say today's climate, like it's just more competitive and it's one of the platforms. I mean, it's because the platform's maturing, so there's more people dumping more ad dollars in, but then secondly, Amazon is opening up way more ads spots. So this ratio has naturally increased because if you only got one organic spot above the fold on a search page, like there's only one placement, that's going to get you an organic sale at that visibility, it's just what it's. Any other sales you wanna gain there have to be through rats. So this, this number or percentage is just naturally increased, but it's still something that you want to keep a pulse on it.
Vince:
Well, that's all we have for today. So if you guys want to get a deeper dive and get some more strategies on PPC, check out the TACoS Tuesday session that we just filmed with Elizabeth Greene and it's the August 2nd video you can find in our YouTube channels. And if you want to follow Elizabeth.
Elizabeth:
Yep. So LinkedIn and then junglr.com.
Vince:
Awesome. All right. Thanks, Elizabeth.
Bradley Sutton:
All right. Thank you so much for that interview, Vince. Now the next little clip here is from Lem, and he's gonna give you guys a tip on how to use our Helium 10 Mobile App for keyword research. A lot of people think that the Helium 10 Mobile App is just for, you know, tracking your sales, which it absolutely is. But if you're on the go and you want to get some instant insights about a keyword that you know, some idea you have while you're in the store or whatever, let's listen to Lem's clip on how to use the Mobile App to do that
Lem:
In this video, we're gonna be showing you how to get into keyword research and to look at your keyword list and pro list all within your Helium 10 Mobile App right now. So let's go ahead and get started. So pull out your phone, follow along, and see if you can follow in this journey with me as we go ahead and go forward. So of course we gotta get our phone out. We're gonna pull it up conveniently. I have it loaded up right here. Got my phone. And right now we're switching, we were on a product tab before, but now we're gonna go into the keyword tab right here. So we're gonna go ahead. And of course, what is the benefit of doing keyword research on the go, right? It's when you see something that's really interesting outside of your normal environment, outside of your normal office space, right?
Lem:
Sometimes I see really interesting things like maybe I'm noticing, wow, I'm seeing a lot of tens to have this like type of feature. Is there a way for me to search this on, maybe I'm traveling and I see that a lot of cars have this funny type of bumper sticker on it. Like maybe it's like a trendy type of bumper sticker and it's talking about some sort of current event, right? Maybe I'm gonna search that and be like, all right, is there actual, demand behind the similar type of keywords like this, something to get your mind going and get those creative juices flowing is really the benefit of being able to keep research on the go. Now, of course, you can pin it and save it for so that you can do something a little bit more actionable later on. Once you get back to your office, once you get back to your laptop, but this is the perfect middle man for right now for keyword research, when you're traveling or you don't have your laptop or desktop accessible.
Lem:
So let's go ahead and search some once you see I've searched some once before, like coffee shelf, flooring shelve let's search Gothic decor. So maybe I'm seeing a lot of goth the decor and I'm like, all right, I wanna see what pops up here. All right, you see got the decor and the information here is not going to be as expansive as you would see on a desktop. But again, keep in mind, this is meant to give you some just kind of like really quick snippets of information. Not necessarily give you like large in depths and massive loads of information. That's gonna be incredibly actionable, cuz again, that's gonna be saved for when you are on your desktop or laptop. So here we see the Gothic decor. We can see our search volume it's around 27,000, 28,000. This past month we can see the search volume trend, which is nice to see of like, Hey, maybe we are looking at camping gear and we want to see if the search volume trend is positive or negative.
Lem:
Right? If it makes sense for us to even be like considering a private label opportunity or anything like that in that area, we can see competing products. I can see the top products here. Okay, interesting. So maybe I click, maybe I see this Nanayo makeup coffin shelf and I want to like really dive deeper into it. I can click on it. I can get more of the metrics from that coffin shelf and really get an idea of it. Maybe I'm like, wow, that actually looks like an interesting product. I'm gonna pin that for me later. See an upper right. I clicked in that pin. I'm gonna pin that for later. Right? Gothic decor, I really like that keyword. That seems like a keyword. That seems pretty fruitful. I'm gonna pin that too. And okay. I'm gonna see related keywords, home decor, bathroom decor, Christmas decorations, and Halloween decor.
Lem:
Okay. Halloween decor seems pretty relatable. I definitely wanna look into that a little bit later once I get back to my desktop, so I'm gonna pin that as well too. So that's, what's really nice is that I can do all this stuff with keyword research and kind of get these quick snippets of information. I can sort of pin it or save it for later so that when I do have more time to kind of dive deeper into this, I can. So let's say just, just so I can make sure that these were saved and pinned. I can go to my list. I can click at my list to see my saved keywords and products. I can go ahead and see my Halloween decor or my Gothic decor. I can see all the keywords that I saved along with the products that I have saved in here, and bada bing, bada boom, we're good to go. I have the saved, I'm feeling confident about where it's at. So that's how you go about doing keyword research on the, go with Helium 10 Mobile App and checking your list for your product list or keyword list on the go.
Bradley Sutton:
All right. Thank you so much Lem for that clip. Make sure all of you guys, this is a free download, make sure to go to your app store, whether you're on an Android device or an Apple, iPhone, go download the Helium 10 Mobile App and connect it to your Helium 10 app and then make sure start taking advantage of these tools. Now in this last clip here we're gonna have Carrie actually give her favorite freedom to get clip of the week. And it's actually a really cool one about how Kevin King uses Brand Analytics
Carrie:
In this next snippet from Freedom Ticket. Kevin King is actually going to show you a new way to find some great keywords. Now, obviously, Cerebro and Magnet are the best ways to find keywords, but he also has some strategies for utilizing Brand Analytics to find more keyword opportunities. So go ahead and check it out
Kevin:
In this module. I want to go through using Brand Analytics to actually find keyword opportunities in a way that I use Brand Analytics to supplement cerebral. So you remember you're gonna have to be brand registered, actually get to Brand Analytics and you get to Brand Analytics by logging to Seller Central and then coming over to brands and Brand Analytics right here. And then what I'm gonna do is I'm gonna use this Amazon search terms field right here. And what you can do is just download the last quarter. That should usually be good enough. And then I'm gonna come into the search term field and I'm gonna type in my, my seed keywords, you know, for every product that you sell, there's certain seed keywords where there are variations of that keywords. For example, if the word was hand sanitizer, hand sanitizer would be the seed keyword, but the variations of that are hand sanitizer, gel, hand sanitizer with alcohol hand, sanitizer mini travel size, and so on, but hand sanitizer would be the seed keyword.
Kevin:
It's the common keyword that appears in a lot of different keywords. So let's tell you I was selling an Ab roller on those Ab device machines that actually give you six-pack abs. Well, one of to see keywords would be the word Ab roller. So I would come here to Brand Analytics and type in AB roller. I'm gonna change this to quarterly and then I'm gonna hit apply. Now, Amazon then came back with 10 different words that are in the most commonly search for words on Amazon. You could see here, that this TomShoes six and one Ab roller kit is 1.3 million. It's got hardly any search volume, but the word Ab roller is 9,492, as far as search frequency rank. So it's actually got it's one of the top 10,000 most searches for things on Amazon. So that's a pretty good word.
Kevin:
So what I'm gonna do then is I'm gonna download this data. So I'm gonna download this over here into an Excel spreadsheet. And I would continue doing this for each of my seed keywords. And once I've done that, I'm gonna have multiple Excel spreadsheets. And what I'm gonna do then is I'm gonna take each of those Excel spreadsheets that I've just downloaded from Brand Analytics and I'm gonna actually combine them into one master spreadsheet. Okay? Once you've downloaded all those spreadsheets, you're gonna combine them into one spreadsheet. Like I've done here, as you can see here in this example. And so I have all the keywords from all those different seeds combined into one spreadsheet, and now what I'm gonna be doing is I'm gonna be adding an additional column, which I added over here and column P you can see in column P here, I added a total and this total like the 67% here, what this is, it's the total of the conversion shares.
Kevin:
So if I come over here to the conversion shares, this is conversion share number one here in F conversion, share number two here in J and conversion share number three here in N and if you add all those two, all three of those together, you get 67%. So you can see the formula is just those three added together it's equals. And then the form that equal those three added together. So what this basically means is that the top three ASINs for this particular keyword for the word AB roller 67% of the sales for off of that keyword are coming from three different ASINs. So only 33% of the market is left for me if I'm not gonna be in the top three, so this is gonna be a difficult market to penetrate. I like to actually see this to be below 40%.
Kevin:
So any of these that are below 40% are gonna be easier keywords to target. That doesn't mean I'm not gonna go after the word Ab roller, but I have to understand that even if I get to position 4, 5, 6, or seven on the main page, I'm only gonna be fighting for the scraps 33% of the total sales that come off of that keyword. So if I really want to compete on that keyword, which is a big keyword, I'm gonna have to take over one of those top three spots to really get a chunk of the sales.
Carrie:
If you wanna hear the rest of Kevin King's strategy for finding keywords, and utilizing Brand Analytics, you can find it in module 7.08 and it's actually week seven of Freedom Ticket. So go ahead and check it out and let us know what you think.
Bradley Sutton:
All right. Thank you very much, Carrie, for that clip. All right. Lastly, I wanted to go over a special webinar that I'll be doing with Amazon Helium 10, actually partnering with Amazon to do this webinar. Maybe you guys, some of you guys were surprised you actually saw when you logged into your Seller Central this week, how there was actually a Helium 10 mention there in a webinar. So I want you guys to register for this. We're gonna have some great beginner and a little bit of advanced information, and it's gonna be a quick webinar. That's gonna be on August the 11th now the way to register for this. All right. If you're watching this on YouTube, you can just go into the description and click the link, but let me just throw my screen here up here. So you can seek if you do not have this link, how you are able to go ahead and register it for it.
Bradley Sutton:
So what I want you guys to do is go to your Seller Central dashboard, and then on the left-hand side, or wherever you have, the news, just hit any of these news articles, right? And then once you get there on the left-hand side, guys, you are gonna scroll down and you guys are going to find July 28th, right? And then there's a news article that says, learn key product and listing strategies with Helium 10. You're gonna click on that. And in this little news article, you'll see a link in order to register for this webinar. Now it's important that when you do register for this, or you do click that link you just ask you to put your name and your email address. But you are going to need to put in your Amazon merchant code. All right, this is your storefront code and they give you a link in order to find where to put that. Alright, guys. So I look forward to seeing you on that webinar. That's it for the buzz this week. I'll see you guys next week to see what's buzzing in the industry.
---
Enjoy this episode? Be sure to check out our previous episodes for even more content to propel you to Amazon FBA Seller success! And don't forget to "Like" our Facebook page and subscribe to the podcast on iTunes, Spotify, or wherever you listen to our podcast.
Get snippets from all episodes by following us on Instagram at @SeriousSellersPodcast
Want to absolutely start crushing it on Amazon? Here are few carefully curated resources to get you started:
Everything for your business on Amazon.
Find out more about our products by signing up or speaking with one of our
Customer Success representatives today. With us in your corner, you can enjoy
more sales and increased engagement from your Amazon business.
Chat with a Support Specialist