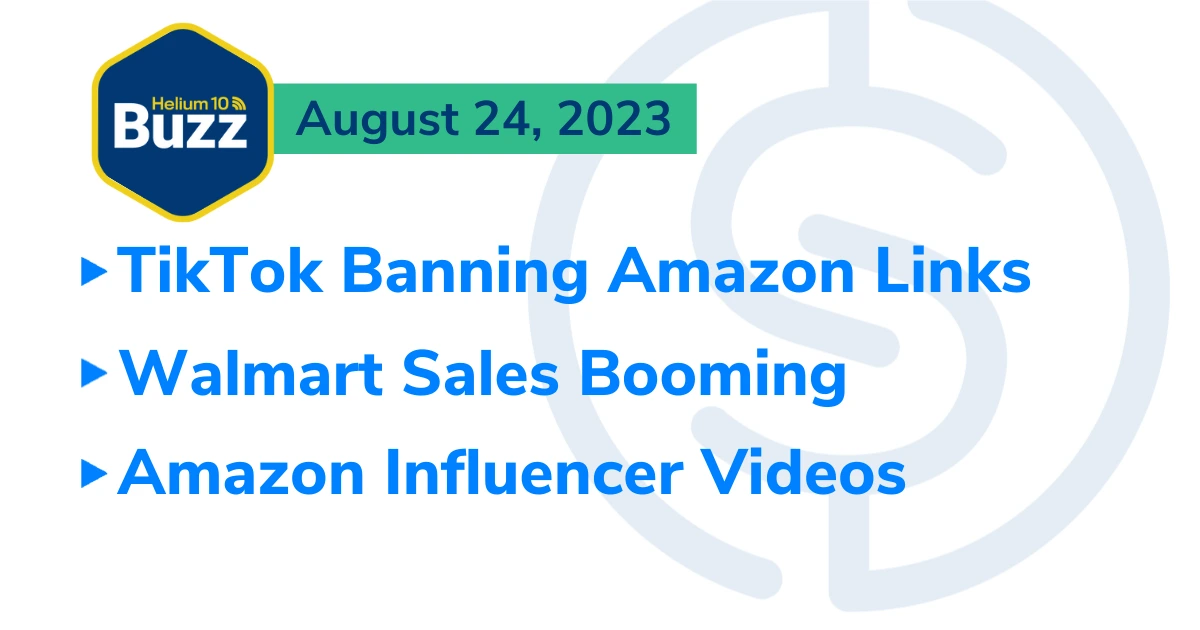 Helium 10 Buzz 8/24/23: TikTok Banning Amazon Links | Walmart Sales Booming | Amazon Influencer Videos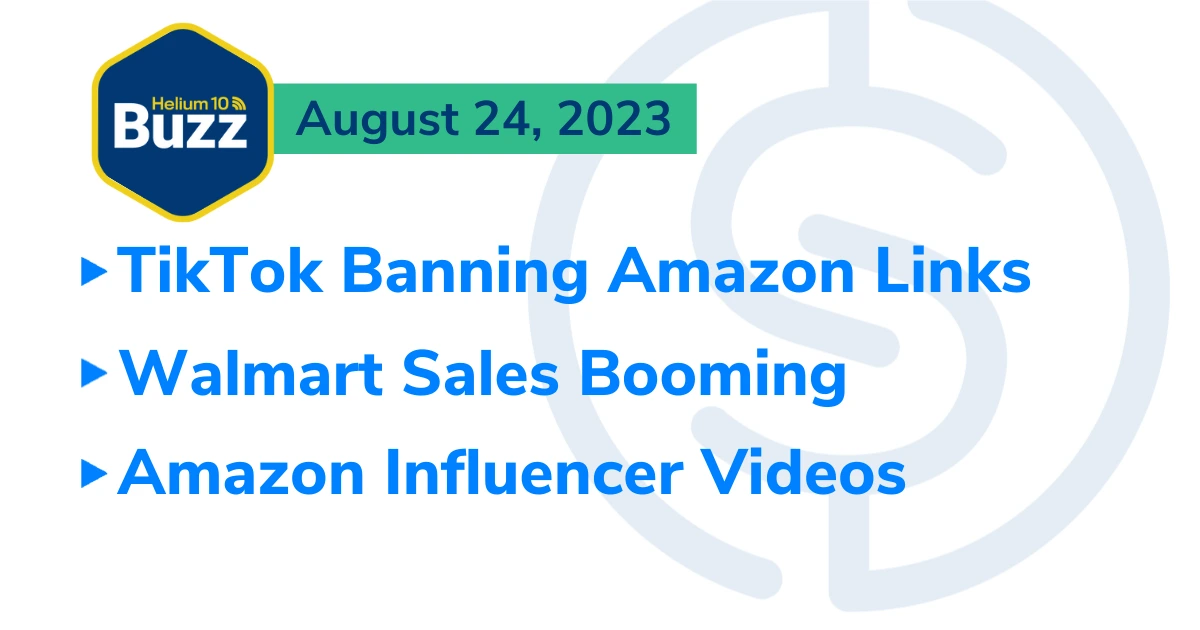 We're back with another episode of the Weekly Buzz with Helium 10's Chief Brand Evangelist, Bradley Sutton. Every week, we cover the latest breaking news in the Amazon, Walmart, and E-commerce space, interview someone you need to hear from and provide a training tip for the week.

TikTok plans to ban links to outside e-commerce sites like Amazon, new report claims
https://techcrunch.com/2023/08/23/tiktok-plans-ban-links-outside-e-commerce-sites-like-amazon-new-report-claims/

TikTok will sunset its Shopify storefronts in September
https://www.tubefilter.com/2023/08/23/tiktok-shopify-storefront-integration-ending-september-shop-ecommerce/

Amazon, looking to amp up its TikTok-like shopping feed, has called on influencers to make hundreds of videos apiece. But its offer of $25 a pop — about a tenth of the going rate — was widely mocked on social media.
https://www.seattletimes.com/business/amazon-offers-influencers-25-per-video-sparking-chorus-of-lols/

Walmart's online sales exploded while Target's slowed again
https://www.digitalcommerce360.com/2023/08/22/walmart-target-online-sales-q2-analysis/

New product listing attributes required for new listings after September 12, 2023
https://sellercentral.amazon.com/gp/headlines.html?ref=nswg_scgw_GD7FXKBKR2HFHY6G_en_US_0_nslp&id=GD7FXKBKR2HFHY6G

Etsy Inches Toward Diversified Offerings to Get Consumers to Spend
https://www.pymnts.com/news/ecommerce/2023/etsy-inches-toward-diversified-offerings-to-get-consumers-to-spend/

Five Amazon Marketplace Sellers and Four Amazon Marketplace Companies Sentenced for Price Fixing
https://www.justice.gov/opa/pr/five-amazon-marketplace-sellers-and-four-amazon-marketplace-companies-sentenced-price-fixing
Solana Pay integrates plug-in with Shopify for USDC payments
https://techcrunch.com/2023/08/23/solana-pay-plug-in-with-shopify-for-usdc-payments/
Don't forget to listen to the replay of Helium 10's latest webinar together with the Amazon team responsible for Search Query Performance and Product Opportunity Explorer. Go to h10.me/485. Lastly, for our Pro Training Tip of the Week Bradley shows you how to download your reviews.
In this episode of the Weekly Buzz by Helium 10, Bradley covers:
00:52 – TikTok Bans Amazon?
03:16 – TikTok Bans Shopify?
04:36 – $25 Amazon Videos
08:00 – Walmart Sales Up
08:57 – New Amazon Attributes
09:47 – Etsy Diversification
11:07 – Amazon Price Fixing
12:30 – Amazon Promotions Update
13:05 – Use Crypto on Shopify
14:22 – Brazil NARF
15:16 – Amazon Data Webinar Replay on SSP!
16:00 – Pro Training Tip: How To Download Your Reviews
---
Enjoy this episode? Be sure to check out our previous episodes for even more content to propel you to Amazon FBA Seller success! And don't forget to "Like" our Facebook page and subscribe to the podcast on iTunes, Spotify, or wherever you listen to our podcast.
Get snippets from all episodes by following us on Instagram at @SeriousSellersPodcast
Want to absolutely start crushing it on Amazon? Here are few carefully curated resources to get you started:
Achieve More Results in Less Time
Accelerate the Growth of Your Business, Brand or Agency
Maximize your results and drive success faster with Helium 10's full suite of Amazon and Walmart solutions.