Helium 10 Buzz 8/24/22: Amazon Review Change? | Walmart+ Rewards | TikTok Shopping Ads
In today's episode, we cover the latest news on Amazon and Walmart. Interview a doctor turned Amazon specialist. Tips about the honeymoon period, Xray keywords tool, and more!
Originally published on: August 24, 2022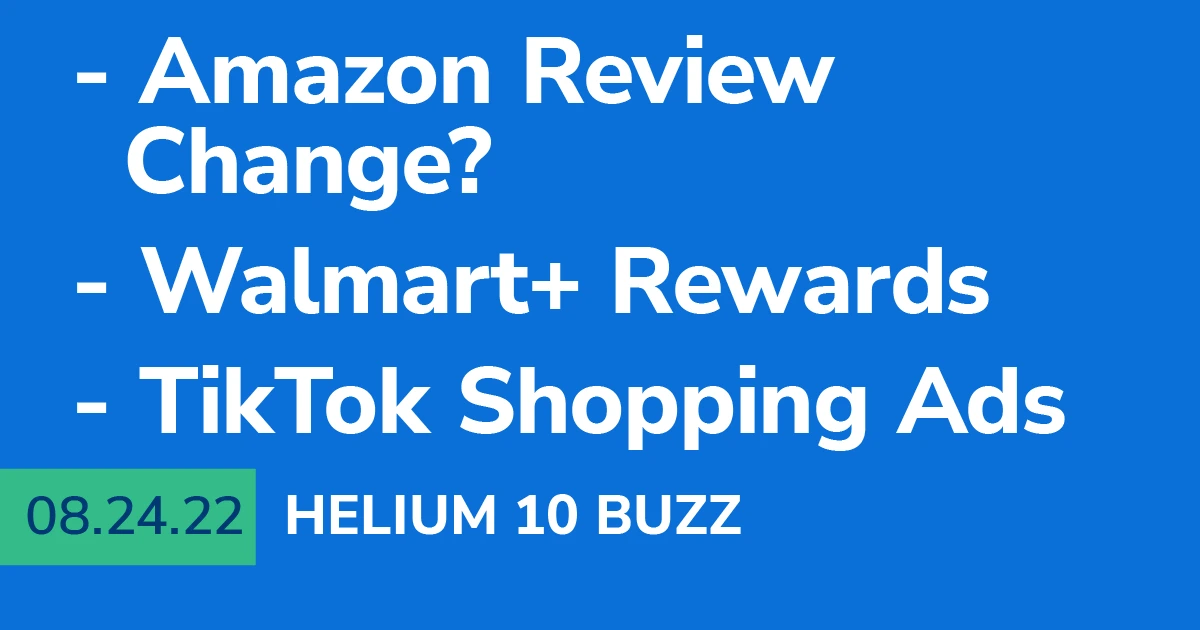 We're back with another episode of the Weekly Buzz with Helium 10's Chief Brand Evangelist, Bradley Sutton. Every week, we cover the latest breaking news in the Amazon, Walmart, and E-commerce space, interview someone you need to hear from, and provide a training tip for the week.
Amazon is currently testing a Black-Owned Business badge to help customers identify products sold by certified Black-owned businesses on Amazon. The Black-Owned Business badge will appear when the featured offer for a product in Search results and product detail pages is from a certified Black-owned business. Customers will also have the opportunity to visit the Black-owned business storefront.
https://sellercentral.amazon.com/gp/headlines.html?ref=nswg_scgw_GMYU9EDEKEA9BYAR_en_US_0_nslp

TikTok introduces three types of shopping ads. Advertisers can now run shopping ads on TikTok with three different formats to choose from. The new advertising formats are accessible in TikTok Ads manager through buying objective 'Product Sales.'
https://www.searchenginejournal.com/tiktok-introduces-3-types-of-shopping-ads/461788/
Walmart is introducing another perk designed to sweeten the deal for its Walmart+ membership program, which today offers a combination of free shipping, fuel discounts, contact-free checkout, exclusive deals, free streaming, and more.
https://techcrunch.com/2022/08/23/walmart-adds-a-new-cashback-feature-for-members-walmart-rewards/

Bradley gave his take regarding the review changes that are happening right now on Amazon. He also mentioned that there are 26 days left for the Sell and Scale Summit today. Make sure you're signed up!
Lem shares this week's Freedom Ticket clip where Kevin King answers the question, what is the Amazon Honeymoon Period? Carrie also interviewed Dr. Traviz Zigler of the Profitable Pineapple Ads agency on how his Amazon journey started and how his agency helps Amazon sellers crush it on their PPC. Lastly, Shivali will give us a detailed overview and strategies on how you can take advantage of one of our latest tools, Xray Keywords!

Bradley closes out this episode with the announcement that Helium 10 Elite is now open for sign-ups. If you were on the waitlist, now is time to join this advanced mastermind with all the perks behind it. So don't miss out and sign up now! Go to helium10.com/elite.
In this episode of the Helium 10 Weekly Buzz, Bradley talks about:
00:55 – New Business Badge
03:30 – TikTok Shopping Ads
04:25 – Walmart Rewards
06:26 – Review Change?
08:20 – 26 Days Before The Sell And Scale Summit!
08:55 – Freedom Ticket Clip: What Is The Honeymoon Period?
11:19 – Carrie Interviews Dr. Travis Zigler
16:30 – Pro Training Tip: How To Use The Xray Keywords Tool
23:50 – Helium 10 Elite Is Now Open!
---
Enjoy this episode? Be sure to check out our previous episodes for even more content to propel you to Amazon FBA Seller success! And don't forget to "Like" our Facebook page and subscribe to the podcast on iTunes, Spotify, or wherever you listen to our podcast.
Get snippets from all episodes by following us on Instagram at @SeriousSellersPodcast
Want to absolutely start crushing it on Amazon? Here are few carefully curated resources to get you started:
Everything for your business on Amazon.
Find out more about our products by signing up or speaking with one of our
Customer Success representatives today. With us in your corner, you can enjoy
more sales and increased engagement from your Amazon business.
Chat with a Support Specialist