Helium 10 Buzz 8/18: Holiday Fee Increase | How To Rank On Walmart | Amazon x TikTok?
Today, we bring you the latest news on Amazon, Walmart, and more details on the Yiwu lockdown. Plus, we give out massive bonuses for Sell and Scale Summit registrants.
Originally published on: August 18, 2022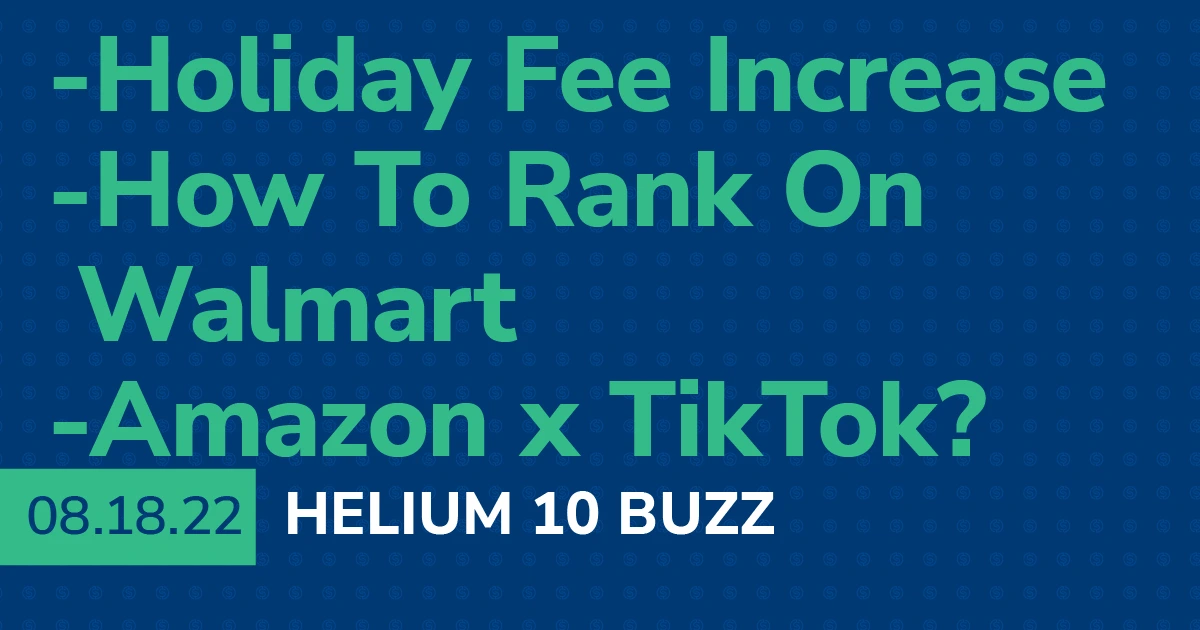 We're back with another episode of the Weekly Buzz with Helium 10's Chief Brand Evangelist, Bradley Sutton. Every week, we cover the latest breaking news in the Amazon, Walmart, and E-commerce space, interview someone you need to hear from, and provide a training tip for the week.

Bradley walks us through the Amazon Video Builder. You can access this feature here and let us know what you think!

Amazon will introduce a holiday peak fulfillment fee from October 15, 2022, to January 14, 2023. The fee will be an average of USD 0.35 per item sold using US and Canada FBA. For specific fees by size and weight and for changes to other fulfillment methods, please visit the links below.
Walmart has reached a deal to offer Paramount Global's streaming service as a perk of its Walmart+ membership program, the companies confirmed on Monday. Starting in September, customers who belong to the retailer's program will get free access to an ad-supported plan on Paramount+.
https://www.cnbc.com/2022/08/15/walmart-strikes-streaming-deal-with-paramount.html

Customers with urgent needs are canceling orders with manufacturers in Yiwu, a production hub for small commodities whose exports topped CNY200 billion (USD29.5 billion) in the first half of the year, following a local resurgence of Covid-19 that prompted the Chinese city to extend its lockdown.
https://www.yicaiglobal.com/news/customers-cancel-orders-from-yiwu-as-world-small-commodities-capital-extends-lockdown

Amazon is the next company in line to try to generate engagement from a TikTok-like social feed. The e-commerce giant joins a laundry list of companies that have had the same idea. According to Watchful, an AI product intelligence platform, Amazon is testing a vertical photo and video feed in its app among staff.
https://techcrunch.com/2022/08/17/amazon-is-internally-testing-a-tiktok-like-feed-in-its-app/
Carrie shares this week's Freedom Ticket clip which features Michael Lebhar of Sellcord on the different strategies you need to learn to rank your products on Walmart.com. Followed by Lem Turner's interview with David Ledbetter of BetterLed Consulting on how his Amazon journey started with the valuable tips and tricks he learned along the way.

Bradley closes out this episode with ten massive bonuses you can get when you sign up for the Sell and Scale Summit in the next 24 hours. So make sure to take advantage of this offer while it lasts!
In this episode of the Weekly Buzz, Bradley talks about:
01:30 – Amazon Video Builder
02:00 – Holiday Fee Increase
03:15 – Walmart x Paramount
04:30 – Yiwu Lockdown
05:50 – Amazon x TikTok?
07:00 – Freedom Ticket Clip: How To Rank Your Products On Walmart.com
11:30 – Interview with David Ledbetter
17:00 – MASSIVE BONUSES If You Sign Up To The Sell And Scale Summit!
22:15 – Get All Those Bonuses, Sign Up Now For S3: S3LAUNCH250
---
Enjoy this episode? Be sure to check out our previous episodes for even more content to propel you to Amazon FBA Seller success! And don't forget to "Like" our Facebook page and subscribe to the podcast on iTunes, Spotify, or wherever you listen to our podcast.
Get snippets from all episodes by following us on Instagram at @SeriousSellersPodcast
Want to absolutely start crushing it on Amazon? Here are few carefully curated resources to get you started:
Everything for your business on Amazon.
Find out more about our products by signing up or speaking with one of our
Customer Success representatives today. With us in your corner, you can enjoy
more sales and increased engagement from your Amazon business.
Chat with a Support Specialist