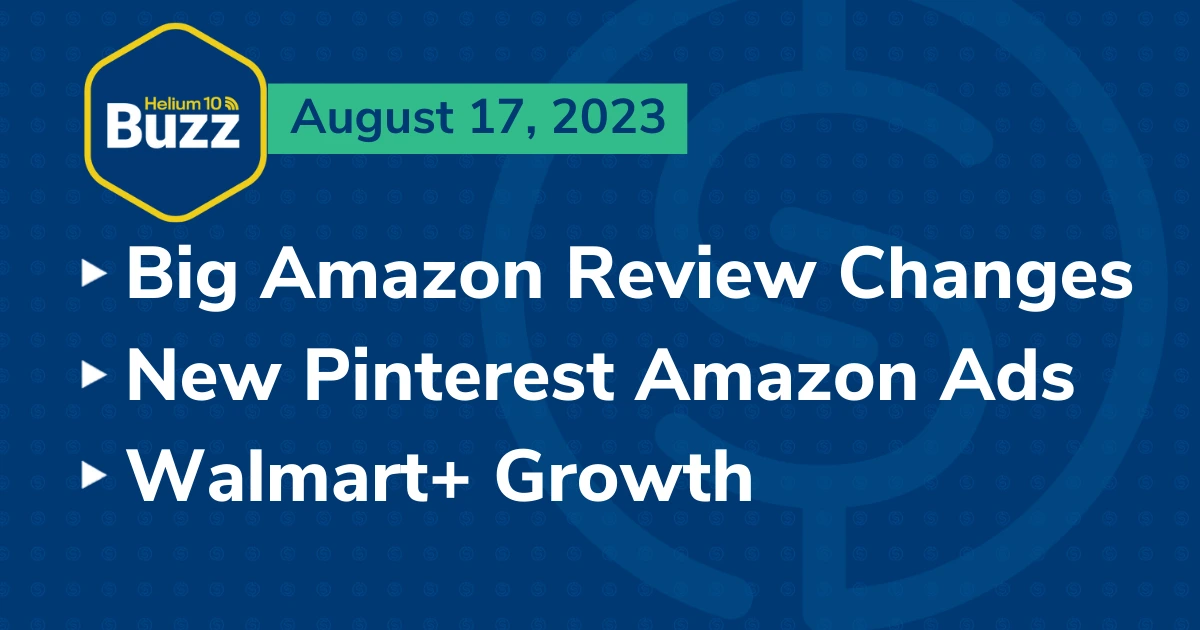 Helium 10 Buzz 8/17/23: Big Amazon Review Changes | New Pinterest Amazon Ads | Walmart+ Growth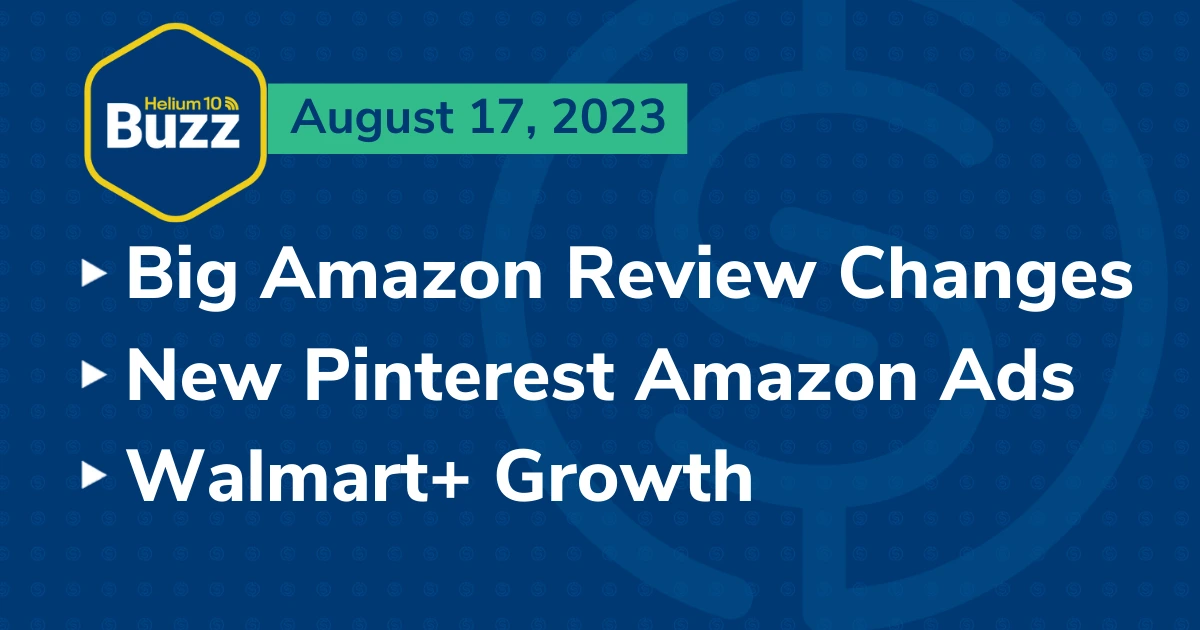 We're back with another episode of the Weekly Buzz with Helium 10's Chief Brand Evangelist, Bradley Sutton. Every week, we cover the latest breaking news in the Amazon, Walmart, and E-commerce space, interview someone you need to hear from and provide a training tip for the week.

Amazon is imposing a new fee for members of its Seller Fulfilled Prime program, where merchants ship their own packages but can include the Prime badge on their listing.
https://www.cnbc.com/2023/08/16/amazon-adds-a-new-fee-for-sellers-who-ship-their-own-packages.html

Amazon sellers welcome its decision to scale back private-label brands
https://www.modernretail.co/technology/amazon-sellers-welcome-its-decision-to-scale-back-private-label-brands/
Walmart+ Ramps Up Pressure on Amazon Prime
https://www.bloomberg.com/news/articles/2023-08-16/walmart-wmt-membership-is-cheaper-than-amazon-prime-growing-fast#xj4y7vzkg

Pinterest, BuzzFeed, and more apps and websites will start to show Amazon Sponsored Product ads, making it easier to discover and buy relevant products
https://www.aboutamazon.com/news/company-news/pinterest-buzzfeed-and-more-apps-will-show-amazon-sponsored-product-ads-to-discover-relevant-products

Amazon.com has launched a non-urgent ground delivery service that appears to be aimed in part at shippers that don't use Amazon for retail ordering or its fulfillment services.
https://www.freightwaves.com/news/amazon-unveils-deferred-ground-delivery-service

Independent sellers have a compelling opportunity to grow their business with Amazon, and Amazon continues to foster that relationship by inventing and innovating on their behalf.
https://www.aboutamazon.com/news/small-business/independent-sellers-keep-choosing-amazon-for-the-value-we-provide

How Amazon continues to improve the customer reviews experience with generative AI
https://www.aboutamazon.com/news/amazon-ai/amazon-improves-customer-reviews-with-generative-ai
Sponsored Brands video creatives will now allow video campaigns that select Brand Store as landing page to highlight a product collection in the ad creative.
https://advertising.amazon.com/en-us/resources/whats-new/sponsored-brands-video-to-stores/

For this week's Pro Training Tip, did you know that Helium 10 has a unique tool that can find long-tail keywords from your core root words? Carrie Miller gives us some tips on how to find them with Magnet's Smart Complete feature.
In this episode of the Helium 10 Weekly Buzz, Bradley covers:
00:50 – Amazon Review Change
03:11 – 2% FBM Fee
04:37 – Amazon Brands Closing
05:36 – Walmart+ Growing Fast
06:55 – Pinterest PPC?
08:40 – Amazon Ground Shipping
09:27 – Crazy Seller Stat
10:36 – Amazon AI Reviews
12:06 – Video To Store PPC
13:17 – Pro Training Tip: How To Use Helium 10 Magnet's Smart Complete Feature
15:49 – Weekly Buzz Shoutouts
---
Enjoy this episode? Be sure to check out our previous episodes for even more content to propel you to Amazon FBA Seller success! And don't forget to "Like" our Facebook page and subscribe to the podcast on iTunes, Spotify, or wherever you listen to our podcast.
Get snippets from all episodes by following us on Instagram at @SeriousSellersPodcast
Want to absolutely start crushing it on Amazon? Here are few carefully curated resources to get you started:
Achieve More Results in Less Time
Accelerate the Growth of Your Business, Brand or Agency
Maximize your results and drive success faster with Helium 10's full suite of Amazon and Walmart solutions.