Helium 10 Buzz 8/10/22: Premium A+ Content | Inventory Management | TikTok Order Center
In this episode, we cover the latest on Amazon and its advertising platform. We also talk about valuable tips on exiting your brand and how to use our Inventory Management tool.
Updated on: August 16, 2022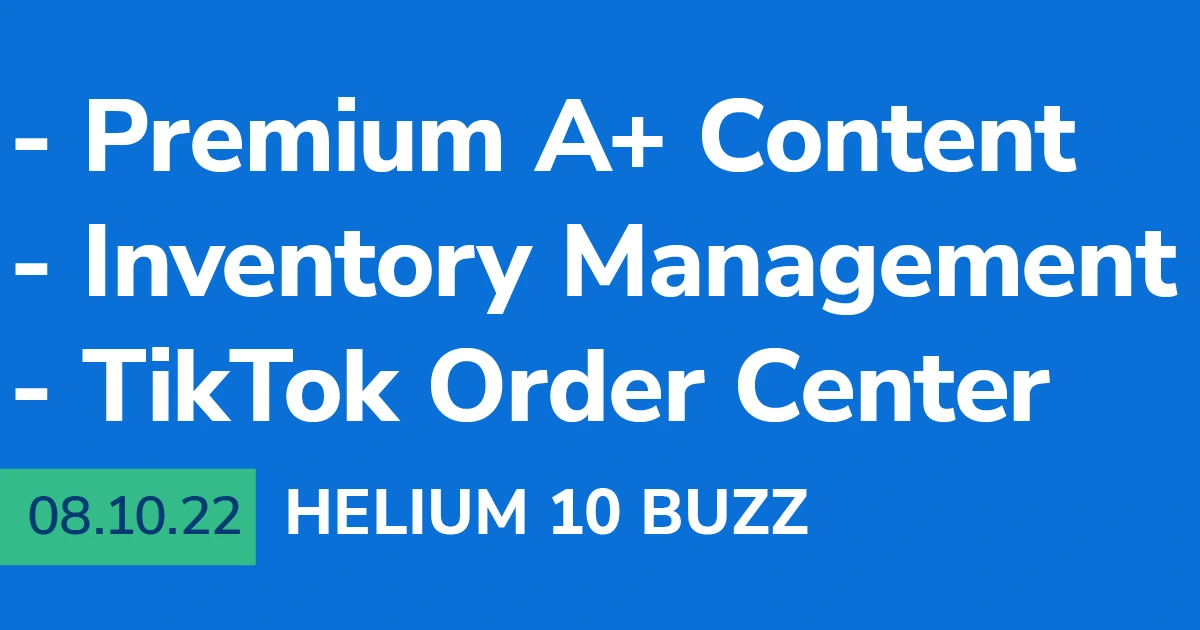 We're back with another episode of the Weekly Buzz with Helium 10's Chief Brand Evangelist, Bradley Sutton. Every week, we cover the latest breaking news in the Amazon, Walmart, and E-commerce space, interview someone you need to hear from, and provide a training tip for the week.

Amazon sued a Rhode Island man and his company for allegedly selling fake, 5-star reviews to bolster seller feedback of third-party retailers who peddle products on Amazon.com.
https://www.axios.com/2022/08/10/amazon-lawsuit-fraud-fake-reviews

Sellers who have registered as a Brand Owner with Amazon Brand Registry are now eligible for Premium A+ content at no cost for an extended promotional period.
https://sellercentral.amazon.com/gp/headlines.html?id=GKYHLBVUF24PEU79&ref=nslp_at_3_GKYHLBVUF24PEU79_en-US_ttl_rf_recent_news_4&

Get ready for TikTok to make a bigger push on in-app shopping, with some users now seeing a new 'Order Center' panel in the app, which tracks any products that you've purchased, looked at, or even potentially may be interested in, in the app.
https://www.socialmediatoday.com/news/tiktok-launches-new-order-center-ecommerce-tracking-hub-with-selected-use/629144/

Amazon Advertising launched view metrics for reach optimized Sponsored Display video ad groups, which provides advertisers with a new set of key metrics for measuring and optimizing video campaign performance. The new metrics are view-through rate (VTR), video first quartile, video midpoint, video third quartile, video complete, video unmute, and click-through rate for views (vCTR). View metrics are available in the advertising console, report center, or through the Amazon Ads API.
https://advertising.amazon.com/en-us/resources/whats-new/sponsored-display-view-metrics-video-creative/

Bradley shares a Freedom Ticket clip with Scott Deetz to discuss why planning your Amazon or E-commerce exit from day one is essential.

Carrie Miller welcomes Mina Elias for an interview to talk about his backstory, how his agency provides value to its clients, and something to look forward to at the Sell and Scale Summit.
Bradley closes the episode with the Pro Training tip of the week on how to get the most out of Helium 10's Inventory Management tool and a sneak peek at this month's Bigger.Better.Launch! Webinar. So make sure you register for the webinar here today!
In this episode of the Weekly Buzz, Bradley talks about:
01:00 – Fake Feedback
03:20 – Premium A+ Content
04:15 – TikTok Order Center
05:40 – Display Metrics
07:13 – Google Ads And Amazon Attribution
09:30 – Freedom Ticket Clip: Planning Your Exit On Day One
12:20 – Carrie Interviews Mina Elias
19:50 – Pro Training Tip: Get The Most Out Of Helium 10's Inventory Management Tool
27:35 – Register For August's Bigger.Better.Launch! Webinar
---
Enjoy this episode? Be sure to check out our previous episodes for even more content to propel you to Amazon FBA Seller success! And don't forget to "Like" our Facebook page and subscribe to the podcast on iTunes, Spotify, or wherever you listen to our podcast.
Get snippets from all episodes by following us on Instagram at @SeriousSellersPodcast
Want to absolutely start crushing it on Amazon? Here are few carefully curated resources to get you started:
Everything for your business on Amazon.
Find out more about our products by signing up or speaking with one of our
Customer Success representatives today. With us in your corner, you can enjoy
more sales and increased engagement from your Amazon business.
Chat with a Support Specialist