Helium 10 Buzz 7/20/22: Fake Review Crackdown, YouTube x Shopify, and Product Inserts
In this jam-packed episode, we cover the latest news on Amazon, Walmart, Etsy, and Shopify. Learn about product inserts, an Elite seller's story, and how to do product research on the go!
Originally published on: July 20, 2022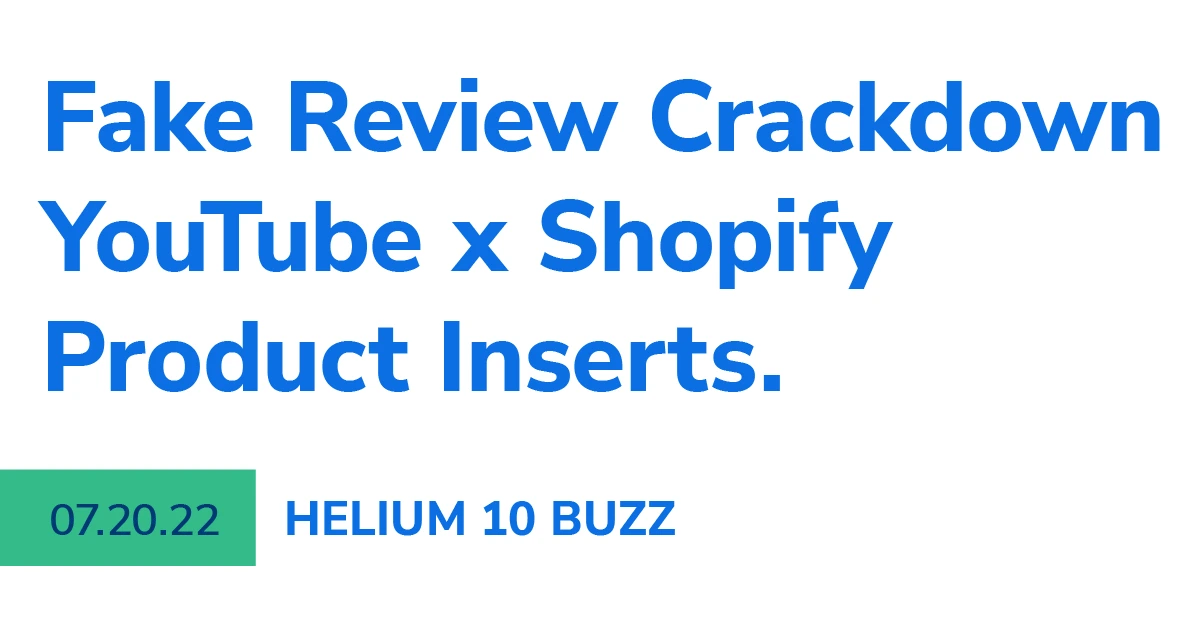 We're back with another episode of the Weekly Buzz with Helium 10's Chief Brand Evangelist, Bradley Sutton. Every week, we cover the latest breaking news in the Amazon, Walmart, and E-commerce space, interview someone you need to hear from, and provide a training tip for the week.
Amazon.com has been reassessing its private-label brand business and has discussed exiting that business completely as sales sag. According to the Wall Street Journal, the company has drastically reduced the number of items it sells under its own brands.
https://www.foxbusiness.com/markets/amazon-slashing-private-label-selection-amid-weak-sales-report

Etsy visitors must first land on a seller's shop or listing before seeing videos the seller has uploaded to the site. Still, Etsy has created a portal called Explore that lets shoppers browse sellers' videos for inspiration.
https://www.ecommercebytes.com/2022/07/17/etsy-jumps-on-viral-video-craze-with-new-explore-feature/

Amazon on Tuesday filed a lawsuit against Facebook group administrators who allegedly brokered fake reviews. It sued more than 10,000 Facebook groups, including one called "Amazon Product Review," which had more than 43,000 members.
https://www.cnbc.com/2022/07/19/amazon-sues-facebook-group-administrators-over-fake-reviews.html

To appeal to a broader customer base, Walmart has expanded the Spanish search capability on its website. The retailer plans to optimize its Spanish experience further sometime this year.
https://www.retaildive.com/news/walmart-expands-spanish-search-website-mobile/627403/

Amazon announced the launch of Video Creative Builder, a free tool that allows you to quickly and easily create eye-catching video ads or enhance existing creative assets. Combined with Amazon DSP's capabilities, Video Creative Builder can help you reach the right customers at the right time, with the right message.
https://advertising.amazon.com/blog/make-video-ads-with-video-creative-builder/

YouTube announced today that it's launching several new shopping features for both viewers and creators. Most notably, YouTube is partnering with Shopify to allow creators and merchants to feature their products on their channels. Eligible creators can now link their Shopify store to their YouTube channel.
https://techcrunch.com/2022/07/19/youtube-new-shopping-features-partnership-shopify/

This week's Freedom Ticket clip shared by Helium 10 Brand Evangelist, Shivali Patel, talks about product inserts. Make sure to watch the whole video inside Freedom Ticket module 4.07.

We also talked to Gonzalo Zamora, a Helium 10 Elite member, interviewed by Carrie Miller, Helium 10 Brand Evangelist. To talk about his story and journey and share his advice for new and existing sellers. He also shares a unique story on how a motor vehicle accident led to him discovering one of his most successful products on Amazon.
Brand Evangelist, Lem Turner, closes out the episode to show you how to do product research on the go with Helium 10's Mobile App.

Lastly, don't forget to join us for tomorrow's Bigger.Better.Launch Webinar: https://www.helium10.com/launch
In this episode of the Helium 10 Weekly Buzz, Bradley talks about:
01:30 – Private Label Cut?
03:20 – Etsy Explore
04:50 – Fake Review Crackdown
07:15 – Walmart Spanish
09:20 – Amazon Video Creator
10:20 – YoutTube x Shopify
12:00 – Freedom Ticket Clip Of The Week: Product Inserts
16:30 – Elite Member Shares His Story, Journey, And Advice
20:40 – Pro Training Tip: How To Do Product Research On-The-Go
26:40 – Make Sure To Join Us For Tomorrow's Bigger.Better.Launch Webinar
Transcript
Bradley Sutton:
Hello everybody, and welcome to another episode of the Helium 10 Weekly Buzz. My name is Bradley Sutton, and this is the show where we get you familiar with the latest news in the e-commerce space. We interview people in the industry you need to hear from, and we provide Training Tips of the Week that will give you serious strategies for serious sellers at any level in the e-commerce world. So let's go ahead and see what's buzzing this week. We've got jam packed episode for you guys. First of all, there's tons of news articles that happened in the last few days in the Amazon and Walmart, and even Shopify world that are kind of buzzworthy. So we're gonna be going over that, including information on how Amazon's been cracking down on review groups and also another story about YouTube and Shopify getting together. So definitely look out for the news a lot of interesting things that are coming today.
Bradley Sutton:
In addition to that, we are going to have a Freedom Ticket snippet, some training tips about how to do Product Inserts on Amazon. And we're gonna have an interview with an Average Joe Helium 10 Elite seller that I hope you guys can relate to. And then we've also have a training tip of the week about how to do Product Research when you are on the go, like maybe you're not in front of your computer, you're out in the store, you look at something interesting or you find something interesting. How can you do Product Research when you don't have your computer with you? So these are the things we are gonna go over. Let's go ahead and hop straight into the news. All right. The first article that we have was by Fox business and it's entitled, "Amazon slashing private-label selection amid weak sales", and this to me seems like it's speculation.
Bradley Sutton:
Like I don't see information that comes from Amazon here, but I'm just reporting what they're reporting. And it says that the company had drastically reduced the number of items that sells under its own brand. So this is like the Amazon only brands, the shipped and sold by Amazon and the ones that they own now as of 2020, it said that Amazon's private label business had offered 45 brands accounting for 240,000 products. And so this is gonna be interesting to watch. I believe these reporters reached out to Amazon and there was no comment, but this article is saying that the private label team there at Amazon reportedly was told to cut the list of items that they purchase for their own brands and not to reorder them. So this would be interesting to look, what do you guys think?
Bradley Sutton:
You know, me personally, coffin shelf niche, and some of the Project 5k niches, you know, like I'm not competing with Amazon. So this to me is not gonna affect me positive or negative if this was true anyway, but I know a lot of people out there are like, man, we don't think it's fair, sometimes Amazon's competing with us, and how can we be sure that they're not pushing their products up on the search results and actually sometimes like, you know, there have been different widgets where it says, Hey, this is from our brands and people like thought that was unfair to show in the search results. But if that goes away would that make you happy? Or like you, or like me, maybe it doesn't affect you. The next article is actually from EcommerceBytes and it's entitled "Etsy Jumps on Viral Video Craze with New Explore Feature."
Bradley Sutton:
So now Etsy visitors, you know, once they go to a listing page or a storefront, they're gonna have the ability to see like all the videos from the seller. All right. And so now these will be like even TikTok style videos. They can be from even two seconds up to a couple of minutes long. And there's a help page on Etsy, which, which kind of explains this and it says with Explorer, which is what they're calling this new feature. You can create an upload video post through the Etsy seller app that will be featured on the Etsy shopping app. And they can include sound and they can be anywhere from two to three minutes long. And this gives you space to connect with shoppers and tell a story of your product. So this is pretty interesting.
Bradley Sutton:
It's a pretty easy way to get some video content up there. Remember they actually, don't like a lot of professionally curated or professionally edited videos on Etsy. They like it to be very home feel. So imagine if they ever have this on Amazon where you could just like, take your camera phone out. And then you had the Amazon seller app record yourself doing like a TikTok style video, or just a quick video and instantly have that on your storefront or on your Amazon page. But Hey, it's not up to Amazon yet, but those of you who are selling on Etsy, make sure to take advantage of this, to connect a little bit more with your customers. The next article is from CNBC and it's entitled "Amazon sues thousands of Facebook group administrators over fake reviews." Now, this was something that I think a lot of us, including myself, maybe thought that this is not really a thing anymore.
Bradley Sutton:
Like people or Amazon sellers are not dumb enough still in 2022 to use fake review groups. Right? Right? Right? No, I mean, this I guess is a lot more prevalent than I thought this article brings out that Amazon has sued get these 10,000 Facebook groups, including one called Amazon Product Review, which had more than 43,000 members. There's 10,000 of these idiots out there who thought that they can get away with using review groups. So first of all, the moral of the story is guys don't be using these groups. I don't know if it was Brandon Young or somebody in one of these chat groups I was in the other day, said that some of these groups, they think they're really smart. And then when they, when they post these deals and stuff, they, instead of saying review, they would like take out the R and like change it to the registered R trademark (®) symbol or just like different though put asterisks in the word so that they thought that they were evading detection or something.
Bradley Sutton:
But no guys come on, this is an unethical thing to do, to go to review groups and try and get faker reviews. But the moral story here is if you're an Amazon seller, you're trying to get reviews, don't be doing it in a shady way. Notice today, I'm not wearing a black hat. Those of you watching this on YouTube, I'm wearing a gray hat. Even if it's Gray-hat tactics, guys don't do it. You should be wearing a white hat, only doing white hat strategies. Remember guys if you're using Helium 10 Follow-Up, to ask for reviews or another software that you guys are using, where it's triggering the Amazon Request Review, this is a hundred percent Amazon Terms of Service compliant. All right. Amazon's never gonna crack down on this or say that this is against rule or sue you like they're suing all these Facebook groups out there.
Bradley Sutton:
So make sure that you guys are using Follow-Up. Those of you who are Helium 10 members to ask for the reviews. And you don't have to worry about Amazon cracking down on you. Like they just did to all these Facebook groups. And if you legitimately did not know that using groups like this was against the rules and you have been doing it well now, you know, guys get out of those groups, like delete it, exit those, block that group from seeing you, unfriend, anybody who's related to those groups, don't be in those kind of Facebook groups guys. All right, next article Walmart. This was a press release from them. But then I saw this article from this news website called Retail Dive, and it says "Walmart expands Spanish search on the website." And so they're working towards like this predictive search and personalization, especially for those who are searching in Spanish on Walmart.
Bradley Sutton:
Now we know on Amazon, there's different ways that you can like translate the website, right? And then you'll be able to just search and, and view Amazon in all of Spanish. Right. And so that's why it's important that you sometimes you put Spanish keywords in the back end of your listening, just to make sure your index, if you don't think that it's going to be translated exactly into the words, the main keywords that Helium 10 is telling you that people are searching, but now be more mindful guys of the keywords that you see in, or that you're using on Walmart. Like I personally don't have too much experience editing Walmart listening. So I'm not sure if there's like a back end of Walmart. I don't think there is where you can put the Spanish keywords. You're kind of reliance on this new system that Amazon has.
Bradley Sutton:
Walmart announced that they added a Spanish term now for more than 600,000 of its most frequently purchased items. So like, what happens is, is like, let's say you're the article says you're typing in leche or milk. Right? Well, now buyers are gonna get this option of, do they want to like browse in Spanish or not? Or they want to continue in English. And then if they say the Spanish, like the leche it'll show all the results where it's translated milk to leche. But if they say, no, this is not something I want translated, then what's gonna show in the, in the search results is words that are not translated, but like still our index, like for example, Dulce de leche is kind of a common, that's a Spanish word, but it's like on the English side, it's not like you have to translate that, like Dulce de leche will come up in a lot of English listening.
Bradley Sutton:
So it's very interesting this article, as with always our on the bottom of our YouTube and in our helium10.com/podcast, we include links to these articles. So make sure to check this out. Very interesting information here. All right. The next article is Amazon has released in their Sponsored Section, a new Video Builder for Sponsored Brand Video Placements. All right. So before this was available, like in the DSP side, but now Amazon says that you can now easily build videos for Sponsor Brand Video Placements, through a selection of ready to use customizable templates using this new Video Builder. You can build videos by putting product images and copy from your detail pages or by uploading lifestyles on other images from creative assets. And then Video Builder will provide a range of themes to customize the look and feel of your video and edit the color font and music options.
Bradley Sutton:
Now, as for me, I have not been able to find where this is in Seller Central or in the advertising yet I had sent out a message to one of my contacts there and Amazon I'm sure I'll have that in the next few days. But if you guys found that where this new video editor is inside of Amazon advertising, let me know. I'd be curious to try and find it. People are wondering where this is, or maybe it's only for a selected few number of people. So let me know if you guys find that. The last article of the day this is from TechCrunch, and it's entitled "YouTube rolls out new shopping features, announces partnership with Shopify." Now this is kind of interesting, YouTube announced that they're launching several new shopping features for both viewers and creators.
Bradley Sutton:
Most notably YouTube is partnering with Shopify to allow creators and merchants to feature their products on their channels. So eligible YouTube creators can now link their Shopify store to their YouTube channel. So that means that you could be watching on YouTube and then there will be Shopify products that will show up there that you can now purchase, right from there without having to go off of the website. So this is interesting, you know, like down the road I'm just thinking out loud here, you know, we have that Buy with Prime that came out recently for, you know, where Amazon, you can have your own website, and then you could actually like, kind of check out with Amazon, right? And it's just tied to your Amazon FBA inventory and tied to your listing to that exact product.
Bradley Sutton:
So, if this was ever widely integrated, I could imagine a day where like you could be watching a YouTube video, maybe you don't even have your own warehouse or anything like that, but you have a Shopify website that's tied to Buy with Prime if that's possible. And then from a YouTube video, technically that means you're gonna be able to sell your Amazon listings potentially, but that's down the road. I don't think that's the case right now, but this was just announced yesterday. Very interesting things happening on the Shopify and YouTube space. All right, that's it for the news this week, all, so this next mini segment here is a really quick clip from one of our Freedom ticket episodes. And I believe this one is about how to use Product Inserts. So I'm gonna let Shivali go ahead and introduce that.
Shivali:
Hello, everyone let's talk product inserts in the coming excerpt. You're about to see from Freedom Ticket, Kevin King dives, into some examples to help you better understand what you can and cannot do.
Kevin King:
You can actually drive people to get on your own list or sign up for a warranty. There's nothing wrong with that. But what you can't do is try to use your product inserts on Amazon to influence reviews. So you can't actually do stuff like say, go to my website and I'll give you a $20 gift card. If you leave us a five star review, those kinds of things are completely prohibited, or you can't do something like say, if you love our product, please go to Amazon and review it. If you don't like our product, please email us at this address so we can take care of it. That's influence and reviews. That's basically saying, if you're happy, go leave us a review. If you're not happy, don't leave us a review, contact us instead. There's different ways awarding that in a softer way that are fine, but those specific ways are actually not allowed and you can get you in trouble on Amazon.
Kevin King:
So what I wanna do now is I'm gonna show you some real live product inserts to give you an idea of how what people are doing using QR codes, what they're doing when the offers are giving. And when I talk about some of the things that are okay, and some of the things that are not okay, and Helium 10 also has within the portals tool. They have two of the guest speakers here in the Freedom Ticket, Norm Farrar and Paul Barron actually have graciously donated some of their best product inserts that they use for some of their actual products. And they create templates of them. So you can actually go into the Portals tool on Helium 10, you can see these templates and you can use their templates if you want, and just modify them for your own needs, for your own product, or you can create something completely from scratch.
Kevin King:
But right now, what I wanna do is I wanna show you a few examples and show you some of the dos and don'ts and give you some ideas on where you may be able to go on product inserts. So let's take a look. So I've got a stack of product inserts here that are real product inserts that real Amazon sellers have been using. I'm just gonna go through some of these and give you some dos and don'ts and show you some ideas of what people are using this. One's from a company called Jackery, which is actually a pretty big company that sells battery packs and all kinds of stuff. But this is the package insert that they include. So you can see it's like a card. This is big, you know, versus some people put like a little business card, those can easily get missed.
Kevin King:
So this is big, it's colorful. So that's a good thing. But one thing they've done, that's actually against the terms to service is on the back here. They said that if you've received your order and you're satisfied if the answer is, yes, go leave us a review on Amazon. If the answer is no, you're not satisfied, please contact us. This is not allowed by Amazon's terms of service. So this product card, even though it's nicely done great pictures, it's actually violating the terms of service of Amazon. And this company could get in trouble. Another one is these guys here are actually, what they've done is rather than actually putting the insert card in the package. They're actually mailing it out after the fact that I've ordered it. This came in the physical postal mail, and some people do this. If they're able to grab the address, either from an FBM order, or sometimes they use some special software that can reverse match certain things, but what they're doing, this is an ultrasonic pest repeller.
Kevin King:
And they're saying claim a free gift and say, and scan this QR code, or go to this web address and enter these codes here. And what they're offering is a $20 gift card from Amazon. Now I bet if you go to that website, there's probably more to it. They're actually probably asking you to leave a review. I haven't actually gone to this website to see, but this $20 free gift card, if it's just a straight up $20 free gift card for giving your name and address, there's nothing wrong with that. But if it's incentivizing a review in some way you can't do that
Shivali:
Now again, that was just a short clip. So if you are interested in hearing more about how to pre-qualify your consumers using your Product Inserts or whether or not you can ask them to redeem something for a free gift or Amazon gift card, then be sure to watch the full thing in Module 4.07, check it out and let us know.
Bradley Sutton:
All right. Thank you very much Sali for that. Now this next clip is going to be an interview that Carrie did with one of our Helium 10 Elite members. You know, he's not an influencer. He doesn't have an agenda here. He's somebody who could be, you know, just any one of you out there. Let's learn a little bit about Gonzalo's story with Carrie now.
Carrie:
Hello, everyone and welcome to the Weekly Buzz. Today we're doing an interview with Gonzalo. Gonzalo's actually one of our Elite members. So welcome to the show, Gonzalo. Thanks for joining us.
Gonzalo:
Yeah. Thank you for having me here. It's gonna be fun.
Carrie:
Yeah. All right. So I'll just go ahead and get into it. And just wanted to ask you how you got started selling on Amazon and kind of what your journey was to get going as an Amazon seller?
Gonzalo:
Actually, I have a bike store, a motorcycle store, and I designed this product that is a backpack that it's quite reflective. So when I got the idea, a good friend of mine told me about where I gonna sell it. And I say, here in my store, I say, you're crazy. Why are you gonna sell it in your store if you can sell it in Amazon? How is that? So I start selling my product on Amazon and has been a very nice journey.
Carrie:
Cool. So did you just launched it directly on Amazon, or did you do a kickstart or anything like that, or you just went straight to Amazon?
Gonzalo:
Straight to Amazon.
Carrie:
Straight to Amazon. Did you have–
Gonzalo:
I know that I was quite lucky because I hit on the first product and that is not common. But it was not easy, there's a lot of things that I learned on the way a lot of mistakes that we make that you and I should learn and avoid before. It was a nice journey.
Carrie:
Very good. Something else I was gonna ask you is, did you have a following though, because you had a motorcycle store or did you had YouTube and all that. Did you have a following that you kind of already launched with?
Gonzalo:
It was nothing about that. It was because I got an accident on my bike. I was driving home a huge car didn't see me. Oh, wow. I wear, I was wearing my jacket. That was a safety jello with lot of reflectant. My helmet was black with safety jello. And, and I say, why he didn't see me, why? And then I realized that it was my fault because on that safety, jello jacket would reflecting material. I wear a black backpack.
Carrie:
Oh, wow.
Gonzalo:
So all the color, all the reflective was down the backpack. So it makes all the sense for me that I need a reflective backpack. Yeah. And it start searching on the market. Doesn't exist. In my country, in USA, in China, everywhere.
Carrie:
That's really cool. That's a really good story. I mean, that's how some of the best products are created is by there's some sort of problem that you can fix. The last question I have for you is what advice do you have for other sellers? Like you know, who might be just starting out or who are kind of mid-size sellers, any advice that you have for other Amazon sellers?
Gonzalo:
Yeah. I think I have two it's up to you and go for it.
Carrie:
There you go. Definitely just gotta get started. Right?
Gonzalo:
Exactly. The big message here is you are gonna die something about it. Enjoy your life. So what's going on.
Carrie:
That's pretty.
Gonzalo:
Move forward. What do you want go for it and doesn't it doesn't have to stay on the idea. Go for it.
Carrie:
Well, thanks so much for sharing with us today and for being the guest for our interview, and we will see you later.
Bradley Sutton:
All right. Thank you, Carrie, for that interview. Now you guys easily know how to do your Product Research and other research when you're at your computer. Right. You know, Helium 10 has so many tools, but what if you're like in the store and you see something interesting, or what if you're on the road, you don't have your computer with you. How can you do Product Research on the go? Lem has a tip for you guys.
Lem:
In this video, we're gonna be going over how you can do Product Research on the go using Helium 10's Mobile App. So let's go ahead and get started. Now there's plenty of use cases for Product Research when you're using it on the go. But of course, one of the main obvious ones is for retail arbitrage. If you're reselling stuff online or flipping it on Amazon, you can definitely use private research. Of course, you can do it for private label or even wholesale, but there's an easy use case for this of retail arbitrage in terms of if you're in a store or in a shop. And you're seeing stuff that, you know, you're curious of what you could sell for on Amazon. And you're thinking like how maybe I could resell this for a couple bucks. How do I go about doing that?
Lem:
Well, let's go ahead and do that. So we have our, let's see a scan, random product. I have my gum. You can see, I kind of scanned it already, but let's just go ahead, run through the process. I would just click on that camera button in the upper, right? So I'm just gonna click on the camera button. I'm gonna scan this, scans it right away. It's gonna pull up that information. I didn't click on the button or anything. It pulled up that information. You saw me do it on the camera, pulled up this information right here. I get the revenue has per month. The number of units are sold, the BSR which is 655 right now. I can see the category. I see the sales right now this is what I really like, I can see the sales from the past month.
Lem:
And I also see the current trend here. I can see the top ranking keywords for this, that maybe I'm seeing a product. And I'm thinking, okay, maybe this is, I'm just curious to see what kind of keywords is ranking for. I can see what's ranking for all these keywords. I wanna look at more, I can click on show all, and I can see all these keywords that it's ranking really well for. So I love that. Let's say I sell a gum brand and I wanna see, oh, this is a gum brand. I'm not seeing this in stores. I wanna see what they rank for. Oh, they're doing pretty well on Amazon. Let's see what keywords are doing. All right. I see the keywords. I'm finding these keywords. Let's see. But again, keep in mind. We're on the go, right? We're not on our desktop.
Lem:
We don't have our laptops, hand deep we're doing this all from our phones. So I want to make sure I wanna look into these keywords for later and do some more research unless I do get back to my desk or whatever my work situation is. So that way I can give it it's due diligence. So what I can do is I can click on this little pin to the right here. So I did it for Xylitol gum. I can do it for Neptune gum. I can do it for icebreakers ice cubes gum. I can click on these and it's gonna add it to my keywords list. That way I can go back to it once I'm back to my desktop and look into it more later. All right, great. So we got that going. Now, how do I do it for Product Research on a go, like from a private label perspective?
Lem:
How do I do that? Well, we do note now that Amazon does provide traffic between mobile devices versus desktop devices or laptop devices that a lot of traffic actually comes from mobile, right? But who's to say, you can't do Product Research via Amazon on your phone. I'm gonna show you exactly how you can do that and connect it to a Helium 10. So you don't only, you don't only have to do it through your desktop, but you can do it through your mobile device as well. So we're gonna go ahead and pull up Amazon right here. All right. I got Amazon. Let's just search for our coffin shelf. Right? We sell the Manny's Mysterious Oddities coffin shelf that everyone knows and loves, let's say I'm just scrolling through here. Right? I'm looking through here and I'm noticing a new competitor I've not seen before.
Lem:
And because it's on top of mind, I wanna make sure I do Product Research for it. So let's see this Nanayo makeup coffin shelf. This is a competitor for Manny's Mysterious Oddities. I wanna look into this, right. But how do I connect this product from here from the mobile app to the Helium 10 app? What you're gonna do is click on the little button and upper right here that has like the little square and arrow. I'm gonna click that. And then I'm gonna click on the Helium 10 app right here. If you don't have the Helium 10 app right here, then what you can do is you can scroll all the way to the right. You can click on more and it's gonna allow you to add it to your favorites. So that way you can add it in here in this search bar here, but I'm gonna click on the Helium 10 App right here.
Lem:
Once I click on this app, it's gonna say checking link, it's gonna go ahead and process and get that sent to the app. All right, great. We got it pulled up. It says checking device. And I have it pulled up right here, took it from the Amazon app all the way to the Helium 10 App. And I can see the metrics here. I can see the revenues during per month. I can see all sorts of different items as you saw before when we scanned it. So not only do you not have to scan the product, but you can do it also from the Amazon app itself, which is a game changer, in my opinion, because the best ideas or the latest intuitions that you have for Product Research or for private label, doesn't always happen at the convenience of when you're at your desk.
Lem:
It happens maybe when you're on the bus, right? It happens maybe when you are on a long road trip, it happens when you are at the library, wherever you're at, whatever you're doing, you never know when an idea's gonna strike and you need to be able to execute on it. And so this is a great way to make sure that you capitalize on any ideas or thoughts that you may have, and that you can do private research on the gonna go, I can do search all. I can look at these keywords. Oh my gosh. Like I'm seeing new keywords, maybe like horror movie decor. Maybe that was a keyword that I didn't think of before. Again, I could pin that if I want and make sure that it saves my keyword list. So I love, love, love this feature about Product Research, and I think it's a huge game changer.
Bradley Sutton:
All right, guys, hope you enjoyed the Buzz this week. I wanted to give you guys a heads up tomorrow if you're watching this, or if you're listening to this, when we release it here on Wednesday, the 20th tomorrow the 21st, make sure to join our BBL Bigger, Better Launch. We do this every month where we launch all kinds of new tools and features and education for all of the Helium 10 members out there. This is completely free to watch make sure to check it out at helium10.com/launch and you'll register for that. It's gonna be Thursday at 11:00 AM. Pacific time. This time it's gonna be Lem and myself who are gonna be talking about all the new things we have launched. And there's gonna be a special appearance with a special announcement too, from Shivali from the team as well. So I'll see you guys tomorrow.
---
Enjoy this episode? Be sure to check out our previous episodes for even more content to propel you to Amazon FBA Seller success! And don't forget to "Like" our Facebook page and subscribe to the podcast on iTunes, Spotify, or wherever you listen to our podcast.
Get snippets from all episodes by following Bradley on Instagram at @H10bradley
Want to absolutely start crushing it on Amazon? Here are few carefully curated resources to get you started:
Everything for your business on Amazon.
Find out more about our products by signing up or speaking with one of our
Customer Success representatives today. With us in your corner, you can enjoy
more sales and increased engagement from your Amazon business.
Chat with a Support Specialist