Helium 10 Buzz 7/13/22: Prime Day Results. Sponsored Display Update. Amazon Posts. Variation Sales Strategy
In this episode, we cover the latest news on Amazon, Etsy, and Walmart. Talk about retail arbitrage, Amazon posts, how to find the best-selling variation, and a business assistance fund program for Amazon sellers.
Originally published on: July 13, 2022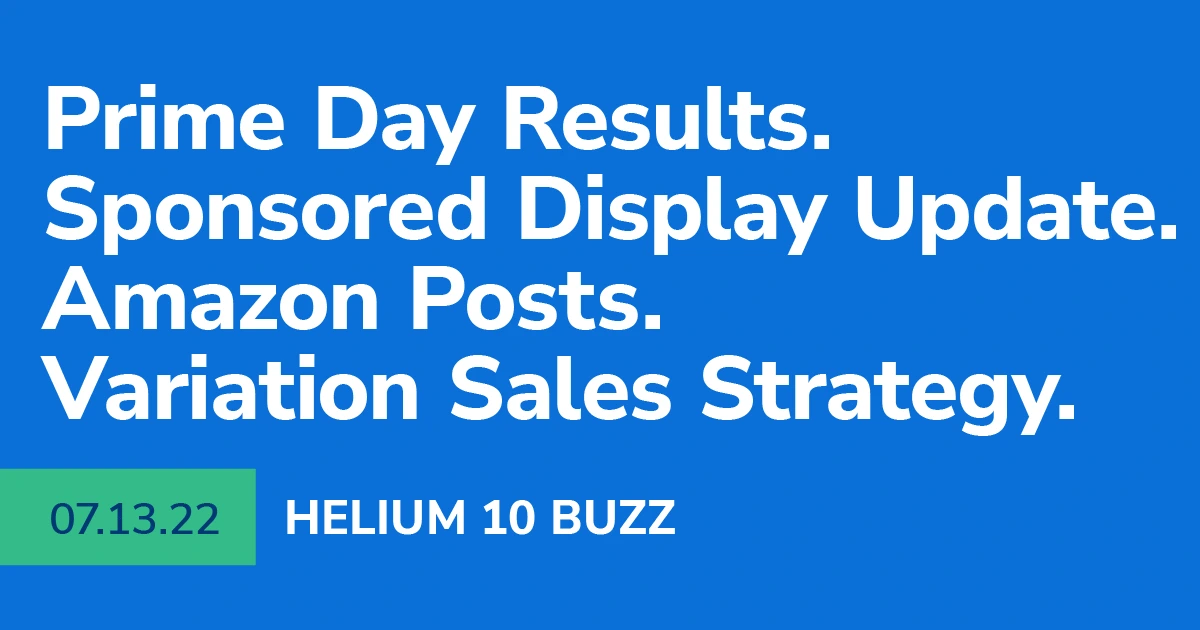 We're back with another episode of the Weekly Buzz with Helium 10's Chief Brand Evangelist, Bradley Sutton. Every week, we cover the latest breaking news in the Amazon, Walmart, and E-commerce space, interview someone you need to hear from, and provide a training tip for the week.

Let's talk about Prime Day. Bradley shares all of the things he did for the Project X and Project 5K products. Let us know what you did for Prime Day on YouTube or in the Helium 10 Facebook group.

Etsy launched a new seller app with features to make it easy to manage inventory, orders, and customer messaging on mobile devices.
https://www.ecommercebytes.com/2022/07/12/etsy-rolls-out-new-selling-app-with-photo-and-shipping-features/

Walmart to purchase 4,500 Canoo Electric delivery vehicles to be used for last mile deliveries in support of its growing eCommerce business. The retailer will be the first to receive Canoo's Lifestyle Delivery Vehicle which is anticipated to begin hitting the road for Walmart deliveries in 2023.
https://corporate.walmart.com/newsroom/2022/07/12/walmart-to-purchase-4-500-canoo-electric-delivery-vehicles-to-be-used-for-last-mile-deliveries-in-support-of-its-growing-ecommerce-business

Advertisers can now combine a lifestyle image, headline, and logo when customizing their Sponsored Display creatives. With this launch, advertisers using Sponsored Display can now customize their creatives by adding a headline, logo, and lifestyle image together, or individually. Advertisers can choose to add any combination of assets while creating or editing their creatives. Ads will now display a headline, logo, and lifestyle image to help shoppers discover your brand and product.
https://advertising.amazon.com/en-us/resources/whats-new/sponsored-display-multi-asset-ad-creatives/?ref_=a20m_us_wn_gw

Bradley closes out the episode with the Pro Training tip on how to find the best-selling variation or child item in your own products and in your competitor's products.

Announcing the Helium 10 Business Assistance Fund Program: $1 Million In Relief For Sellers
If you are an e-commerce seller who has been negatively affected by the recent economic outlook, the Business Assistance Fund is here to help.
https://www.helium10.com/uncategorized/business-assistance-fund/
In this episode of the Helium 10 Weekly Buzz, Bradley talks about:
01:10 – Let's Talk About Prime Day
02:15 – Etsy Seller App
03:00 – Walmart EV Purchase
05:00 – Sponsored Display Update
06:20 – Freedom Ticket Clip: Amazon Posts
11:40 – Retail Arbitrage Tips From Lem Turner
17:30 – Pro Training Tip: Which Variation Is Making More Sales?
20:55 – $1 Million Business Assistance Fund Program
Transcript
Bradley Sutton:
Hello everybody, and welcome to another episode of the Helium 10 Weekly Buzz. My name is Bradley Sutton, and this is the show where we get you familiar with the latest news in the Amazon and Walmart space. We interview people in the industry you need to hear from, and also provide training tips of the week that will give you serious strategies for serious sellers of any level in the eCommerce world. Let's go ahead and see what's buzzing this week, we got a jampacked show. First of all, as usual, I'm gonna give you guys the news that's buzzing in the industry right now. We're gonna have also a training tip of the week about Amazon Post. Alright, you guys using Amazon Post out there. We're gonna have an interview with one of our own evangelists to talk a little bit about how much money, how he made six figures on retail arbitrage.
Bradley Sutton:
Maybe that's a way that some of you guys can get into private label make sure to stay to the end because we're also gonna have another training tip on how you can know which variation in a variation listing or which child item is making the most sales. And I have a cool announcement from Helium 10 about a $1 million business assistance fund that we have created. Let's go ahead and hop first of all, right into the news. All right. The first topic of the day I wanna talk about is just Prime Day. All right. We know we are right now in the middle of the second day of Prime Day, today's Wednesday. And I just wanna know how are your guys sales? You know, maybe you're watching this tomorrow, Thursday or Friday. How was your Prime Day compared to the previous week of sales, were you pretty much the same?
Bradley Sutton:
Were you double, were you four X and what did you do special in Prime Day? Let me tell you about Project X and Project 5k. We pretty much were double what we were, what the previous week average was. So like on Project X, our average was about $300. We hit about $800 on that first day of Prime Day. In Project 5k, our average was about $800. We hit almost $2,000. So we're a little bit over double each day of Prime Day so far. And one of the strategies, we didn't do any Prime Day deals, but I did it where I lowered the price on some, I gave a coupon just so we can get those little banners on the search results and I saw a nice a nice bump on that. So I wanna hear from you guys, what did you guys do for Prime Day special or different out of the ordinary, and what were your results like?
Bradley Sutton:
Make sure to let us know. The second article here was actually from e-commerce bites and it was entitled. Etsy rolls out a new selling app with a photo and shipping feature. So I know some of you guys are Etsy sellers out there. We just had a recent podcast with Shan Shan who had a great strategy on how she actually tests her products first on Etsy, before they even go to Amazon. So make sure to go ahead and check that episode out. So anyways, Etsy actually has a new seller app. So if you Etsy sellers make sure to download that new app, it allows you to easily check order statistics. You can actually upload images now directly and list videos directly from this mobile app, and you can even purchase and print shipping labels from this mobile app. So it's pretty cool. Make sure to download that new Etsy app, if you are an Etsy seller. The next article is from Walmart directly and they made a press release where, where they are purchasing 4,500 Canoo electric, Canoos but that's the name of the company, Canoo electric delivery vehicles to be used for last mile deliveries.
Bradley Sutton:
And I wish I could show you guys a picture of this on the podcast, but these like little egg-shaped vans are gonna be all over the country soon. And you might be wondering, well, how is this relevant to me? I'm not necessarily somebody who's an activist for, you know environmental issues. So like, I don't understand how this helps me, but this is interesting to see what Walmart is kind of investing in their delivery options. We all know Walmart has certain deliveries that they do for their own groceries and things like that. And sometimes they outsource that to DoorDash and GrubHub drivers and things like that. And that's not the best kind of like, you know, experience for your orders, especially if you're using WFS, it's possible that you've sometimes had just some random person in their home car, delivering a Walmart grocery bag your product.
Bradley Sutton:
And, and that is not something that really instills a lot of confidence in the buyer, right? So it's kind of cool that they're investing to this last mile delivery. And an interesting thing from this article, it said here that in addition to dedicated fulfillment centers, you know, this is for like the fulfillment for their online orders, and for WFS it says Walmart uses 3,800 of its stores, which are located within 10 miles of 90% of the US population to fulfill orders. All right. So those are some staggering numbers right there. They've, they've got a lot of stores, very close to buyers. So, guys, I've told you before, if you haven't started selling on walmart.com, it's not gonna make you a millionaire right now, get in when it's early, and get ranked for your main keywords before a huge rush comes in and become your category might become saturated.
Bradley Sutton:
Walmart is putting a lot of money into their deliveries. Last article of the day is actually, that was from Walmart directly. This one's actually from Amazon directly from Amazon advertising. And they actually announced last week that advertisers can now combine a lifestyle image, a headline, and a logo when customizing their sponsor display creatives. This was not always the case. So this kind of like slid under the radar, but some of you guys I saw on LinkedIn had, had known about it, but this just launched last week. And you could add to your creatives now, more things for your sponsor display. This is not like the DSP that you need tens of thousand dollars. This is just the sponsor display that any Amazon seller has access to. So go into your creative section or when you're creating the sponsor display ads, or go back to your sponsor, display ads and edit them, edit those campaigns.
Bradley Sutton:
You should be able to see these new there's like these little toggles where it says you can change the logo headline or image, and then it's gonna make your sponsor display ads pop a little bit more on the stream. Alright, let me know if you guys are gonna use that, that's it for the news today. Let's go ahead and get into our first aspect here of the Freedom Ticket tip of the week. Remember, Freedom Ticket is available to all Helium 10 starter and above members. And it's a long course of the A to Z on Amazon. And one thing that, you know, has nothing to do with Helium 10, we don't have anything that really helps you with that, but it's important as an Amazon seller is Amazon post. And so let's see what clip Carrie picked from Freedom Ticket in order to help you with the Amazon post,
Carrie:
If you haven't started using Amazon Posts, it's probably time to start learning about them because it seems like they're gaining a lot of traction. It actually is basically free advertising and a great way to expose your products and your brand as a whole on Amazon, in our Freedom Ticket, we actually go into detail with Lisett Lees on how to start using Amazon Post, how to set them up, all the details about them and why they're gonna be beneficial for you. So I wanted to show you this amazing clip that gives you an overview of what they are, how to get started, and just where some placements are. So go ahead and take a look at this clip to get started with Amazon Posts.
Lisett:
So let's first get to know what Amazon Posts are. So the first question, what is it? It's basically an image-based browsing feed, and it's very similar to Instagram. And I believe that really helps to understand the post better. And Amazon rolled out this tool in the end of 2019, and in the beginning of 2020. So we can say it's a fairly new tool. One important difference compared with the traditional social media platforms is that people are using Amazon to purchase things. So when they see a post we can assume they already have a strong buying intent. And this generally helps us to bring more traffic to our product detail pages and lead to sales. Even if we see that the overall impression number is smaller than we have seen in other social media channels. Secondly, it's a visual storytelling tool. As Amazon wants you to share lifestyle images and photos, where you show the product in use. And as you don't have to only post images that are taken by professional photographers, it gives you the chance to show your product in a more low-key way compared with your product listing page.
Lisett:
And this usually makes shopper want to engage with your brand and learn more about your product. And when I say engage, I really want to highlight that as of now, customers actually can't react to their posts. For example, they can like posts and they can't leave a comment. There are some interactive elements, but I will share with those a little bit later. So this tool also helps customers to discover products from new placements. So for example, when you make a post customers could notice this it from your product detail page, but also from your competitor detail pages. They can also discover different posts from product category-based feed. So I would say Amazon Post is something between a marketing tool and an advertising tool and Amazon, by the way, lists this tool under Amazon advertising when you check their website.
Lisett:
So let's continue with the second question for who is it. As of today, US sellers with brand registries and US store can access the tool. So if you match these criteria but you don't have the access yet, then I would recommend to either reach out to Seller Support or check your user permission section in your Seller Central Account, to be sure this tool is activated for your account. And customers wise, Amazon Posts are available for US customers who are using either Amazon mobile app or they're using the mobile web for shopping. And as of now, this tool is still in beta. So we can hope that Amazon will expand this tool to other marketplaces in the future as well. So let's now go over. What's really exciting about this tool that could possibly make you want to start using it as well.
Lisett:
So first of all, the tool is totally free to use. And I haven't seen a seller who wouldn't like that. Of course we can't be 100% sure it stays free forever. So that's even a stronger reason why you should get started already today. The second thing using Amazon Posts really helps to grow brand awareness and build social proof for your products. So as you can share both brand content and images of different people using your product, it will help you to build trust in your brand and products and people will become followers of your brand as well. Thirdly, you can drive additional traffic to your product detail pages, and we can assume that the customers who take action based on your post content to go over to your product page are most likely interested in buying your product. So make sure your product listing is also well optimized because you don't want to use them there.
Carrie:
If you wanna learn more about Amazon Post from list set, go to Freedom Ticket modules, 9.07 and 9.08, where you'll get detailed instruction on how to utilize Amazon Posts.
Bradley Sutton:
All right. So I'm just curious, let me know if you're watching this on YouTube, I'm very curious how many of you out there use Amazon Post and what have you, you know, what positives and negatives have you had let us know in the comments below let's go right back to Carrie and she's actually gonna interview a member of our own team here, Lem who is not just some software salesman Lem has been in the game, the Amazon game for as long as I have. And it's very interesting before he got into private label, he built up a lot of capital by doing retail arbitrage. And this is something that even current private label sellers can do for some extra income. Let's listen to some of the things that Carrie asked Lem about his experiences on that.
Carrie:
Hello, everyone. And welcome to this week's Weekly Buzz interview. My name's Carrie, and I'm a brand evangelist. And today I'm actually going to be interviewing not someone from outside of Helium 10. We're actually gonna be interviewing Lem Turner because he actually has a really cool story. So welcome Lem. Thanks so much for doing this interview with us today.
Lem:
Yeah. It's fun to be on the other side of this interview process. So it's always fun to be part of that, but you know, this is familiar ground, so happy to be here.
Carrie:
Yeah. I'm excited. I actually started asking you questions. I don't know, like during our Christmas party about just your background. And I found it really interesting and I thought that a lot of people would be inspired and it would give a lot of people, some good resources on how to maybe grow capital and get started in e-commerce. So could you tell a little bit about just how you got started in e-commerce and like how you kind of raised capital, I guess you could say and started growing in e-commerce?
Lem:
Well, how I got started in e-commerce was it's pretty cliche, but just started off as a broke college kid who needed to make some money. And for whatever reason, I applied to like 30 jobs in my college town, and none of them would accept me. So I was like, I gotta figure out a way to make some money. So then started going to thrift stores and then just flipping stuff on eBay, like random shirts or shoes or things of that nature here and there. But then realized like, I need to do this faster. Is there like a way to do it faster? So started looking into Amazon and at first, I didn't know that you could even sell on Amazon, but then once I realized it I thought that was pretty awesome. I was like, "all right, how do I get involved?"
Lem:
So then started realizing that what I was doing, it was called retail arbitrage, but I didn't necessarily understand that term. So then I started, once I started understanding it did some classic YouTubing found out some clearance items in like Walmart's targets, things of that nature, and then just started selling and selling items and then started with like, maybe like a couple hundred bucks, but then just kept reinvesting, reinvesting, reinvesting that money and not trying to pull any of that money out which then inevitably allowed me to like, have a pretty healthy sum of capital that I was able to actually utilize.
Carrie:
Yeah. So I remember you were saying like, when you were starting at the thrift store, you were buying stuff for like 50 cents and selling it for like 20 bucks. That's pretty amazing.
Lem:
That's pretty rare. I'll be honest. It's pretty rare for that to happen, but it's only because I realized that I was the only person able to get my hands on this. So I really leveraged scarcity to that point and I really tested my limits at first, I started at like $12 people were buying versus only selling me out. So now I was like, all right, $13, $15, $17. And I just wanted to see at what point will my sales stop at $20 was when it started to like curve down. So that's where I felt comfortable at.
Carrie:
Yeah, I thought that was pretty cool. And then you basically that same product found it new in the stores on clearance and you were able to sell it for what, like triple what you were buying it for, or?
Lem:
Yeah. And that's when I started, that's when I started using Helium 10 and using Black Box. And then that's when I realized that people were selling bundles of these items or that of these specific products exist in Amazon. So I was like, all right, that's larger profit margin. So let me go ahead and dive into that and just really scaled my operations from there. And that's when the success really exploded in. So I have Helium 10 to thank for that.
Carrie:
I mean, and didn't you say too, the stores were starting to be like suspicious of you cause kept going and buying art loads and stuff.
Lem:
I was buying like a lot. And so there was a point where I had to like, come up with a store, get people, cashier were constantly asking me, man, you really like this stuff, don't you? I was like, cause they kept seeing me back there and back there again. So I had to come up with a story. So like my story was at the time I was engaged. So I was like, oh, I'm just using this as a wedding favor. So I just need to have a really big wedding. So I need these as for wedding favors. So yeah. They're like, oh yeah, that makes sense.
Carrie:
That's so funny. And so another question people might wanna know is like, what was your biggest month in sales of like for retail arbitrage? Like what in just no total.
Lem:
Yeah, this was really fun to like even accomplish, but my biggest month in sales, just solely from retail arbitrage and flipping stuff was probably like 110,000 in revenue per month.
Carrie:
Amazing. I mean, I love this story too, because it helps people, you know, to understand that they, you can actually do this grind where it's not easy to find these products. Now, it does take a lot of work, but you can definitely do it and make a good amount of money. Is there any kind of suggestion you would have for people to kind of find good retail arbitrage products?
Lem:
I would say use have to be curious. You have to have a curiosity. You have to have a mindset of curiosity of every time when I look at a product in Walmart or target, or at least I used to, I don't do anymore. I don't need to, but I would always think how much does that sell on Amazon for like, can I sell this on Amazon? Can I flip this on Amazon?
Carrie:
Yeah. So, I mean, it's definitely a grind. I mean, I usually, like to just scan, cause you can take your seller app, you take it out and just scan and you can see what the fees are and all that stuff. So you can see, you can be profitable. I like to do that just for fun just to see what things, what things are going for. So well that's really interesting and thank you so much for sharing the story. I do think it'll be inspiring now. I wanna remind people that it is a grind, but it's definitely something that you can make money doing. And if you don't have the money to do an initial order for private label and that's something you wanna do, this is a really good way that you can do that. You know, like you was saying, you can find things at thrift stores. There are people that you can follow on online that show you what kind of things you should find at thrift stores. You can flip things there, you can go into retail, arbitrage, all that great stuff. So thanks again, Lem. I really appreciate you sharing your story. And I definitely hope that this inspires a lot of you out there.
Lem:
Yeah, absolutely. Hopefully, it does.
Carrie:
All right, thanks. Have a great rest of the day.
Lem:
All right. See ya.
Bradley Sutton:
Right. Hope you found that story. Interesting. How many of you guys out there have done retail arbitrage all right. Now, what I wanna do is I wanna give you guys a pro training tip of the week here, and I'm gonna share my screen for those of you. Watch it on YouTube. If you're listening to this on the podcast, I'll try and describe it as well as I can. But here I'm on just a typical Project, X coffin shelf listening. But this is a typical variation listening, where you can see that there are colors, black, pink, and purple. Now, if I were to run Xray by the way, remember, you can now do one click Xray right here on the bottom. Right? If I were to run Xray on any page that has listings that have variations. Well, what is, you know, helium 10 is gonna show in others is that the sales are all the same.
Bradley Sutton:
Now, this does not mean that we are saying, oh, the black coffin shelf has 142 sales. The purple coffin shelf has 142. The pink has 142. No, but the reason why Helium 10 other tools display it like this that represents the estimated sales of all three colors put together. So the question comes in, how do we know which one is the best seller? You know, like maybe I'm a new seller. I'm getting get into a niche. And especially if you're in like the betting category, right, where there are hundreds and hundreds of different variations of different colors and sizes and stuff, it's like, you don't wanna invest in all of those or buy it all equally. Like maybe you do wanna invest in all those, but you wanna know which ones should you buy more of or which ones are gonna sell more?
Bradley Sutton:
Well, here's one trick that you can use on the same page hit the Helium 10 Chrome extension and then hit the button called review insights. And then right here at the very end hit product variations. All right, now what you're gonna see here is a breakdown of these reviews on this page. And then you could see here, it says the black has over 80% of the reviews. Pink has about 10% and purple a little bit less than that. So if we were to look at the reviews and say, Hey, this is probably representative of the sales that happen here. Well, the black by far is the number one seller. You know, pink would be number two and purple number three. This is not an exact science guys, cuz this is not that everybody reviews, you know, equally, but you can pretty much trust this to a certain extent.
Bradley Sutton:
How much is this accurate? Let's go actually into Helium 10 profits and look at the sales of the black pink and purple coffin shelf. Look here. The black coffin shelf has sold. Let me see right here. Oh, where's it at? Here are 7,000 units. Oh my goodness. What I'm thinking about that? We have sold 7,000 black coffin shelf. There are 7,000 houses in America that have a coffin shelf somewhere in their house. But then look here, number two 483 is the pink and a little bit behind that around 400 is the purple. So it almost lined up pretty well where it's just one is dominating the black one and then pink and purple are second and third without even knowing the sales. You know, I obviously know because I have access to a Helium 10 profits, but if you were somebody else who is one of my competitors, you to be able to kind of deduce which one I am selling the best based on looking at the review.
Bradley Sutton:
So guys make sure to take a look at that. If you ever are wondering which variation item is selling the best use review insights in order to do that. All right, for our last topic of the day, I wanted to talk about the Helium 10 business assistance fund program. This is something that just got announced by Helium 10. And it's because, you know, we understand that a lot of sellers have been struggling lately. There's inflation, there's shipping delays and profitability has gone down. So for all of you sellers who have your Token connected, you Platinum members, you've got your Token connected to Helium 10. That means that we can see your sales. That means you have your Amazon account connected to us. If we notice that your sales have declined, actually you're eligible for a free upgrade.
Bradley Sutton:
You know, no obligation, no nothing. This is a hundred percent free, not $1, not 1 cent, a hundred percent free. If your platinum we're going ahead and giving you a free upgrade to the diamond plan to help you expand your business with the added tools like Walmart and other things that you have. So like if that's actually a $300 value in two months, so we're, we're giving you that for the next two months to kind of help jumpstart. And then for all of you brand new sellers who maybe have been struggling to get launched, if you need like a jumpstart we have a special offer for you. It's 80% off your first month of Helium 10. Once you connect your Seller Central Account to helium 10. So if you guys need more information about this, it's in our blog, helium10.com/blog.
Bradley Sutton:
If you're watching this on YouTube the link is below to this press release that we have, or you can reach out to customer support 24/7, or at [email protected] to see if you're eligible for one of these and what you need to do, but we're doing it up to a million dollars. And it's not just, you know, the free upgrades for all of you who do qualify for those upgrades. We're also giving you special trainings with Kevin King, with myself, with Carrie, and with others on our team that will hopefully help kickstart your business for those of you who have been struggling. So make sure, to check that out again, go to helium10.com/blog, and look for that press release, or you can reach out to customer service to get more information. All right, guys, hope you enjoyed this edition of the Weekly Buzz. We'll see you guys next week to see what's buzzing.
---
Enjoy this episode? Be sure to check out our previous episodes for even more content to propel you to Amazon FBA Seller success! And don't forget to "Like" our Facebook page and subscribe to the podcast on iTunes, Spotify, or wherever you listen to our podcast.
Get snippets from all episodes by following us on Instagram at @SeriousSellersPodcast
Want to absolutely start crushing it on Amazon? Here are few carefully curated resources to get you started:
Everything for your business on Amazon.
Find out more about our products by signing up or speaking with one of our
Customer Success representatives today. With us in your corner, you can enjoy
more sales and increased engagement from your Amazon business.
Chat with a Support Specialist