Helium 10 Buzz 4/6/22: Walmart Seller Promotions, Q&A With Ranking Expert, And The Latest On Sourcing With Kian
This episode covers the latest news on Amazon, Walmart, and Etsy this week. We also welcome experts in ranking and sourcing to share their insights and tips.
Originally published on: April 6, 2022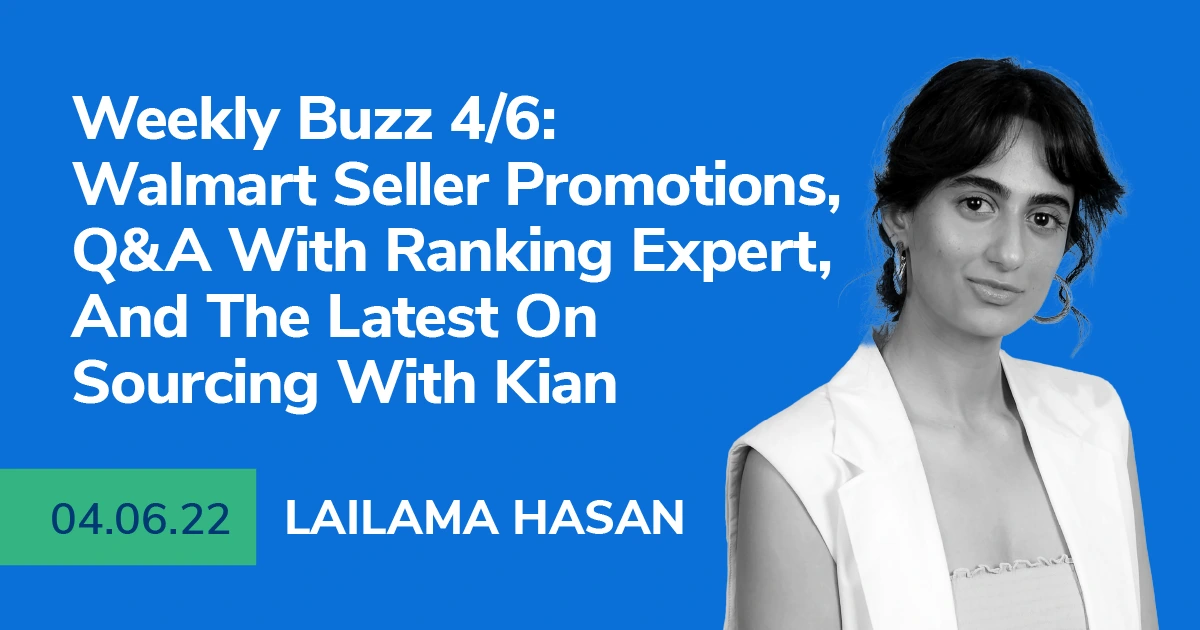 We're back with another episode of the Weekly Buzz with Helium 10's Brand Evangelist, Lailama Hasan. Every week, we cover the latest breaking news in the Amazon and E-commerce space, interview someone you need to hear from, and provide a training tip for the week.

Sellers who join Walmart Marketplace by May 31, 2022, and start selling on Walmart.com by June 30, 2022, will receive a 50% discount on commission rates for the first 90 days.
https://corporate.walmart.com/newsroom/2022/04/04/walmart-marketplace-offers-new-seller-savings

With the continuous increase of shopping activity online, Amazon has introduced an FBA feature that helps Amazon FBA sellers make temporarily out-of-stock products for sale. Dubbed as In-Stock Head Start, this latest Amazon program aims to benefit both third-party merchants and customers alike.
https://sellercentral.amazon.com/help/hub/reference/TBBP39NRMSMZK98

On Etsy, you can now earn individual badges for on-time shipping, quick responses, and 5-star reviews. Most sellers can now see new customer service badges in their Star Seller dashboard.
https://www.etsy.com/ca/seller-handbook/article/earn-badges-for-great-customer-service/1053008678638

We also interview Alina Vlaic from AZ Rank, who shares some insights into her ranking services. She discusses new challenges with ranking and how AZ Rank has pivoted to continue to help Amazon and Walmart Sellers with their Ranking.

Lailama closes the episode with a clip about the latest news on sourcing from Kian Golzari.
In this episode of the Weekly Buzz, Lailama talks about:
01:00 – Walmart Offers New Seller Savings
02:10 – Learn How To Sell On Walmart.com
02:40 – Amazon's In-Stock Head Start Program
03:50 – Etsy Introduces Seller Badges
05:00 – Returns Provider Program For Seller-Fulfilled Orders
06:00 – Q&A With Alina Vlaic, Founder & CEO Of AZRank
11:00 – Tips On Ranking Your Products In Walmart.com
13:00 – The Lastest On Sourcing With Kian Golzari
Transcript
Lailama:
Hello everybody, and welcome to another episode of the Helium 10 Weekly Buzz. My name is Lailama Hasan, and this is a show where we get you familiar with the latest news in the Amazon and e-commerce space interview people you need to hear from and provide a tip of the week that will give you serious strategies for serious sellers of any level in the Amazon Walmart and e-commerce world. Let us see what's buzzing this week. So today we will go over Walmart's new seller savings offer among other breaking use pieces. Interview the founder and CEO of AZ Rank and get you familiar with an exciting new series, Helium 10's conducting in partnership with an extremely knowledgeable sourcing group. Let's dive right into it. So up first, Walmart has a limited time promotion, exclusively available to new sellers. So, sellers who join the marketplace by March 31st, 2022, and start selling on walmart.com by June 30th, 2022, we'll be able to take advantage of a 50% discount on commission rates for the first 90 days.
Lailama:
Not only can new sellers benefit from Walmart's generous offer, but Walmart has also go on ahead and extended a Walmart fulfillment services intro offer to sellers who want to join their first WFS program, which is their low cost fulfillment program, approved sellers who could free storage along with a 10% discount on fulfillment services. The used giant has easily become one of the fastest growing marketplaces in the United States with a loyal customer base. Walmart has reported that sellers who are using WFS to fulfill their orders have seen an average of 50% GMV growth. So for those of you watching, if you have not, you started selling on Walmart, then go ahead and watch project w on our YouTube channel to learn how to begin selling on Walmart. And for those of you on Walmart, but not using the WFS platform, make sure to sign up for it ASAP because you can take advantage of their new discount.
Lailama:
All right. And the next news piece is about the expansion of the in stock head start program on Amazon. So in the past, if a seller had sent replenishment orders to Amazon warehouses using an Amazon partner career, some of that inventory would become available for people to purchase even before it arrived at Amazon. Now, sellers recently gone an email from Amazon that expands this program by allowing customers to buy products that are temporarily out of stock. The email says our innovative technology will now predict which temporarily out of stock products are most likely to be come back in stock before a shipment has been created. Now, these predictions will be based on multiple factors. One of them being past replenishment behavior. And one of the interesting things that they mention here is that the sales rank will be protected when items go out of stock.
Lailama:
So I guess it would be nice to see what its impact is on the BSR, as well as maybe getting potentially higher sales for outta stock products. This expansion will be limited to a small number of, of product. So question for you, have you gotten access to the in stock headstart program yet? And for our next news piece, Etsy introduces seller badges to reward exceptional customer service sellers can now earn individual badges for on time dispatch, quick responses, and five star reviews. The way to earn these badges is if you have performed 95% or more in dispatching orders, responding to messages or getting five star reviews, then you will receive a smooth dispatch, speedy replies or RA reviews, badge respectively on Etsy. These badges are comparable to Amazon's choice and best seller badges on Amazon and will give you a boost in sales because instill they instill buyer confidence in shoppers when they see these badges.
Lailama:
So starting April 1st sellers will be able to earn those badges. So check out your star seller dashboard right now at let us know in the common section below, if you have been awarded one of these badges, okay. And the last news piece comes directly from Seller Central. Amazon has launched the returns provider program to help sellers located outside the US to manage seller fulfilled returns from customers. International sellers will receive prepaid returns for seller fulfilled orders with their domestic warehouse address. Once they have enrolled in a program with this program, sellers can provide their returns experience as well as regain some return costs. So questions for all you inter sellers watching us right now. How did you manage your returns from us customers prior to the introduction of this program? Now the person in the next segment that I'm gonna be introducing is extremely important to your Amazon journey and you may have the perfect product, but if you are not ranking high on Amazon searches, customers will simply not be able to find you. And ultimately you will not be able to get any sales. So today I would like to introduce our guest Alina Vlake, who is the founder and CEO of AZ rank, a company that helps Amazon sellers rank on multiple platforms like Amazon, Walmart, and more. Hello Alina, thank you for coming on the show. How's it going?
Alina:
Hi. Great to be here. Thanks for go. Thanks for having me.
Lailama:
Thank you for coming on. I see there's a bit of a typo here, so her name's Alina, not, I
Alina:
That's. OK. That makes me more unique, you know?
Lailama:
Yeah, for sure. Okay. Alina. So now we know that there, you know, since like the beginning of this year, I believe there have been some changes in the terms of service of Amazon in terms of ranking. So how did you change your business to be in compliance with these new terms of service updates?
Alina:
Yes. I still cannot believe it's been more than four months since this happened since still seems like yesterday. We did a pivot. Yes. even before November 26th, since the TOS changed, we tried to be on top of things from the first rumors, and yes. I know a lot of people in the Helium 10 community knows us as a search, find, buy service. And a lot of people came to us for helping them. But now we are not allowed to do that anymore. We're transformed our ranking and launching service on Amazon into a contextual ranking service in just a few words because I know we haven't had, we don't have a lot of time. This means going after several keywords, bringing high quality external traffic, which we can have up or a seller can do it themselves running PPC especially on newer listings since day one, and staying away of the rebate part.
Alina:
Now, we have found, and this is very important. We have found some workarounds that allow us not to do debate anymore. We do very complex surveys, which are two type of surveys. The first one gives the seller a lot of information about their listing, their competition, their photos, and a lot of stuff they can improve as they go during their launch. And the second part is about the product itself, because at the end of the process, the buyers actually purchase the product through the survey, and then comes the feedback about the product itself, which of course is very helpful for improving it in the future.
Lailama:
Sounds good. Yeah. No, I definitely get the focus on the after experience of purchasing, right? Yeah. Now, are there any kinds of trends you were seeing in ranking these days on Amazon?
Alina:
Well, actually, yes, because this type of contextual ranking that we're doing contextual ranking, meaning not just focusing on one thing, let it be PPC, let it be Google ads, external traffic our surveys, whatever it doesn't have to be just one thing contextual ranking mean means doing several things because Amazon isn't Amazon 2022, isn't the Amazon of 2020 or 2017. It's a lot more difficult and a lot more complicated. So our preaching is not just go for one keyword or two keywords, go for several keywords. And we have a very good way of doing in our campaigns through the surveys for, of course, for, for good keywords. So not just random keywords for the keywords dedicated to your product. And on top of that, run PPC, do some external traffic, Google ads is the simplest way, and it can also bring you that you like real organic purchases from it. So at the end of the day, ranking works very well. The way we do it with several keywords is even better than before when you used to do just one or two, maybe. So I think that's it.
Lailama:
Yeah. You know, Amazon's definitely becoming a competitive marketplace in comparison to how it used to be. And that's kind of the reason why people are expanding onto other marketplaces like Walmart. So, you know, Alina, since you also provide ranking on other platforms what's happening on Walmart these days in terms of ranking and seller interest towards, you know, just even launching on this particular marketplace,
Alina:
Walmart is so, so extraordinary. I mean, for me, it's like Amazon 10 years ago when you don't have almost anything. Thanks. Thank God helium 10 started developing some tools for that. So yes, ranking on Walmart is a challenge, but it can be done, not that difficult search fund buy is still allowed, but before anything before doing search fund buy BEC before even thinking of PPC we always recommend to look at your listing score and get it optimized to the best possible as high as possible because you will get rank just from that. I know that the main challenge of many sellers is the first reviews, because that's a very important percentage of the score. You can just ask a friend or you can just ask us, we still have ways to do that. So that's gonna help a new listing on Walmart really increase in your score and then just constantly optimize, send to WFS. That's also very important to get the two day shipping badge and then find some good keyword, use Helium 10 to do that, use Cerebro, some competitors try to stay on top of that, do some search, find buy, and you should be fine.
Lailama:
Yeah. Optimizing your listing before you even think about, you know, other strategies. That was a great point. Thank you so much for your invaluable insights, Alina. It was and thank you too. Pleasure having you on the show.
Alina:
It was a pleasure being here. Bye.
Lailama:
Okay. And for the next portion of the segment, I wanna begin by telling you about a special someone who is the leading source sourcing experts in the world. He's someone who has personally visited over 500 factories, attended more than 20 plus Canton fairs, and sourced over 2,500 products, even going on to work with multiple big brands. He specializes in everything from product design to manufacturing, best practices, price, negotiation, and beyond. If you follow our Freedom Ticket Xtra sessions, perhaps you know who I'm talking about, I am talking about Kian Golzari what I'm about to share with you is a clip from a new series Helium 10 is doing in partnership with him and his YouTube channel called Sourcing with Kian. The series is intended to be a place you can turn to when you want updates every few weeks on the most current sourcing and shipping issues coming out of China, whenever there's a new episode, we will showcase a snippet on the Helium 10 Buzz to keep you up to dates and sourcing. And shipping is a large part of running your Amazon business. Now in this video clip that is about to play Kian talks about a summary of the supply chain in 2022. And of course, don't forget to head over to his channel and subscribe to it who watch the full clip. But for now, here are some topics that he covers in the third episode.
Kian:
Let's firstly, talk about the logistics side of things, right? This is gonna affect our sea transport, our air transport, and then also our rail transport, right? So the first one is sea and I'm not even gonna attempt to draw it. But let's start with sea transport in Ukraine, they've got one, a very large container port in the city of odea. And they've actually had to close that port down and a lot of containers also go through the black sea, which have been diverted as well. The ports, odea, terminal all that cargos now being rerouted to other busy ports in Europe. They're not containers aren't going through the black sea. So it's essentially rerouted a few containers. That'll put more pressure on other ports. So we essentially just makes European ports a little bit busier.
Kian:
The other thing is the workforce as well. The ICS, which is the International Chamber of Shipping stated that sea favors, meaning the people which work on vessels, there's 1.8 million sea fairs in the world. And over 200,000 of them are Russian. So over 10% of the workforce are Russian. Now how that impacts is that, you know, Russia have been denied. A lot of their banks have been denied like swift payments, which means that a 10% of the workforce who work on vessels are not getting paid as easily as they were before. So that might impact the number of workers in an already capacity like the affected industry. So therefore we might see less vessels available, less roots available, which then just puts more pressure on shipping. And we might see a spike in price as a result of that.
Kian:
And it's not something that you always feel immediately. It's something that can happen later on down the line, because it can deal with it in the short term. But in the long term, it puts a massive strain and the massive pressure. So just watch out that if you do ship to Europe rather than the US, you might see some issues with your sea freight pricing. Now, the other thing is air freight as well. There's a really cool website called flight radar, 25, sorry, flight radar 24. And I'll pop that up on screen right now. But now if we focus on air and if you go to flight radar 24, you can see all of the live airplanes right now. And obviously, Russia and Ukraine is. Ukraine especially is a bit of a no-flight zone. So you'll see all the airplanes and you just see a gap over Russia and Ukraine.
Kian:
So air freight has had to be rerouted. Also, some Russian airlines aren't allowed to travel to certain areas. Russian airlines who sponsor football clubs like Manchester United have had their sponsorships canceled. So the air the airline industry has been affected. The air freights are now taking longer route and different route. So the price of flights have actually gone up quite a bit. I dunno if you guys have been looking for flights recently, but as a result, our cargo also goes on commercial airlines. So if those prices have gone up, black can also affect the price of our air freight. And then the final thing is also rail. I dunno if you guys have ever done rail before, but you know, this became especially popular last year when the shipping prices were so high people moving products from China to Europe, all opted to move a lot of it by air, sorry, by rail.
Kian:
And what he did is that they've got a train track from China all the way to Europe and it, but it goes through Russia and now they can no longer use that. So whoever was moving their products by rail now have to move that back to sea or to air, but most likely see based on the volume that they're actually moving. So that just puts more pressure on sea freight, more cargo going to sea freight in the industry, which is also having difficulties with capacity. So that again, it's just gonna make sea freight a little bit more busier and a little bit more expensive as well. Now, on top of the transport side of things, another way that this can affect is, is that the number one country, which both Chi both Ukraine and Russia export to is China.
Kian:
And these are minerals, agriculture food energy. And as a result, these exports are now not going to China. So China now has to get those agricultural minerals, and energy sources from other places at a higher price. Therefore like, you know, there's a lot of wheat and oil which moves and like sunflower oil for cooking, and also like the oil for like, you know for fuel as well, which also affects the seafood prices. So all of that is now the has to get elsewhere at a higher price, which then will essentially mean that our cost of goods will potentially go up as well, because now it becomes more expensive to eat, which means they have to pay their workers more. They pay their workers more. We then feel that in our production costs as well. But as I said before, we probably won't feel it immediately, but gradually, if the situation does not improve between Russia and Ukraine, anytime soon, then we'll start to feel it. But the longer this goes on the longer those price hikes will occur as a result of the sea rail transportation, as well as the exports to China From Russia and Ukraine.
Lailama:
Okay. So before we sign off, I wanna remind you that if you are not already well versed in selling on Walmart, go to www.helium10.com/project-w right now, to learn how to sell on the Walmart marketplace, which has a whopping 120 million monthly customer base, by the way. And this marks the end of our Weekly Buzz. See you next week, same day, same time.
---
Enjoy this episode? Be sure to check out our previous episodes for even more content to propel you to Amazon FBA Seller success! And don't forget to "Like" our Facebook page and subscribe to the podcast on iTunes, Spotify, or wherever you listen to our podcast.
Get snippets from all episodes by following Bradley on Instagram at @H10bradley
Want to absolutely start crushing it on Amazon? Here are few carefully curated resources to get you started: