Helium 10 Buzz 3/2/2022: Walmart+ Sales Event, Resources for Spanish Sellers, & Cerebro's Advanced Rank Filter
Updated on: March 3, 2022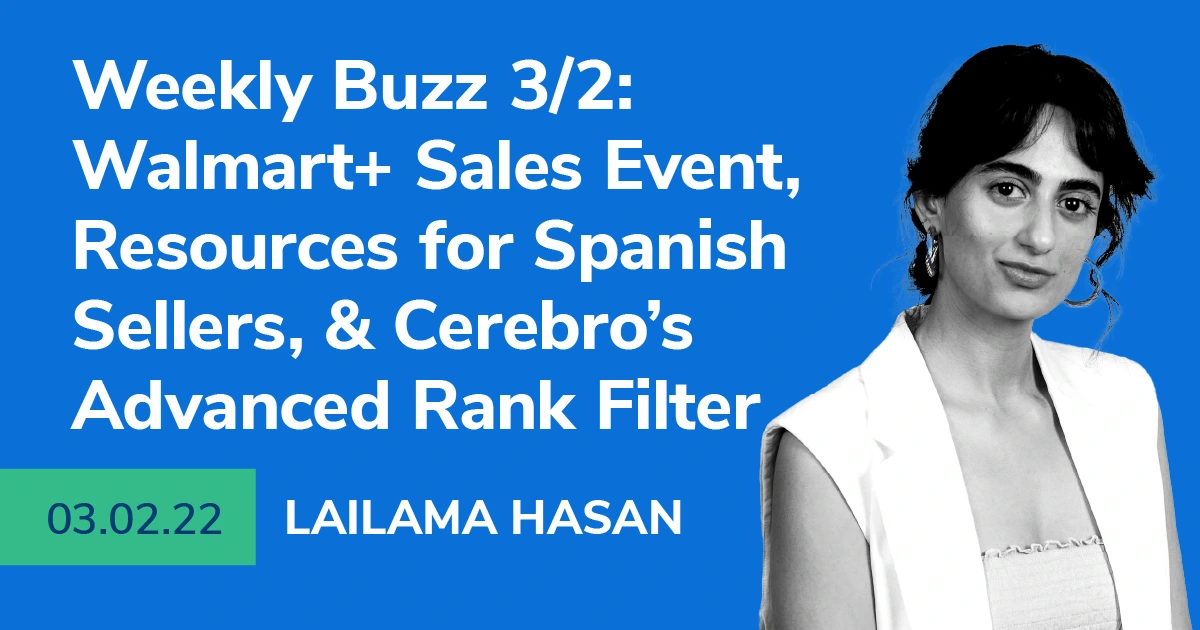 We're back with another episode of the Weekly Buzz with Helium 10's Brand Evangelist Lailama Hasan!
Every week, we cover the latest breaking news in the Amazon and E-commerce space, interview someone you need to hear from, and provide a training tip for the week.
Walmart has announced their ongoing 3-week long sales event that is accessible to Walmart+ members only! The event has Black Friday-like deals on a wide variety of products, like bikes and Sony Playstation 5 consoles, with highly discounted prices aimed at incentivizing the Walmart+ program.
Etsy plans to increase transaction fees from 5% to 6.5% to reinvest them into the Etsy community and bring about more resources that Etsy sellers can utilize to their advantage. They also plan to introduce a seller app with improved tools to help sellers manage their business while on the go.
News for brand registered Canada Amazon sellers as they now have access to A+ Content Brand Story features as well as the Manage Your Experiments tool.
We also interview one of our other Brand Evangelists here at Helium 10, Adriana Rangel! She speaks to us about the Latin Amazon community, her new Spanish version of the Serious Sellers Podcast, and gives us some high-level tips on getting started on Amazon.
Helium 10's Chief Brand Evangelist, Bradley Sutton, closes out the episode by getting into the advanced rank filters to find the top keywords for a product within Cerebro! This strategy allows users to get an idea of what keywords are driving the majority of your competitors' sales and provide users with information on what keywords would be best for them if they are also launching a similar product!
In this episode of the Weekly Buzz, Lailama talks about:
01:00 – Walmart's Exclusive Sale Event for Walmart+ Members
02:20 – Etsy Growth Investment
04:00 – A+ Content Brand Story Module And Manage Experiments Tool for Canada
05:00 – Lailama Welcomes The Host of Serious Sellers Podcast en Español
09:00 – A Podcast For Spanish Speaking E-commerce Sellers
11:00 – Subscribe To The Serious Sellers Podcast en Español
12:00 – Join Our Facebook Group For Spanish Speaking Sellers
13:00 – ProTraining Tip Of The Week
20:00 – Join Us For The Helium 10 Prosper Show Social
Transcript
Lailama:
Hello everyone and welcome to another episode of the Helium 10 Weekly Buzz. My name is Lailama Hasan, and this is the show where we get you familiar with the latest news in the Amazon and e-commerce space. Interview people in the industry that you need to hear from and provide a training tip of the week that will give you serious strategies for serious sellers of any level in the Amazon, Walmart, and e-commerce world. Let us see, what's buzzing this week. Today, we will cover Walmart's exclusive sales event for Walmart plus members among other breaking news pieces, interview our other brand evangelists. And then finally get into our pro train tip of the week involving Cerebros advanced rank filter. Let's dive right into it
Lailama:
For our first news piece. We have the ongoing Walmart sales event, which is a three week long event accessible to Walmart+ members only. The event has Black Friday like deals on a wide variety of products like bikes and Sony PlayStation 5 consoles with highly discounted prices aimed at incentivizing the Walmart+ program. Now, I don't know about you guys, but to me, this strategy is definitely reminiscent of the Prime Day event run by Amazon since 2015, according to the company's financial filings online sales account for roughly a third of all of Walmart's sales in the US. Mike Levin partner and co-founder of CIRP is reported to have said about the Walmart+ program. "Walmart's reasons for boosting the service" are clear. Those who sign up for membership programs buy more. And finally, for our Walmart sellers with the increase in Walmart plus membership times, I wanna know, have you been seeing increases in your sales on Walmart?
Lailama:
All right on to the next news piece. Now Etsy is planning to make significant investments in growing their marketplace. The CEO of Etsy, Josh Silverman announced on February 24th, that in order to support this goal, they will be increasing their current 5% transaction fee to 6.5% starting April 11th. This transaction fee change is aimed at allowing the company to make improvements in three key areas, one bringing on more sellers Etsy by investing in the marketplace, two, growing their support team by 20% to expedite the seller support process. And lastly, keeping Etsy unique by removing listings that don't meet their policies. Now, Etsy also aims to introduce a seller app with tools who help sellers manage orders, connect with buyers and understand how their business is doing.
Lailama:
I know that a change in fees can sound overwhelming to us sellers, but don't fret because in our experience, we have been selling our Project X products on Etsy for 15% higher prices than on Amazon. Okay. And lastly, for our last news piece, for all those brand registered sellers on Amazon Canada, you now have access to the A+ Content Brand Story feature, as well as the Manager Experiments tool. This Brand Story feature is an immersive carousel based module, which allows you to link back your store's brand store. As for the Manager Experiments tool, that is a tool available for you, right in seller central for split testing, your title, listing images, and A+ Content.
Lailama:
So if you haven't already used this amazing tool, keep an eye out for a blog by us on how to make use of this powerful tool to potentially increase your conversion rates. All right, so this sparks the end of our news segment for the week and in this next segment of the Weekly Buzz, we typically like to bring in a person to interview. I, and I would like to bring it begin the segment by introducing our guest who has an amazing informative podcast for our Latin Amazon community. Hello and welcome, Adriana, how are you doing?
Adriana:
Hi, Lailama. Thank you for having me. Thank you for inviting me here to the Weekly Buzz. I watch this Buzz every week, so I'm excited to be here.
Lailama:
Wonderful. Okay. So, Adriana, I mean, as we all know, you know, being you coming from the Latin community, what do you think are the main issues that the Spanish-speaking potential sellers see as a boundary to enter this type of business?
Adriana:
I would say first and foremost language of course can be a barrier at times. Sometimes we don't feel–, you know, we're in heads a lot, even as I'm having this conversation with you, right? I'm like thinking of concepts in Spanish, right? I'm from Mexico. So my mother language is Spanish, but I know that we usually are a little bit hesitant about launching a business and trying to speak to people and to sell products basically in a language that's not our language, our main language, our natural language I would say. I also think that currency sometimes can make us a bit nervous, right? Using a different currency to either buy inventory or to sell inventory or in dealing like, you know, what am I going to do?
Adriana:
How am I going to explain this to my bank? Basically, all that process since no one tells you how to handle it, at least from the start, you start to get a little bit nervous about that. And I would say that all there's also perhaps a little bit of shortage of informative content about this, around this business, in Spanish, in this case. And so, I mean, there are of course videos in YouTube, et cetera, but sometimes you don't know if the sellers are legit or you don't know if the strategies that they are sharing with you are up to date, et cetera. So I would say those are the main concerns for people that perhaps are in Latin America or Spain,
Lailama:
Which works out now that you have the podcast in Spanish, right? So we here at Helium 10 now have Adriana on our team and she has her podcast which we will talk about at the end of this interview, actually. So Adriana, since you're based out of Mexico and you are currently selling on the US Amazon marketplace. So what are some of the benefits of selling on a marketplace where you aren't based out of?
Adriana:
I would say that having several incomes streams is always a great thing, especially nowadays, you didn't even know with all of the changes, the pandemic, and everything that's going on geopolitically, it's always a good thing to have several income streams. The dollar of course goes a long way in countries, such as Mexico and other in countries in Latin America. It's a strong currency. So it's a great backup plan to have in there to have some money in US dollars. And you simply have more options to grow or actually more places to sell, right? And that way you can increase your sales without having to launch other products. Rather you simply launch any new markets and you can triple I guess your sales in a few weeks, right. If you start to launch them in several marketplaces. So I think the upside is very good for this type of opportunity.
Lailama:
Absolutely. It's always great to diversify your portfolio, right. So, what is the best way to start learning about how to sell on Amazon for all the newbies that are watching us today?
Adriana:
Yes. So I understand it can be a bit over overwhelming. I know it was for me when I first started, I actually had a full time job at the time and what I did, I just committed to perhaps studying one episode of, of one of the courses at least perhaps two days during the week and perhaps a couple hours during the weekend. Now that you bring the podcast out up, I think I love listening to podcasts because that way I can be either doing my laundry or driving to the supermarket or whatever the case, and I'm just listening to it. And that's the way I feel like I learn faster because I get familiar with terminology and then listen to other people's experiences, et cetera.
Adriana:
And I know in the podcast we invite actually a lot of people that are not only experts in the matter, but are also starting with their business and perhaps are in the same situation that, that you are at the moment. So that is why we launched this podcast. And of course we also have a Facebook group where people can of course ask to join. And in there we encourage people to ask questions, to share in information strategies and just to help one another. Right. Because yeah, it can get a little bit lonely. And I would say that yeah, I would say that it's, it's a matter of just committing to a few hours a week. You don't have to learn everything in two weeks. Right. It's just like taking it step by step and you'll get there eventually.
Lailama:
Yeah. You know what, Facebook groups are a great resource for community building and just getting to network with other sellers. And also, you know, it's just so much better to learn in your own language you're routine, that information so much better. So Adriana, why don't you tell us some links that they can go on or the name of your podcast so that people can easily find you?
Adriana:
Yes. Thank you, Lailama. So, you know how there's a Serious Sellers Podcast, the one that our colleague Bradley hosts, which is the biggest Amazon related–, mostly listened actually Amazon related podcast in the world. So we launched Serious Sellers Podcast en Espanol and actually our colleague Marcus, he launched for people in Germany. I think it's called Serious Sellers Podcast auf Deutsch it's just that I don't speak Deutsch so I can never pronounce it. But basically, you can find us on Spotify, apple podcast, and even on our website, but I would encourage you to–, I know that people in Latin America usually use Spotify more than they do apple podcasts, but either away whichever platform you prefer, just make sure you subscribe to the podcast because that will help, that will remind you when we have new episodes. And I know we have a very, very interesting episode coming up next week, next March 10th, so Thursday and March 10th, and it's going to be all around keyword research, which as you know keyword research is everything for internet based businesses, I would say. So make sure you subscribe. So you get pinged when we, when we have new episodes, so you don't miss any.
Lailama:
And what was the link for your Facebook group again? What would it be called?
Adriana:
Thank you, Lailama. Thank you for the reminder it's called Usuarios de Helium 10. So basically you type that in, you search that on Facebook and you just request to join and we'll make sure to accept you right away. It's called Usuarios de Helium 10, and we're there you know talking and encouraging one another to grow our business.
Lailama:
All right. It was such a pleasure having you on Adriana. Thank you for taking the time out.
Adriana:
Thank you, Lailama.
Lailama:
All right. Okay. So let's move on to the training tip of the week, where our Director of Training and Chief Evangelist Bradley Sutton, we'll be talking about How To Use The Advanced Rank Filters to Find The Top Keywords in Cerebro
Bradley Sutton:
All right. In the last video in this series, I showed you step one A of keyword research for a brand new product that you are gonna sell on Amazon. I consider this step one B, and this is actually some functionality that no other tool ever made for Amazon sellers has ever been able to reproduce. This is a very, very unique function to Helium 10, and it's very, very powerful. What this does is it gets keywords that maybe only one or two of the main competitors are performing well for, but maybe the other top competitors aren't performing well for it, or maybe they don't even have it in their listing at all. Now, why would this be beneficial to you? It's for a couple of reasons, number one if you have a keyword like coffin shelf where every single one of the main competitors are all ranking and performing very high for it. That doesn't mean that it's a bad keyword.
Bradley Sutton:
That's actually, yes, a very important keyword, but, you know, going into it that you're probably gonna have to spend more money on PPC because there's a lot more competition. It might be harder for you to get to page one. Again, that doesn't mean that you shouldn't try. That's a very important keyword. However, if you can find a keyword that drives sales, to a product similar to yours, but maybe only one or two of those main coffin shelf players or whatever your product is are getting sales from it. Well, your path to page one is going to be a lot easier and you are gonna be able to rank more easy for that product. And possibly maybe even pay less in sponsored ads because not many competitors are bidding on these keywords. So let me show you how to do this. What I call step one B of your keyword research for a brand new product.
Bradley Sutton:
I still have this open from the last video of how we identified those top nine keywords. All right. Coffin shelf for wall, coffin shelves, coffin shelf large, coffin shelf, coffin bookshelf, Gothic shelves, Gothic shelf, Gothic shelf, and coffin decor. All right. This next step might find keywords that this one didn't show up for. So let's first erase. I'm gonna keep this 500 search volume here. Let's erase the ranking competitors. Let's erase the competitor rank average. What I'm going to focus on here are the advanced rank filters. This is allowing me, I know this is gonna sound complicated at first. It might take you a little bit of time to get used to it, but trust me, guys, this is a golden nugget here of a strategy that you can use. These two filters right here are saying, Hey, out of all these results here, show me the keywords where a minimum or a maximum of the number of products that I have here.
Bradley Sutton:
All right. Remember, I think I have like seven products here. I'm saying, Hey, show me the ones where a minimum of one. Let's just say a minimum of one and max two, this is just for an example right here. Since I have seven competitors here, actually the max I could put here is seven, right? What I'm saying now is, Hey, show me the products here or the keywords or a minimum one, but a max two products are ranking in the top 10 organic positions. All right. So this is different than the competitor rank average. And let me go ahead and filter this out, apply filters and I'll look here. There's 22 keywords. Now, there are some keywords here that came up in my previous one, like Gothic shelf and coffin decor, both I think might have come up here, but take a look here.
Bradley Sutton:
Look at this keyword right here, coffin decorations. Now that's a pretty cool keyword, that's searched for 500 times a month. What about this one right here? Gothic wall decor. That's pretty relevant, right? This is actually search for 4,000 times a month. Right now. This did not come up in that last video that we did, right? You didn't see Gothic wall decor there. Why didn't it show up? Well, if we look at the ranking competitors, we see that it's actually six, so that part should have shown up. But the key competitor rank average of 123. Now, why did that come? If I put my mouse over here, I can actually see here where the different products are ranking. So the one that's in bold that you see there of 94 that's whenever you see something in bold here, that means that was that baseline product.
Bradley Sutton:
Look here. There is one product. That first one that is ranking the top 10, but look at the rest of those products. They're ranking at 68, 90, 103, 183, and 288. So that's why this did not show up because the competitor rank average is 123. And if you remember that filter that we put in the last video, we only said, Hey, show us where the competitor rank average is like on page one from 1 to 30. So this one you might think, oh, this is not good because they're all average ranking on 123, but one of those competitors is at the top of page one. So they're probably having this keyword drive sales to their product, but none of the other competitors are because they're all on like page 3, 4, 5, and six. So this would be a great keyword for you to focus on because now, you know, you only have one major coffin shelf player that you have to kind of compete with for domination of this keyword, as far as your niche goes.
Bradley Sutton:
So again, this is a great way to find kind of like low hanging fruit or hidden gems of keywords or only one or two competitors are crushing it, but maybe the rest of your competitors. Don't even know about that keyword or they're not really focusing on it. So make sure to use that. The only thing I say is to be careful is sometimes you might get, of course, some branded keywords, like maybe Manny's Mysterious Oddities is the brand name of our coffin shelf. Well, obviously, our coffin shelf, will be ranking highly for the keyword Manny's Mysterious Oddities, coffin shelf, or a keyword like that. That doesn't mean, oh, you need to put that in your listing. You're not, you're actually not allowed to put branded words from other people's brands or trademarks in your listing.
Bradley Sutton:
So exclude those, if you ever see those in the results, but look for those more generic keywords that describe your product again, that only one or two or three or whatever you want are all ranking for. You can use this filter in other ways, too. You can go the opposite. You could say, Hey, show me the keywords where minimum six or seven out of seven are all ranking for in the top 30 to really find some like, you know, top level keywords. There's a lot of different ways that you can use these advanced rank filters. So make sure to take advantage of it. And if you have any questions don't forget to reach out to customer support. We'll see you in the next video.
Lailama:
Okay. Some great strategies here. I am personally always on the lookout for keyword research strategies. So I know I'm gonna be using this for sure. All right. And before we sign off, I want to remind you of our Helium 10 Prosper Show, which is taking place on March 14th at House of Blues Las Vegas. Last year, we had a wonderful time networking and passing along insights. And so we would love for you join us this year, as we do it all over again, our evangelism team, including Bradley Sutton, Carrie Miller, Lem Turner, and Shivali Patel will all be there along with your influencers like Tim Jordan, Kevin King, and more. All of that on top of our life performer, Mark McGrath from SugarRay. So make sure that you get your tickets at h10.me/prosper2022. And just a reminder, even if you did not attend the prosper show and happened to be in Vegas, you can still attend our show. We look forward to seeing you, and that marks the end of our Weekly Buzz for the week. See you next week, same day, same time.
---
Enjoy this episode? Be sure to check out our previous episodes for even more content to propel you to Amazon FBA Seller success! And don't forget to "Like" our Facebook page and subscribe to the podcast on iTunes, Spotify, or wherever you listen to our podcast.
Get snippets from all episodes by following Bradley on Instagram at @H10bradley
Want to absolutely start crushing it on Amazon? Here are few carefully curated resources to get you started: