Helium 10 Buzz 3/16/23: Amazon Sales On Search Page | Vine Discount | Listing Optimization Tip
Today, we will cover the latest news in our industry. From Amazon fee increases, Etsy payment delays, Prosper Show recap, and how to improve your listing optimization process. Let's see what's buzzing this week!
Originally published on: March 16, 2023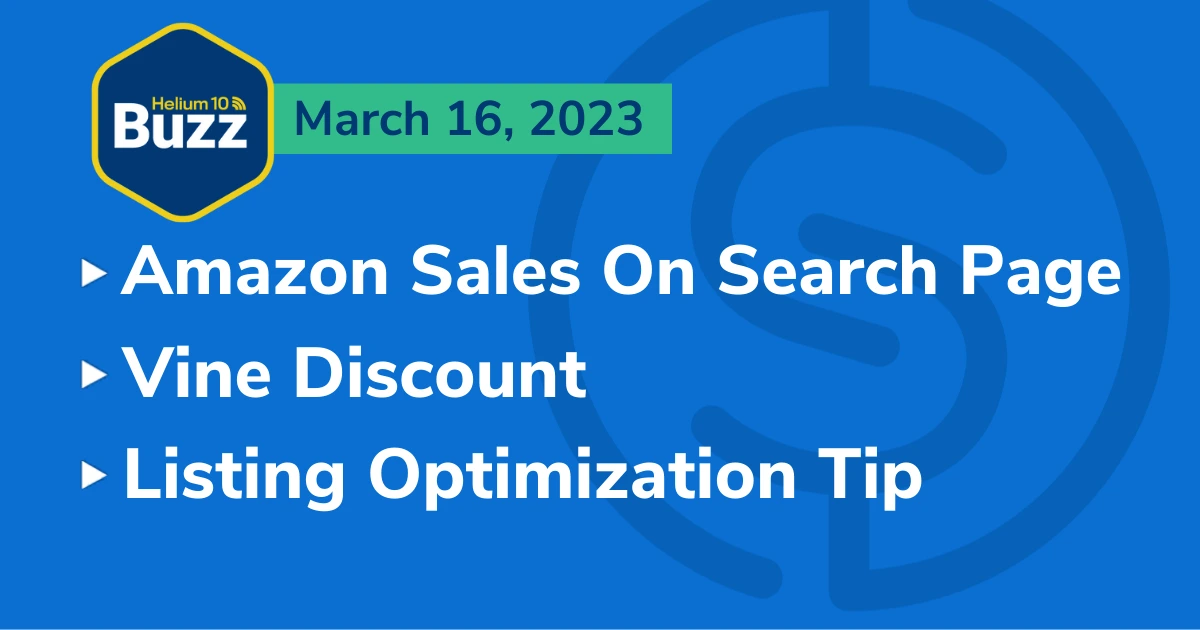 We're back with another episode of the Weekly Buzz with Helium 10's Chief Brand Evangelist, Bradley Sutton. Every week, we cover the latest breaking news in the Amazon, Walmart, and E-commerce space, interview someone you need to hear from, and provide a training tip for the week.
Amazon increased the costs of its multi-channel fulfilment service. The new fees will be in effect for European sellers starting next month. 
https://ecommercenews.eu/amazon-raises-fulfilment-costs-in-europe/ 
 
Etsy is starting to process seller payments via its other payment partners this morning following the collapse of Silicon Valley Bank, the company confirmed to TechCrunch.
https://techcrunch.com/2023/03/13/etsy-processing-seller-payments-alternative-partners-after-svb-implosion/
 
Amazon announced that Prime members will have two-hour delivery windows from Rite Aid stores in select ZIP codes in Newark, N.J. and Burbank, Calif.
https://chainstoreage.com/amazon-enters-delivery-partnership-rite-aid-heres-where
 
From Amazon Seller Central New 
Enjoy a 50% discount on the Amazon Vine enrollment fee for any products that are enrolled between now and April 15, 2023.
 
Effective March 21, 2023, Amazon will temporarily disable the Money Off promotions as they add advanced functionalities to this promotional feature.
Our episode continues with Bradley's thoughts on Amazon's new experiment and a quick recap from the Prosper Show this week. Also, don't forget this week is your last chance to join Helium 10 Elite!
 
Also in this episode, Bradley shares his unique story of how his business partner got kidnapped by the Chinese mafia. For this week's Pro Training Tip, he shows us a strategy on how to improve your keyword research and listing optimization process using Cerebro, Frankenstein, and Listing Builder.
In this episode of the Helium 10 Weekly Buzz, Bradley talks about:
01:30 – Amazon Fee Increase
02:20 – Etsy Payment Delay 
03:20 – Shop Rite Aid on Amazon? 
04:55 – Amazon Vine Discount 
06:15 – Money Off Promos 
07:20 – Bradley's Thoughts On An Amazon Experiment
12:00 – Quick Prosper Show Recap 
12:57 – Catch Bradley On The Following Conferences 
13:50 – Last Chance To Join Helium 10 Elite! 
15:00 – Story Time With Bradley: My Business Partner Got Kidnapped By The Chinese Mafia 
19:25 – ProTraining Tip: How To Tie In Your Keywords So They Can Be On Your Listing
---
Enjoy this episode? Be sure to check out our previous episodes for even more content to propel you to Amazon FBA Seller success! And don't forget to "Like" our Facebook page and subscribe to the podcast on iTunes, Spotify, or wherever you listen to our podcast.
Get snippets from all episodes by following us on Instagram at @SeriousSellersPodcast
Want to absolutely start crushing it on Amazon? Here are few carefully curated resources to get you started:
Everything for your business on Amazon.
Find out more about our products by signing up or speaking with one of our
Customer Success representatives today. With us in your corner, you can enjoy
more sales and increased engagement from your Amazon business.
Chat with a Support Specialist