Helium 10 Buzz 3/16/22: Amazon & Walmart Order Delays, PPC Q&A, And Measuring The Success Of A Listing Versus Its Competitors
We're back to cover the latest news on Amazon, Walmart, & Shopify. We talk with an Amazon PPC expert about his strategies to improve your campaigns and more!
Updated on: March 31, 2022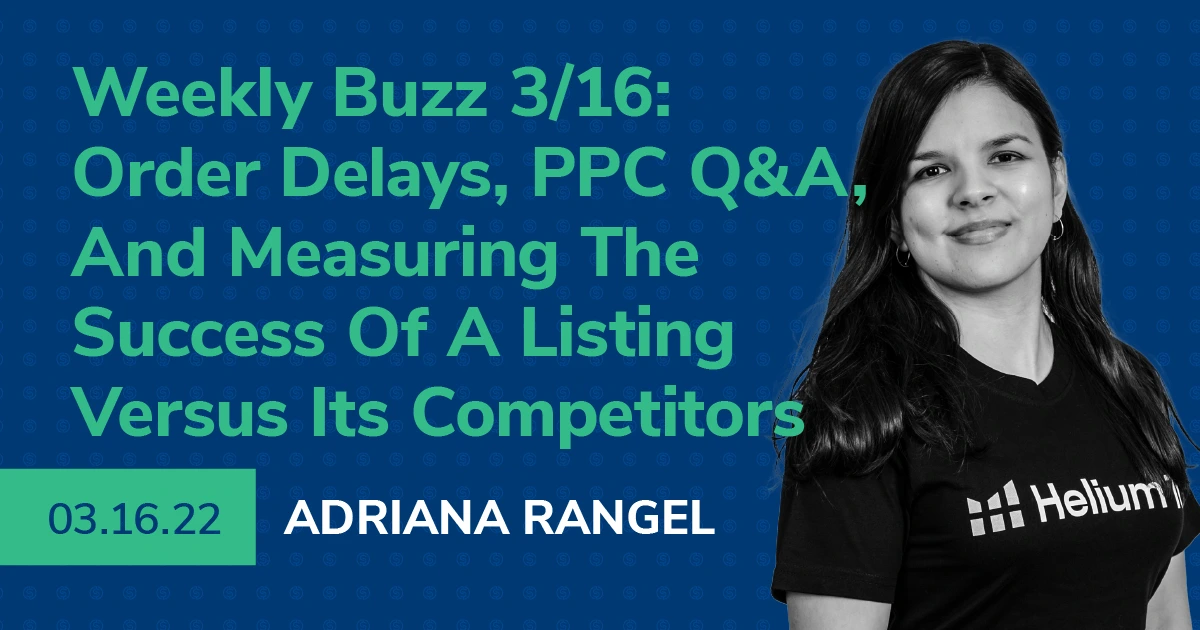 We're back with another episode of the Weekly Buzz with Helium 10's Brand Evangelist and host of the Serious Sellers Podcast en Español, Adriana Rangel!
Every week, we cover the latest breaking news in the Amazon and E-commerce space, interview someone you need to hear from, and provide a training tip for the week.

Orders placed with global e-commerce platforms like Amazon and Walmart may be delayed by virus lockdowns and restrictions in some of China's key manufacturing hubs, according to an industry body. https://www.bloomberg.com/news/articles/2022-03-15/amazon-walmart-online-orders-likely-delayed-by-china-lockdowns

Walmart on Monday (March 14) opened the application period for its ninth annual Open Call event, a major driver of products and innovation for the largest retailer in the U.S., as it looks to add more merchants to its marketplace.
https://www.pymnts.com/news/retail/2022/walmart-kicks-off-annual-product-gong-show-with-open-invite-to-entrepreneurs/

Amazon and Walmart are locked in a two-way race, but Shopify is making moves to insert itself into the e-retail discussion.
https://www.thestreet.com/investing/shopify-makes-a-key-move-to-compete-with-amazon-walmart

We'll also have an Amazon PPC Q&A session with the Head of Accounts of Clear Ads, Tom Waghorn. Listen as he shares his insights, tips, and strategies about the most underutilized area of Amazon PPC that you would like more people to be aware of. How do you ensure that your campaigns/strategies are goals-focused, and how do you rank for specific keywords using PPC?
Helium 10's Chief Brand Evangelist, Bradley Sutton, closes out the episode by showing us how to measure the success of an existing listing against its competitors within Cerebro! This strategy allows you to check your mature listings on how you stack up with your competitors.
In this week's episode of the Weekly Buzz, Adriana talks about:
00:50 – Amazon and Walmart Order Delays
01:55 – Walmart's Open Call For Gong Show
03:00 – Shopify To Compete With Amazon
04:00 – PPC Q&A With Tom Waghorn Of Clear Ads
11:30 – Pro Training Tip Of The Week: How to measure the success of an existing listing against its competitors
19:45 – Early Bird Rates For The Sell And Scale Summit
Transcript
Adriana:
Hello everyone, and welcome to another episode of Helium 10 Weekly Buzz. My name is Adriana Rangel and this is the show where we get you familiar with the latest news in the Amazon and e-commerce space. Interview a people from the industry you need to hear from and provide a training tip of the week that will give you serious strategies for serious sellers of any level in the Amazon, Walmart, and e-commerce world. Let's see what's buzzing this week. So today we will go over some online order delays by Amazon and Walmart among other breaking news pieces. Interview the ahead of accounts from Clear Ads Limited and give you a pro training tip on how to measure your listing success on our tool Cerebro, so let's dive right in. Up first, we have the potential delays in online orders by Amazon, Walmart due to a lockdown in China with the growing cases of COVID in the major manufacturing hubs of China, the country is imposing restrictions and lockdowns to contain that spreading of the outbreak.
Adriana:
These pandemic restrictions are causing disruptions for a lot of online retailers like does on Amazon and Walmart who rely heavily on this Chinese hub for the production and delivery of their products. Amazon is reported to be diverting right to warehouses in the part of Southern China that are subject to lockdowns or any related restrictions. We reach out to Kian Golzari, who is our go-to resource for all things sourcing, something he mentioned was that March is proving to be an absolutely pivotal month in the supply chains. Having just got of Chinese New Year, we were rocked by the news of the conflict going on between Russia and Ukraine, which has pretty much have a major supply chain implications due to China's relationship with Russia. Stay tuned for the March episode of Straight From The Source with Kian Golzari where he'll be covering everything you'll need to know, and then everything you need to do in order to stay on top of your supply change in this challenging month ahead.
Adriana:
So next up we have Walmart's open call for gong show. So Walmart is opening its doors to new entrepreneurs on March 14th, Walmart open applications for their annual open call event, which has been a driving force behind many innovations and products for the US retail giant, Laura Phillips, Walmart senior vice president for global sourcing and us manufacturing is reported to have said, we know how much supporting American products and American jobs truly does matter to our suppliers, entrepreneurs sellers and local communities. In this year's open call event, walmart is offering mentoring sessions to focus on helping those who sell their products through its online marketplace. Applications for the up and call are ending on April 8th. The company has already received more than 2000 applications for more than 6,000 products from small business owners and entrepreneurs through the first early access period in open call event history.
Adriana:
This is interesting. So question for you are any of your Amazon sellers planning on applying to the open call events up next? We have Shopify is making moves to insert itself into E-retail discussion with Amazon and Walmart locked in a two wait race. The vice president of merchant services at Shopify says it goes without saying that to succeed in commerce today, merchants must be able to get packages into the hands of their customers quickly and affordably. Our partnership with Shipo allows our merchants to meet consumers' expectations for convenience, speed, and cost without having to be shipping experts themselves. In order to grow their business. Shopify's collaborating with Shipo to provide an integrated shipping solution for their platform providers. With the plan changes, it seems like the lab smile of delivery may be the deciding factor in whether a consumer buys from Amazon, Walmart, Shopify, or any other online marketplace.
Adriana:
The Amazon Walmart du may have to make room for a third competitor. That would be very interesting. That's all the breaking news we have for you today. So let's move on to the next segment. Now, the person we're going to bring in this week, it's extremely important to your Amazon journey in any listing on Amazon and the way to buy extra visibility is through PPC ads. So today I would like to introduce our guest Tom Waghorn, who is head of accounts at clear ads, limited based out of the UK to answer some questions for you. Hi Tom, how's it going?
Tom:
Thank you for having me on I'm looking forward to sharing some insights with your audience.
Adriana:
Thank you, Tom. Now PPC is one of the best ways to increase traffic to your product listing on Amazon. I was hoping you could share with us some of your expertise and hopefully some of our questions, like what is an underutilized area of Amazon PPC that you would like more people to be aware of?
Tom:
Not only an underutilized area but an area that we find that a lot of sellers don't even know exist. And this is brand metrics. This is a new way to understand how your brand is performing within your category and how that compares to the rest of the sellers in that market. Now, this can be found on the sidebar of your advertising console, looks like a little arrow points up to the right a bit like you would see on the stock market. And then from there, all you've gotta do is choose your desired category. Within here, brand metrics actually measure the number of actual on Amazon shopper engagements. This is all first party data so it's all coming straight from Amazon's API. What we can do here is measure the impact of your upper and mid funnel tactics as well, evaluate your engagement metrics, to help understand the value of your branded intent and how your brand purchases then go on to generate additional sales for you.
Tom:
What you'll also be able to do is monitor your performance relative to the whole category and any peers that you've got within there at each stage of that purchase journey at over time. You've got so many metrics in there. Things like a shopper, engagement rates, customer conversion rates, and even the percentage of new to brand customers, you'll be able to see the category median as well. So for example, if we're looking at customer conversion rate, we might see that the category is around 19 and a half percent. If we look at our brand for, for the last 30 day period, we might see that we're at 26%, meaning we're sitting sort of 6% or 7% above the category medium. Now, this doesn't mean we wanna ignore it, but it means that it's an area that we don't have to put as much focus on at the moment.
Tom:
We might like a step back and go further down the funnel and see that our detail page views are a lot lower than the category median, maybe by around 20%. So this is an area that we'd need to focus on. So if our detail page view is low, we can implement things like creating a sponsor brand campaign to display your brand out of the top of search results, or even a sponsor product campaign to promote key brand product within those search results. And also utilizing Amazon audiences within sponsor display to help focus on your exact product or similar products from your range. So, yeah, brand metrics is something I would encourage all of you to have a look at and see what data you've got out there and see where you could improve your PPC and new campaigns.
Adriana:
Wow. That's very interesting. I feel like we always need to be optimizing right. Ourcampaigns, just like we need to keep up. I know that setting up PPC campaigns can become overwhelming. How do you ensure that your campaigns or strategies are goals focused?
Tom:
One of the things we see when we order a lot of the accounts that are coming on board is not really a strong focus on the actual account structure and the portfolio system about being goals focused. Every campaign you build should have a goal, whether that's simply setting up an automatic campaign is your goal to harvest more information and data, and keywords to help you build better manual campaigns. Are you gonna some of that data and take some of those competitor targets and build a competitor targeting campaign? The portfolio system was introduced a few years back on Amazon. And when we look at accounts, a lot of them are breaking these portfolios down by their product categories, but that's a bed frame, a headboard, or even a bedside table. We would break it down by the goals. So we'd have a portfolio called research, which has got all of our automatic keyword harvesting campaigns in there.
Tom:
So we can keep a focus on that. We'll have one named profitability. These are all the campaigns we know that are currently working well for us. Once again, doesn't mean we'll ignore them, but we, we know that they're working and they probably need less attention than others. One called offense. We can put all of your competitors as in targeting campaigns in there. And also you can have one for ranking as well. You can go into the portfolios and see how they're all performing against each other. So if you've got an overall a cost for your account, that's sitting a little higher than you are comfortable with go into the portfolios and actually see where that ACoS is being distributed. And another way to ensure your go all focused is the naming convention of your campaigns. In general, we like to start our campaign name with the ASIN that it's focused on, even the name.
Tom:
So if you wanna search for bedsheets, you can find all campaigns based around that, but also at the end put what the goal of the campaign is and what it's KPIs are. Is it a keyword campaign? Is it an offense campaign? Is it a defense campaign? And is it a ranking campaign if you make sure that those goals are always visible and clear, not only will your account be easier to navigate, but it be so much easier and quicker to optimize based on the goals that you can see in front of to be.
Adriana:
That's so interesting, Tom, I mean goals are, you know, what helps us keep our campaigns optimized, right. And just to keep that in mind, especially when we have that in the title is super important. And speaking of, of ranking how do you rank for specific keywords using PPC?
Tom:
I'm gonna plug one of your tool. Keyword Tracker has always been my favorite tool than Helium 10. So I would stress always lose this in conjunction with your ranking campaigns. Now there's gonna be different stages of the account's lifecycle as to what you're gonna rank and why, if you're launching a new product, you might wanna go for some of those lower search volume keywords that you find within Cerebro, they're gonna have less competition and they're potentially gonna be a lot cheaper in their bids and CPCs. So going after those first and then gradually moving up to the sort of the medium search volume and then their higher search volume, try and separate those keywords out into individual ranking campaigns. So each keyword has its own dedicated budget, which you can crank the volume up with not only the bids, but the campaign budget itself as, and when they're needed tracking these keywords on the Keyword Tracker tool within Helium 10 is also important, cuz not only can you see the sponsored rank to see what effects you are having with your, your PBC campaigns that we've just discussed, but also the organic rank.
Tom:
I feel that the organic rank is a lot more important than sponsored even we're pumping money into these PPC campaigns, cuz that's the ultimate goal to have a higher organic rank, meaning that we can actually spend less on PPC. And it's never too late to use this tool it's retroactive. So if you were to put on your keywords today, you'd still be able to see how those keywords performed even a year back. So I would encourage you all to start using this keyword tracker with any campaigns you build
Adriana:
So interesting to yes, keyword tracker. We need to stay on top of that, right?
Tom:
Use those positions to dictate how aggressive and you need to be. If you are not hitting that, that ranking target, then you're gonna need to increase your bids and your budget. If you're hitting that target, especially in organic that's when you can start to roll those back.
Adriana:
Interesting. Thank you so much, Tom. Thank you for being here and I appreciate all of your tips and strategies. I know the audience is also very happy to be learning from you.
Tom:
You're very welcome. Thank you for having me on
Adriana:
See you soon. Okay. So let's move on to our tip of the week. This week Bradley Sutton The Director of Training and Chief Evangelist at Helium 10. We'll be about how to use Cerebro for measuring the success of your existing listing against your competitors.
Bradley Sutton:
So in previous training, I showed you guys how to find the top keyword phrases for a niche for a brand new listing. Remember how I showed you guys how to find that baseline product. Well in this video, I'm gonna show you, if you already have a product how to compare yourself with some of your top competitors to see maybe where you can improve. And maybe those of you who are newer to Helium 10, but not new to Amazon. And you didn't do this original keyword research. Well, this is a great way to check a mature listing on how you stack up to your top competitors. So let's go ahead and hop right into how to do this. The first step is to identify your top competitors. Now maybe you already have a list of your top competitors.
Bradley Sutton:
But if not that it's okay. What you can do here is click on the Helium 10 Chrome Extension on the search results for any of your main keywords. Like we're gonna pretend actually this is not pretend. This is real. Our product is the Helium 10 Project X coffin shelf. So what I'm going to do is I'm going to enter that as my baseline product. I'm gonna sort this by sales and member to select your baseline product, you have to select your product first. So here is our product. I'm gonna select it right here. And that means now I've selected this as the baseline. So hopefully you are ranking on page. One of whatever is your main keyword. And so it would show up here, but again, you don't have to do this from X-ray. You could just go if you have a list of ASINs and then copy it one by one into cere, but I'm just gonna do it like this.
Bradley Sutton:
So now what I wanna do is I wanna find the top 3, 4, 5, 6, 7, 8 best selling competitors that are most close to my product. My product is price between 20 and $30. It's a black small coffin shelf. And I'm gonna now analyze this and pick maybe five or six competitors. Again, I'm gonna skip over this makeup coffin shelf, cuz that's a different kind of product. I'm not gonna select this coffin letter board. I'm not gonna select this moon mirror here. I'm not gonna select this little tiny makeup brush holder. Let's select this one. This is definitely relevant to my product. Here's another one, two. This is a key holder, so it's different. Let's see here. Okay. Here's another one that's selling. Well, three, let's do this one, four here's number five. Let's go six here and let's go seven and maybe one more that's selling like got at least a hundred units a month here.
Bradley Sutton:
Luna's mystical coffin shelf. Let's select that. All right. Now I'm gonna hit run keyword search. Now what this is going to show up is it's going to actually pull up into Cerebro. Remember what any of those products, those seven plus mine are all ranking for. It's gonna pull up all the keywords that I'm ranking for, all the keywords that I'm showing up in sponsor results. And then all of the keywords that those other seven products are as well. Let's take a look at how many it found. Look at that almost 8,000 total keywords it found. So step one is very similar to how you would do keyword research for a brand new listing. I'm just gonna put here 500 minimum people ask me, Hey is there a magic number to put here? No, it's different for every niche. Like if I was doing collagen peptides, 500 is probably way too low.
Bradley Sutton:
That's a very competitive niche. I would probably put like 3000 or 4,000 here, but coffin shelf is a relatively small niche. I'm happy with 500. All right. And then now let us go to, Hey, show me the keywords where I don't know how many do I have here? 1, 2, 3, 4, 5, 6, 7, 8. So I'm gonna put here minimum ranking competitors, five where at least five out of these top eight are all ranking for it. And then if I were to take their average rank, let's just say they're all on page one. All right. So I'm gonna hit apply filters and this brings up nine keywords. All right. Now, this is where the magic happens, guys. All right. So I can see here coffin shelf for wall. Why did this keyword come up? Well, if I were to, to, to put my mouse over this relative rank, look at these competitors.
Bradley Sutton:
They are all on page one. Not only are they all on page one, they're like on the top 15 positions. Now you see that one. That's bold. That's my product. So I am page one, position seven, which is right. But sometimes this is actually more important than my position rank. All right. Your goal would be to have your relative rank for your main keywords. Be number one, look at this. I am not number one for any of these. What does this mean? That means that on all these keywords that are the main keywords for this niche, my competitors are showing up before me. So this is exactly how you would use this tool. You would first identify the main keywords of your niche and then see, where is your relative rank. Now remember the way that it knows what is the relative rank is because I entered my product as the first product as the baseline product.
Bradley Sutton:
So really important that you put your product as the first ASIN here, so it can compare all of these. So what would I want to do with this information? Well, I'm not gonna tell you just one exact strategy, but overall my strategy would be is to get this relative rank up because look at this, all of these main keywords, I'm one of the last products that is showing know in the search results. I'm in the sixth, I'm the eighth, I'm the seventh, I'm the fourth here. So I'd wanna move up the rankings and take a look at where I can improve. Now. There's other ways that I could kind of like measure my performance against others. This was a very narrow one. I could go up to like, you know, maybe 90 here, and what's gonna happen is I'm gonna see more keywords here.
Bradley Sutton:
Here's 14. Look at this, look at this one right here. All right. Six foot coffin. Now you might think this is not an important keyword at all. And probably it's probably not that important to your product, but let's say this was a super relevant keyword to your product. If I can see here that my competitors are all on page one right here 26.7 is their average rank, but me my position, remember this position rank means my product. I'm at 232. Wow. I really need to improve my ranking for this keyword so I can show up higher like my competitors are. So guys, this is a super valuable tool, whether you've been selling on Amazon for a couple of weeks or a couple of years, and you have not done this, make sure this is one of the first things you do enter your own product as the baseline product that enter in 3, 4, 5, 6, 7 of the products that are most similar to you in form or function and price, and then see where your competitors are ahead of you in sponsored ads ahead of you in organic placement, and then try and work up a strategy on how you can close that gap and potentially take over their position there.
Bradley Sutton:
Because again, you want to be the first thing that people see if somebody types in a keyword that is relevant to your niche, like for example, black coffin shelf if I'm the eighth black coffin shelf that shows up, there's a good chance that I lose tons of sales, cuz somebody who searches that keyword and they actually see something that they like in those first six or seven positions, they might not even get to my position at number eight. They're gonna go ahead and purchase one of those top ones. So your relative rank is super important. And this functionality here in cerebral allows you to analyze relative rank of your existing listening to your competitors. So again, make sure to run that as soon as possible, if you haven't done. So and do that every 3, 4, 5 months or so to make sure that you are performing well
Adriana:
Before we sign off, I want to remind you that you can now take advantage of the early bird rates for our Sell and Scale Summit through March 31st, 2022, the Sell and Scale Summit is focused on private label selling and brand building with educational tracks, broken into categories for new experienced sellers and pro sellers. And for those of you who do not already know this, we're proud to announce that this conference will be featuring the serial entrepreneur, Gary Vee as a keynote speaker. So make sure you register early to save. That marks the end of our Weekly Buzz. See you next week. Same day, same time.
---
Enjoy this episode? Be sure to check out our previous episodes for even more content to propel you to Amazon FBA Seller success! And don't forget to "Like" our Facebook page and subscribe to the podcast on iTunes, Spotify, or wherever you listen to our podcast.
Get snippets from all episodes by following Bradley on Instagram at @H10bradley
Want to absolutely start crushing it on Amazon? Here are few carefully curated resources to get you started: