Helium 10 Buzz 3/10/2022: Huge Announcement About The Biggest Amazon Seller Conference Ever!
In this special episode, we will be dropping some Major News about the biggest upcoming Amazon Seller event this year. You don't want to miss it!
Originally published on: March 10, 2022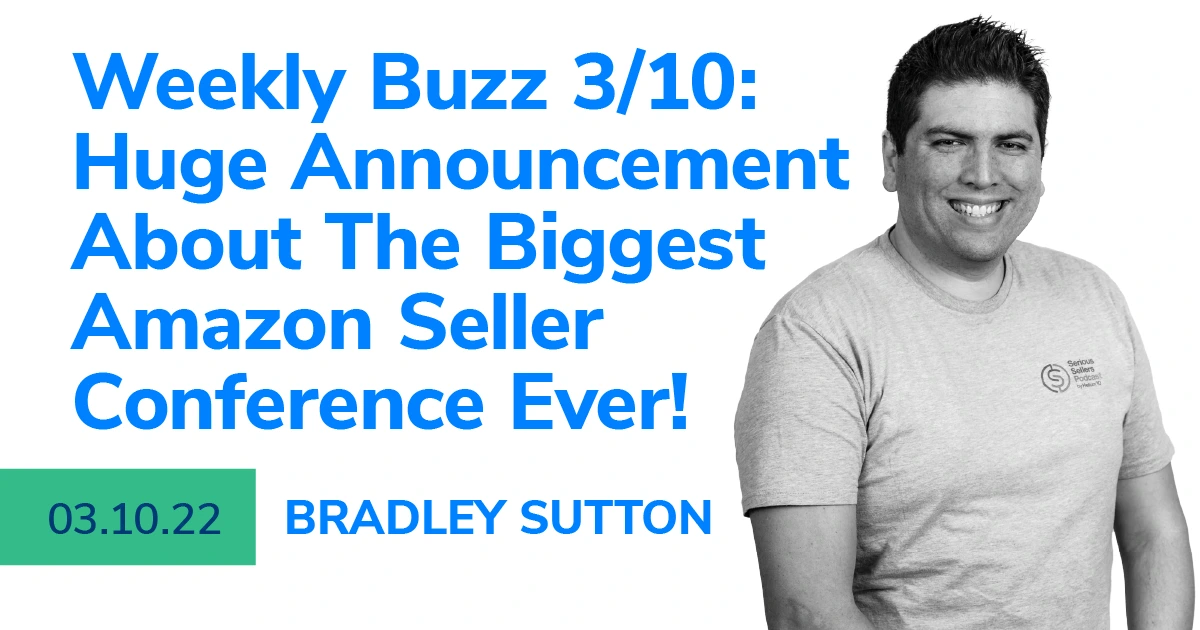 We're back with a special episode of the Weekly Buzz with Helium 10's Director of Training and Chief Evangelist, Bradley Sutton!
Every week, we cover the latest breaking news in the Amazon and E-commerce space, interview someone you need to hear from, and provide a training tip for the week.
If you are selling in Amazon Turkey, you can now do Sponsored Ads as of this week.
Amazon's announcement encourages sellers to prepare their Prime Day sale early and stock sufficient inventory of their products. Is it time to get ready for Prime Day?
Amazon has purchased Veeqo, a company that makes tools to help online businesses manage their storefronts on and off Amazon.
Bradley closes out this episode with Helium 10's Event Producer, Victoria Love, for big announcements for the Sell and Scale Summit. They are announcing the first keynote speaker that will definitely get you excited!
In this week's episode of the Weekly Buzz, Bradley talks about:
00:50 – Listen To The Serious Sellers Podcast In German and Spanish
01:30 – Stay Tuned For A Big Announcement In The End!
02:00 – Sponsored Ads In Amazon Turkey
02:30 – Getting Ready For Prime Day
04:00 – Amazon Acquires Veeqo
05:30 – Speaking With Helium 10's Events Producer
07:00 – Join Us In The Helium 10 Prosper Show Social
08:40 – Why Is It Important To Go To Conferences?
11:00 – What Is The Sell And Scale Summit?
12:00 – Announcing The First Keynote Speaker For The Sell And Scale Summit
13:30 – What To Expect In This Big Event?
14:30 – How To Register To The Sell And Scale Summit
Transcript
Bradley Sutton:
Hello everybody. And welcome to another episode of the Helium 10 Weekly Buzz. My name is Bradley Sutton, this is the show where we get you familiar with the latest news in the Amazon and e-commerce space. We interview people in the industry you need to hear from and provide a training tip of the week that will give you serious strategies for serious sellers of any level in the Amazon, Walmart, and e-commerce world. So let's see what's buzzing this week. Now the first thing I just want to throw out there guys, is I want everybody right now to take out their phones and give us a help here. We're trying to help the podcast algorithm. You know, we talk about the Amazon algorithm, right? But we have a couple new podcasts out one in Spanish and one in German. So if you have Spotify or if you have Apple Podcast go to your phone right now, and then just go to Apple or Spotify and type in Serious Sellers Podcast.
Bradley Sutton:
Now you're gonna see the regular Serious Sellers podcast, the logo that I'm wearing right here. First, but don't click on that click either the German or the Spanish one, even if you don't speak those languages and just hit one episode and start playing it, and then you can turn off your volume or something like that. But I'm doing a little test on the algorithm today, guys, to see what happens with the rankings when you guys do that. Now, of course, if you speak Spanish or German, you should be definitely listening to those podcasts that are hosted by Marcus and Adriana. So again, Serious Sellers Podcast, either Auf Deutsch or en Español, you'll see right there in your phone. So please go ahead and download one episode and play it in the background. Now, what are we gonna go over today?
Bradley Sutton:
We've got a really, really, really exciting announcement that I've could not imagine ever announcing something like this a few months ago, or let alone a couple of years ago when I first started working here. So make sure to stay tuned for that. We're gonna have a special guest who's gonna help us out with that announcement. But for right now, let's go ahead and hop right into the news stories. All right, the first news story of the day, if you are selling in Amazon Turkey, a lot of people don't even realize that there is an Amazon Turkey, but that's one of the newer marketplaces out there. As of this week, you can now do sponsored ads. So maybe you already or you were one of those early adopters, you had already gotten a couple of products listed there and you're wondering, wait a minute? I can't do PPC.
Bradley Sutton:
Well, as of this week, now you can do sponsored brands, sponsored products, and even stores right there in Amazon Turkey. The second news story of the day, it's talking about Prime Day. Now, is there an exact announcement yet? As of right now, I didn't see one, but if you look on your Seller Central dashboard last week, something kind of like went a little bit under the radar. It's pretty interesting. They made an announcement. Amazon did in seller central saying that the last day to submit Prime Day deals is April 29th. So first of all, keep that in mind.
Bradley Sutton:
All right. If you wanna have like a special lightning deal or something during Prime Day, the last day you have to apply for one of those is April 29th. But the interesting thing to me, it says, Hey, want you to have your inventory for Prime day in by June 20th. So that was kind of telling to me, because if I really doubt that they're gonna have it at the end of June or around that time, like last year, if they say they have your inventory in by then, because usually, they want to give you like two or three weeks to have that inventory to checked in and everything, right? So if we take that statement at face value, what does that mean? Maybe prime day this year is gonna be in the beginning of July or middle of July. Let's see, Amazon usually doesn't announce it officially until just a couple of weeks before, but that was kinda like the first indication that we're looking at a possible late June or July Prime Day this year, I hope you guys have your products on the way from India, from China, wherever it's coming from.
Bradley Sutton:
Because as you know, there's a lot of shipping delays. And so we wanna make sure that you have everything in stock by Prime Day. Now the last news story was from CNBC, Amazon acquired a company called Veeqo, I believe it's what it's called. It's an e-commerce software company and there's a lot of speculation as far as what this collab means, but the kind of like scuttlebutt around or word around the water cooler is that Amazon really wants to double down on its MCF network. You know, multi-channel fulfillment, Amazon is becoming a carrier and storage even for people who don't sell things on Amazon and they wanna really make sure to take a chunk outta that pie as a great alternative, as opposed to like a FedEx or a UPS. And so the kind of like theory is that Amazon is really going to beef up its software site and delivery site, as far as the multi-channel fulfillment, so that, you know, people who are just Shopify sellers or sellers on other platforms, they would use Amazon without even selling on Amazon, but use the Amazon fulfillment network in order to fulfill their items.
Bradley Sutton:
How many of you out there are using MCF? Like maybe you're selling on Etsy or another website and you are using the Amazon inventory in order to fulfill your off Amazon sales. I'm curious what you think. I've started using it a little bit for Etsy. It works really well. You can get very fast shipping and the rates are pretty competitive. So it's gonna be interesting to see if Amazon beefs that up. All right. So that's it for the news this week. Let's go ahead and now invite our special guest here. She works here at Helium 10 Victoria, Victoria, where you at? There we go, Victoria, how's it going?
Victoria:
Good.
Bradley Sutton:
All right. Now, this is your first time either on one of our broadcasts or on our podcast. So what is your official title here at Helium 10?
Victoria:
My official title here is event producer, which means organizing and producing anything that has event attached to it.
Bradley Sutton:
I love it. I love it. All right. Now, I'm assuming this is not your first entry into this event production. What's some of the things you've done in the past before you work here at Helium 10?
Victoria:
Yeah. I've been doing this for decades. I hate to say it, but I've done things. The Emmy awards, the billboard musical awards. I think you may have heard of the show called CES. I worked on the SEMA auto show, just I've been doing this for a long time.
Bradley Sutton:
I started exhibiting at the SEMA auto show in like 2001 like 20 years ago. It was so huge. That was like my first getting into like big events and things like that. So that's pretty cool now. All right. So I mean, it's kind of surreal for me to even like, realize, Hey, you know, Helium 10 needs an event producer now, and it's not only just you. Now, we actually have a team who works on things like this. It's pretty exciting. Now the first event, that's kind of you're being produced in the next, you know, immediate future is gonna be this weekend. We're gonna be at The Prosper Show. So, you know, The Prosper Show guys is not put on by Helium 10, that's not our show, but if you guys want to check that out, you can go to prosper show.com and get tickets, but right now you should see a link on the screen. And what does this link go to Victoria?
Victoria:
We are hosting our Annual Prosper Party. So we try to have the biggest, the best party at this event. We're one of the bigger exhibitors at the event. This year, we're gonna be at the House of Blues and we're bringing in entertainment that is well known. We're bringing in Mark McGrath from Sugar Ray, and he's gonna be performing Mark McGrath's '90s experience. So he is not just singing Sugar Ray music. He's gonna do '90s music from the entire decade.
Bradley Sutton:
I didn't even know that. So that's pretty cool for a nineties kid like myself. That is exciting. Right? So guys, h10.me/prosper2022 is the link that you're seeing on the screen.
Victoria:
And I recommend getting tickets now because I think the outdoor price starts on Sunday afternoon.
Bradley Sutton:
Okay. All right. So make sure you get your tickets now because you're probably listening to this, hopefully on Thursday or Friday or Saturday this week, if you're listening to this in April, you're a little bit late to the party here, literally and metaphorically here, but make sure to get your tickets, even if you're not going to The Prosper Show. So if you wanna get a whole bunch of Amazon knowledge and learn from a lot of different speakers, yeah. Go ahead and go to The Prosper Show too. It starts on Monday. There's a lot of great information that's gonna be brought out. You can visit us at the booth, but even if not, if you're in Southern California, if you're in Nevada, go to Vegas for this weekend and you can go to our party and a whole bunch of other parties for great networking. And let's just talk about that for a little bit. Now Victoria, you've been in this space and not just obviously in the Amazon world, but why is it important do you think for people who are in a certain industry to go to like conferences and things that pertain to what their focus is?
Victoria:
It's what I do. It's all about events, face to face. Interaction is worth so much more than what you could do online on a phone call on a zoom call getting to yet to know somebody face to face. You just can't replicate that.
Bradley Sutton:
Yeah. Yeah. I mean, I've told this story so many times already but I know we have new listeners out there, but I would not be in this position if it wasn't for a conference that I went to. Matter of fact, I heard it on a podcast. I was listening to a podcast and 2015, 2016, and somebody said, Hey, we're gonna give 20% off to go to this one Amazon conference. I knew about Amazon. I had worked for a company, but I just didn't know too much about it. I was like, you know what, I'm gonna go ahead and do it. And people that I met that day are now working also for Helium 10 and about 10, 15 other people have stayed in my personal and my business network ever since that day. So like, networking is really amazing at events like this. So guys make sure to go to live events. Now, for somebody who's attending a live event and if I want to network, if I wanna get out there, like, what should I do? Like, you know, maybe I'm on the shy side, Victoria, like, should I just like introduce myself to people I run into? Or how do I start? How have you seen people start conversations? Like what do we do?
Victoria:
It's really sort of like, how's the weather kind of conversation. You just find somebody picks something out that you may have in common with them and start a conversation like, oh, I really love your shoes. Or, you know, Hey, did you see that funny guy that walked by or something like that. And it just, yeah.
Bradley Sutton:
I think his name is Bradley.
Victoria:
If you have something in common a moment in time that you guys then can share forever, that will bond you.
Bradley Sutton:
All right. All right. Excellent. Now, with that in mind, the reason why we actually expanded your team is we are doing something big later on this year. I'm not gonna give you guys the registration link just yet, but I wanna talk about it first. Tell us about, and we've mentioned it before on this podcast and on this show before, but not in much detail, but just tell us in general about Sell and Scale Summit, that's coming up.
Victoria:
Sell and Scale Summit. Pretty much the reason I was brought in is going to be a conference that we are hosting and it's going to be created to fulfill the needs of all of the community. So we are interviewing all sellers, not all sellers interviewing sellers, we're talking to our two advisory boards and we're finding out what do you want in a conference? What don't you want in a conference? And we are creating it built basically on those needs.
Bradley Sutton:
Okay. This here is our first announcement for our first speaker of this event.
Bradley Sutton:
Alright, guys. I am happy to announce our first keynote speaker.
Victoria:
Announced keynote
Bradley Sutton:
Our first announced keynote speaker guys is none other than Gary Vee, like if this microphone was not attached to this microphone arm, I just wanna drop the mic right now, because it's like surreal to me to think that we get to like now to learn directly from him in person. I've never even done that in person. I've always wanted to go to one of these events. But man, my goal, Victoria, you know how he poses, right? He poses like he has like a five like that's how he poses. So, if I do a five right next to him, that's like the Helium 10 sign right there. So we're gonna get Gary Vee to do the Helium 10 sign. Guys, this is huge, Gary Vee is going to be speaking at our Sell and Scale Summit. So if that doesn't get you excited then. Oh my goodness. I don't know if you've been in eCommerce. If you don't know who Gary Vee is.
Victoria:
The first person we're announcing. We've got 2 more.
Bradley Sutton:
Yeah. How many more did you say?
Victoria:
We'll have three major keynotes. We just locked in another one. I'm not gonna say that one yet. I think every month, if not sooner, we're gonna have different announcements of big keynotes.
Bradley Sutton:
Okay. And it's not just general big celebrities and keynotes that we're having. Like, what is kind of like the structure of the other seminars that we have.
Victoria:
We're gonna have the three main keynote. We're also gonna have various tracks and sessions. We are working on a women's in the e-commerce breakfast. We are working on a social media strategy track. We have six figure sellers, seven figure, and upseller tracks. We have entertainment. We have parties every night. I think our next big announcement, and maybe it will be announced next week is our welcome party is going to have a big name, entertainer singing, and dancing. So we're gonna keep that one, I think for next week, but we're going all out. I can tell you nicely.
Bradley Sutton:
Are we still doing the Zumba with Bradley? One of the days there?
Victoria:
Yep. Zumba with Bradley on the lawn and that's on here too.
Bradley Sutton:
All right. Now, normally when you guys go to conferences in Vegas, you gain, you leave a few pounds heavier than you got there with, thanks to the buffets and stuff. But now you can kind of eat guilt free because we'll Zumba it all away. You'll send one of those mornings there.
Victoria:
And if Zumba's not quite your type, then we're gonna also do a yoga class.
Bradley Sutton:
Okay. There we go. Now in now, guys, this is gonna be the biggest event in the Amazon world in history. So that's our goal. So you definitely wanna be a part of the history here. So let me just throw up the link now on how you can register. And as this link is thrown up Victoria, if you can talk about the prices and like the dates and things like that.
Victoria:
So the event will be September 19th through the 22nd, or actually the 20th to the 22nd. It will be at the brand new or really recently redesigned Virgin Hotel in Las Vegas. Tickets right now are in the early bird phase. It's $799 for a ticket right now on April 1st, which will jump up to $949. That ticket will get you access to all of the sessions. Gary Vee, breakfast and lunch will be served. You'll have exhibitors, we'll have sponsors also. Yeah. That's another thing. If you wanna exhibit, or you want a sponsor, you should reach out.
Bradley Sutton:
Yeah. We're gonna have a really big conference room floor where you can exhibit have your own booth and things like that. So if you guys want to get more information on that. If you're a service provider you're in our trusted partner directory or something make sure to email [email protected] to find out how you can either sponsor or get yourself a booth there. So if you guys are listening to this on the podcast, the link that we're displaying here is h10.me/s3. S3 stands for, I was about to say Serious Sellers Podcast, I keep saying that too much. It stands for Sell and Scale Summit. So three S's so S3, h10.me/s3, be one of the very first ones of the thousands who are going to eventually register for this event. So, I mean guys, like I said, if that doesn't get you excited, then that's right. That means you must be brand new to e-commerce if you don't know who Gary Vee is, and you're still in the right place because now we're gonna make sure that you know who that is and what he stands for. And, and if you're not motivated about e-commerce yet, you go in a room with him for 30 minutes, I guarantee you're gonna be motivated after that. So anything else?
Victoria:
We're respecting 2000 or more attendees. So this is not a small little get together.
Bradley Sutton:
Yeah. This is not a small get together guys. That's not how we roll here at Helium 10 anymore. I mean, even this event that we're doing this, this Monday at The Prosper Show at House of Blues, we're expecting hundreds and hundreds of people, and this one's even gonna be bigger than that. So guys get excited. h10.me/s3. So, Victoria, thank you so much for coming on.
Victoria:
We'll see everybody there in September
Bradley Sutton:
See, you in Vegas. Alright. Now, so for everybody else again I hope that gets you excited. I was so happy. I usually don't do the Helium 10 Buzz here. I've only done it a couple of times. Our team here really does a great job with it, but I was like, you know what? I have to be the one to announce Gary Vee cuz I'm gonna be selfish. Cuz he's like my hero in e-commerce and I've read his books and I listened to his podcast and everything. So it was really an honor to be able to announce that to you guys. So make sure to come out. I'll be there. The whole Helium 10 team will be there. Tons of influencers will be there for you to network with h10.me/s3. I hope you guys enjoyed this special edition of the Helium 10 Buzz. We'll see you guys next week to see what's buzzing. Bye.
---
Enjoy this episode? Be sure to check out our previous episodes for even more content to propel you to Amazon FBA Seller success! And don't forget to "Like" our Facebook page and subscribe to the podcast on iTunes, Spotify, or wherever you listen to our podcast.
Get snippets from all episodes by following Bradley on Instagram at @H10bradley
Want to absolutely start crushing it on Amazon? Here are few carefully curated resources to get you started: