Helium 10 Buzz 2/23/22: Amazon Sues Fake Review Companies, Advice From An Elite Seller, New Product Ratings Tracker, And More!
This episode covers the latest on the Amazon marketplace, Elite seller's advice to new sellers, Follow-Up's new product rating tracker feature, and more!
Updated on: February 24, 2022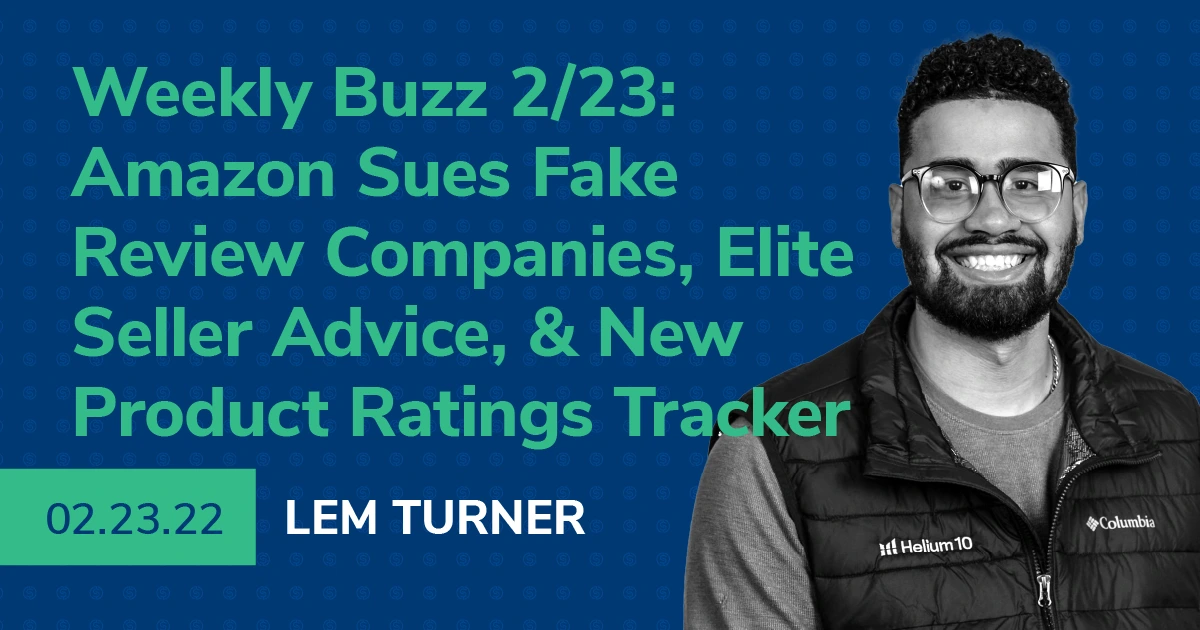 We're back with another episode of the Weekly Buzz with Helium 10's Brand Evangelist Lem Turner!
Every week, we cover the latest breaking news in the Amazon and E-commerce space, interview someone you need to hear from, and provide a training tip for the week.
Amazon will be offering discounts to sellers who opt to purchase shipping labels through their Portal. For sellers who do Fulfilled By Merchant, they can now take advantage of these discounts if they utilize shipping through Amazon.
https://sellercentral.amazon.com/gp/headlines.html

A lawsuit has been filed against two large companies, AppSally & Rebatest, for enabling fake reviews on Amazon's marketplace. Amazon is taking further action with this based on the ranking and review manipulation that has been occurring on Amazon as of late.
https://www.cnbc.com/2022/02/22/amazon-sues-alleged-fake-reviews-brokers-appsally-rebatest.html
A new beta tool has been released at Amazon called the Search Catalog Performance. It tracks metrics such as impressions, click-through rates, add-to-carts, and conversion rates. Be sure to check out our link below to check if you're able to take advantage of this beta feature!
https://sellercentral.amazon.com/brand-analytics/dashboard/brand-catalog-performance
We also interviewed one of Helium 10's Elite Members, Gina Perez, about her Amazon journey. We dive into how she got started, words of advice, as well as her goals and dreams for the future!
Helium 10's Brand Evangelist, Lem Turner, closes out the episode by getting into the new Product Ratings Tracker feature within Follow Up's dashboard! This tool can be incredibly useful in tracking your products' progress in obtaining reviews as well as ensuring that you are maintaining a healthy review rate based on your emails. Be sure to check it out!
In this episode of the Weekly Buzz, Lem talks about:
00:30 – Take Advantage Of Amazon's Sponsored Discount
01:00 – Amazon Sues Alleged Fake Review Companies
03:00 – Amazon's New Search Catalog Performance Tool
04:45 – Helium 10 Elite Seller Gina Perez Shares Her Journey
07:00 – Gina's Words Of Advice For New Sellers
11:00 – Dive Into The New Product Ratings Tracker In Follow-Up
17:00 – Checkout Helium 10's Guide To Selling On Walmart.com
Transcript
Lem:
Hello everybody and welcome to another episode of the Helium 10 Weekly Buzz. My name is Lem Turner, and this is a show where we get you familiar with the latest news in the Amazon and e-commerce space. Interview people in the industry that you need to hear from and provide a training tip of the week that will give you serious strategies for serious seller of any level in the Amazon, Walmart and e-commerce world. So let's see, what's buzzing this week. Up first, we have our Amazon sponsored discount, which is a news piece coming directly from Seller Central for the buy shipping service users. Now, I am pleased to share that Amazon is offering discounts to sellers who are purchasing shipping labels through buy shipping. Now, this is to port sellers that are providing fast on time and track products to our customers. Now you can find these discounted prices in Seller Central when selecting the shipping method marked with a blue badge that says Amazon Sponsor Discount.
Lem:
Now sellers who are using fulfilled by merchants can now get discounts when they buy their shipping directly from Amazon. So quick question for all you guys out there, does this discount something that you can take advantage of? Moving on to our second news piece of the day. It's about the new or this recent lawsuit coming out from Amazon piled against two companies, AppSally and Rebatetest for fostering fake reviews on Amazon's online marketplaces. Now, these companies have been providing Amazon sellers with rankings services such, and some of them known as search, find, buy or things among that nature among which they were alleged to have been giving fake reviews out of those users. So the lawsuit seeks to "shut down two major fake review brokers" that Amazon claims misled shoppers by having their members post positive reviews in stores like Amazon, eBay, Walmart among others.
Lem:
Now, according to the suit sellers would ship out empty boxes of their product and provide AppSally with the link to the product to leave a user's review. Similarly, Rebatetest users would place an order on the seller's product on Amazon and leave review. The user would later be refunded to purchase amount through services such as PayPal, which is what I'm talking about recently when it comes to like search, find, buy, or something similar of that nature. Currently, Amazon actively monitors social media sites and regularly reports, abusive groups due to companies that run them. And in 2021 alone, Amazon reported over 16,000 abusive groups to social media sites, such as Facebook, Instagram, and Twitter resulting in the groups that have aggregated some of around 11 million members being taken down. So as we say this, and we bring this up just because we want everyone to remember that Amazon is very sensitive about unfair practices, such as fake reviews or ranking manipulation.
Lem:
So if you're using websites like these or you're in a Facebook group or any sort of other social media channel that seems like it's gonna be against Amazon's terms of service. Do yourself a favor, just consider it's against Amazon's terms of service and stop immediately for the sake of your business. Moving on to our third piece of the day, we have Amazon's new tool. We have a new tool that's currently in beta version, a couple of users, including our Helium 10 elite member, Jake Paulson, let us know about this tool, this is called the Search Catalog Performance, which is seemingly only available to brand registered sellers. However, it does show data points such as your impressions of your products, your click-through rates, cap, cart, ads, conversion rates, and more. Now, one of the interesting things about this new feature is that you can see how many add-to-carts there are compared to sales.
Lem:
Now, some of the products that we've had had up to 10 add-to-carts for every sale. So that's like some pretty substantial information that can be utilized within your business and something that you can use to inform your business decisions later on. So what about you guys out there when you add things to your Amazon shopping cart, how often do you actually go through the purchase? How is that information probably gonna help you in your business? Let us know in the comments below. I know that for almost everything I add to the cart, I purchase for better or for worse, I know my wallet probably doesn't like it, but that's just how I do on Amazon. So this marks the end of our news for the week. We're gonna get to our interview portion. And in this segment weekly buzz, we typically wanna bring on a person to interview. So I wanna first begin the second portion of today's episode by introducing a Persian who has been killing it in e-commerce industry for the last 23 years. So I wanna welcome our Helium 10 Elite member, Gina Perez.
Gina:
Hi, thanks for having me.
Lem:
I'm so super happy to have you on, how are you doing today?
Gina:
I'm doing well. Thank you.
Lem:
Awesome. So just tell us a little bit about yourself. Like how'd you get started selling on Amazon, so like what you do before?
Gina:
Sure. So I've been in the e-commerce space for about 23 years. So my journey with Amazon started early on with the brands that I worked for. We used it as a marketplace. I worked in the sport of goods industry and we sold everything that we could, that was in our catalog online, also worked for a brand and started to the brand's products online. And this was earlier in the last probably six years. And so for the last two years when I launched my own brand, it's really when I've kind of gotten to the nitty-gritty of selling on Amazon. I started 20 years ago, but with my own brand in 2019 is when I really started to do some research. What industry I wanted to be in. I created the brand, the logo built the website, social media accounts, whole nine yards.
Gina:
And I actually launched and sold my first product in April of 2020. And I quit my full-time job three weeks before the pandemic hit and the country shut down. So I thought I made a mistake. But seen as I, everybody turned to order it online, like it was kind of a blessing in disguise and it grew faster than I had anticipated in a good way. It was a very good problem to have. But you know, the ins and outs of Amazon is what I've really tried to focus on in the last couple years. My brain is also, you know, available on my own website. I do Walmart and eBay and Wish and some other marketplaces, but Amazon's the bulk of it,
Lem:
Man. That's awesome. We got a e-com veteran or out here. I think it's really cool that even after the pandemic, I think that's what reached everyone's minds, right? It's like pandemic hit. You're like, oh man, like, should I keep doing this little? Did we know it was gonna skyrocket to the moon right there? So that's good hear. So what's one thing that you would tell a new seller who might be in your shoes. I know you were still starting e-commerce, so you've been in the e-commerce for a long time, but like when you were first starting off on Amazon versus the information you know now what's some of the things you would tell a new seller who might have been in your shoes when you started what's be some advice you would tell them?
Gina:
Sure. So kind of, you know, post learning the basics of e-com. I really hindsight wish now I knew that trying to find information on, on Amazon, cause it's super complicated, you know, with you ranking and your products, selection, and everything, and there's so many "gurus online". That's trying to find who you can trust and whose information is most valuable to you and kind of the networking piece of it. Without sounding like a total plug, like I really appreciated Helium 10's for freedom ticket. Like that was kind of a basic 101 and then got to a place where I felt like I was in a space where I knew I was familiar with. But also had people that I could bounce things off of the elite program has done wonders. Cuz you can ask like the really hard questions.
Gina:
It's not necessarily basic questions, but people have been there and done that and it's been very, very helpful. So I would say kind of the most important thing is just to find the source of information that you trust. Whether it's, you know, a different group or whatever, but find one that is reputable, not just somebody out there selling a program like their main business is selling a training program versus actually selling on Amazon. And if I had to say there was a close second, I would say accounting software that is Amazon focus. Like those are my two big pinpoints for starting out
Lem:
Wow. That's super helpful. And I think like transparency is such a huge thing and I think that's something we like to think that we uphold really well in our Helium 10 Elite members group and we definitely do nerd out in there and getting nitty grit stuff. So it's good to hear that you enjoy that stuff cause we do as well. So last question. So what thinking forward in the future, what are some of your goals and dreams for your business coming up in 2022 and later on?
Gina:
Sure. You know, it's been kind of a lifelong dream of mine to have my own business. And I learned a lot from the two companies that I worked for, fortunately. I just grew up in the e-commerce space and so it kind of made it easy to transition. I was really, my goals were to have flexibility, you know, in making decisions for my own brand, for my life. You know, when and where I worked, you know, I was already working 24 7 since 1999. Like that was e-commerce and I've been living that for a good portion of my life. So if, you know, my thought was, if I'm working this hard for somebody else, imagine what I could do for myself. And so my whole plan was let's find a product and industry I wanna be in. That's gonna make me a good living support, my family.
Gina:
I'm not trying to take over the world. I'm not trying to put anybody out of business. I just want a small piece of the market show. The e-commerce space is huge and there's so many things that you can be part of. And I just wanted a piece of something that would provide me the ability to have my own business. And what happened to me kind of early on, and this is kind of year two going on three that I got more and more invites to "do you wanna sell your business?" And it didn't occur to me that it would happen this soon. My plan was maybe 10 years down the road, you know, I could kind of sell the business, and then I would retire. I just wanted to create a business that would provide for my family.
Gina:
I don't wanna take over the world, you know, I just wanna small piece of the market, you know, there's, the e-commerce space is huge and, you know, there's, there's plenty to go around. You know, I'm not, I'm not trying to have five houses. I'm not trying to have, you know, all over the world type property. You know, I just wanna make a good living and have a good brand and ultimately sell it. I get so many calls and emails about people that, you know, wanna buy the business, this, e-commerce space and flipping e-commerce businesses, kind of the new real estate. And I didn't think it would happen this fast. And so that was my 10-year plan. Now, I think probably within five to seven, I might have an opportunity to sell and flip the business and retire in a comfortable way. You know, like I said, I'm not looking to have, you know, million dollar houses and do all that. I just want a good space and, you know, can spend more time with my family. I feel like I've worked hard for, you know, the last 24 years and I'm ready to call my own shots and kind of take a breath. You know, I've just worked 24/7 for so long now I'm ready to take advantage of for myself.
Lem:
So, yeah, I mean, I mean, I love that. I couldn't have said it any better myself. I think that's an awesome goal and dream inspire us. And I think that a lot of people watching this is, are going to heavily relate. So thank you so much for hopping on the Weekly Buzz today and it was fantastic to meet today and get to talk to you a little bit.
Gina:
Yeah, for sure. Thanks for having me. I appreciate it.
Lem:
Absolutely. All right, cool. So we're gonna move on to our tip of the week with our pro training tip this week. It's gonna be about how you can look at Tracking Product Reviews and ratings using Follow-Up. So here we go. First thing we're gotta do is actually go to our Follow-Up page. So we're right here. We're at our Follow-Up page. We see our date range right here is December 1st, 2021 to January 25th, 2022. I'm looking at the past two months of data here. And the reason, why I wanna look at the past two months, is just because I wanna see and give you guys a good example of how awesome our product rating conversions tool looks. So if we go here and we zoom in on the right side, you may see something new in your dashboard right here. It is our Product Rating Conversions right there. It's gonna show us our ratings received ratings requested and our conversion rate.
Lem:
Now it's important to note that when it comes to our Ratings Requested that's gonna be attached to any of our automations. That's literally requesting review either utilizing Amazon's Request a Review Template since it has their own Amazon's tag in there, or if you're utilizing the Custom Message Template and utilizing the Request A Review Tag within there. Now, keep in mind if you aren't using the Amazon's Request a Review Template, or you're not using the tag within the Custom Message Template. And you're just sending a custom message template just says, asking for a review, but you don't have any tag incorporated into it. Then it's not gonna be pulled into the ratings, request it since we don't have any means in order to pull that type of data in. Now, when it comes to our conversion rate. Our conversion rate is just ratings received, divided by ratings requests.
Lem:
So we can see our conversion rate right here in terms of our ratings is 36.9%, which I think is pretty good. It's definitely above industry standard for us. Now, when it comes to ratings received, how do we pull that information in? So that's gonna be based on your products that you're tracking within Follow-Up. So if we zoom out here, we're gonna go right to our products tab, which you're gonna see here is new. Now you may see some current data being pulled in right there. You may see that you are already tracking ASINs, even though this is your first time to the page. Now that's because this Product Review Tracking enabled type of tool is talking with alerts. So if you already have ASINs that you're tracking in Alerts, it's gonna pull that information into here and track the same ASINs and same thing for vice versa.
Lem:
If you're tracking ASINs in here and you enable it, it's gonna also track them within Alerts. It's not you have one or the other, you're tracking them for both. Now, in order to see all of our products in here, you can get an idea that we have all marketplaces in our product page, right here. You can see Mexico, Canada, or United States. I'm just gonna go United States just to keep it easy for us. Now, we can see all of the products that we have enabled here, and we can see our view statistics and our current conversion rate. Now it's important to keep in mind that our conversion rate is 0% and that's because it's pulling in just the past seven days. But if you wanna look at a larger date range within there, then let's go do our coffin shelf right here. And we can go into a larger date range.
Lem:
Let's do the same date range I did at the beginning of this video, which was December 1st. We can see that our review rating has stayed consistent at 4.8 stars, which is awesome. We can also see a breakdown of our total reviews of the percentage and volume that's been in 5, 4, 3, 2 1 stars, which is really helpful for us to get an idea. What's nice here, and this is my favorite part is I can see our conversion rate broken out by product. So I can see I've received 29 ratings out of the 216. I've requested. I can see the volume of how many I've requested during a certain period of time. So you can see, we were really getting after it during the holiday season, you can see, we have requested, you can see how many times I got a rating or a review.
Lem:
You see out of those ratings reviews how many were one star, a two star, a three star, and a four star or a five star. And I really like this area, same as how we look at this data in order to form future business decision. We can also utilize our review volume here in order to get an idea of what is typical for our product in terms of the average that we typically see. What's nice about the rating and review summary here. And when we're tracking products is that you don't necessarily need to have automation running in order to track reviews. Now, if you don't have automation running and you do enable tracking within your products, then you'll be able to see your review rating and track that information. But you will not be able to see how many you've requested. You'll be able to see all this other information, but you won't be able to see how many you've requested, just because you're not pulling in information from your automations, which is why we recommend that you do have automations running, just because that's gonna maximize the value of your content.
Lem:
Now, when we come here, it's really easy just to start enabling products. So it's literally just as easy as we can see, this product is disabled enabled to get access, to review ratings and statistics. We're gonna click on enable. It's gonna take some time for that to pull in that information. Boom, we see it's already enabled. Now, keep in mind though, this information is going is forward watching. So that means from this date on, it's gonna start tracking your reviews, tracking your ratings, give you an idea of your statistics. It's not gonna pull in historical information. Like I mentioned earlier. Now what's nice about this is that we can see all of our information compiled here. We can go back to our main tab, which in our dashboard and see it all within there, which is super helpful for us to see in terms of the efficacy of how our ratings and reviews been acting for all of our products.
Lem:
Awesome. Hopefully, you saw some good facts in that video and something that you're gonna be able to implement and maybe even go to our Follow-Up tool and check out for yourself, see how your products are doing, see how the conversion rate of your products is doing and let us know. Is it looking good? Is there maybe something we need to improve, then looking to learn videos and see how you can go ahead and improve your product view rate today on Follow-Up. So, lastly, before we sign off, I wanna mention Helium 10's guides who selling on Walmart, Project W. Now, you can just go ahead and visit helium10.com/project-w to learn how to take your Amazon products and start selling them on Walmart.com's 120 million monthly users. That's it for our Weekly Buzz this week. And I'll see you next week. Same day, same time.
---
Enjoy this episode? Be sure to check out our previous episodes for even more content to propel you to Amazon FBA Seller success! And don't forget to "Like" our Facebook page and subscribe to the podcast on iTunes, Spotify, or wherever you listen to our podcast.
Get snippets from all episodes by following Bradley on Instagram at @H10bradley
Want to absolutely start crushing it on Amazon? Here are few carefully curated resources to get you started: