Helium 10 Buzz 2/2/22: Sold by Amazon Shut Down, Walmart Cryptocurrency, Supply Chain Updates, & More!
In this episode of the Weekly Buzz, we cover the latest news about the Sold by Amazon shut down, Walmart's cryptocurrency, 2022 supply chain updates, and more!
Updated on: February 3, 2022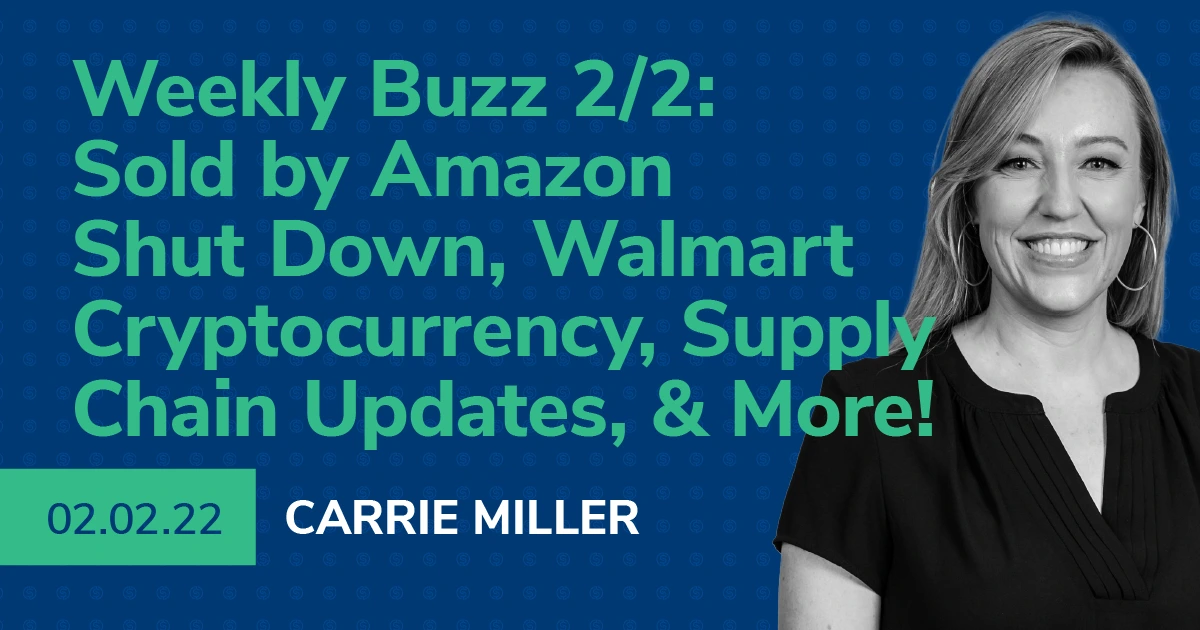 We're back with another episode of the Helium 10 Weekly Buzz with Helium 10's Brand Evangelist and Walmart expert Carrie Miller!
Every week, we cover the latest breaking news in the Amazon and E-commerce space, interview someone you need to hear from, and provide a training tip for the week.Shares of e-commerce and cloud computing giant Amazon.com jumped sharply higher on Monday. https://www.fool.com/investing/2022/01/31/why-amazon-stock-jumped-on-monday/

Washington state's Office of the Attorney General has announced that Amazon will be forced to shut down its Sold by Amazon (SBA) program. The decree comes nearly two years after Attorney General Bob Ferguson launched an antitrust investigation into Amazon's use of the program. https://www.extremetech.com/internet/331138-sold-by-amazon-shut-down-after-washington-state-investigation

Walmart is all ready to enter the world of Metaverse. It will create its own cryptocurrency and NFTs. It recently filed new trademarks. It intends to spread its wings by selling home decorations to electronics. It will offer the shopper virtual currency to buy products. https://www.ecommercenext.org/walmart-creates-cryptocurrency-to-enter-metaverse/

To wrap things up, see a preview of the second episode of Straight from the Source that Helium 10 is doing in conjunction with Kian Golzari from Sourcing With Kian for all your shipping and sourcing needs, be sure to watch this episode all the way to the end!
In this week's episode of the Helium 10 Weekly Buzz, Carrie talks about:
00:40 – Amazon Stock Jumped On Monday
01:00 – Sold By Amazon Shut Down After Investigation
02:45 – Walmart Creates Cryptocurrency In Metaverse
04:00 – Kian Shares His Take On The Supply Situation
05:00 – Chinese New Year
06:00 – What To Be Aware Of During This Time Of The Year
11:30 – Building Relationships With Your Supplier
15:30 – Make Sure To Join The Spanish Helium 10 Facebook Group
Transcript
Carrie:
Hello everyone, and welcome to another episode of this week's Helium 10 Buzz. My name is Carrie Miller, and this is the show where we get you familiar with the latest news in the Amazon and e-commerce space. We interview people in the industry that you need to hear from, and we provide a training tip of the week that will give you serious strategies for serious sellers of any level in the Amazon, Walmart, and e-commerce world. So let's see what's buzzing this week. The first story that we have today has to do with Amazon's shares. So Amazon shares jumped higher, sharply higher actually on Monday. And the move was likely primarily driven by a bullish day in the overall stock market. Amazon has an earnings report that's coming out this week. So some stock gains could represent bets from investors and traders that are hoping for a really good report. The stock rose as much as 4.4% and ended the day at 3.9%.
Carrie:
The next big news is that sold by I Amazon was actually shut down after a Washington state investigation. So the SBA or sold by Amazon program was started in 2018 and the program supposedly was supposed to help third party sellers to automatically adjust their prices in accordance with real time competition and demand. So basically if a participating seller's product was priced at $20, but Amazon's algorithms were showing that the same product was selling for about $15 on other sites, then Amazon would actually adjust the sales price to $15 to make it competitive and then the seller would actually get paid out a minimum gross proceed, which is MGP. And that was actually settled before they even started selling with Amazon. So they would say, this is my MGP, and that's what Amazon would payout so that the seller wouldn't have any losses.
Carrie:
So by entering into this agreement with Amazon, the seller would receive that MGP, but that also prevented them from setting their own prices, offering any discounts, which in, in turn kept them from competing with Amazon itself. So basically they found that this led to cut more customers purchasing Amazon's private label products, which benefited Amazon while cutting away, you know, potential customers for these third party sellers. So the lawsuit indicates a settlement between the offset, the attorney general, and Amazon. And Amazon will be required to halt the SBA program and pay a 2.25 million fine. And it also forbids Amazon from creating a new differently named product with the same terms and conditions. Our third story of the day, which is pretty exciting, interesting news. And because I'm in the Walmart space, Walmart is actually joining the MERS. So along with other companies like Facebook, Walmart is ready to enter this whole world and they're actually going to be creating their own cryptocurrencies and NFTs.
Carrie:
So they recently filed trademarks on December 30th, 2021 for these. So they intend to offer home decorations and electronics, things like that, and they will allow the shoppers to use virtual currency to buy these products. So they're intending on testing out all of their it and any great ideas that they have will go into play. And they're just gonna keep contesting and iterating and keeping up with the technologies to make, you know, shopping experiences great for shoppers using the emerging technologies. So it's pretty exciting stuff. Walmart's staying on the cutting edge, so we'll keep following them on that.
Carrie:
The next thing that we have for you is quite a treat. We have a video clip from Kian who is a sourcing expert. He has worked with thousands of big brands, and he's also been to over 20 Canton fairs. He lived in China, he knows all the ins and outs about sourcing. So we've partnered with him and we've done some YouTube content. So we've got his content on our Helium 10 channel, as well as his Sourcing with Kian channel. So you can actually check those out, but we actually wanted to share a small clip with you today so that you can see all this great information that he has to share with you. So once you're done with this, this is only one small piece. You can go and check out those channels, but here is a clip from Kian. So stay tuned.
Kian:
We're gonna be going over everything we need to do in January to make the most of our supply chain situation. So let's start off. Number one, this is a drawing of a tiger. And the reason I've got a tiger on here is because February 1st is Chinese New Year. And Chinese New Year this is going to be the year of the calendar. And if you're wondering why New Year falls on February 1st, sometimes it's middle of February, sometimes middle of January Chinese New Year follows the lunar calendar, which means the date changes every single year. And every 12 years, they have an animal as well to represent that. So this year we're gonna welcome in the year of the tiger and tiger represents strength and braveness. So hopefully we can all use that within our businesses as well. But just give you a little bit of background to what goes on around Chinese New Year. CCTV, which is the main news channel in China on January 31st, everyone will be watching that sort of watching the fireworks.
Kian:
There's gonna be those of firecrackers and stuff like that. I lived in Shanghai for several years and it was a really, really, really cool thing to be a part of Chinese year is gonna end around February 15th and that's what they call the lantern festival. And that's to basically symbolize the end of the New Year. So you can anticipate your factories being off work for a little bit longer than that two week period. Normally they'll take break sort of 1 week for 10 days before Chinese New Year. So about middle of January is when they're gonna start a fall off of work. But the office staff will probably be off work for about 7 to 10 days, something like that between that February 1st to 15th, but they will be checking emails as well, but just so you know, so you can plan around that.
Kian:
Okay, so now we've covered this year of the tiger and what are the dates, et cetera. Now let's cover like a few little fundamentals of what to be aware of around this time of year. So with it being beginning of January and with the factors going off around middle of January, you've only got a really short window of time in terms of, have you shipped everything out that you needed to ship before Chinese New Year, if there was something that you ordered several months ago and your factory guaranteed you, that you get shipment before Chinese New Year now is the time to check in with them to make sure are you definitely on schedule? Are you definitely gonna ship out before Chinese New Year? If not, let me know. Now if we have any issues, let's resolve it. If you need to arrange for any pre-shipment inspections, you wanna book that in now, just make sure nothing gets held up around this time of year, as well as that if they have given you a date, just make sure they're on schedule, ask for photos, make sure that you know, even if they delay the order by a few days, well, now you have to arrange that with your freight forwarder. It's a very bit of time of year for them as well.
Kian:
So don't just assume that, oh, if they said I've got shipment 15th of January, that it's gonna go ahead, make sure you check in with them daily or every other day to make sure everything's on schedule. So it doesn't fall behind. And then you get your goods after Chinese New Year. The other thing is you definitely wanna double check your capacity as well because the factories capacity will be very, very different after Chinese New Year than it is during Chinese New Year. I'm gonna talk about that in a little bit more detail on the second point, but what I always like to do around this time of year, right before Chinese New Year and the start of the year for us is that I like to figure out what is my schedule? What is my forecast orders for next year? And I like to share that with the factory.
Kian:
So for example, if last year you ordered 10,000 units of your particular product and you've had about, you know, 50% growth. So you anticipate this year, okay, we're gonna order 15,000 units. I would share that information with your factory. So rather than sort of ordering two or 3000 units every quarter, I would say to my factory, look, we forecast it. We're gonna have a 50% increase in growth this year because of, you know, our PPC strategy and growing our sales team and growing our marketing team, et cetera. So we forecast, remember this is not a commitment. This is a forecast. We forecast that we're gonna be ordering around 50,000 units next year. Can we go ahead and order that amount, or can you go ahead and order the raw materials for 15,000 units in advance so we can keep it in, in stock, in your warehouse.
Kian:
So if you're using like a black cotton material, they're not cutting the material, they're not printing the material, but they're just ordering the fabric roll and we're keeping it in stock. So that every three months when it comes to you ordering your 3,000 or 4,000 units, well, they just pull from their from what they have in their warehouse and storage, which cuts your lead time down because they haven't, they don't have to go and prepare the raw materials again. And it also cuts your price down because now you're ordering 15,000 units at a time or the raw materials for 15,000 units at a time. Remember the labor cost is probably the most expensive, expensive part of the production process, depending on what your product is. But if they're just ordering the raw material, they haven't actually started using any labor yet. So they'll most often be happy to sort of keep that in storage for you.
Kian:
And the other thing is, if it is a generic, raw material, such as black polyester or black cotton, they know that if you don't take that order, then they can supply it to someone else later on down the line. But if you have some customized goldfish pattern that requires like, you know, your own design and stuff like that, they're less likely to do it for you because they know that if you don't take that stock, it's gonna be very hard for them to send that stock to someone else. So just bear in mind what sort of material you're using and how many years you've been working with that manufacturer is the more leverage that you have or how many orders you've given at a manufacturer, or if your orders have been significantly growing, then you have more leverage to give that forecast and ask them to hold those things in stock.
Kian:
And it also prevents you getting hit by any future price increases as well, because if they were to order those raw materials in Q2, in Q3, in Q4 in 2022, well, if the price of that raw material were to go up, you're not gonna get affected by it because they ordered all your raw materials at once. And that all starts from having a forecast order and sharing that forecast or with them either right before Chinese New Year or right after Chinese New Year. So that when they get back to work on February 15th, they have a plan for the entire year. And remember, it's not a commitment, it's just a forecast and they'll definitely help support you. The other thing is that Chinese New Year is the biggest people migration in the world. So there's over 100 million people which will be traveling outside of the factories to their home towns to different provinces.
Kian:
And they've told me about if you leave your province that's to go home, that's fine. But if you come back to a province from a different province then you have a two week isolation period and that's, what's going to affect point number or two. The other thing that people always ask around Chinese New Year is should I be sending a gift to the factory? Should I be sending a gift? And if so, what type of gift? Well, the cool thing was that we had Christmas before Chinese New Year. So let, what did your factory do for you? Did they send you an email? Did they send you a video? Did they send you an e-card out? Did they actually send you a physical gift? And I normally like to match whatever they did for me. If they sent me a card, I'll send them a card back.
Kian:
If they sent me a gift, I'll send them a gift back. But if you only got an email, but you realize, okay, well, this is a supplier that I need to get to know better. This is a supplier I need to build a bit of leverage with then feel free to send a gift. And in terms of what gift you should be sending, I always like to send a gift, which represents like my hometown. So I'm from Scotland. And when I used to go to travel to China, when things were normal, I would always take some bottles of whiskey for the factory bosses. Cuz even if you don't drink whiskey, I know that they appreciate it. And I would even make some customized bottles for them as well, depending on how much business I was doing with that particular factory.
Kian:
But you don't need to go to that extreme. I would say that, you know, just send something that represents your hometown. So if you're in you know, if your hometown is good for baseball or basketball or American football, whatever, feel free to get them a t-shirt of your local team or if your town is known for something like hot sauce and send them that hot sauce, if your town is known for tea, send them that tea, you know, that's something that Chinese love tea. So definitely something that represents your hometown because they have these customers from all over the world and that really excites them. They now start to receive gifts from different parts of the world. So definitely do that. But what I would also say a little word of advice is use this as leverage to build a good relationship with the factory boss.
Kian:
And what I mean by that is that if you are sending a gift to the sales assistant, make sure you also include another gift and that will be for the boss. And then this is chance for the boss to get to know you. If you don't know each other already. I'm not saying bribe them, I'm not saying like send a really expensive bottle of wine or whiskey just send something memorable and then make sure you give to the boss. And then you can use that to your advantage later on down the line as well. And the final thing I would say about Chinese New Year, and I'm just trying to give you guys all the hacks, all the tips, all the things that I've learned over the last like 12 years. So you can apply it to your business today and make the most in January 2022.
Kian:
Think about that one is also use this time to build a relationship. I'm not sure if you've seen much of my content before, but I always preach the importance of building a relationship with your manufacturer. And you can really do that at this time as well. So if you haven't already make sure you download the app called WeChat on your phone and WeChat is basically the Chinese Messenger or the Chinese WhatsApp platform. And you can start texting your supplier to say, Hey, how's your Chinese in the year? What type of food you guys eat? Did you go home? How'd you guys celebrated? I heard there was like fireworks. Can you send me some photos and videos? It'd be cool to see like what a dinner table looks like. I'd love to see like, you know, what you guys are doing around this time.
Kian:
Here's me and my buddies. We're at the game this weekend. We're just having some beers, da da, da. This is my friends. If you ever get a chance to visit our place, like I'm gonna show you around all this sort of stuff and now have to build that connection. Now it's always important to keep the important points of business, like your delivery date, your price, all that sort of stuff to email or to Alibaba and things like that. But in terms of like the informal conversations, let's start having those conversations on WeChat. Let's start sending photos, let start sending videos.
Carrie:
I think it got cut off a little bit there, but basically, what the rest that trying to say is that if there's some sort of an issue or, you know, you need to rush your order or there's something that, you know, you need to have done with your supplier. If you've built a relationship with your supplier, then they'll be more willing or more likely to help you. So it's always really good to have a strong relationship with your supplier so that you can you know, get extra help in these time crunch situations. So again, if you wanna take a look at all of Kian's videos, you can go to Sourcing with Kian on YouTube. You can also go to our Helium 10 channel. We've got these posted there as well. So lots of great information. I know I always get a lot of questions about sourcing.
Carrie:
So it's a really great resource for all of you. I wanted to go back. I think I said, he's worked with thousands. He's worked with lots of different brands, but he's also sourced thousands of products. So it was thousands of products. He's been to lots of different Canton fairs. So he's definitely an expert and someone that you should listen to and take some good advice from. I think building a relationship with a supplier is very, very important. So, all right. And going into our next thing, I wanted to let everyone know that we actually have a Facebook group for our Spanish-speaking audience. So if you wanna go ahead and join the Facebook group, I think we have yep. There it is. Our Facebook group. So go to our Facebook and usuariosdehelium10 is the Facebook group name. So make sure that you go ahead and join that.
Carrie:
It's gonna be a great resource for our Spanish-speaking community so that you can all not only network but also help each other out in your native language. And I think it's gonna be a great group. Adriana who is one of our evangelists is gonna be in there quite a bit. You also as a podcast. So all that information should be in that Facebook group. So go ahead and join that. And thanks again, everyone for joining today. I hope that this was helpful. Lots of great stuff going on in the Amazon space and be sure to tune in every week. You've got always the cutting-edge news. So I hope to see you again next week. Have a great day. Bye.
---
Enjoy this episode? Be sure to check out our previous episodes for even more content to propel you to Amazon FBA Seller success! And don't forget to "Like" our Facebook page and subscribe to the podcast on iTunes, Spotify, or wherever you listen to our podcast.
Get snippets from all episodes by following Bradley on Instagram at @H10bradley
Want to absolutely start crushing it on Amazon? Here are few carefully curated resources to get you started: