Helium 10 Buzz 12/6/22: Amazon Review Testing | Sponsored Display Updates | Walmart Success Stories
In this episode, we talk about what's buzzing in the Amazon, Walmart, and Etsy spaces. We also learn how to check if your Amazon products are being sold in other marketplaces.
Originally published on: December 6, 2022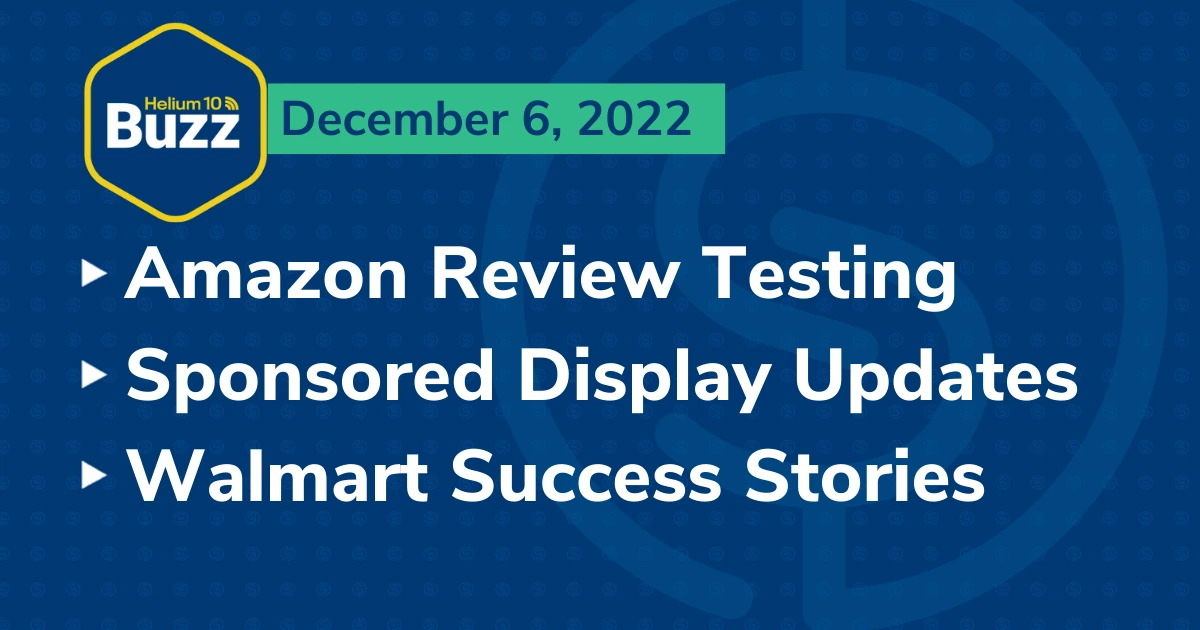 We're back with another episode of the Weekly Buzz with Helium 10's Chief Brand Evangelist, Bradley Sutton. Every week, we cover the latest breaking news in the Amazon, Walmart, and E-commerce space, interview someone you need to hear from, and provide a training tip for the week. Amazon said it rang up record-breaking sales in the five-day period beginning Thanksgiving Day and ending on Cyber Monday, adding to what has been a strong showing for many retailers so far this holiday shopping season.
https://www.cnbc.com/2022/11/30/amazon-touts-record-sales-over-holiday-shopping-weekend.html

In a marketing email Etsy sent this week, it advised sellers to use its "Estimated Arrival" search filter. https://www.ecommercebytes.com/C/abblog/blog.pl?/pl/2022/12/1670084738.html

Amazon Sponsored Display expands portfolio functionality, adding vCPM-based campaigns that are optimized for reach.
https://advertising.amazon.com/en-us/resources/whats-new/sponsored-display-expands-portfolio-functionality/

From December 8, 2022, new and existing product listings for certain product types must include color name, product description, and department name attributes. Since our previous announcement, size name has been removed as a mandatory attribute, and two product types have been added.
https://sellercentral.amazon.com/gp/headlines.html?id=GTJ32YKQCNKFU8Y6

A Walmart shopper is going viral on TikTok for discovering a way to buy displays for items that aren't even on sale.
https://www.dexerto.com/entertainment/shopper-goes-viral-tricking-walmart-into-letting-him-buy-display-thats-not-for-sale-2003388/

We continue this episode with a quick reminder from Bradley to join us for this December's Bigger Better Launch webinar. Then we proceed to an interview with Carrie Miller to talk about success stories for Walmart sellers, strategies, and what's coming up with Helium 10 tools for the Walmart marketplace. Lastly, Shivali is back on the show for the Pro Training tip of the week, which talks about how you can check if your Amazon products are being sold in other marketplaces that you are not selling in.
---
Enjoy this episode? Be sure to check out our previous episodes for even more content to propel you to Amazon FBA Seller success! And don't forget to "Like" our Facebook page and subscribe to the podcast on iTunes, Spotify, or wherever you listen to our podcast.
Get snippets from all episodes by following us on Instagram at @SeriousSellersPodcast
Want to absolutely start crushing it on Amazon? Here are few carefully curated resources to get you started:
Everything for your business on Amazon.
Find out more about our products by signing up or speaking with one of our
Customer Success representatives today. With us in your corner, you can enjoy
more sales and increased engagement from your Amazon business.
Chat with a Support Specialist