Helium 10 Buzz 12/15/21: Etsy Takedown Notices, Research Tool Updates, & Listing Builder Tip
This week, we'll cover news around Etsy, Amazon Grocery, your favorite keyword research tools, and how to use Listing Builder for competitor research.
Originally published on: December 15, 2021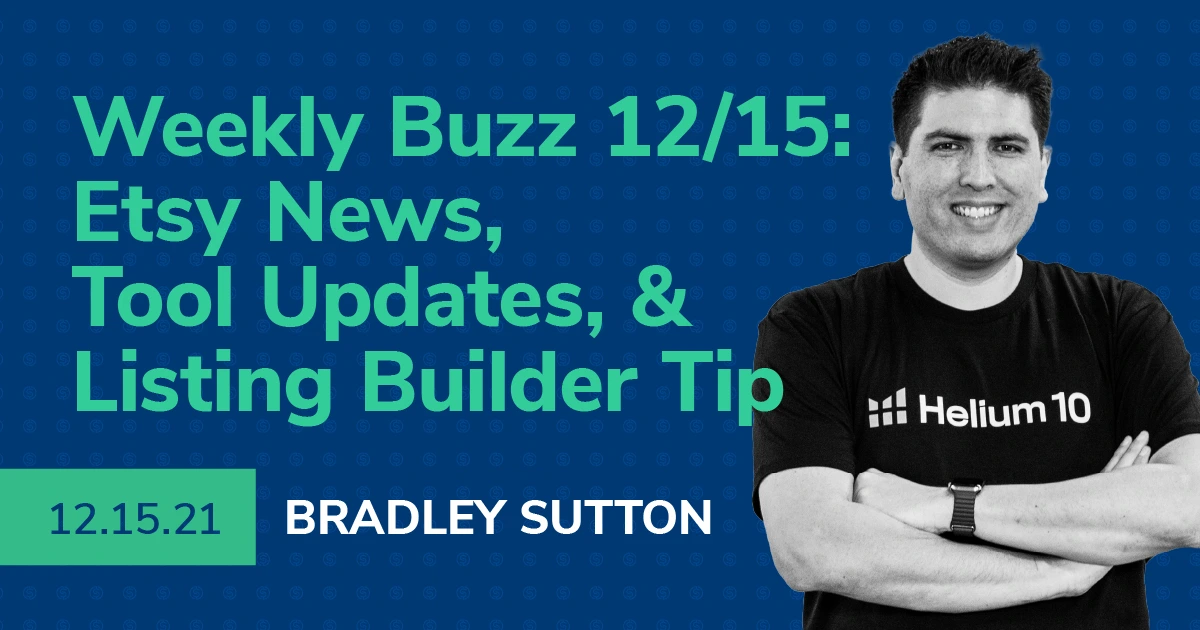 We're back with another episode of the Helium 10 Weekly Buzz with Helium 10's Director of Training & Chief Brand Evangelist Bradley Sutton!
Every week, we cover the latest breaking news in the Amazon and E-commerce space, interview someone you need to hear from, and provide a training tip for the week.
Here is the latest news that we talked about in this episode:
Etsy Takedown Notices where sellers and stores are being taken off of Etsy due to fraudulent copyright infringement reports. https://nypost.com/2021/12/12/etsy-craft-sellers-say-theyre-unfairly-elbowed-off-site/
Amazon is planning on placing more of an emphasis on their grocery fulfillment services in order to compete with other services as such Walmart and instacart. https://www.freightwaves.com/news/amazon-is-about-to-shake-up-grocery-delivery
FBA Inventory Warehouses have been affected by tornados in the US. Here, we dive deeper into how to understand if your inventory has been affected and the steps to take.
We also interviewed one of Helium 10's Product Managers, Rachel Fusco, who leads up the team behind Blackbox, Cerebro, Magnet, and more! We talk about upcoming updates that will be seen in the next coming months as well as some of the exclusive functions that Elite members get a chance to utilize or see first!
Bradley closes out the episode with Helium 10's Listing Builder by utilizing it in a unique way in order to do competitor research! Listing Builder is the new and improved upgraded tool from the former Scribbles. It can sync right up to your Seller Central, allowing you to upload and process changes directly from Helium 10!
In today's Weekly Buzz episode, Bradley talks about:
00:40 – What Are We Talking About This Week?
01:10 – Etsy Takedown Notices
02:20 – Amazon Grocery Expansion
03:40 – Amazon FBA Inventory Warehouses
05:30 – What's New For Helium 10's Research Tools
09:00 – Changes Coming Soon In Cerebro
10:30 – ProTraining Tip Of The Week
15:00 – Helium 10 Tools Have Secondary Purposes Too
15:40 – Learn More About Helium 10 Academy
Transcript
Bradley Sutton:
Hello everybody and welcome to another episode of the Helium 10 Weekly Buzz. My name is Bradley Sutton. This is the show where we get you familiar with the latest news in the Amazon and e-commerce world. We interview people that you need are from, and also give you a tip of the week that can help you have serious strategies, and these are for serious sellers of any level in the e-commerce world. So let's see, what's buzzing this week on today's show, we're gonna talk about different news articles, such as something that's happening on Etsy that maybe you, I mean, Amazon seller have been familiar with in the past. We're also going to interview our product manager for some of my favorite tools here at Helium 10, such as Cerebro. And they're also gonna give you a tip of the week on how you can analyze competitors listing using a tool that I think most people use only to make their own listing, wanna find out what that is. Make sure to stay to the end.
Bradley Sutton:
Let's go ahead and get into our news articles of the day. All right. So the first article that we have Etsy Take Down and Notices. Now, this is an article from the New York Post and it was entitled Christmas smear, Etsy, craft sellers say their fairly elbowed off site. So what's happened as we know, you know, as Amazon sellers, we hear a lot about, you know, like take down notices where people submit reports that you are infringing on trademarks and things like that. Well, what this article is saying is now that seems to be kind of trending on Etsy. And a lot of them are bogus. You know, as we know Etsy is mainly products that people are making in their own houses, and some people in the Black Friday season and in Q4, they get removed from Etsy because of these bogus reports.
Bradley Sutton:
So make sure to check out this article to kind of prepare yourself if you are a seller on Etsy. And as you know, this can happen on Amazon. What are the things you can do to prepare yourself? This article actually quotes one of the guests that we've had on the Serious Sellers Podcast, Chris McCabe, who's got some tips for you guys to help protect your Etsy and Amazon accounts. Now the next article is about Amazon Grocery Expansion. So this is an article from freight waves. And it was at actually very interesting because what's happening now, there's these rumors in the industry that Amazon is gonna be putting a little bit more emphasis on their grocery delivery. Right now, Walmart has kind of like a stranglehold on the industry with 22% of that market share. And then, of course, Instacart as well.
Bradley Sutton:
Amazon is kind of, of lagging behind even after the whole foods acquisition at less than 2%. However, they're talking about offering new services, first of all, starting in the UK in 2022, and then coming here to the United States. So this is a very interesting article about what Amazon might have in store for grocery delivery. Now you might be thinking well, that doesn't really affect me. You know, we don't, we as third party, Amazon sellers are not selling grocery products. However, the more benefits that Amazon Prime members can get with different things like grocery delivery, the more Amazon Prime members there are possibly more business, you might have. So what do you think about this? You know, what about on the customer side, would you consider purchasing your groceries with same day delivery from Amazon? Do you think this might help your third party products that you might be selling in the future If Amazon expands its services?
Bradley Sutton:
Our last article or news story of the day is about Amazon FBA Inventory Warehouses. So there's a very tragic situation that, that happened this week, you know, across America with a lot of tornadoes and it actually affected one of the Amazon warehouses. Even some Amazon workers lost their lives. Now what I saw happening in the Amazon Facebook groups is a lot of people were wondering like, well, this warehouse kind of like, you know, the roof got blown out and all the products got lost because of this tornado and things like this happen sometimes where you know, like there maybe there's a pandemic that kind of shuts down one of the Amazon warehouses. Well, how do I know if where my product is? Like, how do I know if some of my units of inventory are caught up in a warehouse that you know, blows away or potentially us down because of a virus?
Bradley Sutton:
Well, one way you can do that is an Amazon seller central, make sure to go to your reports and then your fulfillment, and then you'll see different daily inventory reports where it breaks down where all of your inventory is. If you're a Helium 10 Elite member a lot of you have access to a new tool that we actually have in beta called the Heat Maps, where it rights inside of Helium 10. You can see which inventory in Amazon warehouses your inventory is placed at. So make sure to take advantage of that as well. The good thing about how Amazon kind of handles their inventory system is they don't put all, usually they don't put all of your units just in one warehouse. So if something happens in one warehouse nothing should be completely affected since your inventory is spread out across the country. So make sure you know where your inventory is by checking out Seller Central. All right, now let's get back that's it for the news today. Let's go ahead and invite up Rachel for the first time on our show. Rachel, you there. .
Rachel:
Hey, Bradley. How are you?
Bradley Sutton:
I'm doing just a delightful welcome, welcome. Now, I kind of spilled the beans already, but can you say, what are the tools that you're responsible for here at helium 10?
Rachel:
Absolutely. I am responsible for the research tool, so that's gonna be a lot of everyone's favorites, Black Box Cerebro, Magnet, Keyword Tracker. Another good one.
Bradley Sutton:
Absolutely. Absolutely. My favorite is Cerebra. I think a lot of people would say the same. So we just had an Elite Webinar a couple of months ago, or just about a month ago, actually, with Kevin King and in it, you know, I think a lot of the people who are watching this might have heard it. Kevin King teased a brand new tool that's coming exclusively for Elite members. And it's a tool that the industry has never seen before. Can you talk a little bit about it and like maybe what the status is on it?
Rachel:
Definitely. So we are as promised, we are in development on that tool right now, what this tool does for our Elite users is it combines two really powerful tools. The first one being the Brand Analytics Report that you're gonna get out of Amazon, as well as Helium 10 existing metrics, a lot of favorites, like Title Density. And then we've also included some new metrics that have never been seen before on the Helium 10 platform that create an amazing pro opportunity finding tool for your next new product that you wanna launch.
Bradley Sutton:
Okay. That's super exciting. I know it's coming in the next month or so. So, you know, a question we get a lot is, you know, well, how do I get access to this? You know, I'm not an elite member, you know, back in the day, you guys used to be able to just go to the Amazon pricing or the Helium 10 pricing page and upgrade to Elite. It's closed now. The next time that it's gonna open, we don't know exactly yet, but it's gonna be sometime in Q1. So make sure to join the waiting list by emailing customer support. Now Listing Builder is now launched almost a across the board. We're actually gonna be showing a pro training tip on Listing Builder. Can you talk about the differences like, Hey, if I'm a Platinum member from a Diamond member for this new tool Listing Builder?
Rachel:
Yeah. So good point Listing Builder is released for almost all plans. We're gonna be releasing for free and starter plans to get to sample out and try Listing Builder in the first week or second week of January. But for those that are on the difference between Platinum and Diamond plans. So our Diamond users are able to sync their listing that they've created directly to Seller Central with one click. And so that's gonna be a huge enhancement over what a lot of our users are doing in Scribbles today, which are going to be, you know, finding all those different keywords, entering them into there, you know, the title, the bullets, all of those different pieces, but then be able to sync it directly is going to be a huge time saver. Additionally, we've built into Listing builder, the Listing Analyzer Score. So it's going to be a one stop shop for you. That's gonna you know, really ease that workflow.
Bradley Sutton:
That's cool like and a couple weeks ago here in the helium 10 buzz, we actually gave a on how powerful that sync feature is, cuz it allows you to even put subject matter guys on your listing where you don't even have access to subject matter in the edit your listing in Seller Central anymore. So if you guys are on the Platinum or Diamond, you have access to the Listing Builder tool, just at different access levels. And then it's coming also very soon if you're a free Helium 10 member. Now, you know, one thing that I always try and get the product managers to kind of spill the beans on and like give us a preview of what's coming. I know we can't always do that, but is there anything that you can tell us that's in the pipeline in some of your tools, like some updates to the tools that we already know and love?
Rachel:
Yeah. So in the coming days we're gonna be releasing a refresh of Cerebro to our Elite users and by refresh, I mean, it's gonna have all your favorite filters, all the data's gonna be there, but what we're doing is you're doing a little bit of a facelift on the UI, it to have a nice sleeker design, it's gonna help some of our newer users be able to get value out of the product immediately. So we're really excited for that redesign in the first quarter, we plan on doing the same with some of our other research tools. So we think overall it's going to be a really good experience for our Helium 10 users.
Bradley Sutton:
Yeah. I saw there a little preview of that new UI looks really, really cool. So I'm excited when that's released to everybody else. Rachel, thank you so much for all the hard work you've been doing here, and we're definitely love to see what 2022 has in store for my favorite keyword research tools.
Rachel:
Thanks, Bradley.
Bradley Sutton:
All right. Now we talked a little bit about Listing Builder with Rachel right now. Now Listing Builders, kind of replacing Scribbles. And we kind of think about that tool specifically as something where we can build our own listings, which is absolutely what the main purpose of that tool is. However, in this next Pro Training video, we're gonna learn a completely opposite way of using this tool that doesn't even have to do at your own listing. Let's see what that tip is now.
Bradley Sutton:
All right, now you've learned how to make your own listing or optimize an existing listing, but under what circumstances would you want to analyze a competitor listing? Well, maybe you're new to a niche. Maybe you don't even have a product in a niche and you've done the keyword research and you know, what the most important and keywords are. And before you start making your own listing, you wanna take a look at a few listings perhaps, and see if there's any things that are happening thematically. What do I mean by that? That means like are some of the competitors using certain keywords multiple times throughout the listing? Are some competitors not even having main keywords in phrase form in their listing? These are the kind of things that you can actually find out using the Listing Builder. Let me show you guys how to do that.
Bradley Sutton:
The first step would be maybe to go to Amazon and find a competitor that you want to analyze. All right. So let's look up a egg tray. All right. Let's go to Amazon and let's look up egg tray. All right. And maybe, actually, I'm gonna say wooden egg tray. If I can spell wooden, there you go. All right. Now I've got wooden egg tray that it's searching for here. And let's just take a look here and there's our product. Here's a competitor product. All right. So I'm just gonna copy this product right here. And here's what I'm going to do. I'm gonna add a listing and I'm gonna do create from scratch, but then I'm actually gonna put it right here, enter an ASIN. All right. And I'm gonna hit start building. Now, what it's gonna do is it's actually gonna pull in the front end of that listing, right?
Bradley Sutton:
The next step is maybe I already have my own keyword bank, so I could do it by egg tray, or maybe I just wanna see, you know, what I wanna see, how many times do they use egg tray, egg holder, wooden egg tray, wooden egg holder, and then, you know, egg holder countertop. You know, I would theoretically have a lot bigger list than this, but let's go ahead and add that to the bank right here. And then I'm gonna hit next. Now, as you can see, it pulled in this listing here of this product, which these guys are absolute thieves. This is our picture. I don't know how they got ahold of our picture. This is our affiliate manager Michelle's hand right here. I gotta report these guys to get 'em kicked off of Amazon, but anyways, I digress guys, you can see here, this is their listing right here. It pulled in the front end of their listing.
Bradley Sutton:
Now, how does this help me to analyze well, as you can see here, if this was my main keywords I'm, I'm seeing, wow, they don't even of wooden egg tray anywhere in their listing? That's interesting to me, if I wanna know how many times they've used wooden egg holder, or if I wanna find where they use in their listing, I just have to hit the button or hit it, wooden egg holder. And as you can see, it'll highlight where they have wooden egg holder. Sometimes this is really good to kind of see how do they have their main keywords distributed? Actually, they don't have their main keywords distributed very well at all. They only have a wooden egg holder once here and an egg holder only in the title. And they don't even have egg holder, you know, here in the rest of the listing. Right?
Bradley Sutton:
So this, again, guys gives a great way to analyze the Keyword Density of your competitors. Where you can see are they focusing on certain keywords? You know, are they doing that for a reason? If they're a big seller, maybe they have some data that shows that duplicating the keywords is important. Maybe they have something that shows that not even having the keyword in phrase form, and they're still able to compete for it. So this is a great way to kind of check out what your competitors are doing. Again, it's by importing their listing into Listing Builder and comparing it to whatever keyword list that you have, that you want to get insight into, how they're using certain keywords. We'll see you guys in the next video, which is a super, super cool thing that you can only do with Listing Builder.
Bradley Sutton:
All right. So there you have it, you know, all of our tools guys think here at helium 10, that they all do have a primary purpose. You know, Cerebro is for keyword research, Listing Builder might be for creating your own listing, but a lot of times our tools also have these secondary purposes. You know, some people use Cerebro to help on the product research side, by looking for keywords, with Title Density. And again, Listing Builder can be used in a completely opposite way. So make sure you're taking full advantage of our tools here at Helium 10. Now, before we go, one other free resource we wanted to talk about is the Helium 10 Academy. So we have over 30 tools here at Helium 10. And if you're new, it might be kind of overwhelming, like, oh my goodness, where do I start to learn how to use this suite of tools?
Bradley Sutton:
Well, Academy is a great place to start. So go to academy.helium10.com and you sign up for a completely free account and it takes you step by step into learning all of our different tools. It's not just videos, there's quizzes, there's little exercises to do. There's like some storytelling there. So if you like, kind of like more of a classroom and structured way of learning, how to use the tools, instead of just clicking on the learn button in every tool in Helium 10, like if you can do now, make sure to go to academy.helium10.com. If you wanna become a certified professional, like this shirt that I'm wearing here, this is actually the shirt that is given to the people who get academy certified. So for more information, go to academy.helium10.com. Thank you everyone for joining us today on the Helium 10 Buzz, we'll see you next week to see what's buzzing.
---
Enjoy this episode? Be sure to check out our previous episodes for even more content to propel you to Amazon FBA Seller success! And don't forget to "Like" our Facebook page and subscribe to the podcast on iTunes, Spotify, or wherever you listen to our podcast.
Get snippets from all episodes by following Bradley on Instagram at @H10bradley
Want to absolutely start crushing it on Amazon? Here are few carefully curated resources to get you started: