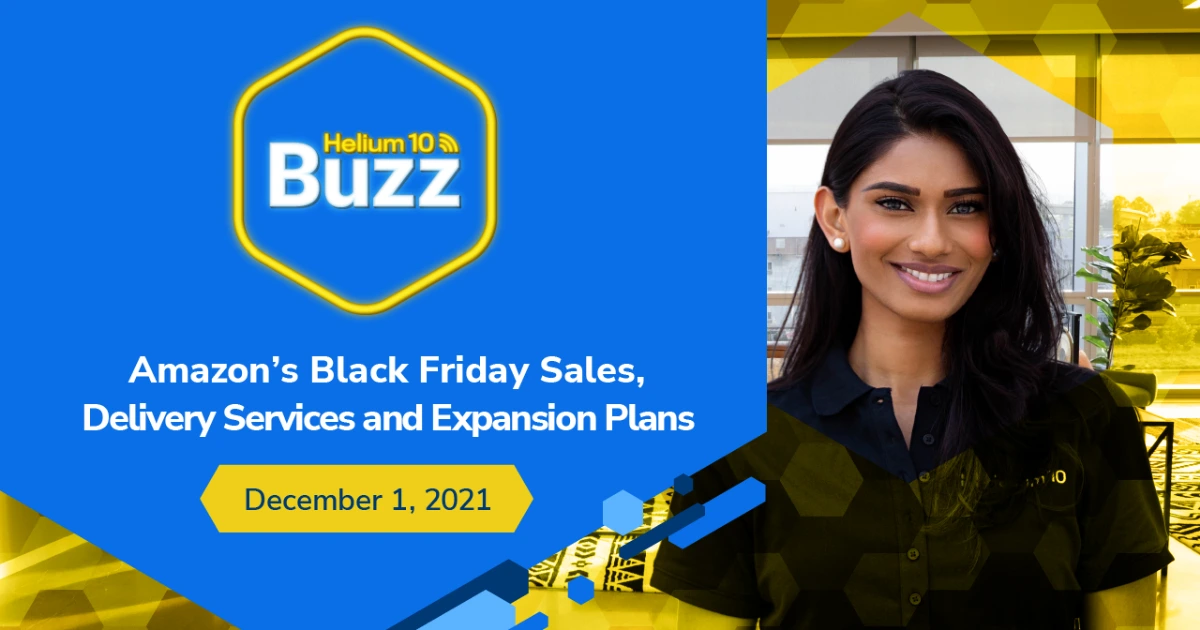 Helium 10 Buzz 12/01/21: Black Friday Sales, 8 Figure Seller Tips, & Ranking Without SFB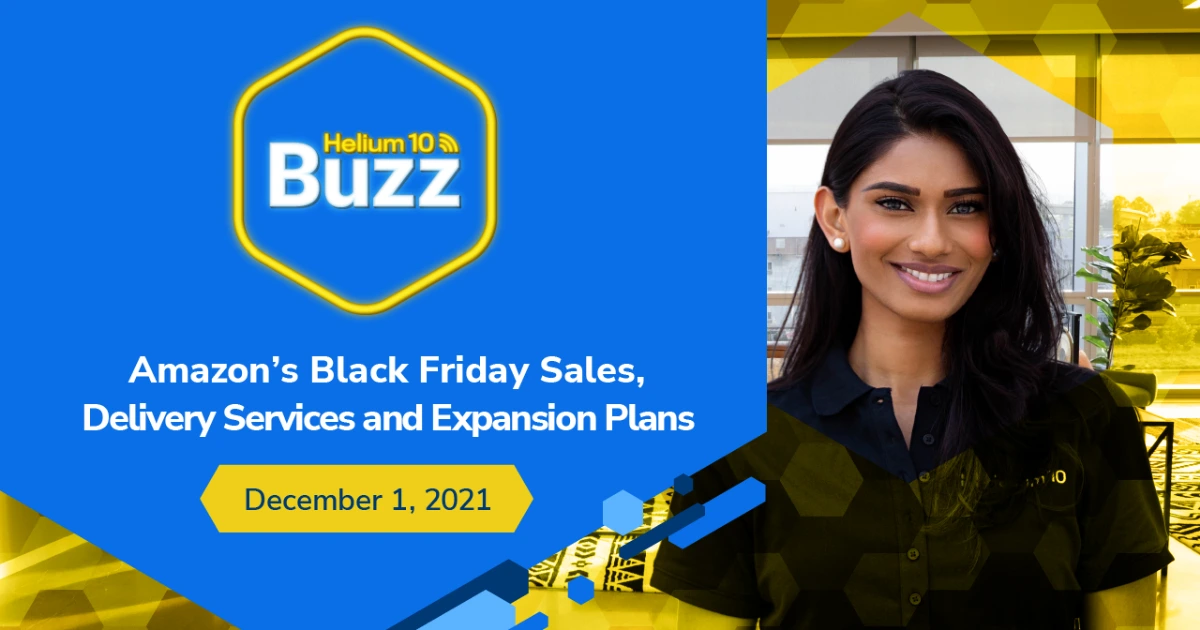 In this week's episode of the Helium 10 Buzz, Shivali talks about:
01:00 – Record-Breaking Black Friday Sales For Amazon
02:00 – Amazon Is On Track To Be The Largest Delivery Service In 2022
03:00 – Amazon Is Opening A Fulfillment Center In Abu Dhabi
04:00 – An 8-Figure Seller Joins Us This Week
08:40 – Ankit's Advice For New Sellers
11:00 – ProTraining Tip Of The Week
Transcript
Shivali:
Hello everyone and welcome to another episode of the Helium 10 Weekly Buzz. My name is Shivali Patel, and this is the show where we get you familiar with the latest news in the Amazon and e-commerce space interview people in the industry that you need to hear from, and provide a training tip of the week that will give you insight into serious strategies for serious sellers of any level in the Amazon, Walmart, and e-commerce world. Let's see, what's buzzing this week. Today, we'll be covering exciting news such as how Amazon is on track to become the largest US delivery service by 2022. Then I'll introduce you to someone who has really built his business brick by brick to get to where he is today as an eight-figure seller. Before we talk a little bit about launching with search, find, buy while keeping in mind the new changes to Amazon's terms of service.
Shivali:
Let's begin with our first news item. So Amazon just had the biggest Black Friday ever in a blog post yesterday. Amazon stated that not only were home goods, toys, and apparel among the top categories during the period, but they also indicated record-breaking sales during the post-Thanksgiving rush, providing an upbeat outlook for a holiday shopping season that's been lackluster for the retail industry. With US shoppers spending about 10.7 billion on Cyber Monday alone. Things are really looking up for the holiday season and we've got great things to look forward to with Amazon's fourth-quarter results in late January or early February for a fuller picture of the shopping season. What about those of you that are watching? How was your Black Friday compared to the days leading up to it? Were you able to get a piece of the pie? Next up, CNBC also released details from their interview with Dave Clark, who is Amazon's CEO of Worldwide Consumer, where he stated that Amazon is on track to become the nation's largest delivery service by either 2021, by the end of 2021, or by early 2022 overtaking careers like UPS, FedEx, and even the US Postal Service.
Shivali:
So from the beginning, Amazon's goal has really been to have greater control over how their shoppers' packages are delivered, which is why alongside its already blossoming network of warehouses and air hubs across the country. The Superstore also manages planes, trucks, ships, and thousands of last-mile delivery companies that exclusively deliver for Amazon to help speed packages along. Now, the shipping operations are also growing, especially fast. That's supported by some speculations from Bank of America analysts that last reported Amazon was delivering at least 66% of its own packages compared to 58% back in 2019 when it was still deemed the fourth largest delivery service nationwide. Now to wrap up all of this positive news, we have the partnership that Amazon just announced with the Abu-Dhabi investment office. Amazon is aiming to open a 175,000 square meter site. That is to become the most cutting-edge fulfillment center in the Middle East when it's completed in 2024.
Shivali:
This comes of course, with a plethora of new job opportunities and versatile opportunities for entrepreneurs and retailers alike. Now I know at Helium 10, we get tons of requests for opening up our tools in the Amazon UAE, Saudi Arabia, and Egypt areas. So my question to you is, are you guys selling on one of those marketplaces or are you planning to sell in one of those marketplaces? All right guys, having shared the breaking news it's time for our special guest, someone who knows what it's like to start from scratch and has gone on to find his own success. Last year, he was a seven-figure seller and this year he's eight, meet Ankit Patel.
Ankit:
Hello Shivali.
Shivali:
Hi, I'm good. How are you?
Ankit:
I'm doing fabulous. Thanks for asking. Glad to be here.
Shivali:
Great to have you. I feel like we should preface our conversation by telling our viewers that we are not related.
Ankit:
Yes, no relation. Just the same last name.
Shivali:
Yes, no relation, same last name, but you know, it's always great to be meeting new people in this space. And of course, getting to know you and hear your story has been so intriguing. So I'd love for you to share a little bit about how you got started selling on Amazon and what did you do before?
Ankit:
Yeah, absolutely. Great question. So I'm a healthcare worker myself. I'm a Radiology Technologist, as a family in India always want us to go mostly become engineers and doctors. So that's what happened to me. So up until I was 25 or 27 years old, I have done everything in my life that always my family wanted to do. And then one day I was visiting India and one of my cousin gave me the gift of a book that says, Rich Dad, Poor Dad. And I read it in the plane coming back. And I only read for first 40 pages and that opened up my brain. And I'm like I had all these years, I have done everything, what everybody else wanted me to do. And I had no idea why I was going to school, why I was going to college. I thought I was going to school learning just because I had to.
Ankit:
So I had no idea why I was doing all of that. So once I read it, I decided that I need to get out of my nine to five job. And for that, I need to take some kind of action. So the first thing I decided is e-commerce and how I can buy a product and resell it online. And I started selling on eBay. And then my account got suspended by doing all the things incorrectly. And then I didn't quit at that time. And I started selling on Amazon and the rest is history and here we are today. And that is basically how I get started is basically reading a book and whatever you learn from it and taking action
Shivali:
That is amazing, you know, and that's the most important part, right? Taking action after you have the knowledge and keep going. So I know you've gone on to find major success. What was your Black Friday like? And we'd also love to hear about your projected 2021 sales.
Ankit:
Yeah. So Black Friday couldn't be any better. I am super thrilled about Black Friday, all this inventory planning that I have done this year, all the mistakes I have made last year. So I have done things right. And luckily things are falling into place correctly. So our Black Friday sale in one day was over $350,000. And on Cyber Monday was even higher than that. So I am beyond thrilled. I'd never thought we were going to hit this number in Black Friday. So the projected sales, I was a seven-figure seller last year. And then I had a goal. I was in a podcast with Bradley and we had talked that, Hey, this year you guys are seven next year, we're here to bring you back when you turn an eight-figure. And I said, all right, let's have that goal. And I'm happy to report that we have based our past, out of that eight-figure mark. And luckily it's been middle eight-figure mark. And that's just counting Amazon, not even counting our international selling, which is Canada, UAE, Shopify, Walmart, eBay, all of those other channels that also brings in a significant revenue. So yeah, I'm glad to say that it's over 15 million mark.
Shivali:
So yeah, I love that. I love that you set a goal and you're absolutely killing the game. You've also been a Helium 10 user for quite some time. So do you have a favorite Helium 10 tool that you use for your business?
Ankit:
Well, you know, Helium 10 has a ton of tools that they are, you guys are putting out. I can't even keep up anymore, but my favorite tool since day one has been, I would love to say Profit tool is my favorite because the first thing I do is check my profits every day to see how the sales are going. But aside from that, actually, my favorite tool is the Keyword Tracker I would love. The first thing I do is when I come to the office, turn on the computer, I look at where I am positioned for all the non-branded keywords. I get this done first research in five minutes, and that tells me, what do I need to do today in order to stay ranked and get those sales coming in and grow the brand. And then the Profit tool is next. And then I get all my marketing and other task is going. So I would say the Keyword Tracker has been one of my favorite tools. Let's say from all the kind of tools that you guys have
Shivali:
For sure, Keyword Tracker and Profits are both great tools that I love as well. And knowing what you know today, just to kind of wrap things up, what is one piece of advice you'd give to somebody who's maybe in those shoes that you were when you first got started?
Ankit:
So, yeah, this is an amazing question. When you are new, I would say that obviously, you're not going to be a millionaire or successful overnight. No one does it. We all think that we would love to do that, but we're not. So just remember that this is a journey and it's a start when you start taking an action. So make a goal on where do you want to see yourself in five years today? What I have done is when I first started selling, I just wanted to quit my nine to five job. And I decided that once I make a goal of when I hit the income three times, what I'm making in my Radiology Technologist that's what I'm going to quit my job. So obviously when you start taking an action, once you make your goal, you're going to come across many failures or success.
Ankit:
If you get a success without a failure, good for you, keep going, keep crushing it. If you get to failures, don't be discouraged. Keep taking an action and do whatever it takes to get there. Have the side income coming in. If you've got to drive an Uber, go drive an Uber. ThenI go to a retail arbitrage, go retail arbitrage. I remember I used to go to Target and Five Below and Walmart clearance section, right after getting off my hospital job instead of going home and relax and watch a football game, I would actually go to the stores and buy $200 or $300 item and come home. And after dinner start packing things, sending to Amazon because you need to create an income to launch your private label product. And for that, you need to do whatever it takes. And if you get a failure, it's only a learning lessons.
Ankit:
Don't think it's a failure, you know because once you get a success, it's going to be so great that it's going to wipe out all the failures that you had. So the one piece of advice I would say is take an action. And if you fail, just understand it's temporary and keep doing whatever it takes to get to your goal, because eventually you sure will. If you don't quit, because if you quit, then that's a failure for sure. So that's the only piece of advice I would say to get to where I am today or to even get better than what I am today. It is really a no-brainer.
Shivali:
That is wonderful advice. Thank you so much, Ankit for being here and sharing. It's been great having you on, and I'm certain that's been invaluable for listeners as well. So for those of you that are listening, make sure that you're subscribed and you tune in to the Serious Sellers Podcast. I believe Ankit is due for an appearance there. Thanks, Ankit.
Ankit:
My pleasure. Cheers.
Shivali:
All right. It's time for our Weekly ProTraining of the Week, the Weekly ProTraining tip. So on last week's Helium 10 Buzz, Carrie talked about how Amazon changed its terms of service regarding the search find, buy, and rebate. So this next clip is actually from the recently released episode 301 of the Serious Sellers Podcast. And in-it Bradley talks a little bit about a method he used to get to page one for 10 keywords during two product launches, without a single search, find, buy, nor rebate. So let's see how he did that.
Bradley Sutton:
I did was I created two kind of fake products. These are products that were just like returns or I discontinued a long time ago, but I made completely brand new listings using Maldives methods. Again, remember Maltese is not just about search, find, buy, you know, I optimize a title. I put keywords in the title that not many people had in the title. I started a Fulfilled by Merchant on day one and got some sales on day one of this. I did all of these things that are part of the Maldives Honeymoon Strategy. All right. Here is product one. So what I did was I started the product, I locked in my Canonical URL. All right. And I made sure some key keywords were in there. Let's just call it bread cutting board, bread cutting board was in my Canonical URL.
Bradley Sutton:
Then I was like, you know, what if I was doing search, find, buy, these are the six keywords that I would target and I would have hit up AZrank to do it, but here I'm going to do this without search, find, buy. And these were all low-volume keywords, because again, guys, remember I pay out of my own pocket for most of this stuff. And, you know, I have a limited budget with what I'm going to spend on these case studies. So I picked six keywords that ranged in search volume of 200 to 2,300. And let's just say that bread cutting board keyword is the one that had like 2000 search volume. All right. So bread cutting board was in my Canonical URL. And what I did was I did not have an Auto Campaign on, I did not have a Research Campaign or a Broad Match.
Bradley Sutton:
I just had one exact PPC Campaign, exact manual match, right. And I put these only six exact keywords. I put a fixed bid, super high, like $4 for this. You know, I knew that was super high. I put fixed bid. I want to show up at the top. So from day one, I was showing up at the very top of sponsored ads and I put the price, I forgot. I put it was something like $6 or something. And this is a $25 product because I was like, Hey, I want people to see this. As soon as they type in bread cutting board and these five other keywords and see, oh, holy crap, $6. I'm definitely going to buy this product. Now what I did to put it at $6 is I put sale price of $6. So the regular price, I put $30 and put a sale price that is from this date to this date of $6.
Bradley Sutton:
All right. And so, because I didn't want to get the buy box suppressed and check this out guys. All right. On that one, keyword over five days, bread cutting board. Let's just say there wasn't a Canonical. I got a 2,500 impressions, 26 clicks. These are all organic. I mean, organic as in, I didn't pay anybody to do it or use AZrank or anybody else. 26 clicks got 11 purchases. Now the other keywords, a couple of them didn't even get a lot of impressions and they didn't get a lot of clicks and they didn't even get purchases. But check this out, that keyword right there, bread cutting board, 2000 search volume within five days, page one, position three, the other keywords that were kind of like variations of that keyword. Again, that's part of the Maldives Strategy. Check this out, guys. Every single one of them, I got to the top 10 of page one.
Bradley Sutton:
On one of them, I got paid one position one and another one, nine another one for another one page, one position two. The one that I got page one, position two. I didn't get any impressions in PPC. Guess what? How did I do that? Well, that was in the title. That keyword, there was completely in the title and nobody else had it in the title or like one other person had it in the title in Amazon. So Maldives still works, and that was a PPC-only launch and I got to page one for all of my target keywords that I would have done search, find, buy. In another sense, I did another product, the same exact account. This was like a phone cases. Some old, I had some old phone cases lying around again, pick six different keywords use Maldives Method, got an order. Within the first day, I made sure to lock in my Canonical URL.
Bradley Sutton:
Two keywords only got to position 18 and 19, the rest page one position one in total, I'd had only 10 PPC orders. And this was at like $1. I put it at $1 because this was a $9 product. And I put a sale price of $1. And so I got 10 orders of those keywords, I got the orders. Those are the ones that all got to page one, position one. So again, what is this strategy now, which is my first and which is probably going to be multiple alternatives to search, find, buy? On day one, try and get sales again, you know, just like the Maldives Strategy, it talks about, make sure to have your Canonical URL be your most important keyword, have that in your title. Hopefully, it's a keyword that not many people have in their title. And then pick 2, 3, 4, 5, 6, 7 keywords where you know that people will definitely buy your product at a cheap price for it.
Bradley Sutton:
And then put a sale price, put a huge sale price where it's like irresistible, despite the fact that you have zero reviews, right. You know, like if you've got a $30 product, are you cool with putting that $9, you know, as a big sales price? Because you know, now here's the drawbacks and this is why this is, you know, I would have been doing this forever. Right. But this is tedious. First of all, I had fulfilled by merchant because I can control my inventory. You know, I don't want to sell 100 of these in like one hour and I didn't know about it. And I just wasted a whole bunch of money because everybody's buying my $9 product for $1 and then maybe reselling it. So with Fulfilled by Merchant I was able to actually put in what inventory wants you for today. So I put five every day and I was like, if those five went out, I was like, forget it. I'm not doing anymore. And then I could actually see which keywords were converting for in my PPC. So that if I already hit the max for the CPR number inside of Helium 10 remember, CPR is the same. If you're organic or sponsored or whatever people are searching and finding and buying the product, right.
Shivali:
That is such a great alternative to continue ranking high and doing great. Remember if you want to see some of the other strategies that Bradley talks about. Go over to Apple Podcasts or Spotify search for Serious Sellers Podcast, and look up episode 301. So this does conclude this week's Weekly Buzz. Thank you for joining. I hope you enjoyed the episode. If you did be sure to hit the like button, share it with a friend. We're always looking for ways to innovate and provide beneficial content for our subscribers. Of course, we'll be back with another episode of this video series, featuring even more of the latest news, a brand new interview, and another tip that you did not know you needed. We'll see you next week. Adios.
---
Enjoy this episode? Be sure to check out our previous episodes for even more content to propel you to Amazon FBA Seller success! And don't forget to "Like" our Facebook page and subscribe to the podcast on iTunes, Spotify, or wherever you listen to our podcast.
Get snippets from all episodes by following Bradley on Instagram at @H10bradley
Want to absolutely start crushing it on Amazon? Here are few carefully curated resources to get you started:
Achieve More Results in Less Time
Accelerate the Growth of Your Business, Brand or Agency
Maximize your results and drive success faster with Helium 10's full suite of Amazon and Walmart solutions.