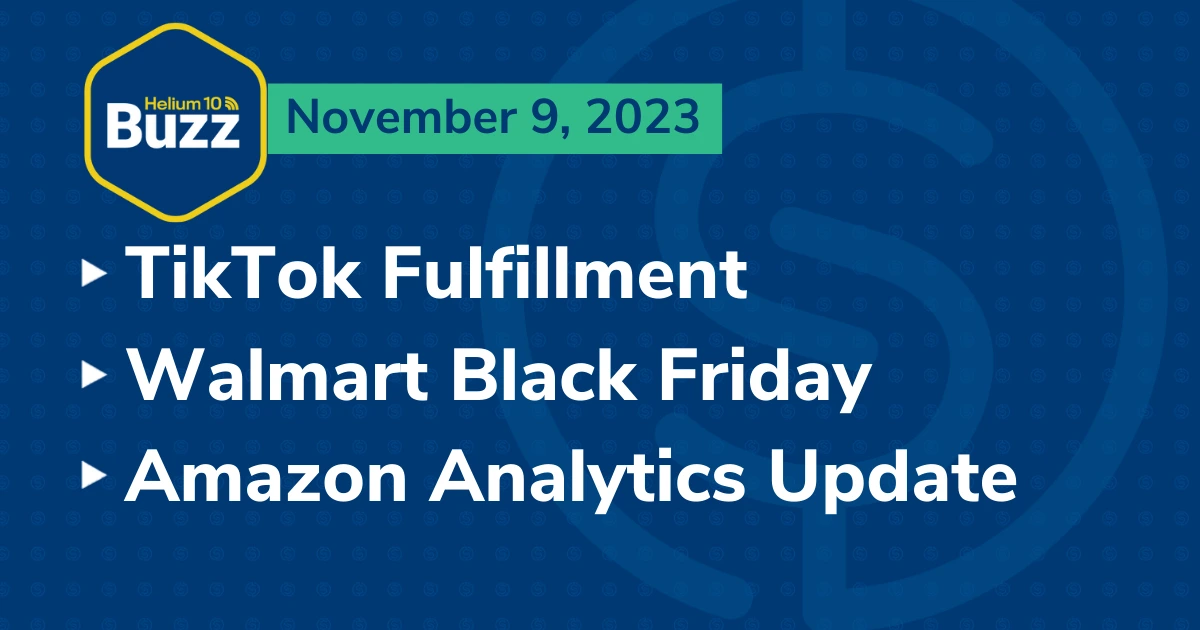 Helium 10 Buzz 11/9/23: TikTok Fulfillment | Walmart Black Friday | Amazon Analytics Update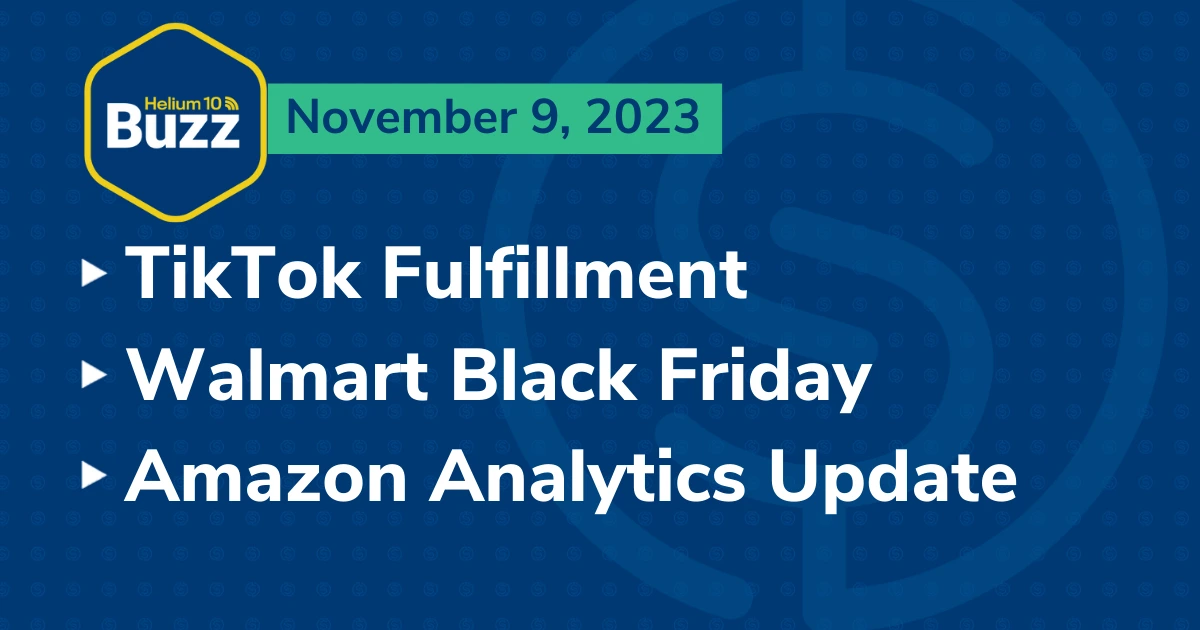 We're back with another episode of the Weekly Buzz with Helium 10's Chief Brand Evangelist, Bradley Sutton. Every week, we cover the latest breaking news in the Amazon, Walmart, and E-commerce space, interview someone you need to hear from and provide a training tip for the week.

TikTok Creating Its Own eCommerce Fulfillment Network
https://www.pymnts.com/news/ecommerce/2023/tiktok-creating-its-own-ecommerce-fulfillment-network/

Amazon beefs up Prime loyalty program with One Medical discount
https://www.cnbc.com/2023/11/08/amazon-beefs-up-prime-loyalty-program-with-one-medical-discount.html

FTC: Amazon halted Seller Fulfilled Prime enrollment despite strong delivery performance
https://www.supplychaindive.com/news/ftc-amazon-lawsuit-seller-fulfilled-prime-enrollment-shipping-delivery-performance/698780/

Walmart Black Friday deals 2023 start today
https://www.yahoo.com/lifestyle/walmart-days-of-deals-2023-day-6-165846150.html

Watch how Amazon delivers to customers in favelas across Brazil
https://www.aboutamazon.com/news/transportation/how-amazon-delivers-to-customers-in-favelas-across-brazil
Stay updated with the newest features from Helium 10 that can help you stay on top of your Amazon game. Plus, stay tuned for Carrie's hands-on tips for leveraging the power of AI inside our Listing Builder tool for quick and efficient listing creations. So, gear up for an expedition into what's buzzing in Amazon, Walmart, and E-commerce with us!
In this episode of the Weekly Buzz by Helium 10, Bradley covers:
00:55 – Fulfilled By TikTok
02:02 – Amazon Analytics
03:55 – Amazon Medical
05:16 – FTC Case Update
08:23 – Walmart Black Friday
09:19 – Brand Registry Update
10:11 – Amazon Brazil
12:40 – Helium 10 Feature Alerts
18:40 – Pro Training Tip: Amazon Listing Builder With AI
Transcript
Transcript generated by Podium.page
Help us spread the word by tweeting about us at @podiumdotpage and including us in your shownotes! https://podium.page
NOTE: There were 2 speakers identified in this transcript. Podium recommends using "Find and Replace" to change the speaker label to the appropriate name. Speaker separation errors can arise when multiple speakers speak simultaneously.
Bradley Sutton:
TikTok Shop is building out their fulfillment network. Have you used the new customer loyalty dashboard in Amazon? Seller Central? FTC again gets things wrong in their case against Amazon. Walmart Black Friday has started.
Bradley Sutton:
These stories and more on today's edition of the weekly buzz. How cool is that? Pretty cool, I think. Hello everybody, and welcome to another episode of the Serious Sellers Podcast by Helium 10. I am your host, Bradley Sutton and this is the show that is our Helium 10 weekly buzz, where we give you a rundown of all the news stories that's going on in the Amazon, walmart and e-commerce world. We also give you all of the new updates for feature alerts to Helium 10, and we give you training tips of the week that'll give you serious strategies for serious sellers of any level in the e-commerce world. Let's see what's buzzing. We have a lot of news articles today, so let's go ahead and hop into it Now. The first article that we have today is actually from paymentscom and it's entitled TikTok is creating its own e-commerce fulfillment network. Now, this is interesting because this is not completely new news. We've talked about some of our Helium 10 elite members who have gotten in the beta program on some of these fulfillment, but for most of you who sign up for Tick Tock shop, you have to fulfill your own products or maybe fulfill it through Amazon, but they've been investing in a warehouse and fulfillment network. According to this article, wall Street Journal also confirmed that you know, talking about some of the endeavors that they're doing, so they're really making some kind of like waves in the industry, just even without fulfillment. It's kind of amazing what they're doing, because they're investing a lot you know, like giving sellers the ability to not have, you know, commissions for right now and giving incentives to influencers to promote products. So now imagine once their fulfillment network is fully in place. It's going to be pretty cool. What's you know to be selling on Tick Tock shop?
Bradley Sutton:
Next news article is actually from your seller central dashboard, and this is just a reminder about something that released a little bit ago on Amazon. It's called the customer loyalty analytics dashboard. Now this news article that came out talks about how it helps brand segment and reengage customers based on their past purchase behavior and engagement with your brand page. Some of the things that it allows you to do are identify high value customers, build your strategy for the right customer, engage customers at the right time, it says optimize marketing ad spend, reduce customer acquisition costs. So if you haven't taken a look at it, it's in your customer loyalty analytics page and it's, you know, in the similar places brand analytics and you can see a lot of interesting information, you know, at the weekly, quarterly, monthly or even yearly level, and you'll see some interesting unique metrics that you've probably never seen before, like the number of hibernating customers that you have. You'll see some interesting charts here.
Bradley Sutton:
There's also a cool feature on the right hand side that you'll be able to see. It's called new and potential customers. All right, and then it says, like you know, for for Manny's Mysterious Oddities, right here it says hey, there's 12,000 people have recently shown interest in your products but have not yet purchased, and allows you to create a promotion to send these customers a promotion code to encourage a purchase. And so if you click on this button, it actually brings you to the brand tailored promotion page that we've talked about before, and so this brand tailored promotion function allows you to send coupon codes to customers and have it show up if they happen to browse on your page again. So pretty interesting stuff, you know. Take a look at that. Have you been using it? Has it helped you at all with, you know, getting some customers on board and you can see the metrics and brand tailored promotions on how successful they are. All right.
Bradley Sutton:
Next article up here is from CNBC and it's entitled Amazon Beef's Up Prime Day Loyalty Program with one medical discount. So this is something that is going to be a subscription that's going to be $9 a month or $99 a year. All right, now what is one medical? I guess it's kind of like I mean almost like a medical insurance kind of thing. This article from CNBC says, you know, one medical operates a network of boutique primary care practices in some parts of the US and it's around major cities, and users can access care from a doctor through the one medical app and they can also schedule virtual or in-person appointments at a brick and mortar location. All right.
Bradley Sutton:
So again, you know you might be wondering well, what in the world does this have to do with being an Amazon seller? Well, we always like to talk about what are Walmart doing for the Walmart Plus program? What is Amazon doing for the Prime program? The more sticky an Amazon Prime member is, you know that means they're not going to cancel their Prime because there's just so many benefits. Guess what you know. That's going to be better for you, you know, because obviously the majority of Amazon seller sales come from Amazon Prime members. So the more benefits that Amazon gives to its Prime members, that's going to benefit us, the third party sellers.
Bradley Sutton:
Now, you know we haven't talked about this in a few weeks. There hasn't been much news articles. But again, you know, FTC is showing that they really have no idea what the heck they're doing. Um, at least you know, with what I see in the news, you know who knows, maybe they've got some other stuff. That just news. You know, casters haven't picked up on, but I can only report on what I see in the news.
Bradley Sutton:
And this article is from supply chain drive and it's entitled FTC Amazon halted seller fulfilled prime enrollment despite strong delivery performance. All right. So basically, what the FTC is saying is hey, you know, uh, back in 2018, when there was seller fulfilled prime, now they're seller fulfilled prime again. You know, sellers met the delivery estimate requirement more than 95% of the time. Now FTC even said, you know, went on to say, oh, these sellers at times outperform orders covered by Amazon's own fulfillment service. Uh, had Amazon genuinely cared about improving shipping speeds, it would have encouraged seller fulfilled prime sellers to use independent fulfillment providers instead of shuttering SFP to impede those providers growth Wrong, all right, guys, this is not right. You know, like Amazon prime now, amazon prime in 2018 is a lot faster than than what the majority of sellers can do for seller fulfilled prime.
Bradley Sutton:
Amazon clapped back at this whole story. They're like saying, hey, the fact is that in 2018, the sellers using SFP Amazon says this is a quote we're promising deliveries within two days less or within two days or less less than 16% of the time. So what? What is FTC thinking that? Oh, yeah, you know the. They think that all these sellers were were beating Amazon's prime one day and same day and two day delivery. No, they weren't. You know there's a few who could match it. Sure, like these gigantic companies that had their their own humongous, uh, logistic systems and and things like that. But you know, a regular seller couldn't just go to you know from California and like, hey, let me go ahead and send this two day shipping to Florida, you know, for $5, you know, like you can with Amazon prime. No, that never was happening in 2018. It's not happening now, all right.
Bradley Sutton:
So I, I really, I mean I really wish that FTC focuses on the things that Amazon sellers, day in and day out, are complaining. You know like uh, you know sometimes the customer support uh service that they receive and and things like you know getting suspended with no notification and and differing rules and allowing a lot of hijackers and and listing abuse and and and allowing too many subsidies for for sellers from China. I mean, the list goes on and on. You guys probably have a lot of complaints for Amazon, and rightfully so. No system is perfect, but I haven't even seen any of these complaints kind of like brought up in this FTC trial. Instead, they're they're like focused on things that are like literal non issues. Anyways, I guess that stuff like makes my heart race. Let's go to the next article, and this is from Yahoo, just giving a reminder that, hey, walmart Black Friday deals. We're starting yesterday, uh, on Wednesday. We announced this a couple of weeks ago in the weekly buzz that you know it's crazy what Walmart you know.
Bradley Sutton:
Black Friday you know used to be Black Friday. You know that's the Friday right after Thanksgiving. We're not even close to Thanksgiving, we're at the first of November and Black Friday deals are coming up. But the reason I mentioned this again is because this Black Friday deal has deals have started going on. You should see a little bit of increased traffic on your Walmart store. So so let me know over the next couple of days, are your sales up on Walmart? Keep an eye out there. You might want to check your ad spend if you're running Walmart ads, because your budgets might run out a little bit earlier If you, if you're reaching the budgets, because there's probably a lot of extra traffic on the platform at this time.
Bradley Sutton:
Now, the next announcement was actually from an email that went out to a lot of brand registered sellers and it was from Amazon brand registry and it said hey, just launched managed selling accounts tool. So this is a new self-service tool that gives users with the brand administrator rule the ability to unlock brand benefit eligibility for users that have a active seller central account. Now, in the past, you had to like if you wanted to like, give access to another account, or or maybe you know you've got a reseller selling your products. You wanted to give them the rights you've got to like contact, brand registry, support and open up a case and do all this stuff. But now you can do it directly from your managed selling accounts on your brand dashboard. So if you want more information, just go to your brand registry dashboard and you'll be able to uh to see your managed selling accounts.
Bradley Sutton:
Last up, uh, they had a cool video on one of Amazon's website, uh, and it was talking about how they deliver in a favela from Paraisopolis in Sao Paulo, brazil, and this is a place that's like a really like kind of like dangerous neighborhood it was talking about and like nobody else would deliver packages to this neighborhood. But Amazon is using AI and machine learning to be able to ship. And it was just an interesting article. You know, we've we've talked about before how Amazon delivers on donkeys in some places, but here Amazon, you know, delivering to dangerous uh uh areas where other carriers might not deliver packages to, but Amazon is. And it got me thinking uh, there was an announcement that kind of flew under the radar. But did you know that North American remote fulfillment by Amazon also now covers Amazon Brazil. Uh, when I posted that in a couple of Facebook groups, you know most of the sellers didn't even realize that. You know, I think everybody knows that NARF, or North American remote fulfillment, that allows you to take your U S FBA inventory and open up listings in Canada and Mexico and be able to deliver there. But now, as long as you've got your Amazon Brazil set up you know you've added it as an account on your seller central and you've set up a bank account and stuff, you can actually now, uh, have North American remote fulfillment going to Brazil. Obviously it takes longer, but you know you don't have to. You know, set up inventory down there, you don't have to worry about taxes. Uh, the, the listings are translated and then if somebody buys the product it comes from your USA inventory. So let me know in the comments below did you guys know that Amazon is now shipping your FBA US inventory down to Brazil? And if you didn't know it, how many of you are have taken advantage of that? You know Brazil is a rapidly growing marketplace and so that's something to definitely look into.
Bradley Sutton:
All right, that's it for the news this week. Now one thing I want you guys to do is go ahead and follow our this podcast Instagram page. All right, it's on. Just go to Instagram and just go to serious sellers podcast. All right, serious sellers podcast, give us a follow. Sometimes I'll you know post. You know stories about my, my trips and different things on there. But mainly this has all of the clips from every single podcast episode. We do even this one, the weekly buzz. So make sure to go there If you have missed a couple of episodes. You can get some clips on recent episodes. A serious sellers podcast.
Bradley Sutton:
All right, let's go over this week's helium gas Weeks. Helium 10 feature alerts. Remember, every week we are launching new things at helium 10. Here are the new things for this week Now. The first one we talked a little bit about last week, that is in listing builder. All right, so if you guys go to your listing builder tool, you have your regular part of the listing. You know all the top of your description and bullet points and things like that. But if you scroll all the way to the bottom now you'll see a new section called Amazon post and if you have, you know if this is the actual listing and it's all filled out with the information up above. Now you can just hit a button, write it for me, and then helium 10, using AI, is going to write a bunch of Amazon post captions. All right, so this is good if you are, you know, having kind of like writer's block and you have a lot of images that you want to go ahead and put to Amazon post, but you can't don't want to have to think about making a unique caption every single time. We have a caption generator right there.
Bradley Sutton:
All right, next up a really cool feature to your competitor tracking. So for a while, we have Allowed you to add up to five competitors for every product that you have in your store and then you can start tracking if they're running coupons and get alerts, if, if they raise their price, if they lower the price, if they change their Image, if they change their title, if their BSR changes dramatically, etc. Etc. Now this was limited to, like I said, five different Competitors for every one of your products. Now, what if you've got more competitors you want to track in addition to those five? Or what if you're just like examining a new niche and you just want to start like tracking some products randomly and you don't have, like your own product to tie it to. Well, now you know, really cool we have the ability inside your competitors to just add competitors, all right.
Bradley Sutton:
So how you can add competitors to this new section? Just go to your, your main dashboard. If you've got the diamond plan and you're gonna want to hit Competitors here on the top left, all right. Once you hit competitors, this is going to show you probably all the competitors you already have here. But now, when you hit the button add competitors, now you have the option on if it's a current competitor and that means you're gonna have to tie it to one of your products so that you can get the full benefits there. But if you have a brand new product, what's new this week is now you can put potential Competitor and then you don't have to tie it to your product.
Bradley Sutton:
Like you can see here, I'm tracking a Battery operated LED light, right, and there are no competitors now. But now I can track this guy's revenue. I can track their sales. I can see they've got an $8 coupon going. I can track their price changes, etc. Etc. So super cool addition Start tracking your competitors. Guys, start looking at other niches. Maybe you're trying to expand your brand. Add those to this Competitor dashboard so you can see what's going on, not just like be able to track it in this dashboard that I just showed you. But remember, you are gonna start getting insights Into things that you said that you want to know about that might be changing with that Competitor, you know. Maybe they're ranking for new keywords, maybe they have a coupon, maybe they turned off a coupon, etc. Etc. So, super cool.
Bradley Sutton:
Speaking of insights, we've got some new changes To or some new insights that are happening in your insights dashboard. Now, for those who don't know the insights dashboard, this is like next level. You know we're giving, we're doing the work for our customers. Like, for example, you've seen my insights dashboard. It says, hey, we discovered 15 keywords that your competitors are ranking for that you are not. Hey, you're ranking For a keyword in the top 10 and you don't even you might not have noted because you're not tracking this keyword.
Bradley Sutton:
Well, some of the newer insights that we now have Refund rates. So you can see here hey, refund rates for five products have decreased by 6%. That's great. That means I'm giving out less Refunds than before. All right, the opposite. We also added as an insight hey, maybe your refund rate is increasing or your return rate is increasing. You'd want to know about that, right? Well, you don't have to be downloading your reports every week, or even looking at Helium 10 and looking at the reports there. We will give you an insight based on the settings, the triggers that you set, on what you want to know about, on if your refund rates are going up or down.
Bradley Sutton:
We have some new atomic alerts that come on your Insights dashboard. So if you use that Helium 10 Atomic and you are getting a lot of clicks or a lot of spend in a certain target, you are going to get a notification. Hey, you've got. Look at this one I got here. You've got four targets with zero sales that have spent $70 in the last 30 days. You might want to review your targets and maybe negative match that. Again, you're not having to download reports. We are telling you this information. Another new one that has come up recently that we have is your storage fees. If your storage fee month to month is dramatically increasing, you're going to get a notification now about that. We're adding new Insights left and right. Guys, this is crazy. I mean we're living in the year 3000 while other Amazon software tools are parting like it's 1999 still I mean, this is not only our have. We had these advanced tools in Helium 10 where you can find these things, but now you don't even have to use those tools because now we're just giving you these insights and giving you these notifications to let you know what's going on. So that's it for our Helium 10 feature alerts that we have added in the last week or so. All right.
Bradley Sutton:
Next up, we have got a training done by Kerry on listing builder with AI. Just a quick review on how to generate listings and let me tell you the things that she's going to show you today. I literally created two listings. I'm doing a test listings for some project, five case draws. I use her exact strategy. I created two brand new listings that were for identical products because I'm testing it in two different accounts, but it created two separate listings in about three minutes. For myself. That would have taken me maybe an hour to have done back in the old days. So how did I do that? Kerry will show you how she does it.
Carrie Miller:
When I started out in the Amazon space, I was actually a freelancer and I actually was writing listings over and over again for a lot of different companies and they always wanted to know what my secret was, and I never told them my secret. But I'll tell you my secret now. Helium 10 was my secret. I use the keyword research tools and listing optimization tools that Helium 10 had at the time, so around 2016, 2017, 2018. And now they've gotten even better. So I want to show you how to use our new tools, especially for any of you who have a hard time writing or maybe have higher writer's block, we have a great solution for you to help you really optimize your listings in the best way using Helium 10. The first thing that you want to do is you want to log into your Helium 10 account and you're going to go to tools and then you're going to click on listing builder. I'm going to show you how to do this from scratch. So what we're going to do is we're actually going to just click on add listing up here and we're going to click on get started from scratch right here. You can choose whatever language you want to do, but I'm going to show you first in English how to do this, and I'm just going to start building. I have a keyword list and I'm going to just show you this from our for our coffin shelf. Here they are. So when you click add to bank, these keywords are going to be added to your keyword bank and if you wanted to add some more, you could add some more keywords up here manually, or you can actually go ahead and import keywords from an Excel spreadsheet or, if you wanted to do a cerebral search, you can do it here. I always recommend just making sure you have all of your keywords squared away before you even start writing your listing, so you should have your list already created. The next thing is you're going to go over to the listing optimizer. Now, this has AI in it, so it's going to help you to be able to write this very quickly and efficiently and it's going to give you, you know, help you get past that writer's block. If you ever have it. You don't know where to start. This is going to be great for you.
Carrie Miller:
Now you can write if you want to, if you wanted to write your own listings. So you know Manny's mysterious, you can just go ahead and write your listing there. Or what you can do is you can add in product characteristics and this will write it for you. So I'm going to put in coffin shelf black. I'm going to put Halloween, I'll just put Gothic Dwarfers actually Gothic decor, perfect gift for a Goths. Witchy decor, maybe something like Goth decor for home, goth decor for bedroom.
Carrie Miller:
You can put as many as you want, up to 500 characters, and the more you put, the more input that you put into this, the better it's going to be. And the next thing is you can put your brand name in and the next is that is the product name. So I'm going to put you know Manny's mysterious oddities here and I'm going to ask for it to be put at the beginning of the title. You can have it put at the end of the title if you want to, and then the coffin name is, or the product name is coffin shelf. You can choose the tone. So you can do casual, friendly, humorous. I'll just put casual in there. The target audience is got Gothic, goths, halloween and I think I'll leave it at that. So the more input obviously you put here, the better these are going to be. But I want to show you how quick and easy this is. So I'm going to ask it to write a title for me and I'm going to click on write it and it's going to come up with a title for me in a very short amount of time here. That's going to be, you know, helpful for me to get started, or it's something you could use right away.
Carrie Miller:
So Manny's Mysterious Oddities coffin bookshelf with coffin mirror unique Gothic decor coffin shelf home and bedroom. So I actually I put coffin mirror in there and coffin bookshelf, which we actually don't really need those. So I'm going to go back here and I'm going to take off bat shelf and coffin mirror and coffin bookshelf here and I'm going to hit next and I'm going to try this again and I'm going to click rewrite for me. So we don't have those keywords on the list and it's going to probably be more accurate. So you want to make sure all of these keywords are you know exactly what you would want in your listing. See Manny's Mysterious Oddities coffin shelf black Gothic decor for bedroom. Witchy and goth decor for home. Perfect gift for Goss Halloween fans. Intriguing coffin shelves for your dark side.
Carrie Miller:
I'm going to go ahead and use that suggestion and you know you can if you wanted to also kind of ask them to rewrite it. It's not going to erase that once you click on use suggestion and then you can get more ideas and you can kind of manually edit this as you go and just keep getting more ideas. If you want to see if it's worded better in the second suggestion, you can do that or you can discard it. Once you click on, you know, add suggestion, it's going to cross off the keywords over here to make sure that you optimize this fully and then for the bullets you click, write it for me, and the same thing it's going to write these bullet points for you and it's going to give you some great suggestions. Now, a lot of people what they do is they use this as a great starting off point to writing their bullets. Some people use this, just just these bullets that the AI created. It really is up to you how you want to do it, and this is the most updated form of chat GPT that is integrated in here, so you can see some great stuff here.
Carrie Miller:
So goth shelf our coffin shelf is a perfect addition to your goth a come to core. It's black, eerie designs out of unique touch to any room, ideal for goss or Halloween fans looking to show off their spooky stuff. I like that. I'm going to go ahead and say use that suggestion, and then you can see that it actually crossed out some of those keywords. And if I just go ahead and say, use suggestion, use suggestion, and I use all of these as suggestions, they have pretty much used all of the keywords in there. You can also have it write a description for you and it's going to write the description and you can choose to use that or not.
Carrie Miller:
Search terms If there's anything that doesn't get used and most of it usually does get used in the bullets you can add those into the search terms and you can put that in the back end. And so if you, you know, maybe aren't a writer and you want to really get some help with your listings and you are really good at keyword research, you can put those keywords in and AI can help you. You can always go back and edit it. You can keep getting more suggestions and editing as you go. It makes it so much faster and easier. So I want you guys to check it out and let us know what you think.
Bradley Sutton:
All right. Thanks a lot, Carrie, for that training tip of the week. Have you guys used Listing Builder yet? I hope you have All right guys. That's it for the weekly buzz for this week. Don't forget to tune in next week to see what's buzzing.
---
Enjoy this episode? Be sure to check out our previous episodes for even more content to propel you to Amazon FBA Seller success! And don't forget to "Like" our Facebook page and subscribe to the podcast on iTunes, Spotify, or wherever you listen to our podcast.
Get snippets from all episodes by following us on Instagram at @SeriousSellersPodcast
Want to absolutely start crushing it on Amazon? Here are few carefully curated resources to get you started:
Achieve More Results in Less Time
Accelerate the Growth of Your Business, Brand or Agency
Maximize your results and drive success faster with Helium 10's full suite of Amazon and Walmart solutions.