Helium 10 Buzz 11/30/22: Black Friday/Cyber Monday Recap | Amazon PPC Dayparting
In this episode, we cover the latest news on the recent Black Friday and Cyber Monday weekend, a special webinar with Neil Patel, and how to use the Adtomic Schedules feature.
Originally published on: November 30, 2022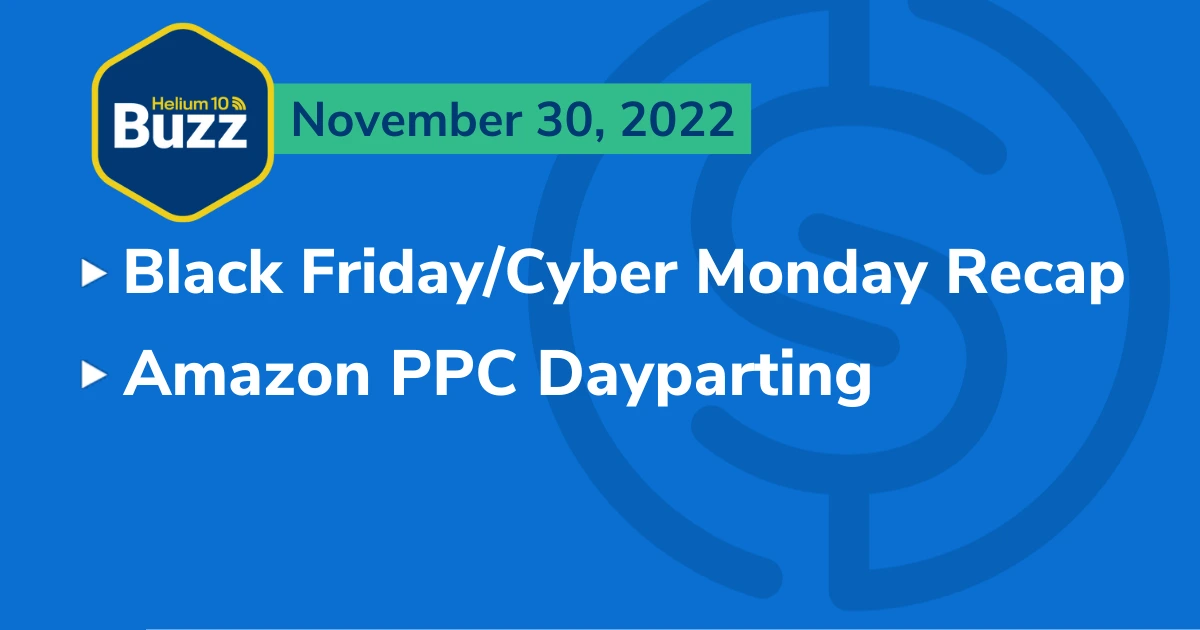 We're back with another episode of the Weekly Buzz with Helium 10's Chief Brand Evangelist, Bradley Sutton. Every week, we cover the latest breaking news in the Amazon, Walmart, and E-commerce space, interview someone you need to hear from, and provide a training tip for the week.
We start off this episode with multiple articles about Black Friday and Cyber Monday E-commerce news and consumer data.
Thanksgiving and Black Friday eCommerce sales rise modestly amid inflation. Online sales figures are higher, but so are inflation and discounting, resulting in a mixed picture for the eCommerce industry this holiday season.
https://www.digitalcommerce360.com/article/black-friday-thanksgiving-online-sales/
Black Friday sales rise 12% year-over-year. Consumer spending looks strong this holiday season, despite a challenging economic climate.
https://www.insiderintelligence.com/content/black-friday-sales-rise-12-yoy
With deals beginning even earlier ahead of Black Friday than in years past and continuing well after Cyber Monday, consumers are no longer cramming all their gift shopping into one day.
https://news.yahoo.com/cyber-monday-set-eclipse-black-232920848.html
Walmart is top of mind for holiday shoppers who are hunting for Black Friday deals, according to new research. The big box retailer is dominating online searches for Black Friday discounts as of Friday morning, according to advertising technology company Captify, which tracks more than 1 billion searches a day from websites globally.
https://www.cnbc.com/2022/11/25/walmart-overtakes-amazon-in-shoppers-search-for-black-friday-bargains.html
As a global provider of essential internet infrastructure for commerce, Shopify announced today a record-setting Black Friday Cyber Monday weekend, with sales of $7.5 billion* from independent businesses worldwide. That's a 19% increase in sales from the $6.3 billion during Shopify's Black Friday Cyber Monday weekend in 2021 (21% on a constant currency basis).
https://news.shopify.com/shopify-merchants-set-new-black-friday-cyber-monday-record-with-75-billion-in-sales
The Black Friday holiday sales weekend is always a stressful time for brands as they scramble to hit the right balance between ad spend and a profitable sales. Yet this past weekend was even more stressful than usual when a key reporting metric from Amazon's Ad console began doling out erroneous information.
https://adage.com/article/marketing-news-strategy/amazon-ads-reporting-outage-leads-black-friday-mess-brands/2455316
Bradley invites you to a special webinar with Neil Patel. Make sure to join us and register here: h10.me/npdigital
Our episode continues with Carrie's interview with Michal Chapnik, the founder of the eCom Creative Team, about what to expect on selling or expanding on Walmart. Lastly, Vince gives our Pro Training tip of the week on how to use and utilize the new Adtomic – Schedules function.
---
Enjoy this episode? Be sure to check out our previous episodes for even more content to propel you to Amazon FBA Seller success! And don't forget to "Like" our Facebook page and subscribe to the podcast on iTunes, Spotify, or wherever you listen to our podcast.
Get snippets from all episodes by following us on Instagram at @SeriousSellersPodcast
Want to absolutely start crushing it on Amazon? Here are few carefully curated resources to get you started:
Everything for your business on Amazon.
Find out more about our products by signing up or speaking with one of our
Customer Success representatives today. With us in your corner, you can enjoy
more sales and increased engagement from your Amazon business.
Chat with a Support Specialist