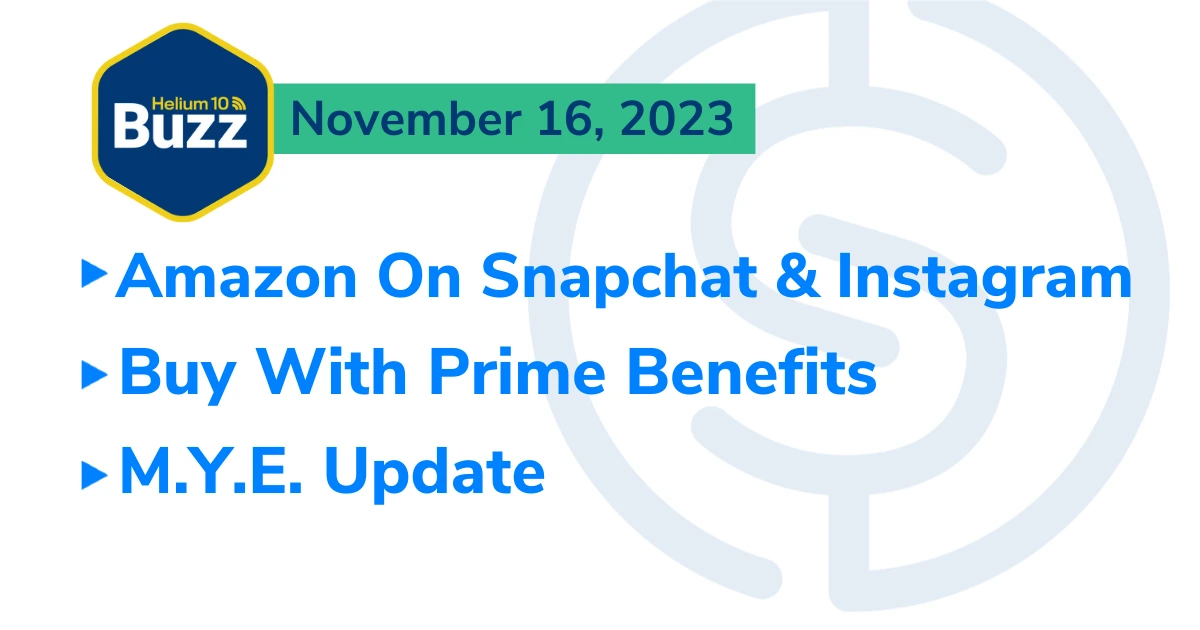 Helium 10 Buzz 11/16/23: Amazon On Snapchat & Instagram | Buy With Prime Benefits | M.Y.E. Update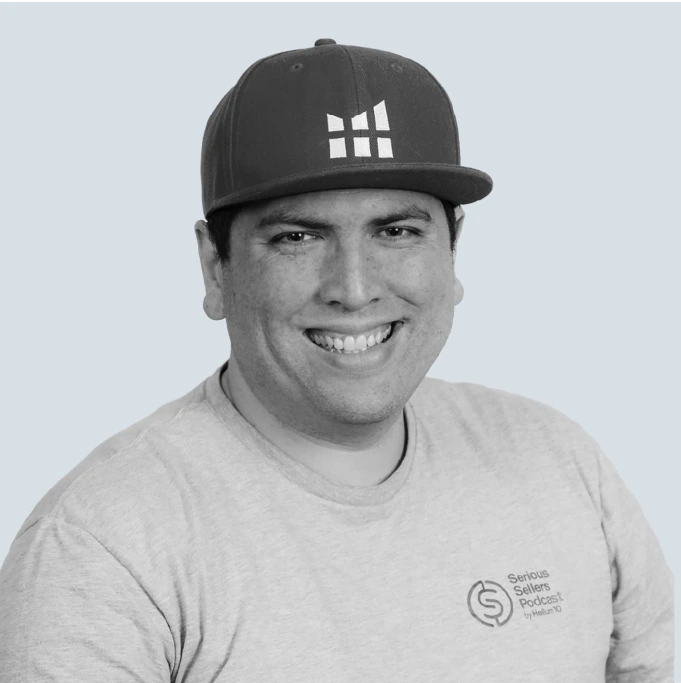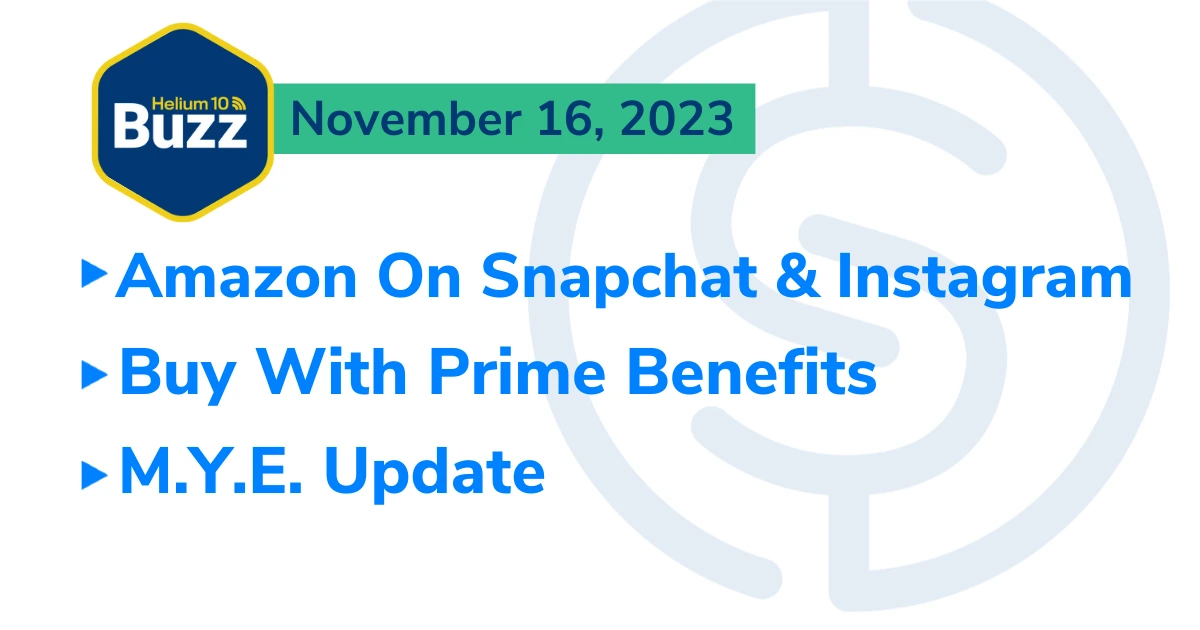 We're back with another episode of the Weekly Buzz with Helium 10's Chief Brand Evangelist, Bradley Sutton. Every week, we cover the latest breaking news in the Amazon, Walmart, and E-commerce space, interview someone you need to hear from and provide a training tip for the week.

Snapchat users can now buy Amazon products without leaving the app
https://edition.cnn.com/2023/11/15/tech/snapchat-users-shop-amazon-products/index.html

Meta lets Amazon shoppers buy products on Facebook and Instagram without leaving the apps
https://www.cnbc.com/2023/11/09/meta-lets-amazon-users-buy-on-facebook-instagram-without-leaving-apps.html

How Shein and TikTok Shop are trying to shake the 'Made in China' reputation
https://restofworld.org/2023/china-shopping-shein-tiktok-shop-global-sellers/

3 new shopping benefits Prime members get when using Amazon's Buy with Prime
https://www.aboutamazon.com/news/retail/buy-with-prime-new-shopping-benefits-2023

Advertisers Are Investing in TikTok Shops Despite Mostly Tepid Results
https://www.adweek.com/social-marketing/advertisers-are-investing-in-tiktok-shops-despite-mostly-tepid-results/

Walgreens Shifts eCommerce Fulfillment From Warehouses to Retail Stores
https://www.pymnts.com/news/ecommerce/2023/walgreens-shifts-ecommerce-fulfillment-from-warehouses-to-retail-stores/

Join the Helium 10 Weekly Buzz newsletter on LinkedIn. We break down all the week's news in the Amazon, Walmart, and E-Commerce World, New Feature Alerts, and Training Tips!
But that's not all, we're also diving into Amazon PPC and keyword research techniques. With new updates and features to Helium 10's Amazon PPC tool, Adtomic, we discuss how you can sharpen your spending strategy and optimize it. Our special training tip from Shivali will guide you on how to mine long-tail keywords from a root keyword or phrase to boost conversions. So, strap in and stay tuned for a session packed with valuable news, tips, and insights!
In this episode of the Weekly Buzz by Helium 10, Bradley covers:
01:02 – Amazon & Snapchat
02:51 – Amazon & Instagram
05:10 – Shein Sellers Wanted
07:37 – Buy With Prime
10:02 – TikTok Shop
12:11 – Fulfilled by Walgreens
14:40- Manage Your Experiments
15:38 – Amazon Robots
16:41 – Weekly Buzz Newsletter
17:08 – Helium 10 New Feature Alerts
20:30 – ProTraining Tip: How To Find Long-Tail Keywords From Root Keywords
Transcript
Bradley Sutton:
Customers will soon be able to buy Amazon products without leaving the app Snapchat, Facebook and Instagram. Buy with Prime launches, more benefits for dot com sellers. There's now new kinds of split testing that you can do in manager experiments. These new stories and more on today's Weekly Buzz how cool is that? Pretty cool, I think. Hello everybody, and welcome to another episode of the Serious Sellers Podcast by Helium 10. I am your host, Bradley Sutton, and this is the show that is the Helium 10 Weekly Buzz, where we give you a rundown on all the news stories that's going on in the Amazon and Walmart and e-commerce world. We also give you the new Helium 10 features of the week as well as a training tip of the week that'll give you serious strategies for serious sellers of any level in the e-commerce world. Let's see what's buzzing. We've got tons and tons of really exciting news stories today. sometimes it's a little bit dull out there. You're trying to scrape the bottom of the barrel. Sometimes it seems that I'm trying to like find news stories, but this week we got a few bangers out there, so let's go ahead and hop right into it
Bradley Sutton:
Now. The first story is actually from CNN and this is entitled. Snapchat users can now buy Amazon products without leaving the app. Now, this I thought was an interesting story. It's going to be followed up by another story that was actually announced last week, but according to CNN here it says Amazon will now run shopping ads for select products on popular photo messaging apps, snapchat, and Amazon spokesperson confirmed to CNN Now. This spokesperson said that for the first time, customers will be able to shop Amazon Snapchat ads and check out with Amazon without leaving the app. All right, so. So that means like a lot of these social media apps, the last thing that they want you to do is leave the app. So there's been a lot of reluctant sometimes for links that just take them out, because what are these social media apps want? They just want you to just stay. Stay in the app, right like you see the moves that TikTok shop is making, they don't want you to have to go to Amazon, they want you to just buy right there in TikTok shop. like a lot of these apps make it difficult to go outside of the social media app because they just want you consuming the content there and consuming the ads, et cetera. So this is actually interesting. On Snapchat, you don't even have to leave the app to purchase Amazon products anymore. Now it says in app, shopping with Amazon is available for select products advertise on Snapchat and sold by Amazon or by independent sellers in Amazon store. So this is not just like a shipped and sold by Amazon. This, these are products that are you, you sellers out there are going to be able to sell. Now the bottom of this article says this Snapchat news comes on the heels of a similar Amazon initiative announced with Meta's Facebook and Instagram platforms last week.
Bradley Sutton:
So that's actually our second news article of the day, and it's by CNBC, and this was from last week, in case you missed it out. There this was entitled meta lets Amazon shoppers buy products on Facebook and Instagram again, what's the key? Without leaving the apps, all right. So meta debuted this feature that lets users connect their Facebook and Instagram accounts to Amazon so they can more easily buy goods, promote them their feeds. Now it wasn't clear. If Snapchat is doing the same thing, I mean you'd almost have to. If you're not leaving Snapchat, that means that your Amazon account must be linked inside of Snapchat in a way. Now, this is just like super, super interesting to me because TikTok shop, as we know, has been making all of the waves lately and and this could be like Amazon answer to social commerce, as it's called, and like hey, maybe they see, like hey, this is the future. people are browsing social media and you want to kind of capture them while they're browsing, and at the same time, make these apps happy by not taking them to the Amazon app.
Bradley Sutton:
Now, the Amazon spokesperson said to CNBC said customers in the U? S will see real time pricing, prime eligibility, delivery estimates and product details on select Amazon products ads in Facebook and Instagram as part of the new experience. So it's not just oh, there's going to be like a little button over here where it says, yeah, go ahead and buy with prime or buy this on Amazon. It sounds like like the buy box experience almost on Amazon where you can see all these details about when it's Going to get there. So, like this, this is, I don't know, I don't want to say like as flown under the radar a little bit. this is already like a week old. I'm reaching out to a lot of my contacts at Amazon to try and get some more details on what this is gonna entail, but I think this could be depending on how it's rolled out could be huge for third-party sellers to be able to advertise Directly on some apps and, especially, depending on the kind of flexibility we're gonna get for targeting so it could be something super, super cool and, again, like just more and more opportunity for e-commerce sellers out there now with this kind of like new Thing of social commerce. be it tick tock shop, be it snapchat, now Instagram, Facebook Really exciting times to be an e-commerce seller.
Bradley Sutton:
Speaking of e-commerce sellers, the next article is from restofworld.org and it's entitled how Shein and tick tock shop are trying to shake the maid in China Reputation alright, so it's talking about how these platforms are looking for global sellers and it gives a couple of examples. Like it talked about somebody who was in Latin America who was selling on the platform there that we all know, is one of the top ones in Latin America, which is mecca libre, and she was, she was doing, like $15,000 of revenue and she actually said that. like, when I first started considering Amazon, the process was confusing. There's too many documents required. The process to become a seller was very long, she said. But then this year in January Shein I hope I'm pronouncing that right, I don't even know Shein, but anyways Shein Contacted her and I was like, hey, would you like to sell on our platform? And there was actually Mexico based advisors that she could reach out to and they helped her set up the account, so that what she had said was difficult on Amazon, wasn't on Shein, and she's already sold $16,000 worth of goods on Shein's marketplace since it launched in Mexico this this past June and it's already surpassed Her medical Libre sales that she's been selling on for years now.
Bradley Sutton:
in the past for those who don't know much and including myself, I don't really know much about Shein never bought one thing on it, but Before it was almost all like. China, Chinese sellers on there and made in China products, but then last year they opened up distribution facilities in Poland, us and Canada this this article says and it's also opened up factories in Brazil and Turkey and also one coming in India. Now this article says, they're trying to compete with Amazon and that's why they're trying to build their fulfillment network and also open up to international third-party sellers. Now go ahead and check a link in the description, for the rest of this article is actually a super long article, but interesting. I really don't think she is like a big threat or anything to Amazon. I'm I think the reputation of the products and service is kind of low right now. But it's something to look out for and I'm curious. Shein reached out to this seller To sell on Amazon. What about any of you guys watching this? Have any of you been reached out to by Shein and Temu and TikTok shop to sell on the platform? Let me know in the comments below.
Bradley Sutton:
Next article is a press release from Amazon and it's entitled three new shopping benefits prime members get when using Amazons buy with prime. So buy with prime, was announced earlier. We actually talked about it on the show where you can take like the Amazon Prime experience and kind of put it on Dotcom websites. All right, so until now you could see, like reviews and things and things like that. You can have the buying, literally buying with prime, right, you get the same day or one day or two day delivery. But now Amazon is announcing three more updates to this program.
Bradley Sutton:
This article says that this holiday season, prime member benefits now will include 24 seven customer service through a live chat feature. Again, this is for buy with prime obviously this has always existed for just regular Amazon. But now if somebody's shopping on a Shopify website and that Shopify sellers using buy with prime, these are the benefits that the customer is going to be able to get. So, again, 24 seven chat, live chat for customer service. Another main benefit is that you're gonna be able to see all of your orders in one place. So let's say, today I buy something from my Amazon app right. Tomorrow I buy something from the Amazon website. Day after tomorrow I go to dot a dot com website that's using Buy with Prime. I buy something there, I can go in my Amazon app and I'm going to see all of those orders in the same place. So that's something that's new that you know. Now is another benefit again, 24 seven live Support. you can see here in the screenshot what that is going to look like.
Bradley Sutton:
And then the returns. Amazon's already kind of pretty easy to have returns, but now by with prime can go through the same return process Even though they're buying from a dot com website. Now it says customers are gonna be able to choose from an expanded number of convenient drop-off locations at UPS stores, whole food markets or Amazon fresh stores, without boxing up or labeling Items. All they have to do is show a QR code and hand over the item being returned. All right, remember this is something bought from a dot com website. And now by with prime, members are gonna get all these kind of like regular Amazon prime Benefits. I'm just curious how about you guys out there Anybody start by with prime? Does any of what I just mentioned here make you more inclined to perhaps do buy with prime? If you've got a dot com website, let me know in the comments below.
Bradley Sutton:
Next article is from ad week calm and it's entitled Advertisers are investing in tick-tock shops despite mostly tepid results. And this is interesting to me because the title says, oh, mostly tepid results. But then the article goes on to just like give example after example of people, kind of like crush it on the platform. So the article to me didn't really match the, the, the headline here. But it says hey, there's mostly lackluster results in tick-tock shop. It says like, that's not what I'm that's not what I'm hearing. But then in the next paragraph it says hey, cosmetics brand beat BK beauty Join tick-tock shop. When it opened up three months ago, barely ab, barely spent anything on advertising and since joining the company has more than doubled revenue. Don't you see how, like why I'm confused with all this negative talk. Like in the title, in the first paragraph. The next Paragraph says oh yeah, somebody has spent digital, a single digits advertising and now they've doubled their revenue.
Bradley Sutton:
The article talks about how the platform is offering incentives such as ad credits, customer coupons, they're covering fulfillment charges, offering tons of promotions to gear up for Black Friday. I've talked about how helium-ton elite members like Elizabeth have been really absolutely just crushing it on that platform. In this article another story they give they say hey, mental health focus journal company, Zenful note, has generated 45%, pretty much half of their sales from tick-tock shop in just two months. So again, I don't know why they're kind of dissuading people from TikTok shop but at the same time talking about how people are just crushing it on there. But it's going to be interesting to see how this work. how this goes because, like I, really have high hopes for TikTok shop. It seems like they're doing the right things and it's not just taking like a whole bunch of random products from manufacturers in China that they're shipping snail mail. that takes three day or three days, so three weeks or something to deliver, like Shein or Temu. I mean, this is just like regular, kind of like Amazon level of product. So I really think that's next year that is going to be the platform that a lot of sellers are going to want to expand to.
Bradley Sutton:
Next article is from payments.com and this is entitled Walgreens Shifts Ecommerce Fulfillment from Warehouses to Retail Stores, and it talks about how they're, instead of fulfilling their dot com orders from their Walgreens warehouses, they're trying to do it at its 8,700 stores. They had this quote that says 78% of Americans live within five miles of a Walgreens. How about you guys listening out there? You probably have a Walgreens pretty, pretty close to you, but 78% are near there. So this maybe doesn't necessarily affect third party sellers too much, because this is. Walgreens mainly sells a lot of their own products.
Bradley Sutton:
But this is what I've always tried to talk to you guys, especially when I talk about Walmart and other places. We think too much only about selling online. If you can get and brick and mortar, it can be very lucrative. I've talked about when I worked at another company and they would sell in Walmart the kind of PO's that would cross my desk where one PO was like way more than what our entire year of Amazon sales were and we were in seven figures of Amazon sales and that would be like one PO from Walmart's because of how many Walmarts there are. We had accounts at that same company. I worked at Walgreens and it was still a big business and you don't have to worry about. a lot of advertising and customer service and all this stuff.
Bradley Sutton:
So like, when you are building your brand, absolutely start on Amazon, start on TikTok shop, but be thinking bigger picture, like, like, really create a brand and great packaging and things like that. Because now, if you start crushing on Amazon, you're going to get on the radar of buyers and at some of these places potentially, and maybe you can get your product in a Walgreens or a Walmart. And then this kind of move that Walgreens is doing is like pretty cool. Like imagine if you were making some kind of supplement, right, and you got it into Walgreens, brick and mortar. Now your online sales for Walmart, or Walgreens.com would also be pretty high because the fulfillment process potentially could have even same day delivery. Walgreens is saying that they're going to use, like Uber, eats and DoorDash drivers to deliver their stuff. But anyways, just something to keep in mind, guys, don't just confine yourself to thinking that you're only going to sell on online marketplaces. Getting into brick and mortar can be very lucrative.
Bradley Sutton:
The next article is not really an article at all, but it's something that is in your manager experiments dashboard. So if you go to manager experiments, that's Amazon's kind of like split testing tool. It's always been free on live listings and you've been able to do stuff like test your, your main image and things like that, but now you can actually start testing your A plus brand story and also you can do simultaneous experiments to where you, where you test two separate things, all right. So this is something newish that maybe some of you didn't know about is available. I still recommend Always doing your split testing and audience kind of like polling before you even have your listing. You can do that with Helium 10 Audience. It's just right there in your Helium 10, dashboard. It's also available. it's made by a PickFu and I've been using that for six years now and that's like a game changer. But if you didn't do it before you launch and you're having trouble, absolutely you can use manager experiments on your live listing.
Bradley Sutton:
Last article of the day is just kind of a funny one I wanted to throw in here because it kind of has to do with Amazon. But it's kind of crazy what we're going to. And this is CNBC and it says Amazon's Astro Robot is now a roving security guard for business. I mean, guys, we are literally going into the Terminator world. Amazon is selling this robot for $2,300 and it's for businesses and it's like a security guard. it's on wheels but it like roams your store during the day, make sure people are not stealing it roams it. During the night, when you, when you leave your place of business. But amazon is more than just a marketplace. They're like at the forefront of a lot of different technologies. And now there's robot security guards. Guys, in 2023, 2024, what is this world coming to? Ai robots, what is next? All right, that's it for the news this week.
Bradley Sutton:
One thing I wanted you guys to know about was if you like to get the news and maybe you're not always about watching a video, you just want to watch it or read about the news. I have a brand new newsletter that covers in depth A lot of these news articles. We're talking about a lot of the things that we discuss in this show. So if you would like that, just email to you from LinkedIn and you have LinkedIn super easy, one click to subscribe to it completely free. Go to h10.me forward slash newsletter. H10.me forward slash newsletter takes your LinkedIn website and then just hit subscribe and you'll get notified every time if there's a new article.
Bradley Sutton:
All right, now let's get into the New Helium 10 Feature Alerts of the week. every week, Helium 10 has is releasing new tools, new filters, new features, new functionality that you guys have been asking for, and so here's a rundown of what is cooking for this week, the first one that I'm going to talk about actually, all of these are an Adtomic, our PPC management tool, and the first one is about day parting. All right, so in the past, you could select certain campaigns and then in helium, you can look at the data that Helium 10 provides and see that, wow, my, my, a cost is like infinity. It's like terrible Saturdays from 7am to 9am. So what I'm going to pause my campaign every Saturday at that time so I can save some money, right, but that's just kind of like partially.
Bradley Sutton:
Why people like day parting. a lot of people might want to increase their bid. Like maybe on Sunday mornings a cost is like 6% on a certain campaign or a group of campaigns. Well you might want to increase your, your, your bid at that time. Other times, maybe you don't want to pause the whole campaign, but maybe you want to decrease your bids. Well, now you're going to be able to do that if you go to your day parting schedules section and you go to the bottom here where you can create the rules. You can just select which day you want to choose the time period that you're wanting to do. Like, let's say, I pick Mondays from 3am to 7am and now I can do increase bid, I can decrease the bid or pause the campaign, and I can do this at the campaign level or at the portfolio level or even at the product level. So, super cool update from Adtomic. That way really allows you to kind of like laser focus your spend and optimize it based on the previous performance, but on time of day and day of the week.
Bradley Sutton:
Now, another quick filter that is new in Adtomic. we have our AI bidding suggestions and that's like based on the algorithms that you, that you choose. I'm going to talk about a New update to the algorithms too, but like, for example, I've got a whole bunch of AI suggestions here about how, what I need to do to my targets as far as on the bidding in order to reach my goal, right, and so we have a couple new filters where I maybe I just want to see hey, show me all of the suggestions, the AI suggestions, where it's asking me to increase the bid or decrease the bid All right. So that's a new filter that you're now going to be able to see on your suggestions page. The last update or feature alert for the day is the ability now, on auto campaigns, to choose a bid rule. All right. So a bid rule is kind of like.
Bradley Sutton:
maybe you're trying to hit a certain kind of target ACoS. Maybe you want to use our algorithm that maximizes the number of impressions. Maybe you want to maximize the number of orders. Maybe you want to use one of your custom bid algorithms, all right. So before for auto campaigns, you weren't able to set these, but now for the auto campaigns, you can go ahead and choose one of our algorithms or one of your own and go ahead and activate it right there. So I highly suggest everybody go ahead and do that if you're using Adtomic. Last up, we've got Shivali here for our training tip of the week and it has to do with a keyword research technique, a very, very simple way that, within seconds, you can get tons of keyword ideas based on you entering a keyword into our tool, Magnet, Shivali. Take it away.
Shivali:
How to find long tail keywords from a root keyword or phrase. Why is this important and how can you use it to make money? Well, as an Amazon FBA seller, of course you're interested in ranking on the top half of page one for your main keywords as well as your supplementary keywords. But how exactly can you lead to even more conversions? Well, of course you want to get in front of a audience that is ready to purchase, and the best way to identify that is by taking a look at your long tail keywords. What exactly do I mean by that? Well, these are those keywords that have maybe two, three, four, five additional words in the actual search term. And by taking a look at those search terms, right, you're starting to take a look at those people who are ready to purchase their warmer leads. They know what they're looking for, and that means that they are ready to buy so long as you can convey exactly what it is that you are selling and it matches what they have on their mind.
Shivali:
So let's go ahead and take a look at Magnet. I'm going to show you a filter you can use, and that is simply this word count filter right here inside of Magnet, that you can use to input a minimum or maximum and narrow down your search results. So I went ahead and inputted coffin shelf as our main seed keyword and clicked get keywords. We were outputted 3,204 filtered keywords in results. And then I want to narrow that down further by finding those really excited consumers. I'm going to go in and input in a minimum of four, I'm going to click apply and, as you can see, it immediately narrowed that down to 792 filtered keywords compared to the 3000 plus we had before. Now, of course, not all of these are going to be relevant. I'm already seeing that instead of the coffin shelf, we're now taking a look at Vampire Diaries makeup. That's not really relevant at all. So let's go ahead and combine this with the phrases containing filter and I can input in coffin, click apply filters and you'll see that automatically narrows me down even further to 157 filtered keywords.
Shivali:
Now this was a very, very fast way for you to go from 3000 filtered keywords into 157 and find keyword phrases where people are looking for something very specific. Of course, if I were a consumer and I were typing in bookshelf, that's going to be a significantly different feel and probably browsing for different styles of bookshelves, compared to somebody that's typing in coffin shaped bookshelf or coffin shelf or coffin bookshelf large six feet tall. So this is a very precise market and of course I'll still want to go in and open each one of these up and see whether or not the search term is relevant to our product. But of course this is really easy to also remove if I realize that that's not a phrase I want to maintain as part of my listing later on.
Shivali:
So, as you can see, this is a really easy way for you to find those really strong buyer intent keywords or key phrases that you are looking for. That can help you boost your conversions really fast. Of course you want to be ranking for those keywords and you want to drive traffic and all of that's great, but you also want to convert and so when you're using those longer tail keywords, you can get in front of audiences that are looking for something specific and that allows you to make that conversion a little bit easier. So that barrier to entry to actually get them to purchase is so much better when you are using words that are a little bit longer in length. So with this, I hope you go into Magnet, you implement, you take a look at those long tail keywords and you find success. I will catch you in the next video.
Bradley Sutton:
Thank you very much, Shivali, for that. I really recommend, if you guys haven't done it recently, even if you've already been selling for a while, go ahead and put some of your main keywords, especially if it's a not a long tail keyword. Put that into Magnet and just see what comes up. hit the smart complete button, for once you have the keywords that come up. After you put your main keyword in there and see how many keywords come up, and I bet you, I guarantee you, there's going to be keywords that are completely related to your main keyword because it's your main keyword is literally a part of those keywords that you possibly didn't even know had search for him. So that's just like a cool little homework assignment for you guys. All right, thanks everybody for joining us this week. We'll see you next week to see what's buzzing.
---
Enjoy this episode? Be sure to check out our previous episodes for even more content to propel you to Amazon FBA Seller success! And don't forget to "Like" our Facebook page and subscribe to the podcast on iTunes, Spotify, or wherever you listen to our podcast.
Get snippets from all episodes by following us on Instagram at @SeriousSellersPodcast
Want to absolutely start crushing it on Amazon? Here are few carefully curated resources to get you started:
Achieve More Results in Less Time
Accelerate the Growth of Your Business, Brand or Agency
Maximize your results and drive success faster with Helium 10's full suite of Amazon and Walmart solutions.