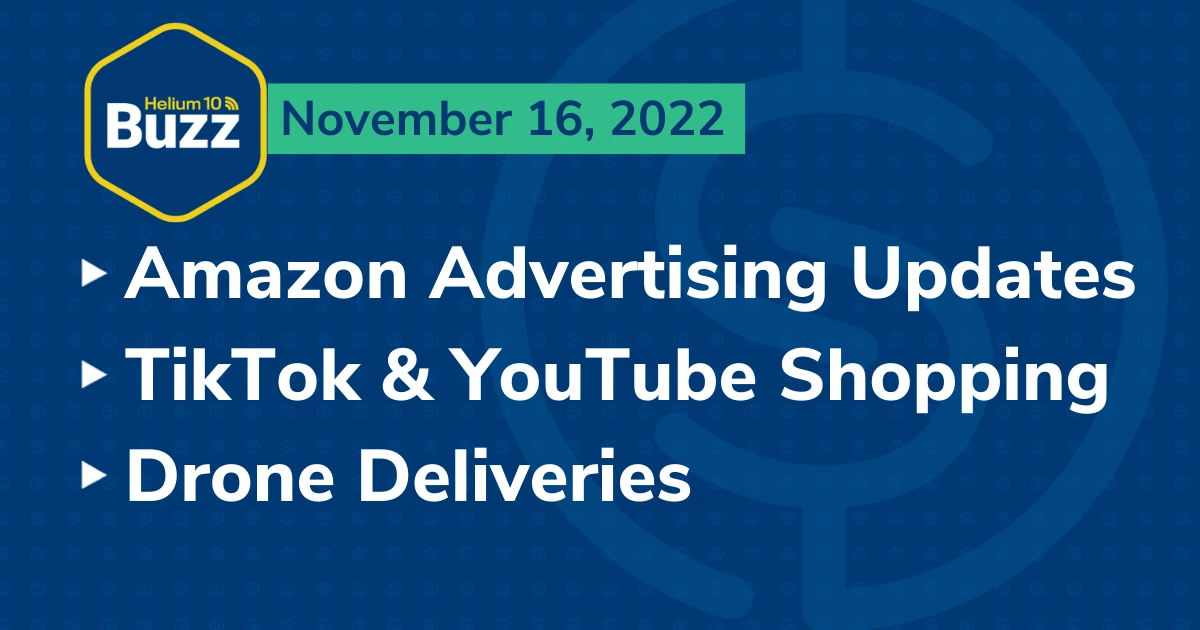 Helium 10 Buzz 11/16/22: Amazon Advertising Updates | TikTok & Youtube Shopping | Drone Deliveries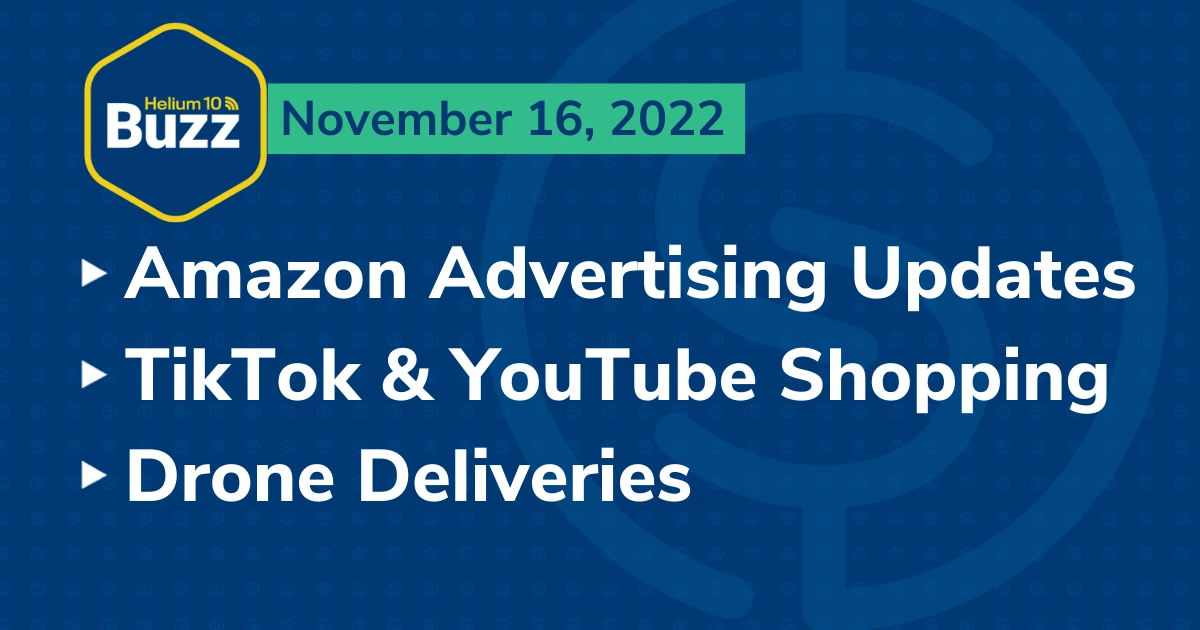 We're back with another episode of the Weekly Buzz with Helium 10's Chief Brand Evangelist, Bradley Sutton. Every week, we cover the latest breaking news in the Amazon, Walmart, and E-commerce space, interview someone you need to hear from, and provide a training tip for the week.

Amazon.com today announced the identification and disruption of three counterfeiting operations in China thanks to local Public Security Bureaus (PSB) and intel provided by Amazon's Counterfeit Crimes Unit (CCU). Law enforcement seized more than 240,000 counterfeit items in the Guangdong and Jiangxi provinces. The items were imitations of luxury, sports, and automotive brands.
https://press.aboutamazon.com/2022/11/amazon-helps-disrupt-three-major-counterfeit-networks-protecting-customers-worldwide-from-fake-goods

Advertisers can now manage all countries where they want to run sponsored ads campaigns in via a single account. Moreover, they can sign in to the advertising console for all countries at once and are able to easily navigate between countries to view and manage accounts in their preferred language.
https://advertising.amazon.com/en-us/resources/whats-new/global-sponsored-ads-account/

Social media video platform TikTok has now brought its e-commerce marketplace to American consumers. TikTok Shop, already available to users in seven Southeast Asian countries and the U.K., is now live testing in the U.S.
https://amp-washingtontimes-com.cdn.ampproject.org/c/s/amp.washingtontimes.com/news/2022/nov/12/tiktok-launches-app-shopping-directly-compete-amaz/

Track advertising changes and see account activity with the account transparency log. The account transparency log is a new security page that provides a list of sensitive actions taken on an account via the advertising console, along with the username responsible for the change.
https://advertising.amazon.com/en-us/resources/whats-new/account-transparency-log/

YouTube is piloting two shopping schemes as digital advertising slows. It's allowing viewers to buy products as they scroll through Shorts and testing commission options for influencers who sell goods via links in their videos.
https://www.pcmag.com/news/never-stop-shopping-youtube-tests-e-commerce-option-for-shorts

To help Amazon Ads advertisers drive performance and enhance their brand presence, Amazon Ads and Shutterstock are now providing Amazon Ads advertisers with free and easy access to Shutterstock's library of 390+ million high-quality images.
https://advertising.amazon.com/en-us/resources/whats-new/shutterstock-asset-library/

Amazon is finally ready to launch drone delivery, nearly a decade after then-Amazon CEO Jeff Bezos first announced the technology, reports CNBC. By the end of this year, Amazon will start delivering orders via drone in Lockeford, California, and College Station, Texas.
https://www.convenience.org/Media/Daily/2022/Nov/15/3-Amazon-to-Begin-Drone-Delivery_Operations
Our episode continues with Shivali Patel's Pro Training Tip of this week about the Chrome Extension Search Expander tool by Helium 10. Lastly, Bradley closes out this episode by talking about some Amazon search anomalies and other glitches and how  Helium 10's free tool, The Amazon Anomaly Tracker, help you track these.
In this episode of the Weekly Buzz, Bradley talks about:
01:20 – Amazon CCU
02:50 – International PPC Update
03:50 – TikTok Shop
05:35 – Advertising Log
07:15 – Youtube Shopping
08:50 – Shutterstock x Amazon
09:45 – Amazon Drones
12:30 – Weird Stuff Happening To Your Amazon Listings
13:30 – Pro Training Tip: Using The Chrome Extension Search Expander
19:00 – The Amazon Search Shuffle And Glitches 
---
Enjoy this episode? Be sure to check out our previous episodes for even more content to propel you to Amazon FBA Seller success! And don't forget to "Like" our Facebook page and subscribe to the podcast on iTunes, Spotify, or wherever you listen to our podcast.
Get snippets from all episodes by following us on Instagram at @SeriousSellersPodcast
Want to absolutely start crushing it on Amazon? Here are few carefully curated resources to get you started:
Achieve More Results in Less Time
Accelerate the Growth of Your Business, Brand or Agency
Maximize your results and drive success faster with Helium 10's full suite of Amazon and Walmart solutions.