Helium 10 Buzz 11/01/22: Free Money-Making Amazon Strategies For Helium 10 Users
In this episode, we cover the latest news on Amazon, learn how to utilize brand analytics features inside Magnet and Cerebro, and his best free Amazon-selling strategies for Helium 10 subscribers.
Updated on: November 2, 2022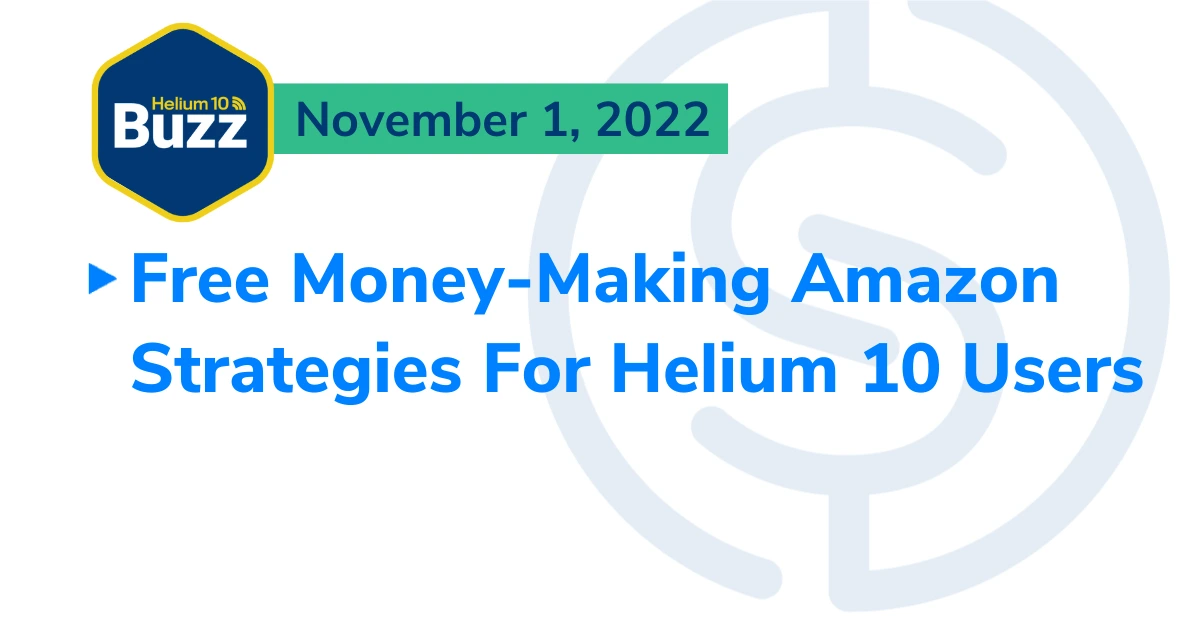 We're back with another episode of the Weekly Buzz with Helium 10's Chief Brand Evangelist, Bradley Sutton. Every week, we cover the latest breaking news in the Amazon, Walmart, and E-commerce space, interview someone you need to hear from, and provide a training tip for the week.

Pinduoduo and TikTok owner ByteDance launched e-commerce websites overseas in the last few months as they aim to take a crack at selling Chinese products to foreign buyers. The move sets the two Chinese technology firms up on a collision path with Amazon as they expand internationally.
https://www.cnbc.com/2022/10/31/bytedance-pinduoduo-launch-overseas-e-commerce-sites-in-challenge-to-amazon.html

51 Hacks to Supercharge Your Amazon Business
On November 3rd, discover how to leverage Helium 10 Elite to scale your business. Get all the latest updates on Helium 10's Elite plan and learn some incredible strategies you can use to help skyrocket your business with Carrie Miller and Kevin King.
Register here: helium10.com/hacks
We continue this episode with a brief interview with a couple of people from Bradley's podcast production team behind your favorite shows, the Weekly Buzz, Serious Sellers Podcast, and AM/PM podcast. Carrie Miller teaches us how to use the Amazon brand analytics feature inside Helium 10's Magnet and Cerebro tool. Lastly, Bradley shares all his top free Amazon-selling strategies that most Helium 10 users are not using.
---
Enjoy this episode? Be sure to check out our previous episodes for even more content to propel you to Amazon FBA Seller success! And don't forget to "Like" our Facebook page and subscribe to the podcast on iTunes, Spotify, or wherever you listen to our podcast.
Get snippets from all episodes by following us on Instagram at @SeriousSellersPodcast
Want to absolutely start crushing it on Amazon? Here are few carefully curated resources to get you started:
Everything for your business on Amazon.
Find out more about our products by signing up or speaking with one of our
Customer Success representatives today. With us in your corner, you can enjoy
more sales and increased engagement from your Amazon business.
Chat with a Support Specialist